Vacuum cleaners range in price from a dozen dollars to thousands of dollars. Large and robust commercial or domestic units do their job very well, but they are often an over-kill. Today, we will present you with a wide selection of best vacuum cleaner under $100 models and a thorough guide on how to pick one for your needs.
Smaller and lighter units, ranging in price up to, or around $100, can do their job well, too if you select the right vacuum cleaner for your lifestyle, preferences, and budget. There's nothing wrong with searching for a budget household appliance, and we can't wait to show you our wide selection of the best household vacuum cleaners that include many similar features to a $500 vacuum.
Before we begin, make sure you fully understand a vacuum cleaner's specifications and the many types and configurations of vacuum cleaners. These guides will help you learn more about a vacuum's cleaning power, suction, airflow, and other tech specs that are equally important in affordable and expensive vacuums.
What to Look For in the Best Vacuum Cleaner Under $100
When searching for vacuum cleaners within this budget, you'll see a common trend of the types available to you. This will include a 2-in-1 stick vacuum, upright vacuum, and canister vacuum.
2-in-1 stick vacuums primarily focus on providing light maneuverability similar to a handheld vacuum so you can easily transport them around your home. This type of vacuum also features a powerful suction similar to a stick version to help leave you with a dust-free home without an immense amount of effort required.
Upright vacuums are more powerful than the former, and generally, have a larger brush that can target large floor areas rapidly. These are the most common type of vacuum cleaners and are ideal for consumers shopping on a budget.
Lastly, canister vacuums are admired for their maneuverability because they're practical enough to clean stairs and awkward places. However, they're not too bulky that they're difficult to store. Plus, they're a popular choice for vacuuming sofas, curtains, and walls as they tend to feature a lengthy cord.
What to Expect From Expensive Vacuums
Before we share our top pick for the best household appliances on the market, let's analyze the other end of the spectrum. When you spend more on a vacuum cleaner, it's generally made of more high-quality, durable materials compared to vacuums under $100.
This means the motor will be longer-lasting, the suction will be more powerful, and even the attachments will be made from sturdy accessories to improve the product's quality.
Another reason why vacuums are more expensive is that they offer more attachments and tools to use when cleaning your home. Many features include automatic height adjustments, laser dirt sensors, HEPA filters to improve your air quality, and much more. The product will likely come with pet hair removers, durable cleaning heads, and a variety of brush end sizes to target difficult spots in your home.
Finally, another common factor of expensive vacuums is that they come with excellent versatility. For example, you can clean both hard floors and carpets with the same device – and sometimes without even adjusting the settings. You'll likely be able to adjust the vacuum to a handheld device for cleaning your car or the stairs, and it'll come with a longer cord (or maybe even wireless!), to help you swiftly navigate around your home. All in all, vacuum cleaners over $100 consider usability and how consumers wish to get their cleaning done with little fuss.
Best Vacuum Cleaner Under $100: Types and Models to Consider this Year
The Best Vacuum Cleaner Under $100: Upright Vacuum Cleaners
Upright vacuum cleaners are a very popular type of home vacuums. Cheaper units with price tags of around or slightly less than $100 are very capable units. This includes suction, air filtration, additional cleaning attachments including an extension hose, lightweight and easy to carry around, etc.
The difference between lightweight upright vacuums and stick vacuums is often vague since both categories practically have the same or at least very similar features and specifications.
Upright vacuums can be corded or cordless units.

Cordless units don't depend on the mains power, but their operating time and suction power are limited when compared with corded units.

Modern lithium-ion batteries significantly diminish the difference between corded and cordless units, at least regarding performances.
The operating time depends on the battery capacity. Cordless uprights under $100 have an

operating time usually limited to 10-20 minutes. But, for cleaning smaller homes and apartments, 10-20 minutes is often more than enough to thoroughly clean the house.
Here is the list with our selection of the best affordable upright vacuums: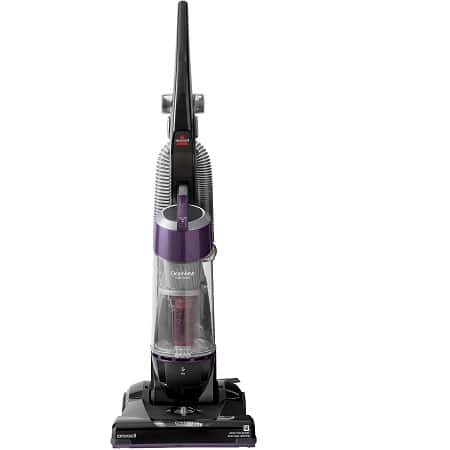 The BISSELL 9595A Vacuum with OnePass is a relatively lightweight upright cleaner featuring Bissell's OnePass Technology. It combines a powerful suction and spinning brush with a new, innovative design. It is a very popular appliance that costs under $100 and can be used as an excellent main cleaner for smaller homes and apartments.
The Bissell 9595A weighs 15.1 pounds (6.84 kg). Although it doesn't feature a

full swivel steering (only back and forth), the vacuum is light and easy to maneuver around furniture and other possible obstacles.
The vacuum comes with

a cleaning hose, extension wand, dusting/upholstery tool, crevice tool, and 'TurboBrush' tool.
The power cord is 25 ft (7.6 m) long, without an automatic rewind system. However, the power cord is long enough for smaller homes and apartments. Nevertheless, for covering a larger area, you'll need an extension cord. This vacuum is not designed for commercial use or anything similar, so a 25-ft long power cord should be long enough in most situations.
BISSELL 9595A Vacuum with OnePass is a cheap upright bagless cleaner. If you have a smaller home, it can be your main vacuum cleaner, especially if you have mostly carpets. Do consider though that there is no on/off brush switch or automatic height adjustment. Don't forget that this is under $100 vacuum comes with powerful suction, good air filtration, and two years' limited warranty.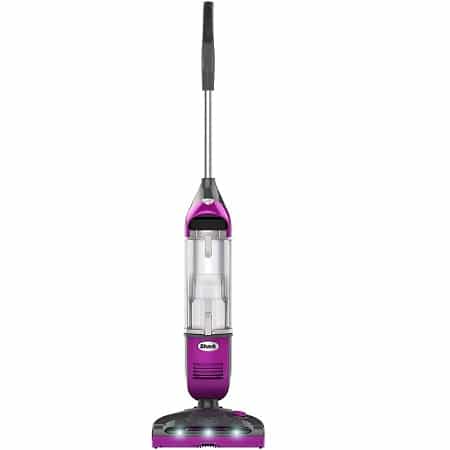 The Shark Rotator Freestyle Pro (SV1112) is a cordless, bagless, upright appliance and it's one of the best vacuum cleaners under $100 you can find. Due to a lightweight and maneuverable design and cordless operation, it is suitable as the main vacuum for regular cleaning duties and cleaning in emergencies. The two-speed rotating brush and LED headlights to help clean various dirt off bare floors and carpets.
The unit is powered via Nickel Metal Hydride (NiMH) battery, providing 12 minutes of operation at full brush roll speed and 17 minutes at a lower speed to provide an excellent clean for smaller homes and apartments. Although NiMH batteries are used, the charging station is used as a permanent storing/docking station. The charger is intelligent enough to prevent battery damage when the unit is stored in the charger.
When fully drained, to protect the battery, the unit simply shuts off.

To fully charge the drained battery, the unit must be left in the charger for at least 4 hours; initial charging can last for up to 7 hours.
Shark Rotator Freestyle Pro (SV1112) is a great cordless vacuum for pet hair. The brush roll features a raised cutting guide that easily cuts pet and human hair, threads, lint, and other similar debris. And when required, the brush is easily removed from the unit and cleaned.
Air filtration is done using a washable mechanical filter. The filter is washable using cold water, but be sure to dry the filter properly before returning it into the unit. Although the air filtration is good, it's not the standard of HEPA grade air filtration.
The BISSELL CleanView Bagless Upright Vacuum with OnePass Technology, 1330 model, is a corded, bagless, and rather affordable upright vacuum cleaner with an additional hose and wand.
Don't get confused with the two BISSELL CleanView vacuum models 1330 and 9595. The Bissell 1330 model is very similar to the 9595 model, except it is newer with several improvements.
The Bissell 1330 upright vacuum comes with OnePass Technology. It provides a strong and continuous suction with a new brush design (compared with older, similar Bissell's models) to clean various surfaces on the first pass.
The air filtration of the BISSELL CleanView vacuum 1330 is based on the cyclonic filtration system, which provides constant suction, regardless of how full is the dirt tank.
Note that the unit doesn't have a dirt sensor or an airflow indicator.
As usual with a similar model, the dirt tank and brush roll cover are transparent, so it is very easy to see the amount of dirt in the unit or if there is a problem with the rotating brush.
The main nozzle is 13.5 inches (~34.3 cm) wide.
In combination with a brush roll and five height settings, this vacuum can clean various surfaces such as low, medium, and high pile carpets and rugs, bare floors, cars, upholstery, stairs, etc. and various other dry dirt particles around your home.
This Bissell CleanView vacuum 1330 is a fairly lightweight unit. This weighs 15.5 pounds (~7 kg) and thanks to the gliding wheels, it moves over various surfaces rather easy. The hose in combination with the turbo brush is very easy and lightweight to use.
However, the Bissell CleanView vacuum 1330 is not the lightest unit around and seniors might find moving it up and down the stairs difficult.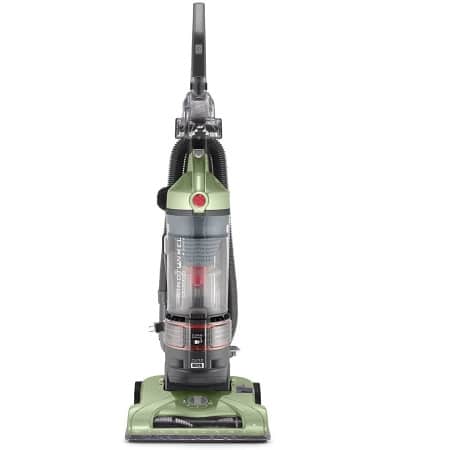 The Hoover WindTunnel T-Series UH70105, UH70120, UH70205, and UH70210 Models are series of corded, upright, bagless appliances presenting themselves at a very reasonable price. Although these four models are very similar, they differ in several details, which might be essential to know before considering which one to opt for.
The Hoover Model UH70120 T-Series WindTunnel Rewind Plus Bagless Upright Vacuum Cleaner is the most popular Hoover WindTunnel T-Series model and one of the best buy uprights under $100.
This Hoover UH70120 comes with a 12-amp motor, performance check indicator, 8 ft stretch hoses, 12″ extension wand, crevice tool, 13.5″ wide suction nozzle, standard (mechanical) washable first filter and second HEPA, non-washable filter and a 2-year warranty.
The Hoover UH70120 uses 'WindTunnel Technology' cleaning head, which improves the suction of various debris on both carpets and hardwoods. Also, it is a bagless vacuum, using 'Dual-Cyclonic Air System' for dirt separation.
Therefore, the dirt bin is easily cleaned. Also, Hoover UH70120 features 'No Scuff Bumper' to protect walls and furniture from any damage caused by vacuuming.
The UH70120 model comes with a 25-ft power cord, and it has an automatic cord rewind system, which significantly eases the cleaning and storing away the vacuum.
This vacuum also comes with a System Check Indicator that warns you when the filter needs to be cleaned, checked or if there is some sort of clog in the vacuum that needs to be inspected.
The indicator is positioned on the left side of the bin handle and can be easily seen almost continuously if you are a right-handed person. Left-handed people can have issues in seeing it all the time. System Check Indicator doesn't show when the dirt bin is full. The dirt bin is transparent and you can see the amount of the dirt in the bin.
Best Vacuum Cleaner Under $100: Canister Vacuum Cleaners
Canister vacuums with their flexible hoses often can reach surfaces which are hard to clean with upright vacuums. They are especially suitable for cleaning surfaces from the floor to the ceiling and stairs. Although upright vacuums with additional flexible hoses and telescopic wands can be used for cleaning difficult areas and elevated surfaces, some people nonetheless prefer this type of vacuum.
Bagless canisters usually come with transparent bins, while bagged models use additional filtration provided by vacuum bags to achieve sometimes exceptionally good air filtration.
Here is the list with our selection of the best affordable canister vacuums!
The BISSELL Zing Rewind Bagless Canister Vacuum is a very cheap canister product, suitable for hard floors and low pile carpets. It has decent suction and incredible construction and can do jobs almost as good as more expensive vacuums at a fraction of the cost.
This vacuum can reach rather tight spaces like corners, around furniture, edges and similar.
The swivel cleaning head turns to get into tight spaces and slides under most of the furniture.
It is powered by a 9-amp motor that provides decent suction when compared with much larger, stronger, and more expensive models.
The Bissell 6489 Zing doesn't have electronic motor control, but it is equipped with an Air Flow Regulator on the handle.
The Multi-Surface Floor Nozzle is equipped with a brush switch, but it doesn't have a moving brush, which makes it suitable for hard floors and low pile carpets.
Medium pile carpets (and thicker carpets) and rugs are not the best surfaces for this model.
The Bissell 6489 Zing is a lightweight cleaner (~8 pounds, ~3.6 kg) and can be easily carried around. The dusting brush can be used in tight and narrow spaces and for cleaning curtains, cushions, draperies, fabrics, etc. When you are cleaning such surfaces, be sure to decrease the suction to protect these surfaces.
The Eureka Mighty Mite Vacuum with Pet Attachments Model 3684F is a compact, and lightweight canister bagged with strong suction, and HEPA air filtration.
The Model 3684F comes with cleaning attachments suitable for various surfaces and dirt, including pet hair, and it also comes with a blower port, too.
To keep the air in your home clean, it features a HEPA grade filtration, achieved using filtration bag, motor filter, and HEPA filter.
Also, you can use dirt bags with a scent, or you can crush the scent tablet(s) and vacuum them before first vacuuming.
The Eureka Mighty Mite uses disposable bags (recommended), which are easy to take out and throw in the garbage after each use.
However, you must note that when the dirtbag starts to fill up, it can cause the vacuum to lose suction which means it's time to change the dirtbag. Fortunately, replacement bags (Style MM Dust Bags) are relatively cheap so this won't be too frustrating.
The suction is very good for a product of this size and this price tag, thanks to the 12-amp motor. The unit also has a blower port for cleaning loose material in and around the house, like leaves and similar.
The Mighty Mite 3684F vacuum is rather light – it weighs around 8.6 lbs (~3.9 kg) – and can be easily carried around. It can be used for cleaning surfaces from the floor to the ceiling, while the unit is on the ground, thanks to the hose and the telescopic wand.
The cord is 20 ft (6.1 m) long, and at first, it is not very long. However, keep in mind that this is a canister cleaner with a flexible hose and an adjustable wand.
The Bissell Zing Bagged Canister Vacuums are very affordable corded appliances. There are two very similar bagged models – model 4122 and the newer 1668 canister vacuum. They are compact and lightweight vacuums and suitable as the entry-level main vacuum cleaners in smaller homes and apartments.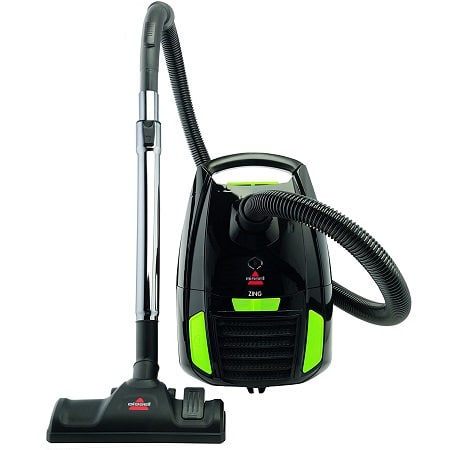 Both units feature an automatic cord rewind system and variable suction power, and these features are often found only with more expensive units.
The main difference between these models is that a newer 1668 model has a larger dust bag (2.5 vs. 2 liters) and has a more efficient motor that consumes less power (9.5 vs. 10 amps).
The Bissell Zing bagged vacuums are not noisy vacuums, but since they have rather good suction, they are far from being low-noise vacuums.
Both models lack air flow and clean filter indicators. There is no soft bumper or edge cleaning brush but, they have a full bag sensor, power cord rewind system and few more features that are usually reserved for more expensive vacuums.
The newer 1668 model also has a long flexible hose – 6 ft vs. 5 ft. This 1 ft difference at first doesn't look much, but can be important when cleaning stairs, elevated surfaces, under and around furniture, etc.
Both units have the same cleaning nozzle width of 10.3 inches (~26.2 cm) that enables them to clean a relatively large area quickly.
The Oreck Commercial BB900DGR XL Pro 5 Super Compact Canister Vacuum is lightweight, easy to use, and a rather versatile commercial grade vacuum cleaner. It comes with several cleaning attachments optimized for various surfaces that can be found from the floor to the ceiling.
This Oreck XL Pro 5 is a canister vacuum that comes with a shoulder strap and integrated handle for portability and easier handling.
Since it weighs only 5 pounds (~2.3 kg) without the hose and accessories, it can be used on the ladder, stairs, around corners or furniture, ceiling fans, molding, bookshelves, curtains, light fixtures and anywhere there is not much room for maneuvering with a vacuum cleaner and/or cleaning attachment.
The vacuum comes with a 4-amp, two-stage bypass motor, which is, at least as powerful as conventional flow-through motors that draw more amps, and generally has a greater vacuuming capability than single-stage motors.
This Oreck XL Pro 5 comes with an adjustable extension wand and 4-ft hose. This 4-ft (1.2 m) hose doesn't sound long, but this vacuum is usually carried and used using the shoulder strap or is carried in the left hand with the wand in right hand (or vice versa, if you are left-handed). This significantly helps with cleaning overhead vents, ceiling fans, and other high places.
The vacuum comes with a 30-ft (9.15 m) power cord, which enables the vacuum to cover a larger area without changing outlets. The power cord is thick and robust, and it appears overly dimensioned. Unfortunately, there is no automatic rewind system, but such a system would make this vacuum heavier, bulkier, and probably more expensive.
The Ovente Featherlite ST2010 Cyclonic Bagless Canister Vacuum is a very affordable, corded, bagless vacuum cleaner with cyclonic dirt separation and HEPA filter. The 1200W electric motor provides plenty of suction. Combined with many other features, it is one of the best buy entry-level home canister cleaners.
Air filtration is based on cyclonic filtration and mechanical filtration using the HEPA level filter. Note that there is no mention of HEPA level, just that it 'protects against over 99 percent dust and allergens'. Nonetheless, the Ovente ST2010 has excellent air filtration, but if you have real issues with asthma and allergies, consider true HEPA vacuums.
Its dirt bin is transparent, and you can check the amount of the dirt at any time.
The amount of dirt doesn't influence the suction level, at least not as in bagged models, and the cyclonic separation is good, but not as good as in more expensive cyclonic vacuums.
This Ovente ST2010 vacuum is suitable for various surfaces due to several cleaning tools that include floor brush, crevice nozzle/bristle brush and a soft brush.
Due to small dimensions and a canister design, the Ovente ST2010 can reach and clean surfaces that are problematic for most upright cleaners. This includes under and around furniture, corners, edges, and similar. Also, the telescopic wand extends easily and can quickly be adjusted for cleaning floors or stairs from an optimal height, or for cleaning walls or even ceiling.
Best Vacuum Cleaner Under $100: Stick Vacuums
Stick vacuum cleaners are popular units often used as the main home vacuum or second home vacuum for in-between cleanups or for cleaning in emergencies.
These units are lightweight and can be carried around the home easily. Cordless units are more popular, especially 2-in-1 vacuums (stick and portable vacuums in one unit).
Check out our list of some of the most popular and the best affordable stick cleaners below.
The Dirt Devil SD20000RED Simple-Stik All-in-One Stick Vacuum Cleaner is a simple, lightweight, multipurpose, and very cheap stick appliance that is very suitable as a second vacuum cleaner for home emergencies and cleaning small areas.
This unit functions as a stick, corded handheld cleaner, and a utility vacuum all in one.
Dirt Devil SD20000RED is rather lightweight, weighing around 3.8 pounds (~1.72 kg), which makes it simple and easy to transport from room to room. It is a bagless vacuum cleaner, with an easy-to-empty dirt cup or dust cup.
An on-board crevice tool comes included, which allows for cleaning awkward areas like between couch cushions or under furniture and appliances.
This Dirt Devil SD20000RED is equipped with a 1.25-amp motor, which provides decent suction, considering the price of this unit. The power cord is 16 ft (~4.9 m) long, and it is manually wrapped as the vacuum cleaner doesn't have an automatic rewind mechanism. But such a mechanism would increase the weight, price and mechanical complexity of this simple and rather reliable vacuum.
The on/off switch controls are near the handle of the handheld unit for easy access each time you use this vacuum. The unit has very smooth-rolling wheels that are very gentle and leaves no scratch, not even on the sensitive floors. Note also that the unit is also very light and if you notice any damage on the wheels, avoid soft and delicate floors, until the wheels are replaced.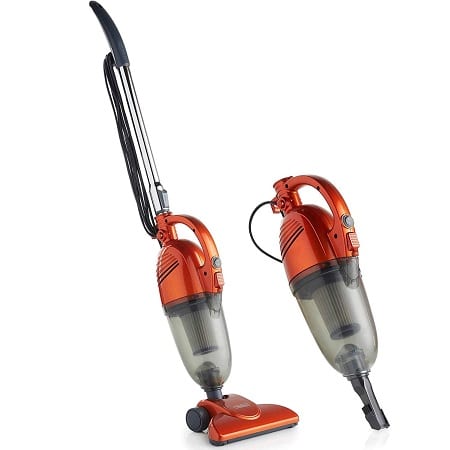 The VonHaus 600W 2-in-1 Corded Upright Stick & Handheld Vacuum Cleaner with HEPA Filtration & Sponge Filtration is a strong, versatile, and a very popular vacuum cleaner that comes at a fantastic price. It is a great corded vacuum cleaner that can be used as an emergency vacuum cleaner, for cleaning hard-to-reach areas or even as a main, entry-level, vacuum cleaner for small homes.
This VonHaus 600W 2-in-1 Corded Vacuum Cleaner can be used as an upright stick vacuum cleaner and a portable vacuum cleaner with or without extension hose.
First of all, this is a corded vacuum cleaner, meaning that it can't be used in emergencies as fast as some cordless vacuums that are stored on their charging stations ready to be used at the moment notice. Instead, this vacuum cleaner must be plugged in first and this requires a few seconds.
Although it's dependent on the mains power, this vacuum cleaner can cover a much larger area than cordless vacuums. This is all down to a power cord that is 18 ft (5.5 m) long, and for a vacuum of this size, it is long enough, and it doesn't have to be recharged after use.
Since the vacuum requires only 5-6 amps of current you can use a power outlet that isn't particularly thick, such as in cars, backyards, etc.
The vacuum is very light at around 3 pounds (~1.4 kg) and very easy to use. It has an adjustable (telescopic) wand, with a power switch on the vacuum cleaner, not on the handle.
Although it's light, it has two wheels, which help you to move it around easily, even when transitioning from different surfaces.
The basic model doesn't have any rotating brush in the cleaning head, so its cleaning performances could be better. However, these models are relatively good on the hard floors, modest on the low pile carpets, though not so good on thicker carpets and rugs.
Finally, the dirt bin is transparent, and its capacity is approximately 1.2 liters, which is ideal for the average-sized house.
The BISSELL PowerEdge Pet Hard Floor Stick Corded Vacuum – 81L2A Model is a very affordable, corded stick vacuum cleaner, optimized for cleaning of the hard floors. It has a very distinct V-shaped cleaning head, which in combination with specially designed wipers, helps clean various debris and dirt, pet hair included, from floors like tiles, hardwood and similar.
The V-shape of the cleaning head directs larger debris into the center of the cleaning head, where the suction is the strongest, while the ends of the V-shaped cleaning head help clean the edges.
Due to the design, the BISSELL 81L2A PowerEdge Pet Hard Floor Stick Corded Vacuum captures both larger and smaller debris and dirt along the edges and in tight corners and spaces without the need of special attachments or motorized brush roll. It also does an excellent job on hard floors and a good job on low pile carpets. It picks kitty litter, dust, sand, pet hair, pet's food, etc. easily.
Since the unit has no motorized brush roll, it is not so good on carpets and rugs, in general.
However, this feature would increase the price, weight and mechanical complexity of the unit.
The large wheels and lightweight design allow the unit to maneuver easily around corners, furniture legs, edges and similar, often hard to reach, areas. The Bissell 81L2A PowerEdge weighs only 7.5 lbs (~3.4 kg) which is a huge advantage for carrying it around your home.
The Bissell 81L2A PowerEdge Pet Hard Floor Stick Vacuum Cleaner is a bagless unit. It uses cyclonic separation to remove the dirt from the air and a two-stage mechanical filter, foam filter, and inner pleated filter to offer a thorough clean.
The dirt bin is transparent and very easy to empty. If the bin gets dirty, it can be washed using warm water and mild detergent. Be sure that it is completely dry before assembling the unit again. It should NOT be washed in the dishwasher.
The power cord is 20 ft (6.1 m) long and is generally long enough for most of the cleaning jobs.
The Eufy HomeVac Lightweight Cordless Upright-Style Vacuum Cleaner is a cordless stick vacuum cleaner with an excellent lithium-ion battery, good suction, and air filtration and spinning brush bar for carpeted surfaces. It also comes at a very affordable price.
The Eufy HomeVac is powered with a 28.8-V, 2200 mAh lithium-ion battery. The maximum motor power is 140 W, and operating time on the full power is up to 22 minutes. When the suction is decreased by switching to eco mode, the operating time is up to 50 minutes.
Since 22 minutes is enough to cover a respectable area, the Eufy HomeVac can be used as the main vacuum cleaner for small homes with limited rooms, or as a second vacuum in large homes.
The dirt cup or dust cup is transparent and enables the user to see the type and amount of the vacuumed dirt. This dirt cup capacity is 0.9 liters and is enough for most cleaning tasks found at home.
The dirt cup is emptied quickly and easily, just be sure to empty it just above the trash can, not from a few ft above. It could be larger, of course, but that would also increase the size and the weight of the unit.
The Eufy HomeVac uses multistage air filtration and cyclonic dirt-air separation in combination with a mechanical HEPA-style air filter. The cyclonic action keeps the dirt away from the filter, helping the unit to operate clog-free until the dirt cup is almost full. The mechanical HEPA-style filter prevents small dirt particles from exiting the vacuum cleaner.
Thanks to the lightweight and slender design and swivel cleaning head, this unit maneuvers easily around the obstacles and under the furniture.
The Hoover LINX BH50010 Cordless Stick Vacuum is a cordless and bagless stick vacuum cleaner, based on Hoover's WindTunnel Technology. It's made with a battery made from lithium-ion that provides fade-free power for optimum cleaning performances on various surfaces.
The power is provided by an interchangeable 18-volt battery, and such a battery enables this vacuum cleaner to work at full power all the time.
The motorized power brush can be turned off and on with a flip of a switch for bare-floor cleaning. This does excellent work for pet hair and other dirt on rugs and carpets, however, it requires additional power and slightly reduces operating time on a single battery charge.
For a lighter clean on various surfaces, the Hoover LINX cordless vacuum also comes with the auto height adjustment, making transitions from bare floors to and from low and medium-pile carpets and rugs very easy.
A cleaning nozzle is 11 inches (28 cm) wide and combined with edge-cleaning bristles and low-profile base. It can cover a rather large area and access and clean tight corners and areas. For example, it can reach around 8-9 inches (20-23 cm) under 3 inches (7 cm) of furniture.
This unit comes with a 2-year limited vacuum warranty and 2-year limited battery/charger warranty.
The Dirt Devil SD20505 is a lightweight, corded stick vacuum cleaner, optimized for bare floors like hardwood, tiles, linoleum, and similar.
It is powered with a 10-amp motor, providing plenty of suction for the 11-inch nozzle. The power cord is 20 ft long, and it is manually wrapped, so there is no need for an automatic power cord rewind system.
The dirt bin is transparent, and it is emptied from below, enabling the user to easily and cleanly empty the bin.
Its air filtration is based on cyclonic dirt-air separation and pleated mechanical filter and is washable and can last for 3-6 months. This is an 'F2′ Dirt Devil air filter.
Although such an OEM filter is advertised as a true HEPA filter, the Dirt Devil SD20505 vacuum is not advertised as a true HEPA vacuum. Nonetheless, be sure to use OEM air filters when replacing to provide excellent air filtration and ensure you look after the appliance.
This vacuum weighs only 6.67 pounds, and it is easily carried around, even up and down the stairs. Although the cleaning head doesn't have a full swivel mechanism, the vacuum is light and very easy to maneuver around the obstacles.
The unit comes with a 2-year limited warranty.
Best Vacuum Cleaner Under $100: Handheld Vacuums
Handheld vacuums are lightweight and compact units, commonly used for smaller cleanups and emergencies. They can be powered using mains power or onboard batteries. Regardless if they are corded or cordless, handheld units often come as stick/handheld combo.
Due to their small dimensions, handhelds are often used for cleaning stairs, cars, boats, upholstery and similar surfaces and areas that are hard to access and clean thoroughly with full-size vacuums.
Here is the list of the most popular and the best affordable handheld vacuum cleaners under $100!
The Shark Rocket Corded Hand Vac – HV292 Model is a corded, bagless, handheld cleaner. It comes with several essential attachments: TruePet Motorized Brush, Extended Reach Hose, 12″ Nozzle End, and Dusting Brush.
When you compare Shark vacuums, you need to know some of their specifics. For instance, the Shark HV292 is suitable for cleaning various dirt and debris, pet hair included, from surfaces like upholstery, shelves, furniture, and similar. As a result, it is a very capable and affordable vacuum cleaner.
This Shark Rocket HV292 is a lightweight unit, weighing 3.7 pounds (~1.67 kg). There are, of course, lighter handhelds on the market, but the HV292 model comes with a 400-W motor and 15-ft (~ 4.6m) power cord.
The center of gravity is found in front of the handle, and it can be a little bit tiring to hold the unit in such a position. However, when being used, the unit is mostly kept under a certain downward angle, which makes it very easy to use even by seniors.
Considering its size, it is a very powerful vacuum, with excellent suction, but with no suction control.
The unit has no automatic cord rewind system, but with a relatively short power cord, it is not required. Also, the power cord is long enough for cleaning a single room and cleaning other rooms often requires unplugging the power cord from the wall socket in one and plugging it in, in the next room.
Shark Rocket HV292 comes with a 1-year limited warranty.
The Black and Decker CHV1410L 16 Volt Lithium Cordless Dust Buster Hand Vac is a handheld cordless vacuum cleaner with lithium-ion battery technology providing many benefits. Other than the battery, it is practically the same as the Black & Decker CHV1410 Dustbuster 14.4-Volt Cordless Cyclonic Hand Vac.
This small and lightweight vacuum cleaner is ideal for kitchens, cars, boats, and similar areas where a small, yet powerful vacuum cleaner is required.
The Black and Decker CHV1410L 16 Volt Lithium Cordless Dust Buster Hand Vac is lightweight and portable for quick clean-ups and emergencies. This is very important not only for people with pets and kids. The rotating slim nozzle targets dirt in tight and hard to reach spaces.
The brush and end accessories are located on-board, and they are easy and fast to use.
Its wide-mouth design means that this vac can effortlessly scoop up large debris. This 'wide mouth' is relative to other similar cordless vacuum cleaners. It is much smaller when compared with standard canister and upright vacuum cleaners.
The cyclonic action spins dust and dirt away from the filter, so the suction power stays strong for more extended periods of time. Nonetheless, it is good practice to empty the dirt bin after each use and when you notice that the suction power has decreased (and then a battery is fully charged), change the filter.
A transparent, bagless dirt bin makes it easy to see dirt, and it is easy to empty. But, be careful that it locks well after cleaning. Otherwise, it can open itself, usually when it is full of dirt. This removable, washable bin and filters allow for thorough, hygienic cleaning.
Since it is a cordless, lithium battery powered vacuum cleaner, you can charge it when needed without fear of losing charge and suction strength over time.
The Black and Decker BDH2000PL MAX 20-volt Lithium Pivot Vacuum is an excellent cordless, handheld cleaner that features a small size, good suction, three-stage air filtration system, acceptable operating time, etc. It doesn't come with pet hair cleaning tools, detachable hose, and similar attachments, but for an emergency vacuum cleaner, it has everything such a vacuum cleaner must-have.
This Black and Decker BDH2000PL is a cordless vacuum cleaner powered by a 20V lithium battery. The fully charged battery provides some 12-15 minutes of operation, which is generally more than enough for cleaning smaller messes at home or in the car: people with small kids and pets appreciate a good emergency vacuum cleaner that gets its job done.
One of the most prominent features is the pivoting mechanism of the suction nozzle, which enables reaching areas that would otherwise be hard to reach and clean and small and compact size when not in use.
The vacuum has excellent suction, especially for a handheld, cordless vacuum cleaner. Don't expect vacuums of this size, even when powered with a lithium battery to match corded vacuums regarding suction.
Additional cleaning tools, like cleaning brushes, are easy and fast to use, should you wish to purchase them separately. Although they are the most basic cleaning tools, they can help a lot when cleaning tight places (crevice tool) or large debris (brush tool) like dry pet's food and similar.
Since the charging base with vacuum cleaner doesn't require much space, it is highly recommended to keep around the kitchen or similar area. When needed, the vacuum can be used right away, without wasting any time with cables, hoses and similar. The base station can even be attached to the wall for easy access.
The overall charging time depends on the discharged state of the battery, but before first use, the battery must be charged for at least 24 hours.
This vacuum also comes with a two-year limited warranty.
The BISSELL Pet Hair Eraser Handheld Vacuum, Corded, 33A1 model is small, yet a very powerful corded cleaner. It doesn't feature 'fancy' things like a rotating brush, but it gets the job done easily.
This vacuum cleaner is light enough to be easily handled with only one hand, although, this is still a very powerful vacuum. Switch it on, and you will feel torque from the motor starting. This vacuum cleaner sucks a considerable amount of air and creates a strong suction for cleaning the dirt. The problem can be exhaust air that sometimes can interfere with the cleaning surface and blow away the dirt. However, this can be easily avoided if you handle the vacuum cleaner with enough care.
During operation, the vacuum draws out 4 amps, making it much stronger than other cordless vacuums of a similar size. Such a strong engine makes relatively plenty of noise, but I guess it is the price for having such a strong engine (which is good, of course) in a vacuum cleaner this size.
Also, cordless vacuum cleaners that produce such a strong suction force are relatively much more expensive even with the limited running time.
Its power cord is 16 ft (5.5m) long which is more than enough length for cleaning around the house in emergencies. For thorough cleaning, use your main, full size, vacuum cleaner.
The Shark Pet Perfect II Hand Vac SV780 Model is a lightweight, cordless, handheld appliance that comes at a very affordable price and does the job well. It comes with several cleaning attachments that enable it to clean various types of debris on different surfaces.
For quick and easy cleanup of pet hair and other most common ground-in dirt, the Shark SV780 comes with a motorized pet hair brush, crevice and dusting tool.
Combined with excellent suction and charging stand, it is ready to use within seconds, which makes it an excellent 'emergency vacuum cleaner' for people with small children and pets. Although it has a relatively wide suction width, it is not suitable for cleaning larger areas. But, it can comfortably clean easily surfaces like sofas, car or boat interiors, smaller rooms, individual spills on the floor, and similar.
The charging stand is wall-mountable, or it is positioned on a flat surface like a tabletop, and it holds all accessories which come with the SV780 vacuum.
The Shark SV780 uses an 18-V Nickel Metal Hydride (NiMH) battery instead of a lithium-ion battery. The former provides enough energy to do the smaller cleanups properly while keeping the price low. A lithium battery would provide more power and more energy, but it would also increase the cost.
This Shark SV780 weighs around 4.35 pounds (~2kg). Although it is not the lightest handheld cordless vacuum around, it is still rather lightweight and can be easily used with one hand. It is light enough to be used even by children. Make your kids clean their own messes and they will develop great working habits.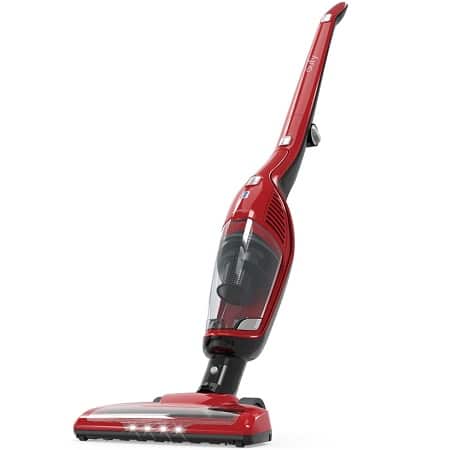 The Eufy HomeVac Duo (formerly known as the Anker HomeVac Duo) 2-in-1 Cordless Vacuum Cleaner is an affordable and versatile cordless, bagless stick and handheld cleaner. At the moment, it comes in two colors, white and black, but it still can be found in red color, branded as 'Anker.' This is very easy and simple to maintain the unit, which comes with an excellent lithium-ion battery providing superb power fade-free operating time.
It is a very lightweight unit as it weighs only 6.2 pounds (2.8 kg), and thanks to the full-swivel cleaning head, it is highly maneuverable around furniture, edges, corners, stairs, and similar. The Eufy HomeVac can be used on various surfaces, and thanks to the motorized brush roll, the best cleaning is achieved on the low and medium-pile carpets.
This Eufy HomeVac comes with a set of headlights, which come very helpful for cleaning dirt and debris in low-light conditions without cleaning unwanted items.
The unit is powered by 2000 mAh lithium-ion battery which fully charged can deliver 24 minutes of operation at full power and 60 minutes in so-called Eco Mode, which can clean up to 150m² of space. Its suction is relatively good and thanks to the rotating brush roll, it can clean very well.
When purchased, the HomeVac Duo comes with a charging cradle base, AC power adapter, crevice nozzle, dusting brush, and welcome guide (manual). When it arrives, the unit must be assembled, but it can be done easily within seconds.
The charging base size is 10.2 x 7.5 inches (26 x 19 cm) and should be placed on the permanent position. When the handle is extended, the unit is 46 inches (117 cm) high, and with a lowered handle, the unit requires only 28 inches (69 cm) of vertical space. HomeVac is stored in an upright position.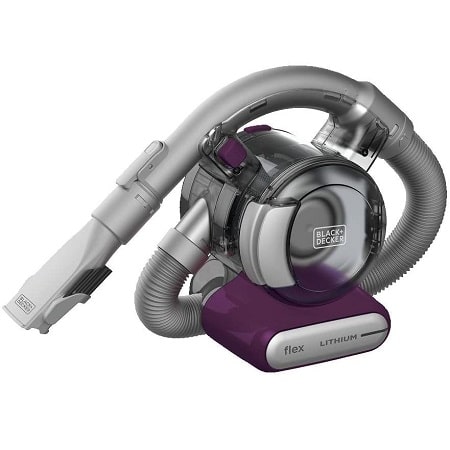 The Black and Decker HFVB320J27 Eggplant Lithium Flex Hand Vacuum is a compact and lightweight, bagless, cordless handheld vacuum cleaner. It is one of the models from the Black and Decker Flex series of handheld products. Black and Decker HFVB320J27 features a 4 ft (~1.2 m) flexible extension hose and with few additional cleaning tools represents an excellent balance between price and cleaning capabilities.
Thanks to the use of modern materials and lithium battery, the Black and Decker HFVB320J27 is a rather lightweight unit, as it weighs 3.2 pounds (~1.44 kg). There are many, much lighter cordless units on the market, but Black and Decker Flex handhelds are used by carrying via ergonomic handle with one hand and by vacuuming with another hand. It is a very compact vacuum cleaner requiring very little space for storing.
This Black and Decker HFVB320J27 comes with a 4-ft (~1.2 m) flexible hose with the combination of standard cleaning nozzle and dusting appliance. Also, it comes with an additional crevice tool and a pet hairbrush.
The Black and Decker HFVB320J27 is powered using a 12 V lithium battery. Its capacity is 2 Ah and the battery stores enough energy for the unit to operate for15 minutes at full power. Unfortunately, the unit doesn't have power controls except 'on' and 'off' for delicate surfaces, but this is perfectly acceptable for regular cleaning.
Nonetheless, a 12V 2Ah battery in combination with good motor provides 17 Air Watts of suction.
Best Vacuum Cleaners Under $100: Cordless Vacuums
With the advances in battery technology, especially lithium-ion batteries, cordless vacuum cleaners are emerging not only as 'emergency vacuums,' but are being used more and more as the main vacuum cleaners at homes and apartments.
The lack of a power cord enables them to be used at the moment notice, even where and when there is no mains power available. This includes at home, cars and boats, workshops or construction sites, when camping, etc.
On the other hand, the energy stored in the onboard battery is limited. Thus, many cordless units come with an 'eco-mode' ('normal' mode and 'boost' mode. In eco mode, the suction power is limited, but the operating time is prolonged. In boost mode, the cordless vacuum operates at full throttle, but the running time is shorter.
Cordless units come in various sizes and types. This includes small handheld units, convertible all-in-1 units, stick vacuums, backpack vacuums, construction site vacuums, etc.
Here is the quick list of the best cordless unit in various categories (all of these models are reviewed in other categories on this page):
Obviously, there are many more cordless units on the market, with very similar features and when found on sale, they are perhaps an even better choice than these models.
Best Vacuum Cleaners Under $100: Mattress Vacuums
Until actually needed, mattress vacuums are rarely purchased for regular cleaning and maintaining mattresses and upholstery. However, regular cleaning of mattresses with a good mattress cleaner can significantly reduce the possibility of bed bugs appearing at all and can reduce the number of potential allergens and other unhealthy particles found in mattresses, pillows, sheets, etc.
Here is the list of the most popular and the best mattress vacuums under $100:
The Housmile Anti-Dust Mites UV Vacuum Cleaner is a very popular and efficient corded, handheld vacuum cleaner, designed for cleaning mites, bed, and other similar bugs and allergens from mattresses, pillows, cloth sofas, and other cloth furniture and upholstery, carpets, etc.
To clean/remove dust mites and other similar bugs and allergens, the Housmile Anti-Dust Mites UV Vacuum Cleaner uses several methods in the mattresses and other surfaces, to prevent them from reappearing again.
The unit uses a 253.7nm UV light tube and 130°F high-temperature hot air to ensure the high efficiency of killing dust mites and other bed bugs.
A UV light can be harmful to humans so when operating, be sure to press the unit firmly to the cleaned area. To be completely sure, read the manual before the first use. Also, 55°C/130°F doesn't sound much, but such hot air will warm the mattress significantly. Therefore, you should be sure that your mattress can handle it.
To remove the dirt, bugs, and allergens, this Housmile Anti-Dust Mites UV Vacuum Cleaner uses a motorized beater pad, with 3800 Hz high-frequency vibration and double suction. First, the motorized beater pad agitates and helps loosen out the dust mites and dirt from deep of the mattress and other surfaces and then sucks them away.
The whole machine is a true HEPA vacuum cleaner, with filtration based on a mechanical filter with activated charcoal. Consequently, the unit captures 99.97% of particles as small as 0.3 microns and releases the fresh air.
The unit is rather small and compact and weighs just 2.81 lbs (~1.27 kg) which is very light and easy to operate.
The unit is a bagless design, and it has a rather small dirt bin of just 160 ml. However, the unit is designed to clean mattresses and similar surfaces, not carpets in walkways and similar. It is strongly recommended to empty and clean the dirt bit after each use.
The Sonya SYVC-21A Anti-Bacterial UV Vacuum Cleaner is a compact, corded, bagless vacuum cleaner, designed explicitly for vacuuming and sanitizing mattresses, pillows, cloth furniture and upholstery, carpets and similar.
This Sonya SYVC-21A Mattress Vacuum combines UV light and suction to kill and remove dead bed bugs, mites, bacteria, and other microorganisms and allergens from the cleaned surface.
According to the manufacturer, this unit kills 99.9% of potential allergens and bacteria, including bed bugs and dust mites with the unit's 8W UV lamp, at least in the lab. After irradiating the surface, the vacuum removes dirt and dead bugs from the mattress and other surfaces just like any other vacuum, using air suction. The motor is rated at 400 watts, and this provides excellent suction for all bed sizes. However, the unit doesn't have a beater bar or beater pad to agitate the dirt and allergens from within the mattress.
To prevent spreading the dirt and debris after cleaning, the unit is made as a true HEPA vacuum cleaner. The dirt bin is relatively small, but this unit is designed to clean surfaces like pillows, mattresses, carpets, seats, and similar, so it's an ideal size for such surfaces.
One of the exciting features of the Sonya SYVC-21A Anti-Bacterial UV Vacuum Cleaner is that it can be used in 2 ways: as a classic mattress handheld vacuum or a full-length vacuum cleaner using the in-built telescopic handle.
The Euleven 3005CH is a handheld mattress vacuum cleaner. It combines good suction with two suction ports, vibrating pad, UV light and hot air to kill and thoroughly remove dust mites, bacteria, and other dirt and allergens from the quilts, mattresses, bedspread, bedding, pillows, cushions, sofa cloth products, car seats, etc.
Using the Euleven 3005CH, it is very easy to keep the mattresses and other surfaces clean and is easy to operate and very efficient in cleaning. However, when in use, it must be pulled rather slowly (4 inches/s, 10 cm/s) over the surface, or its cleaning efficiency can drop significantly.
The Euleven 3005CH uses several methods to clean the mattresses and other similar surfaces, including hot air, UV light, beater pad, and strong double suction.
This Euleven 3005CH is a small and lightweight handheld cleaner as it weighs around 3.2 lbs (~1.45 kg).
The power cord is 157.5 inches (4 m) long, which is long enough for most situations. Of course, due to the unit size, there is no automatic rewind system of any kind.
Its dirt bin capacity is 5.4 oz (160 ml) which is rather small for a handheld vacuum cleaner, but this vacuum is designed for a very specific use, and as such, a small bin is an ample size.
Final Thoughts on the Best Vacuum Cleaner For a Small Budget
Inexpensive household cleaners do the job they are designed to do, most of the time. But, not everyone has a large budget or the need to spend a fortune on an appliance they might not regularly use.
When searching for the right vacuum for you, make sure you read our reviews and recommendations, but also note what other people have to say. After all, the reasons why we like a particular unit might be the reasons why you are NOT going to love that particular vacuum.
You may even wish to look into the brand you're buying from to ensure that they're highly respected and offer an exceptional warranty should something happen to your device. But, with an incredible selection above of the best vacuum cleaners on the market, we're confident you'll find a cleaning product that satisfies you.
Do you know some of the best vacuum cleaners under $100 which we haven't mentioned above? If so, share your recommendations, or any other feedback, in the comments to help others looking for a household cleaning appliance.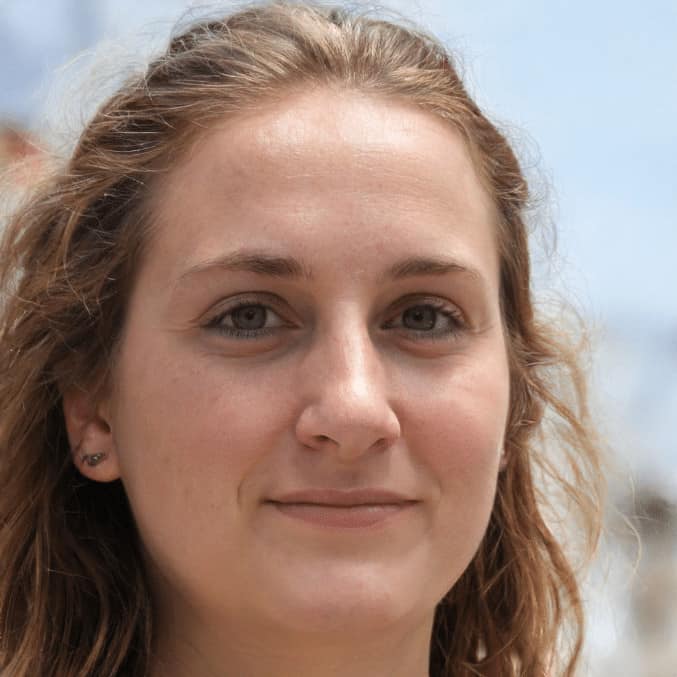 With a degree in engineering, Kathryn Hansen loves to write about how things work. Having her own dilemmas on how to pick the best vacuum cleaner for her large family (with a handful of furry four-legged members as well), Kathryn decided to help others in the same situation. After all, vacuum cleaners are critical to a healthy lifestyle and people have a hard time choosing the best one for their needs.