Black and Decker CHV1410L 16 Volt Lithium Cordless Dust Buster Hand Vac is handheld cordless vacuum cleaner with lithium ion battery technology providing many benefits. Other than battery, it is practically the same as Black & Decker CHV1410 Dustbuster 14.4-Volt Cordless Cyclonic Hand Vac.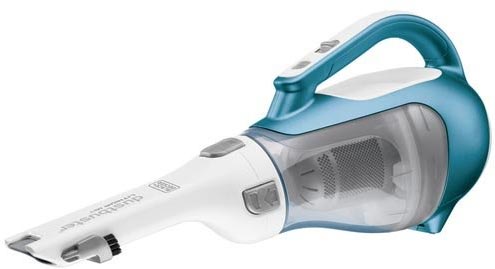 Black and Decker CHV1410L 16 Volt Lithium Cordless Dust Buster Hand Vac Review
This small and lightweight vacuum cleaner is ideal for kitchen, cars, boats and similar areas where 'emergencies' can occur and prompt action in the form of small, yet powerful vacuum cleaner is required.
Lithium Ion battery technology is environment friendly type of battery with many benefits, especially when comapred with NiCd battery used in 'ordinary' CHV1410:
– lithium ion battery lasts several times longer than NiCd battery of the same size and weight.
– it has almost no memory effect and after charging can be left for long periods of time out of charger without needing to be recharged again before use.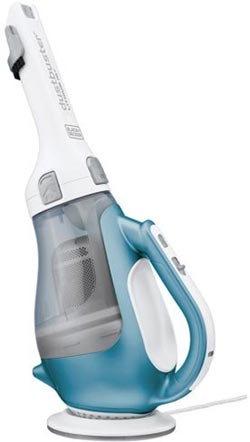 – it provides more power and larger capacity and thus increases suction and prolongs operating time.
– it is charged much faster (up to 5x) when compared with NiCd and similar battery types, with no adverse effects regarding battery life.
– it is non toxic battery and much more environment friendly compared to NiCd batteries, etc.
Black and Decker CHV1410L 16 Volt Lithium Cordless Dust Buster Hand Vac features:
– lightweight and portable for quick clean-ups and emergencies – very important not only for people with pets and kids.
– the rotating, slim nozzle targets dirt in tight and hard to reach spaces.
– brush and crevice tool accessories are located on-board and they are easy and fast to use.
– the wide mouth design means this vac can effortlessly scoop up large debris. This 'wide mouth' is relative to other similar cordless and handheld vacuum cleaners – it is much smaller when compared with standard canister and upright vacuum cleaners.
– cyclonic action spins dust and debris away from the filter so suction power stays strong for longer periods of time. Nonetheless, it is good practice to empty dirt bin after each use and when you notice that suction power has been decreased (and battery is fully charged), change the filter.
– a transparent, bagless dirt bin makes it easy to see dirt and it is easy to empty – just be careful that it locks well after cleaning, otherwise it can open itself, usually when it is full of dirt.
– Removable, washable dirt bin and filters allow for a thorough, hygienic cleaning.
Black and Decker CHV1410L 16V vs. Black and Decker CHV1410 14.4V Dust Buster
If you need small and lightweight cordless handheld vacuum cleaner, consider this Black and Decker Dust Buster. It is little bit more expensive than Black & Decker CHV1410 Dustbuster 14.4-Volt Cordless Cyclonic Hand Vac (Amazon link, opens in the new window), but it provides many benefits just because of different battery types – stronger, fade-free suction, longer operating time, no memory effect etc. However, it also costs some 20 euros/dollars more than CHV1410 NiCd powered Black and Decker dust buster.
Note: there are other similar handheld vacuums that use higher voltage than CHV1410L, but before considering them, check their price and battery type.
It is suitable for cleaning small areas, including pet hairs (although there are better pet hair vacuum cleaners around) with good suction power. For larger areas use your standard canister or upright vacuum cleaner.
It is always good to have few spare filters (Black & Decker VF100 DustBuster Replacement Filters 4-PACK ) around – they are cheap and should be replaced from time to time. They are not HEPA grade filters, unfortunately.
Since it is cordless, lithium battery powered vacuum cleaner, you can charge it when needed without fearing of losing charge and suction strength over time.
For more reviews and recommendations, feel free to follow Black & Decker CHV1410L 16 Volt Lithium Ion Cordless Dust Buster Hand Vac Amazon link (link opens in the new window).
---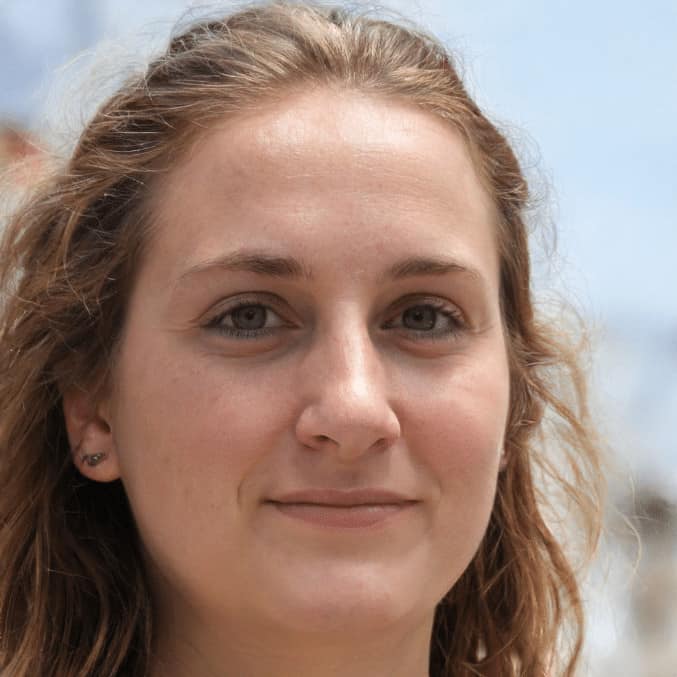 With a degree in engineering, Kathryn Hansen loves to write about how things work. Having her own dilemmas on how to pick the best vacuum cleaner for her large family (with a handful of furry four-legged members as well), Kathryn decided to help others in the same situation. After all, vacuum cleaners are critical to a healthy lifestyle and people have a hard time choosing the best one for their needs.