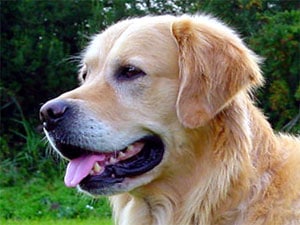 People having pets often have issues with pet hair removal and cleaning of larger areas with different surfaces like hardwood, carpets, tiles, and similar. Also, the cleaning of furniture, upholstery, and many other hard-to-reach places is very important in keeping the home clean and germ-free. In other words, such families are always in the search for the best vacuum cleaner for pet hair. Luckily for them, we are here to provide them with a thorough guide on the best vacuum cleaner for pet hair models, comparisons, and tips. So let's get down to business and see the best vacuums to help you remove pet hair successfully from your home with no effort!
Why Do You Need the Best Vacuum Cleaner for Pet Hair?
The problem is this: pet hair and other dirt must be removed from the cleaned surface, regardless of the surface type, pet or dirt, dirt must be stored locally in a dirt bin/bag before being easily disposed of, exhaust air must be thoroughly filtered, the vacuum cleaner must have enough autonomy to clean required area, cleaning attachments must be swapped easily and enable one to clean furniture, stairs, upholstery, corners, etc.
The following table lists some of the best and most popular vacuum cleaners, optimized for cleaning pet and human hair from floors, upholstery, and other surfaces. Check out each best vacuum cleaner for pet hair on this list and don't forget to check our guide on vacuum cleaners' specifications for a better understanding of how vacuum cleaners work!
Best Vacuum Cleaner for Pet Hair: Reviews and Product Comparisons
| | | |
| --- | --- | --- |
| Model – Our Review | Short Description | Check Latest Price |
| Bissell 1650A Pet Hair Eraser Vacuum | A corded, bagless, upright vacuum cleaner with an additional extension hose. Optimized for multi-floor cleaning of pet hair, dirt, and debris pickup from multiple surfaces including bare floors, carpets, hard surfaces, upholstery, stairs, etc. Tangle-free brush roll. Popular and affordable (but not cheap!) unit. | Bissell 1650A Pet Hair Eraser Vacuum |
| BISSELL PowerEdge Pet Hard Floor Stick Corded Vacuum – 81L2A Model | Very affordable, corded, bagless, stick vacuum cleaner, optimized for cleaning of the hard floors. It has a very distinct V-shaped cleaning head, which in combination with specially designed wipers, helps clean various debris and dirt, pet hair included, from hard floors like tiles, hardwood, laminate, etc. | BISSELL PowerEdge Pet Hard Floor Corded Vacuum, 81L2A Model |
| Dyson Cinetic Big Ball Animal |  Large (17.7 lbs) and powerful (250 Air Watts) corded, bagless, canister vacuum cleaner, with true HEPA grade air filtration and number of cleaning attachments, including Dyson's Tangle Free Turbine Tool. Not cheap, but excellent unit. | Dyson Cinetic Big Ball Animal Canister Vacuum |
| Dyson V8 Absolute |  Cordless, bagless, convertible unit. Acts as upright and as a handheld vacuum cleaner. Powered by a lithium-ion battery, providing 115 Air Watts of power in burst mode. It comes with many cleaning attachments, including Mini Motorized Tool. True HEPA vacuum. One of the best (if not the best!) cordless units on the market, but it is far from being cheap! | Dyson V8 Absolute Cord-Free Vacuum |
| Hoover UH72630PC WindTunnel 3 High Performance Pet Bagless Upright Vacuum |  Bagless, corded, upright vacuum cleaner with an extension hose. Features HEPA air filter, combined with activated carbon – excellent air filtration and odor removal. It comes with various cleaning attachments, including Pet Turbo Tool. Sturdy unit weighing 18.5 pounds, with a 5-year warranty. Great price. | Hoover Vacuum Cleaner WindTunnel 3 High Performance Pet Bagless Corded Upright Vacuum UH72630PC |
| Miele Compact C2 Electro+ PowerLine Canister Vacuum Cleaner | Excellent corded, bagged, canister vacuum cleaner. Air filters with time strip – HEPA air filter, with or without activated charcoal for additional odor removal. Not cheap, but top canister bagged model. German technology! | Miele Compact C2 Electro+ Canister Vacuum |
| Neato Botvac D5 Connected Navigating Robot Vacuum – Pet & Allergy | High performance, self-navigating, wirelessly connected robot vacuum cleaner. Strong filtration combined with a combo and side brushes and high-performance air filter; powered via lithium-ion battery, Neato App – WiFi, Self-Charging, Auto Charge & Job Resume, Multi-room Navigation, Job Scheduling, etc. | Neato Botvac D5 Connected Navigating Robot Vacuum, Pet & Allergy |
| Shark Rocket Complete with DuoClean HV382 |  Corded, bagless, convertible unit – acts as lightweight corded upright or corded handheld unit. Comes with TruePet Mini Motorized Brush and other cleaning attachments. Lightweight, affordable, very versatile and popular unit. | Shark DuoClean Rocket Corded Ultralight Upright Vacuum HV382 |
| Shark Rotator Freestyle Pro (SV1112) | Cordless, bagless, upright vacuum cleaner. Comes with a two-speed rotating brush and LED headlights – help clean various dirt off bare floors and carpets. The brush roll is equipped with a raised cutting guide that easily cuts pet and human hair, threads, lint and other similar debris – great for pet owners. | Shark Rotator Freestyle Pro Cordless Upright Vacuum (SV1112) |
Of course, there are many other vacuums that are good at cleaning pet hair and similar debris. After all, if they can clean pet and human hair, then they can clean almost anything 🙂
When considering the best vacuum cleaner for pet hair, there are few very important things to consider like a pet hair brush, suction nozzle width, dirt storage, air filtration, power source, attachments, etc.
Pet Hair Remover Brush
Pet hair remover brush is a type of cleaning attachment that removes pet hair and other debris off the floor, regardless of the floor type, length, or pet (or human) hair and hair characteristics (soft, stiff, long, short, thick, thin, etc.).
Motorized brush must operate properly on hardwood floors, carpets, tiles, and other surfaces and in combination with air suction must lift and remove hairs and other debris. Also, its design must prevent hair from clogging and reducing the cleaning efficiency of the brush itself and vacuum cleaner as a system.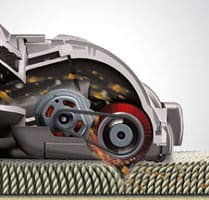 The cleaning brush is usually powered by a separate motor or by a small wind turbine, although upright vacuum cleaners can have brush powered by the main motor.
The design of such brush must prevent causing damage to the hard floors (mostly various types of wood) and tiles – brush must be made out of rubber (or similar materials – but rubber is preferred for various reasons) soft enough to be gentle to the wooden floors and strong enough to be able to pull away hair from thick carpets.
On/off button of such power brush tool is usually easily reachable, enabling vacuum cleaner to be used on various surfaces without removing brush from the cleaning head – this is very important for strong brushes that are not suitable for hardwood floors. Vacuum cleaners with strong brushes that must be turned off over hardwood floors, usually have rubber stripe/padding of the cleaning head – such rubber stripe increases vacuum over cleaned area and thus improves cleaning.
Suction Nozzle Width
The width of the suction nozzle determines the cleaning width of a single sweep. On very dirty surfaces several sweeps are required in order to clean the surface thoroughly and combined with nozzle width determine the required time for cleaning certain areas. Note that a wider nozzle requires stronger motor and more power in general, however, energy requirements stay more or less the same. Of course, stronger vacuums with wide nozzles cost more.
Dirt Storage
Dirt can be stored locally in a dirt bag (disposable or reusable) or in a dirt bin.

When disposable dirt bag is full, one throws it away and replaces it with a new one, while reusable bags for dirt must be cleaned and that can be rather messy. However, reusable dirt bags usually offer a higher level of exhaust filtration than disposable dirt bags.

Dirt bins are often found in vacuums using cyclonic particle separation and offer one main advantage over dirt bags – when full or almost full, dirt bins in combination with cyclonic separation don't lead to performance degradation, while full or almost full dirt bags reduce vacuums suction power.
Exhaust Filtration

Filtration of exhaust air is very important since the amount of air passing through the vacuums is rather large. Pets exiting and entering the house can carry in large amounts of both visible and invisible dirt that range in size significantly.
A combination of mechanical, HEPA, and charcoal exhaust filters provide a high level of air filtration, suitable even for people prone to allergies, asthma, and other similar problems.
To keep filtration on required levels, filters must be cleaned and replaced as recommended. Note that not all filters are washable, so it is important to read the manuals that came with your vacuum.
UV lamp and additional scent can increase the feeling of freshness in cleaned area.
Corded Or Cordless Pet Hair Vacuum Cleaner
Due to the required cord, corded vacuum cleaners lack the freedom that cordless vacuums have. However, corded vacuum cleaners are usually much stronger, have larger airflow, pressure difference (suction!) is larger, dirt bins or bags are larger and time of operation is practically limitless. Cordless vacuums can operate without cord, can easily be carried from room to room without the need to plug out/plug in the cord, but their operating time is limited by battery capacity. Most modern high-end cordless vacuum cleaners operate using lithium-ion batteries that provide high capacity at acceptable price and operating time anywhere from 15 to 30 minutes without losing power.
Cordless vacuum cleaners usually have spare batteries that are easily swapped. Also, such cleaners are usually kept in their chargers, ready to be used at the moment notice.
Vacuum Cleaner Attachments
Cleaning tools, other than rotating brush, that are required by pet hair vacuums include tools like crevice head tool suitable for cleaning narrow and tight spaces.
Upholstery brushes are similar to carpet brushes, just are somewhat softer and more gentle.
Other tools that often come with vacuums can be of great help, depending on cleaning area and type of surface, however, most important part of pet hair vacuums is well designed rotating brush and good suction.
High-end vacuums often have options for shampoo and/or steam cleaning. Such cleaning should be done after mechanical cleaning and provide additional level of cleaning the required surfaces.
Note
Before you shampoo and steam clean, verify that your surfaces can tolerate such cleaning without being damaged.
Best Vacuum Cleaner for Pet Hair: Long Story Short
Choosing the right vacuum cleaner for pet hair should be done carefully, however, most modern vacuum cleaners have options for motorized rotating brush and other, similar tools suitable for cleaning hairs and other hard-to-remove debris.
Our vacuum cleaner reviews and recommendations contain a number of vacuum cleaners suitable for cleaning dirt like pet hair.
Enjoy! 🙂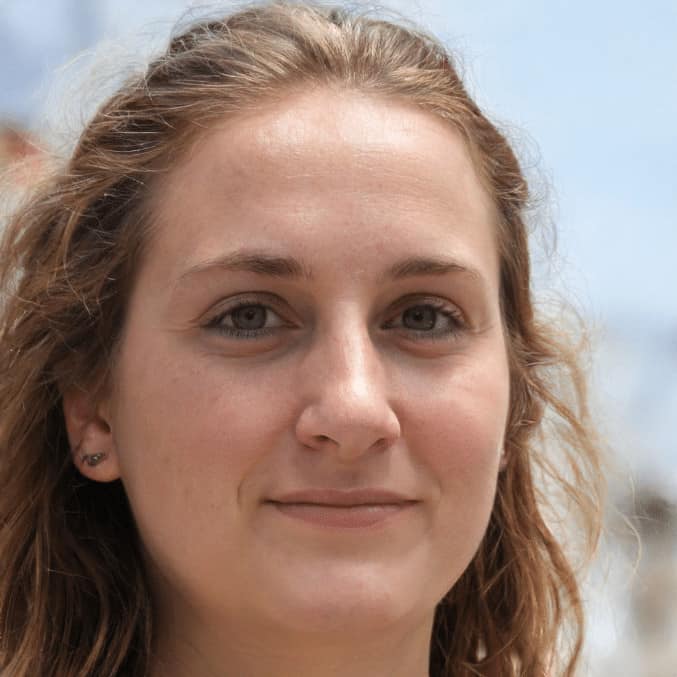 With a degree in engineering, Kathryn Hansen loves to write about how things work. Having her own dilemmas on how to pick the best vacuum cleaner for her large family (with a handful of furry four-legged members as well), Kathryn decided to help others in the same situation. After all, vacuum cleaners are critical to a healthy lifestyle and people have a hard time choosing the best one for their needs.