​The Deik 2-in-1 Cordless Bagless Stick and Handheld Vacuum Cleaner is a compact, lightweight, and versatile vacuum cleaner. It is powered with a powerful lithium-ion battery, providing both good suction and good operating time. The unit comes with several interesting and often very important features, making it one of the most potent units in its class. Today, we will provide you with a Deik 2-in-1 Cordless Bagless Stick and Handheld Vacuum Cleaner review, highlighting its tech specs and features. Read on to see our conclusion regarding this product.
Before you begin, however, check out the vacuum cleaners' specification guide we offered, just to understand better how vacuum cleaners work and how to pick a cordless bagless handheld vacuum cleaner.
Deik 2-in-1 Cordless Bagless Stick and Handheld Vacuum Cleaner Review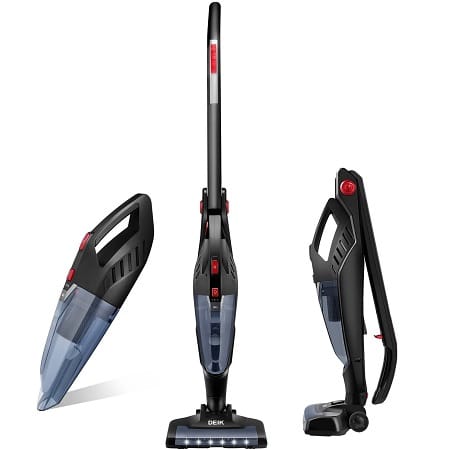 The Deik 2-in-1 Cordless Bagless Stick and Handheld Vacuum Cleaner are powered via 22.2V 2200 mAh lithium-ion battery, providing up to 30 minutes of fade-free power. The unit weighs 5.1 pounds (2.32 kg) and is light enough to be used even by elderly people and kids (under the supervision of adults, of course).
The handheld unit is detachable via a simple press of the button and can be used to clean elevated surfaces, including furniture, cars, upholstery, bookshelves, etc.

As a stick unit, this Deik vacuum is very maneuverable around the furniture. Thanks to the 90° main cleaning head swivel, the unit can reach under the furniture and other objects.

As a

stick vacuum,

the main cleaning nozzle is 6.7″ (17 cm) wide and is equipped with a rotating brush and LED headlights. Rotating brush help clean carpets, especially low-pile and up-to-the-point, medium-pile carpets.

High-pile carpets are not the best surface for this vacuum – or any vacuum of this size and strength since high-pile carpets require stronger rotating brushes and much stronger suction.
The rotating brush does a very good job when cleaning dust, crumbs, and similar debris. Also, it helps clean short human and pet hair, but it can have issues with a longer pet and human hair since there is no automatic haircutter of any kind. Fortunately, the rotating brush can be removed from the unit and cleaned when required.
Deik 2-in-1 Cordless Bagless Stick and Handheld Vacuum Cleaner Tech Specs and Features
To improve cleaning as a handheld unit, Deik comes with a crevice nozzle and dusting brush. Crevice nozzle is optimized for cleaning narrow and tight areas and along the edges and baseboards. Dusting brush agitates dust and other small particles from various surfaces, helping the airflow to suck the dirt into the unit.
The lithium-ion battery operates at 22.2V and its capacity is 2200 mAh, for a total of ~48Wh. Some sites claim that this unit comes with 800W motor, proving 7kPa of suction and that its operating time is 30 minutes.
We haven't had a chance to check this officially, but note that even mighty Dyson V8 comes with 425W motor and in eco-mode can operate up to 40 minutes and in burst mode up to 7 minutes. And it costs much more than the Deik 2-in-1 vacuum cleaner. So, motor power is probably 80W and not 800W. Note: 80W is still good value for a cordless stick/handheld unit.
It is claimed that this vacuum provides 'an impressive 7 kPa' of suction. Well, truth to be told, common corded units easily achieve 20 kPa (and more) of suction, so 7 kPa is weaker than practically all corded home vacuums. Nonetheless, 7 kPa is good suction for stick/handheld vacuum.
​Note
This is a good, affordable unit, but manufacturers and especially sellers tend to exaggerate when describing their products.
Controls are simple and are found directly on the collapsible handle. Collapsible handle help with storing the unit since it requires very little space and helps the user to keep the unit easily reachable – very important in emergencies.
Fully assembled dimensions: 45.3 x 10.2 x 6.7 inches (115 x 26 x 17 cm).

Folded handle dimensions: 25.6 x 10.2 x 6.7 inches (65 x 26 x 17 cm).
The unit comes with a charging station. Manual is a little bit unclear if the unit should be stored in the charging station all the time. Personally, lithium-ion batteries are sensitive to overcharging, but they also don't have memory effect, at least not as older NiMH and especially NiCd batteries.
Thus, charge your unit when required or after each larger cleaning and store it away from the charger. When the manufacturer says that it is safe to leave the unit in the charger indefinitely, only then leave it there.
Note
Some users claim that they leave the unit in the charger when not in use and they have no issues with the battery.
The fully drained battery requires almost 5 hours to get fully charged.
Dirt cup capacity is ~17.5 ounces (0.5 liters) and could be larger. However, larger dirt cups would make the unit somewhat bulkier and perhaps a little bit heavier. In any case, the dirt cup can be emptied quickly. Also, the dirt cup is transparent, helping the user to check the type and amount of cleaned dirt.
Air filtration is done using a washable mechanical air-filter. It is claimed that this is a HEPA grade filter, but personally, I am not sure that the whole unit is a true HEPA vacuum cleaner.
Anyway, air filtration is good, just be sure to keep the filter clean, since the dirty filter can cause loss of suction.

The unit comes with a year warranty – typical for the units of this type in this price range.
Long Story Short
Deik 2-in-1 Cordless Bagless Stick and Handheld Vacuum Cleaner is versatile and inexpensive (can be found under $100) 2-in-1 unit. Suction is good, the rotating brush does its job, cleaning width is good, headlights help spot the dirt in low-level conditions, dirt cup could be larger, but it detaches easily, handheld unit detaches with just a press of the button, air filtration is good, operating time is very good, etc.
All of these features could be better, of course, but that would require a stronger, heavier, and more expensive unit.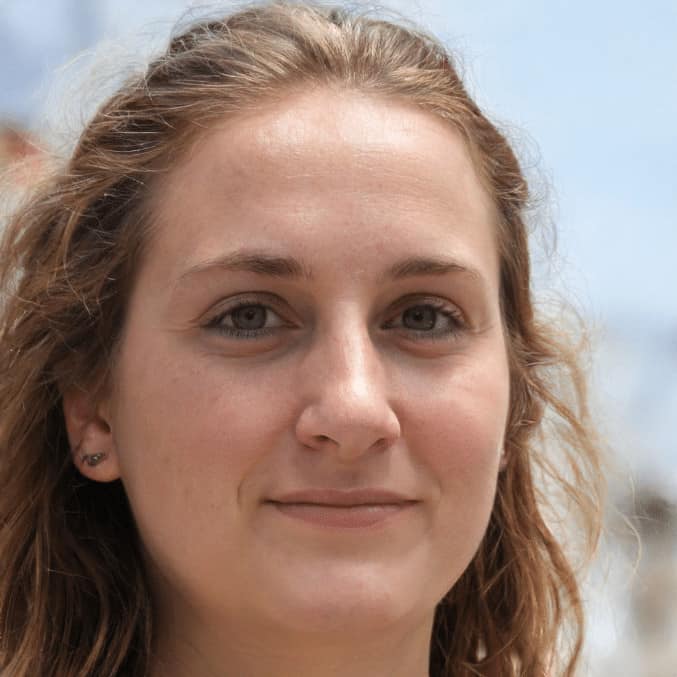 With a degree in engineering, Kathryn Hansen loves to write about how things work. Having her own dilemmas on how to pick the best vacuum cleaner for her large family (with a handful of furry four-legged members as well), Kathryn decided to help others in the same situation. After all, vacuum cleaners are critical to a healthy lifestyle and people have a hard time choosing the best one for their needs.