The Bissell 9595A Vacuum with OnePass is a relatively lightweight upright vacuum cleaner featuring Bissell's OnePass Technology that combines powerful suction and a rotating brush with an innovative design. It is a very popular vacuum cleaner which costs under $100 and can be used as an excellent primary vacuum cleaner for smaller homes and apartments.
How to Care For Your Vacuum Cleaner
Vacuum cleaners aren't cheap, which is why you should know how to care for your product so it never lets you down. Here are our favorite tips to ensure you're properly maintaining your appliance so that it'll last for a long time.
1. Clean The Brush Roll
It's important to check that your vacuum cleaner's brush rolls are performing at their best. As you regularly use your appliance, it'll encounter some general wear and tear that can prevent the brush rolls from properly spinning. Hair, string, and fluff can become trapped in these brush rolls.
The best way to clean brush rolls is to remove them, although we only suggest doing this if you're experienced and have unplugged the vacuum cleaner. Keep your manufacturer's guide to hand so you know how to attach the brush rolls again.
First, lift the plate and slowly slide the brush roll out from the slots on both sides. At this point, you should be able to see if there's any dirt or hair stuck between the rolls. If so, use scissors or a sharp object to remove them. To ensure the brush rolls are like brand new, rinse them with warm water and soap. This'll also loosen any dirt that you can't see on the surface.
While the brush rolls are out of the vacuum, this is a great opportunity to clean the roll's bearings inside of your vacuum. Use a damp rag to remove any dirt or debris that might be trapped.
2. Regularly Empty the Dirt Bin
Empty your dirt bin as often as you can, and preferably, don't wait until it's completely full to do so. Some bagless vacuums have an indicator to warn you when the dirt bin needs emptying, and some have a transparent design so you can track the bin's status.
Once you empty the dirt bin, many vacuum brands encourage you to rinse them with warm water to loosen any particles remaining inside. This is a particularly essential stage if your vacuum doesn't have a filter as dirt and fluff can fall out onto your floor.
3. Replace or Wash any Filters
If your vacuum cleaner has one or more filters, these will need to be regularly cleaned or replaced. Filters are a good way of keeping dirt and dust within the vacuum and prevent them from falling out. That means they can get messy and even spread dust around your home if you don't wash them.
If your vacuum cleaner has a soft foam filter, these are easy to maintain and only require washing with warm water before reusing. Do this every few —make sure it's completely dry before putting it back in the vacuum.
Bissell 9595A Review
Bissell offers a range of vacuum cleaners for different purposes, so we appreciate that choosing the right model for you can be daunting. But, the Bissell 9595A has an abundance of features that make this an ideal appliance for all kinds of households. Let's take a look at this vacuum's specifications.
​Power
The 9595A Cleanview with OnePass Technology features a 12-amp motor that is equally as strong as the Shark Rotator, and close to the Navigator's power, too. The OnePass Technology provides a sufficient amount of energy so that you don't have to go over the same patch of flooring more than once for a thorough clean. The suction and power behind the Bissell CleanView are so intense that many customers reported that it pulled out some fibers of their rug. After hearing this, you might be concerned. However, if your rug is securely held down, you won't encounter this problem. Plus, it won't tear out fibers from your carpet.
The Bissell 9595A is ideal if you have pets running around your home. Its ability to pick up any loose pet hair prevents any smell or mess in your home. You can also use the turbo brushes to collect any pet hair from soft floors, stairs or upholstery.
The OnePass Technology in this vacuum uses a combination of powerful suction and 12-amp motor along with a rolling brush design. These brushes rotate deep into carpet fibers enabling you to perform only a few passes and receive great results.
Lightweight and Easy To Use
The Bissell CleanView isn't the lightest vacuum cleaner on the market, but it weighs only 15 pounds, so it still light enough to maneuver around your home easily. At this weight, you shouldn't encounter too many difficulties carrying it up and downstairs, and pushing it across carpets or hard flooring. Some vacuums can be so large that it's a huge inconvenience to pull them across your floors.
With five height settings to choose from, it doesn't matter how tall or small you are, because the Bissell CleanView has an appropriate setting to suit everyone. Simply turn the dial on top of the base to select the height for you.
Thanks to the angle of the handle, the vacuum is mobile enough to reach virtually any location in your home. However, don't get your hopes up that this appliance will get under furniture, as the bulky end prevents it from reaching everywhere. Also, with a cord measuring 25 feet, you can comfortably get around your home without the cord holding you too far back. That is particularly ideal if you're often far from the power outlet or have large rooms. One disadvantage is that the 9595A doesn't feature an automatic cord rewind, so this is a manual task after each cleaning session.
Large Dirtbin
Another feature we love about the Bissell CleanView is its large dirt bin. Instead of having to stop and start your cleaning sessions to empty out any dirt the vacuum picks up, the Bissell CleanView offers a large-capacity container that only requires emptying once in a while. Not only does this save you time and effort but money too, as you don't have to spend money on additional bags.
With a volume of 2.2 liters, this is more than enough space to clean an entire average-sized home. The dirt bin is also transparent so you can check the amount of dirt that's collected and keep on top of emptying it at appropriate times. Also, operating the dirt bin is a simple task. Merely press a button to release the container and remove it from the base. It then easily slots out, but just be conscious of dirt falling on the floor. Once you've emptied the bin, wash it with warm water to prevent any build-up of dirt over time. That's general maintenance that you should do with almost any vacuum cleaner that doesn't require vacuum bags.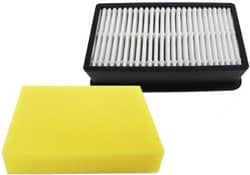 Numerous Attachments
A vacuum without any attachments is not much use to a busy household. When researching information for this Bissell 9595A review, we were impressed by the variety of tools that come with the Bissell CleanView. First, the extension wand is a great way to reach high and low corners in your room that you would ordinarily have difficulties accessing. This extension ward works perfectly fine by itself, or you can combine it with other tools to further extend its capabilities.
If you're looking for an attachment that can remove dirt, hair, and fluff from upholstery without damaging the fabrics, then the turbo brush is an ideal tool. You'll still receive a great deal of suction to make, but this tool won't leave any marks on your sofa. You can also use this on curtains, blinds, lampshades, the bed, and delicate surfaces, without leaving any traces on fabrics.
To get into awkward spaces such as in-between seats in your car, behind the fridge, or along baseboards, you'll need a tool that can reach into nooks and crannies. Thankfully, the crevice attachment is a go-to in this situation and features a fine nozzle.
Filtration System
The Bissell 9595A presents itself with a filtration system to efficiently capture any dust and allergens around our home. These are not easy to spot with the human eye, so you'll need a powerful vacuum that can pick up pollen and allergens for you. Luckily, this appliance features a HEPA filter that provides incredible results against germs and allergens on floor surfaces and in the air in your home.
If you or other people in your home have allergies, this is a great solution to eliminate them from your home merely by vacuuming them up. By ensuring that particles are locked into the dirt bin, the elements won't escape back into the air.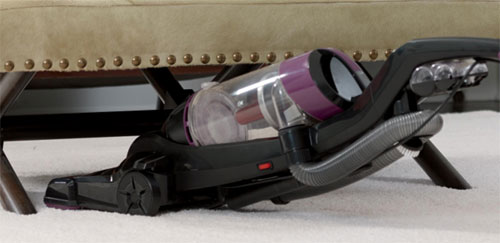 The Benefits of a Bagless Vacuum
When writing this Bissell 9595A review, we looked into some of the benefits of owning a bagless vacuum over an appliance that requires vacuum bags. Here are some of the main advantages of this type of vacuum.
1. Improved Suction
Vacuum cleaners without bags tend to have more suction that remains consistent while you're using the vacuum. If you purchase a vacuum cleaner that requires bags, this will clog quickly with dirt and debris it picks up that, which can create an issue with the suction levels.
2. You Save Money 
Another significant benefit of owning a bagless vacuum cleaner is that you don't need to spend money on vacuum bags. You won't save thousands of dollars, but it's better to save money than spend it, right? Each time you've finished with a vacuum bag, it's thrown away, which ends up in a landfill. So, what's the use?
3. It's Much Easier and Less Fuss
Having to renew your vacuum bag each time you use it adds an extra task to vacuuming— not to mention more fuss. You also need to stay on top of removing the bag and purchasing new ones. It can be frustrating to attach the vacuum bags correctly to the vacuum, and if you don't properly connect it, dirt and dust can empty into the vacuum.
4. You Can See Everything The Vacuum Collects
We've all been in a situation where we've accidentally vacuumed something important. Instead of having to sift through a vacuum bag, you can merely look inside the vacuum and see what you've collected. That's is a great way to catch something that your vacuum picked up. Alternatively, it can be satisfying to see the amount of dirt and dust you've collected and know that it's no longer on your floors.
Bissell 9595 vs 1330
The Bissell 9595A Vacuum with OnePass and Bissell 1330 CleanView Bagless Upright Vacuum with OnePass Technology are two very similar vacuums.
The Bissell 1330 product is a somewhat newer model and is considered as 'refreshed' Bissell 9595A vacuum cleaner, although both units can be found in stores.

According to the Bissell brand, the 1330 vacuum uses new brushrolls based on the updated OnePass Technology to help better pick up various debris on multiple floor types.
Although the 1330 model uses a 10-Amp motor and 9595A uses a 12-Amp motor, it is said that the1330 has improved suction power. Unfortunately, Bissell does NOT state actual Air Watts value of either of these two models.
The Bissell 1330 is slightly heavier (15.5 vs. 15 pounds) and has a smaller dirt bin (2 liters vs. 2.2 liters).
However, the Bissell 1330 comes with a Crevice Tool and TurboBrush Tool, while the Bissell 9595A comes with Crevice Tool, TurboBrush Tool, and the Dusting Brush.
Both Bissell 1330 and 9595A units are very affordable units and can be used as the primary vacuum cleaner in smaller homes and apartments. Bissell 9595A is perhaps a slightly older model, but it comes with an extra dusting brush.
Since 9595A model is an older model, it can be expected that its price will be going down soon—or maybe not.
Bissell 9595A vs. 1831
The Bissell 9595A vacuum can reach virtually every part of your home that needs a good clean— and that's not just your stairs. With a variety of tools, you can also target areas that were once hard to reach. The 1831 is another vacuum model by Bissell that features similar attachments. However, this version seems to loosen more dirt and pet hair from surfaces around your home.
Both of these vacuums come inclusive with helpful attachments to target thick dirt and dust, with a variety of broad, soft bristles to clean delicate upholstery. For example, both come with a crevice tool that allows you to collect crumbs in-between couch cushions and from gaps in your kitchen floorboards.
The Bissell 9595A Cleanview vacuum isn't the lightest products on the market but is portable enough for you to transport it comfortably. The 1831 model weighs 0.4 pounds more but features the same 25-foot power cord. However, this version also comes with an automatic cord rewind to transition from room to room easier.
The Bissell 1831 also has a bagless design to prevent you from unnecessarily spending money on vacuum bags. Its dirt bin capacity is also two liters, so you don't have to empty the bin after every cleaning session. However, you cannot rinse the 1831's bin after emptying it as doing so could damage the vacuum. As a result, this model could become dirtier over time.
The suction between both models is virtually the same, and Bissell's high performance is noticeable in both of these vacuums. However, the Bissell CleanView has slightly more suction power and can trap more dirt inside the dustbin to make your housekeeping even quicker.
Bissell Vacuums vs Shark Vacuums
Choosing the right vacuum for you actually requires a lot more research and consideration than you probably initially thought. One approach to take is selecting a brand that suits your needs. There are many benefits to buying a Shark vacuum and this brand is well-recognized worldwide. But what are the differences between Bissell and Shark vacuums?
For whatever reason, you might be looking for a vacuum that has a minimal sound when you operate it. When we researched noise when writing this Bissell 9595A review, we found that a handful of customers were disappointed with its volume, especially for those with pets or babies.
However, Shark vacuum cleaners feature a noise reduction technology that prevents any acoustics from echoing around your home. As Bissell is missing this key ingredient for pet owners, the Bissell 9595A tends to be louder than any Shark vacuums, but this is purely down to its intense suction power.
Energy efficiency might be important to you, especially as we're all becoming more aware of how much energy we use. When looking at the number of amps you need to power a vacuum, we found that Bissell needed much more than Shark. Specifically, a Shark vacuum requires 10 motor amps, whereas Bissell uses around 12. Although there is only a difference of two, this is still enough to make a difference to your energy bill.
What Are Your Thoughts On Our Bissell 9595A Review?
We hope our Bissell 9595A review was useful to you and you learned some key features of this vacuum. This product is a cheap, upright bagless vacuum cleaner. If you have a smaller home, it can be your main vacuum cleaner, especially if you have mostly carpets – there is no on/off rotating brush switch and no automatic height adjustment. Don't forget that this is under $100 vacuum which comes with great suction, good air filtration and 2 years' limited warranty.
We appreciate that this light and consumer-friendly CleanView can clean all surfaces in your home and is able to remove dirt, hair, and fluff. Some customers were disappointed that it didn't offer an automatic cord rewind, although had no real issues with this as it doesn't affect the vacuum's power or mobility.
What are your thoughts on the Bissell 9595A? We'd love to hear if this article has swayed you toward purchasing one, or if you already have a trusted vacuum you swear by. Either way, share your opinions in the comments.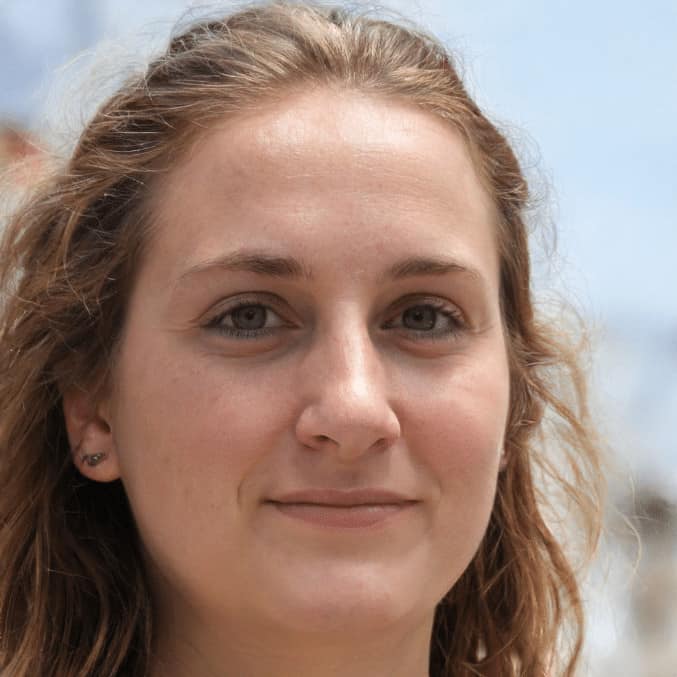 With a degree in engineering, Kathryn Hansen loves to write about how things work. Having her own dilemmas on how to pick the best vacuum cleaner for her large family (with a handful of furry four-legged members as well), Kathryn decided to help others in the same situation. After all, vacuum cleaners are critical to a healthy lifestyle and people have a hard time choosing the best one for their needs.