Housmile Anti-Dust Mites UV Vacuum Cleaner is very popular and efficient corded, handheld vacuum cleaner, designed for cleaning mites, bed and other similar bugs and allergens from mattresses, pillows, cloth sofas and other cloth furniture and upholstery, carpets etc.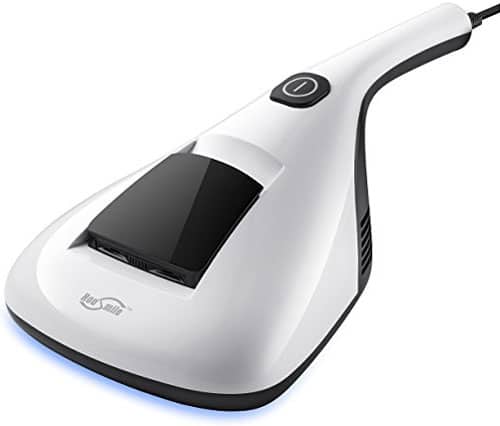 In order to clean/remove dust mites and other similar bugs and allergens, Housmile Anti-Dust Mites UV Vacuum Cleaner uses several methods to kill the mites in the mattresses and other surfaces, to remove them and to prevent them from reappearing again.
Unit uses 253.7nm UV light tube and 55? (~130°F) high temperature hot air to ensure high efficiency of killing dust mites and other bed bugs. According to the manufacturer, the rate of killing bed bugs, mites, microorganisms and bacteria is almost up to 99.7%. And that is 'lab value'. In real life, expect less, or if you have time and you apply more passes, you can achieve even more than 99.7%.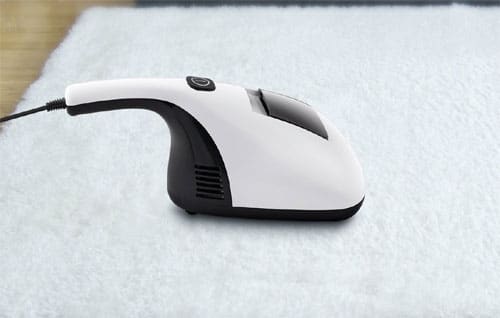 UV light can be harmful to the humans and when operating, be sure to press the unit firmly to the cleaned area – just to be sure, read the manual before the first use. Also, 55°C/130°F doesn't sound much, but such hot air will warm the mattress significantly – be sure that you mattress can handle it. IMHO, they all can and should be able to handle it and if they can't, get yourself new, more resilient mattress.
Stream of hot air not only helps in killing the bed bugs, but it also helps in removing humidity from the mattresses, pillows, seats, cloth furniture and upholstery, carpets etc. Low mattress humidity prevents bed bugs from reappearing again.
In order to remove the dirt, bugs, and allergens, Housmile Anti-Dust Mites UV Vacuum Cleaner uses motorized beater pad, with 3800 Hz high frequency vibration and double suction to remove the dust and mites. First the motorized beater pad agitates and help loosen out the dust mites and dirt from deep of the mattress and other surface and then sucks them away.
The whole machine is true HEPA vacuum cleaner, with filtration based on mechanical filter with activated charcoal – unit captures 99.97% of particles as small as 0.3 microns and releases the fresh air.
The unit is rather small and compact and with just 2.81 lbs (~1.27 kg) it is very light and easy to operate.
Unit is of bagless design and it has rather small dirt bin of just 160 ml. However, unit is designed to clean mattresses and similar surfaces, not carpets in walkways and similar. It is highly recommended to empty and clean the dirt bit after each use.
As one can see, Housmile Anti-Dust Mites UV Vacuum Cleaner is for a reason popular vacuum cleaner in its class. However, note that when it operates, it is rather loud unit (not like jet fighter taking off, but generally, it could be less noisy) and its cleaning path width is rather narrow – IMHO it not the width of the unit, but slightly wider than the width of the beater pad.
For more reviews and recommendations, check Housmile Anti-Dust Mites UV Vacuum Cleaner
Amazon link (link opens in the new window).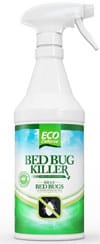 If you or your child are very sensitive to bed bugs due to asthma and various allergies, vacuum cleaner like this can really help. However, if you want to increase the level of cleanliness even more, consider using some non toxic, organic bed bug killer in combination with mattress vacuum and bed bug proof mattress encasement/protector.
Good, non-toxic, organic bed bug killer eliminates bed bugs on contact in all stages of life (eggs, nymphs, adults).
It should not stain treated surfaces when applied directly to the bed sheets, mattresses, seats, carpets etc. to kill the bugs on site.
Most convenient bed bug killers are in the form of sprays, but can be found in powdered form, too.
Before first use, be sure to thoroughly read the instructions for use. Generally, apply the agent to the 'problematic' surface, wait a little bit and then vacuum it using strong ordinary or preferably mattress vacuum cleaner. And that is all regarding cleaning the mattresses.
If you need such spray, feel free to search Amazon for Organic Bed Bug Killer
(link opens in the new window).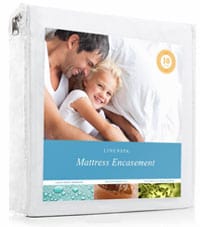 After the mattress is cleaned, it is perhaps the best thing to do to protect the mattress, is using high quality mattress encasement or protector.
Such mattress encasement or protector should be fully breathable, washable, waterproof and bed bug proof and should protect the mattress from all sides.
Since such protection is long lasting form of protection, in the case of issues with bed bugs, clean the mattress thoroughly, even using chemicals if required and protect it for future use.
One of the most popular mattress protectors is LINENSPA Zippered Encasement Waterproof, Dust Mite Proof, Bed Bug Proof Breathable Mattress Protector
(Amazon link, link opens in the new window), which comes in many sizes, suitable for various beds and mattresses.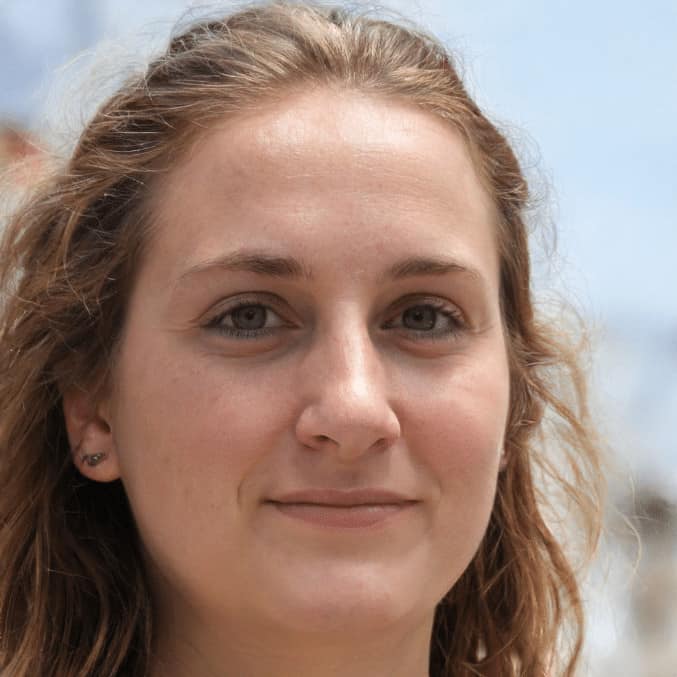 With a degree in engineering, Kathryn Hansen loves to write about how things work. Having her own dilemmas on how to pick the best vacuum cleaner for her large family (with a handful of furry four-legged members as well), Kathryn decided to help others in the same situation. After all, vacuum cleaners are critical to a healthy lifestyle and people have a hard time choosing the best one for their needs.