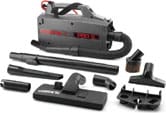 Oreck Commercial BB900DGR XL Pro 5 Super Compact Canister Vacuum is lightweight, easy to use, and rather versatile commercial grade vacuum cleaner. It comes with several cleaning attachments optimized for various surfaces that can be found from the floor to the ceiling. And it comes at a very affordable price.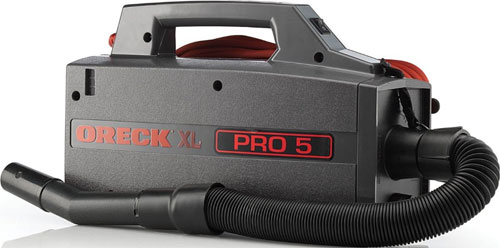 Oreck XL Pro 5 Canister Vacuum Features and Specifications
Oreck XL Pro 5 is a canister vacuum cleaner that comes with a shoulder strap and an integrated handle for portability and easier handling.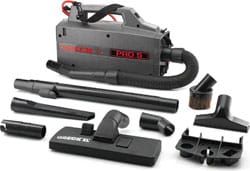 Since it weighs only 5 pounds (~2.3 kg) without hose and accessories, it can be used on the ladder, stairs, around corners or furniture, ceiling fans, molding, bookshelves, curtains, light fixtures, and anywhere where there is no much room for maneuvering with a vacuum cleaner and/or cleaning attachment.
The vacuum comes with a 4-amp, two-stage bypass motor, which is at least as powerful as typical flow-through motors that draw more amps, and generally has a greater vacuuming capability than single-stage motors.
Oreck XL Pro 5 comes with an adjustable extension wand and 4-foot hose. 4-foot (1.2 m) hose doesn't sound long enough, but this vacuum is usually carried and used using a shoulder strap or is carried in the left hand with the wand in right hand (or vice versa, if you are left handed). This significantly helps cleaning overhead vents, ceiling fans, and other high places.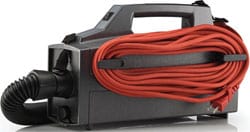 The vacuum comes with a 30-foot (9.15 m) power cord, which enables the vacuum to cover a larger area without changing outlets. The power cord is thick and robust, and it appears over-dimensioned – good! 🙂
Unfortunately, there is no automatic rewind system, but such a system would make this vacuum heavier, bulkier, and probably more expensive.
Oreck XL Pro 5 is a very compact vacuum cleaner. It measures 8 x 6 x 15 inches (20x15x38 cm – H x W x D) and it has 1-quart (~0.95 l) dirt capacity. The vacuum comes with 1 year warranty.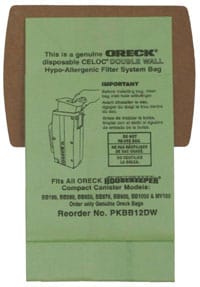 It uses disposable vacuuming bags, and the use of original Oreck vacuum bags is highly recommended.

Oreck Commercial PKBB12DW Super Compact Canister Advanced Filtration Disposable Bags have excellent air filtration capabilities and are rather cheap – they cost around $0.30 per bag when bought in 12 bags packs.

These bags are hypoallergenic vacuum bags in order to minimize allergic reactions and have a triple-layered construction to help trap dust particles.

It is claimed that they capture up to 99.97% of all airborne allergens, but they are not HEPA (High Efficiency Particulate Air) certified.

Nonetheless, they do their job very well.

These bags fit Oreck Commercial BB180, BB280, BB850, BB870, BB900, BB1000 and MV160 canister vacuum cleaners.

For more information about these bags, feel free to check the Oreck Commercial PKBB12DW Disposable Bags Amazon link (link opens in the new window).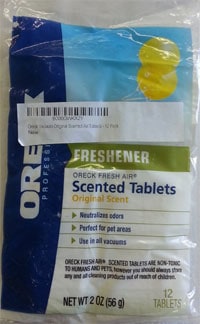 In order to freshen the air, Oreck XL Pro 5 vacuum cleaner can use Oreck Fresh Air Vacuum Scent Tabs.

They leave a fresh, gentle scent in the cleaned room and can be used around the home, in drawers, kitchen cabinets, garbage cans, in the car, etc.

It is recommended to place one tab in the vacuum bag and vacuum as usual.

They can be used in any vacuum cleaner that uses a dirt bag. Personally, I have never tried them in any cyclonic/bagless vacuum cleaner (cyclonic/bagless vacuums separate dirt using cyclonic separation, and air doesn't pass the dirt once the dirt is separated from the air!).

Anyway, the easiest way to use them with Oreck XL Pro 5 is to crush a tab and then to vacuum it – Oreck XL Pro 5 uses a disposable bag, and when the bag is thrown away, so is the rest of the tab.

For more reviews and recommendations about these scent tabs, check the Oreck Fresh Air Vacuum Scent Tabs Amazon link (link opens in the new window).
Long story short – being around $100 – $110, Oreck XL Pro 5 is a great, compact, affordable, and durable vacuum cleaner that will do its job very well. It is carried around using a shoulder strap and/or integrated handle, and it doesn't have transport wheels. Being so small and compact, it is easily stored away.
For more reviews and recommendations, feel free to follow Oreck Commercial BB900DGR XL Pro 5 Amazon link (link opens in the new window).
Other Desirable Oreck Vacuums
Oreck Super-Deluxe Compact Canister Vacuum Cleaner
At just four pounds and dimensions of 19.6 x 11 x 9.7 inches, the Oreck Super Deluxe Vacuum is easily maneuverable. It can fit inside places that not many other vacuums would even dream of.
This versatile BB880 Super-Deluxe Compact Canister Vacuum Cleaner is ideal for cars, boats, RVs, offices, dorms, and workshops, working on everything from tall ceilings and sofas to all those hard-to-reach places. If you've got allergies, then you need not worry because this vacuum uses hypo-allergenic disposable dust bags rather than a dust cup. It's even designed a Posi-Lock, easy-access bag door to assure a tight, dust-free seal.
Furthermore, it has a Posi-Lock with an easy-access bag door that allows for a tight seal to prevent dust from escaping. As far as cleaning power goes, you'll be pleased to hear that it's versatile enough for all types of floors, crevices and that the hose is easily maneuverable. Overall, a compact, lightweight, and easy to use vacuum cleaner that can get the job done in many situations.
Oreck Commercial ORB550MC Commercial Orbiter Floor Machine
While this model isn't nearly as compact as the BB880 Super-Deluxe or the BB900DGR XL Pro 5, it comes from the same reliable brand and does a fantastic cleaning job.
It has a floor buffer for cleaning wood, vinyl, tile, and other hard floors and dry-cleaning and loosening dirt from carpeted floors. It's suitable for use with brushes, pads, bonnets, shampoos, and cleaning solutions. The long handle makes it easy to slide under beds and other hard to reach areas. And finally, it's got a 50-foot long power cord for even more added convenience and maneuverability.
The unique design of the random orbital drive makes it remarkably easy to do it yourself. The brush head moves in a random orbit pattern, which allows the machine to glide over the floor easily, and prevents brush marks, swirls, and gouges.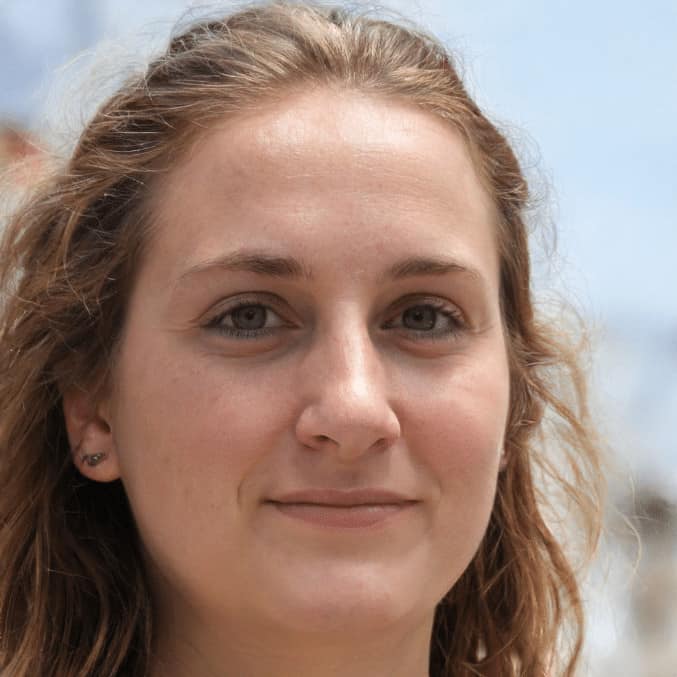 With a degree in engineering, Kathryn Hansen loves to write about how things work. Having her own dilemmas on how to pick the best vacuum cleaner for her large family (with a handful of furry four-legged members as well), Kathryn decided to help others in the same situation. After all, vacuum cleaners are critical to a healthy lifestyle and people have a hard time choosing the best one for their needs.