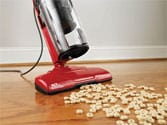 Dirt Devil Power Air Corded Bagless Stick Vacuum Model SD20505 is an inexpensive, lightweight, and powerful stick vacuum cleaner optimized for hard floor cleanups. Thanks to the bagless design, cyclonic filtration, and washable mechanical filter, this is also a low maintenance unit.

The Dirt Devil SD20505 is powered via 20 feet (6.1 m) long power cord – the power cord could be longer, but even with this long power cord, one can cover and clean a rather large area. If one has to change power outlets, note that the unit is very light – just 6.67 pounds (~3 kg) and can be easily carried around, even up and down the stairs.
Dirt Devil SD20505 Components
The handle is fixed, with a standard grip handle. The handle can't be removed, with the rest of the vacuum being used as a handheld unit – this is not a 2-in-1 unit or anything similar.
Suction is strong, thanks to the 10 Amp motor – this is a very strong motor for the cleaner in this price range (well below $100!) and it is very well designed and built since the unit comes with a 2 year limited warranty.
Dirt Devil SD20505 doesn't come with a power cord automatic rewind system, and it doesn't have a performance check indicator. Also, it lacks LED headlights.
The cleaning nozzle is 11 inches (~28 cm) wide. Its nozzle is wide enough to be able to cover a rather large area quickly and small enough to be able to maneuver easily around corners, along the baseboards, edges, and similar. A narrower nozzle (for example, 8 inches) would be able to clean harder to reach surfaces, but it would require more time to clean the same surface. On the other hand, a wider nozzle (for example, 14 inches) would be better in cleaning larger surfaces, but it would have issues in cleaning surfaces with various obstacles and it would also require a stronger motor, leading to the more expensive and heavier unit. Thus, 11 inches nozzle is the 'best bet' for most situations commonly found at homes and apartments.
Other Details About the Dirt Devil SD20505
The unit also comes with a scatter guard and a large nozzle opening for the larger debris.
The dirt cup is transparent and enables the user to see the amount and type of vacuumed dirt. The dirt cup has a bottom release system, enabling the user to empty the dirt directly into the trash can (not a few feet above the trash can).
Air filtration is good – it is not true HEPA air filtration, but the filtration system does its job. Air filtration is a combination of cyclonic dirt-air separation and a mechanical air filter. Cyclonic action keeps the dirt away from the air filter and enables the operation until the dirt cup is almost full. Nonetheless, it is recommended to empty the dirt cup after each larger cleaning.
The mechanical filter is pleated (to increase its surface) and it is washable using plain water. Note: don't return the filter into the unit until it is fully dry (air dry it for at least 24 hours).
Note: The unit uses Dirt Devil's F2 filter type – such OEM filter is HEPA grade filter (not just HEPA style filter), but the whole unit is not even advertised as being HEPA grade vacuum. Nonetheless, whenever possible, use the OEM air filter and enjoy very good air filtration – great in this price range.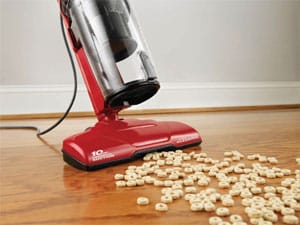 When it arrives, the unit must be assembled, but it can be done quickly, without tools. Just to be sure, before you do anything, read the manual and familiarize yourself with your vacuum.
Dirt Devil SD20505 is optimized for bare floor cleaning – tiles, marble, laminate, hardwood, and similar. It can be used even on low-pile carpets, but it doesn't have a rotating brush or anything similar that would improve the cleaning of the carpets and rugs.
Long Story Short
If you have large bare floor surfaces and need a lightweight and inexpensive vacuum for periodic fast cleanups, Dirt Devil SD2050 is one of the possible solutions. It is a cheap, low maintenance unit, has a very good warranty, great suction, and air filtration, and in the end, it cleans your floors.
For more reviews and recommendations, check Dirt Devil Power Air Corded Bagless Stick Vacuum for Hard Floors SD20505
Amazon link (link opens in the new window).
Replacement Filter For the Dirt Devil SD20505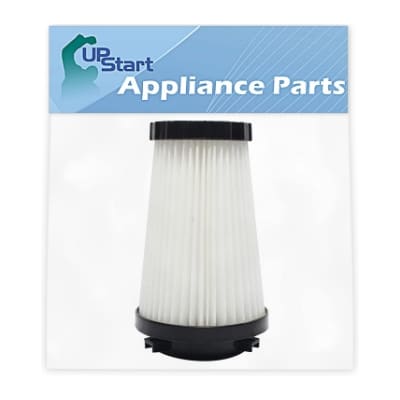 The replacement filter found on Amazon is compatible with both the Dirt Devil SD20505 and many other models from the same brand. Just like the original vacuum filter, this one is ideal for those who suffer from dust-related discomforts.
This F2 HEPA filter is affordable and greatly improves the vacuum's trapping power over other non-official replacement filters you can get right now. Many people like this filter because it improves the suction power and efficiency even on vacuums that the filter isn't officially compatible with.
Alternative Filters For the Dirt Devil SD20505
3 Envirocare Hepa Filters to fit Dirt Devil F2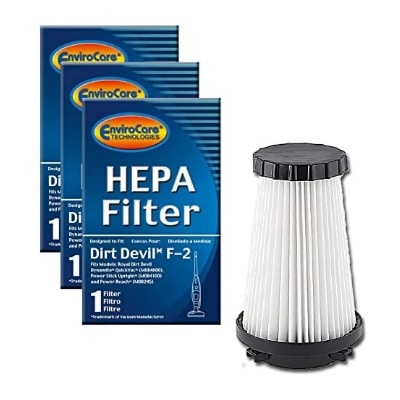 This package contains three premium aftermarket Dirt Devil F2 filters. It successfully replaces the genuine parts while still maintaining the high quality standards that the original unit has set.
At a weight of only 7.2 ounces, the package is easy to handle even for seniors or people with smaller hands. Many users are extremely pleased with this replacement package considering the fact that it's not made by the same manufacturer and that you get free shipping on your first order.
3M Filtrete Dirt Devil F2 HEPA Vacuum Filter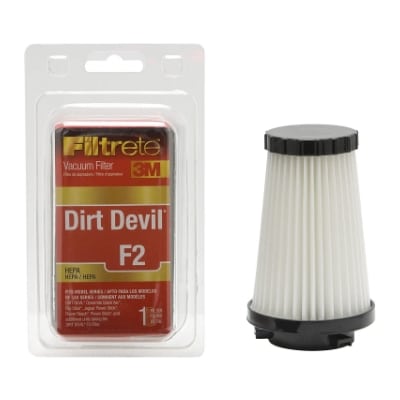 Coming from the renowned 3M brand, this unofficial yet official replacement HEPA filter for the Dirt Devil SD20505 does an outstanding job, just like all products coming from the same manufacturer.
As you can see from the product page, this filter can trap dust, allergens, pet dander, grass, and ragweed pollen, as well as dust mite debris. Overall, a quality replacement part coming from a brand that has so far never disappointed any of us.
Overall Verdict about the Dirt Devil SD20505
The Dirt Devil SD20505 is a powerful HEPA filtration vacuum that will satisfy even the most pretentious user's needs. 
Alternatives to the Dirt Devil SD20505
Dirt Devil SD20020 Vibe 3-in-1 Vacuum Cleaner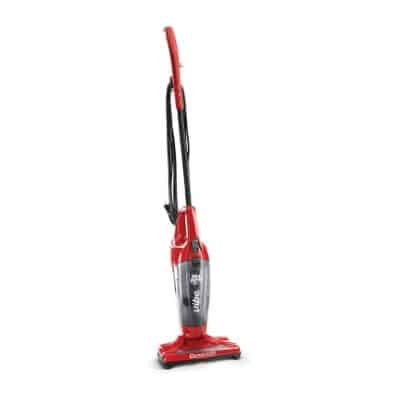 This nifty little model is very similar to the SD20505 when it comes to shape, size, and overall cosmetics. However, it manages to stand on its own flawlessly thanks to the on/off brushroll function, detachable stick, and excellent motor wattage. We like the fact that you can easily convert this vacuum from an upright one to a handheld model without any fuss. The process is as straightforward as it can get.
Furthermore, the 10-inch nozzle provides a path for quick clean-ups and it also features a scatter guard to prevent dust and debris from going all over the place when you're cleaning.
MOOSOO LT450 Vacuum Cleaner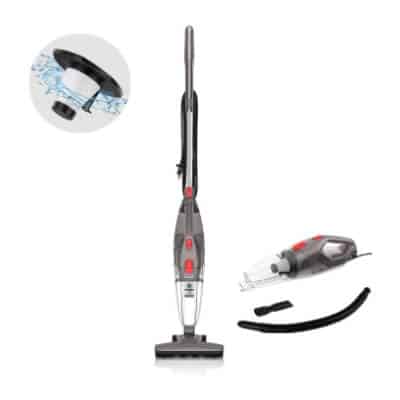 At less than 4 pounds, the MOOSO LT450 produces an impressive 15 KPA powerful suction and comes with an easy to use and convenient 0.8-liter dust cup. It comes with a variety of accessories, including a screwdriver, brush, handle, and a tube just to name a few. Just like any respectable vacuum, this one also comes with advanced HEPA filtration. The removable HEPA filter can be cleaned without worrying about dust accumulation and blocking the ventilation holes.
Furthermore, The power cord can be wound to the back to save storage space and place it at will. The Vacuum Cleaner can be used between 0°-90° to clean the bottom of sofas, tables, etc. Also, unlike other vacuum cleaner, the LT450 suction vents reach the bottom of the dust cup and rotate the dust by constantly inhaling air. The inhaled dust is rotated through the dust cup, and centrifugal force is used to separate the different dust for better filtration. In conclusion, we really have to give credit where it's due, despite the fact that this isn't a particularly famous brand.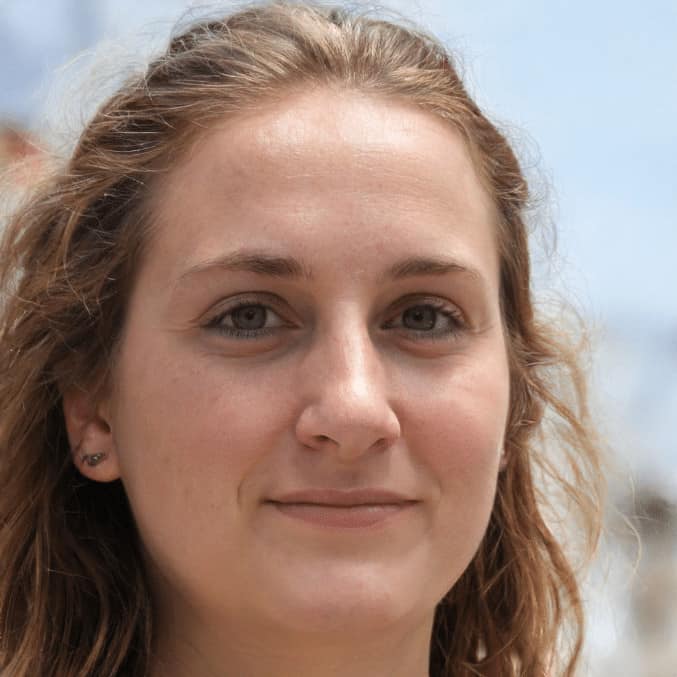 With a degree in engineering, Kathryn Hansen loves to write about how things work. Having her own dilemmas on how to pick the best vacuum cleaner for her large family (with a handful of furry four-legged members as well), Kathryn decided to help others in the same situation. After all, vacuum cleaners are critical to a healthy lifestyle and people have a hard time choosing the best one for their needs.