Euleven 3005CH is a handheld mattress vacuum cleaner. It combines good suction with two suction ports, a vibrating pad, UV light, and hot air to kill and thoroughly remove dust mites, bacteria, and other dirt and allergens from the quilts, mattresses, bedspread, bedding, pillows, cushions, sofa cloth products, car seats, etc.
Using the Euleven 3005CH, it is very easy to keep the mattresses and other surfaces clean. It is easy to operate and very efficient in cleaning. However, when in use, it must be pulled rather slowly (4 inches/s, 10 cm/s) over the surface, or its cleaning efficiency can drop significantly.
Euleven 3005CH Features
Euleven 3005CH uses several methods to clean the mattresses and other similar surfaces:
– Hot Air: Euleven 3005CH uses high temperature air (up to 131°F/55?) for drying and killing most of the bacteria and dust mites. Hot air also helps remove moisture from the mattress, denying the bed bugs one of the requirements for their successful living – moisture/water.
– UV light: After hot air, Euleven 3005CH uses UV light to disinfect and fully eliminate various bed bugs hiding in the quilts, mattresses, sofa, various fabrics, curtain, carpet, etc. Euleven 3005CH uses a 16W UV lamp that mostly emits UV-C rays at ~253.7 nm, which is very harmful light for bacteria and dust mites. In order for the lamp to work, the vacuum must be firmly pressed onto the cleaned surface – a very important safety feature. In order to use the unit in the most efficient way, be sure to read the manual before first use.
– Strong suction: Euleven 3005CH uses a double port (double mouth) suction system. After UV light, the main suction port removes any dust, dirt, debris, and dead bugs from the cleaned surface.
– Beater pad: In order to clean even deeper, the beater pad oscillates on high frequency (up to 3 kHz) to help get rid of the stubborn dust mites and other bed bugs and dirt stuck deeper into the mattresses.
– Double Suction Cleaning: Second (upper) suction inlet collects all the dust and bacteria not collected by the main suction inlet. In combination with high quality, washable HEPA filter, almost no dust is released back into the air. When cleaning the filter, be sure to air dry it thoroughly, before putting it back into the unit. After some time, suction drops and it is time to change the filter, which can be easily found at online shops like Amazon, for example.
Euleven 3005CH Performance
Euleven 3005CH is a small and lightweight handheld vacuum cleaner. Its dimensions are 11.69 x 7.17 x 4.88 inches (~29.7 x 18.2 x 12.4 cm) and it weighs around 3.2 lbs (~1.45 kg).
The power cord is 157.5 inches (4 m) long, which is long enough for most situations. Of course, due to the unit size, there is no automatic rewind system of any kind.
Dirt bin capacity is 5.4 oz (160 ml) which is rather small for a handheld vacuum cleaner, but this vacuum is designed for very specific use and such a small bin is more than large enough.
The bottom of the unit, with a short description, is shown in the following picture: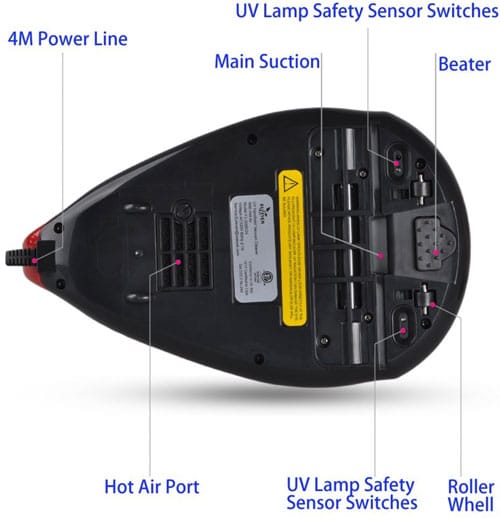 Like many similar mattress vacuums, Euleven 3005CH effective cleaning paths are perhaps slightly wider than the width of the main suction inlet, which has a similar width to the beater pad and hot air port (photo above).
Again, many mattress vacuums have this limitation, not just the Euleven 3005CH model. This is very important when cleaning mattresses, quilts, sofas, fabrics, mats, curtains, carpets, and other similar surfaces – if the bed bugs are not thoroughly cleaned, they can multiply rather quickly.
Long story short
Euleven 3005CH is one of the best buy mattress vacuums. It will help you get rid of bed bugs, various dirt, and allergens from various surfaces. Just be patient and use it as recommended.
For more reviews and recommendations, check the Euleven 3005CH Handheld UV Mattress Vacuum Cleaner
Amazon link (link opens in the new window).
Products Similar to the Euleven 3005CH
In case the Euleven 3005CH isn't available for some reason, here are other similar products you can purchase instead:
Housmile UV Mattress Vacuum Cleaner
The Housmile UV Mattress Vacuum Cleaner comes with mostly the same features as the Euleven 3005CH plus excellent HEPA filtration that traps dust and other inorganic allergens effectively. What makes this unit so special is that, when compared to other UV vacuum cleaners, the Housemile's bulb is 20% more powerful.
The case is both elaborate and compact in design, weighing in at just 4.5lbs. And it comes with a built-in 200ml large capacity dust collector, thus meeting all the expectations of quality and performance.
RAYCOP LITE UV Sanitizing HEPA Allergen Vacuum
Check Latest Price on Amazon
The Raycop Lite uses a powerful UV lamp with a wavelength calibrated to effectively eliminate over 99% of bacteria from fabric surfaces throughout the home. Because of the lamp's power, this process requires a very short exposure time.
One unique selling point this vacuum has is comprised of its pulsating pads. The pads vibrate between 4,600-5,000 times per minute to agitate and loosen household dust, dirt, and dust mite matter. This vibration function, in conjunction with the suction and brush functions, removes dust and allergens 3 times better than the standard vacuum cleaner.
LivePure Ultramite UV HEPA Allergen Vacuum
Check Latest Price on Amazon
What we like about the LivePure Ultramite UV HEPA Allergen Vacuum is that it offers three stages of sanitization. First off, the covered rolling brush & optimized suction vibrates dust mites and other allergens loose from deep inside soft surfaces without disrupting the fabrics.
Secondly, the UV light removes 98% of all dust mites and 99% of all bacteria, viruses, and other pathogens that might've made their bed in yours. Finally, the HEPA filtration along with the detachable bin captures and traps 99.97 percent of particles as small as 0. 3 microns including dust, pet hair and dander, pollen, smoke, mold spores, and dust mite debris.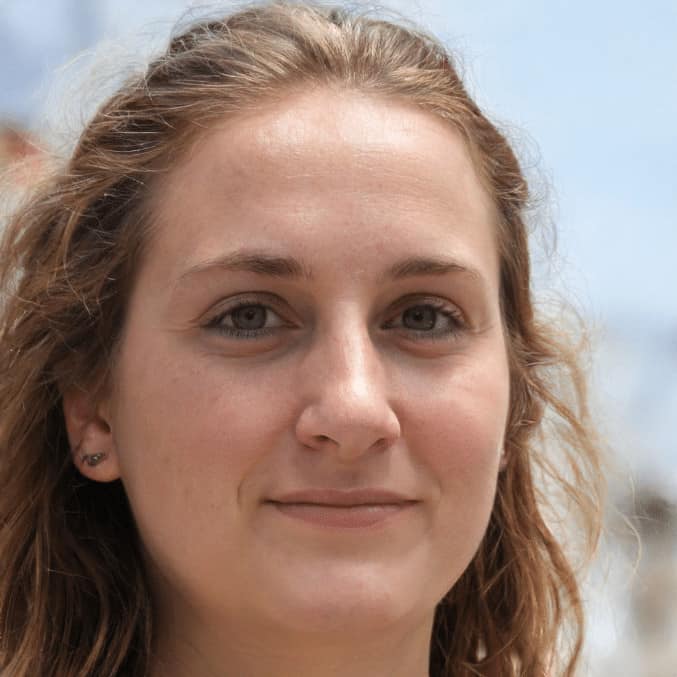 With a degree in engineering, Kathryn Hansen loves to write about how things work. Having her own dilemmas on how to pick the best vacuum cleaner for her large family (with a handful of furry four-legged members as well), Kathryn decided to help others in the same situation. After all, vacuum cleaners are critical to a healthy lifestyle and people have a hard time choosing the best one for their needs.