VonHaus 600W 2-in-1 Corded Upright Stick & Handheld Vacuum Cleaner with HEPA & Sponge Filtration is strong, versatile and very popular vacuum cleaner that comes at fantastic price. It is great corded vacuum cleaner which can be used as an emergency vacuum cleaner, for cleaning hard to reach areas or even as a main, entry-level, vacuum cleaner for small homes.
VonHaus 600W 2-in-1 Corded Upright Stick and Handheld Vacuum Cleaner Specifications
VonHaus 600W 2-in-1 corded vacuum cleaner can be used as:
– upright stick vacuum cleaner,
– handheld vacuum cleaner with or without extension hose.
First of all, this is corded vacuum cleaner, meaning that it can't be used in emergencies as fast as some cordless vacuums that are stored on their charging stations ready to be used at the moment notice – this vacuum cleaner must be plugged in first and this requires few seconds.
Being corded also means that it is very powerful when compared with cordless vacuums – several times. In fact, with 600W and 130 Air Watts it is as strong as corded Dyson Ball Compact Animal, which is much larger, costs more and come with many cleaning attachments and much better cleaning power head and which also costs some 10 times more.
Although dependent on mains power, this vacuum cleaner can cover much larger area than cordless vacuums – power cord is 18 feet (5.5 m) long and for vacuum of this size, it is long enough and it doesn't have to be recharged after use.
Since vacuum require some 5-6 amps of current, extension cord doesn't have to particularly thick, so using it where there are no power outlets (cars, backyards etc) shouldn't be a problem.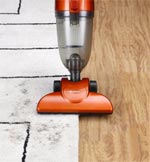 Vacuum is very light, around 3 pounds (~1.4 kg) and very easy to use. It has an adjustable (telescopic) wand, with power switch being on the vacuum cleaner, not on the handle.

Although light, it has two wheels, which help vacuum move around easily, even transitioning smoothly from surface to surface.

Basic model doesn't have any rotating brush in the cleaning head, so its cleaning performances could be better – they are relatively good on the hard floors, modest on the low pile carpets, not so good on thicker carpets and rugs.

Effective cleaning width is around 10-12 inches (25-30 cm).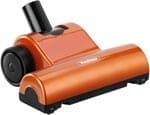 For people having carpets at home, there is an optional 'Vacuum Head with Turbo Cleaning Brush', featuring rotating brush, which increase performance for extracting animal hair and dust on carpets, rugs and similar surfaces.

However, even with this cleaning head, this vacuum cleaner lacks performances of bigger, sturdier and more expensive vacuums and it requires several passes to clean the dirt stuck between carpet fibers.

But, even 'Vacuum plus Turbo Cleaning Brush' combo is still very affordable vacuum cleaner.

If you need Turbo Cleaning Brush, feel free to follow VonHaus Vacuum Head with Turbo Cleaning Brush Amazon link (link opens in the new window).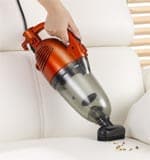 One of the strengths of this vacuum cleaner is that it can be used as powerful handheld vacuum cleaner. It is very light in this configuration and can be successfully used for cleaning upholstery, cars, stairs and other hard to reach and sensitive areas.

Note: If you do have Turbo Cleaning Brush, feel free to use it on carpets, rugs and tiles, but if you have sensitive wooden floors and upholstery, test the brush as it can leave marks and scratches if you are not careful.
VonHaus 600W 2-in-1 Corded Upright Stick comes with several attachments and accessories:
– short, flexible hose helps in cleaning hard to reach areas – areas that are not reachable even when used as ordinary handheld vacuum,
– crevice tool for cleaning really tight and narrow places,
– small brush tool for cleaning upholstery and stairs,
– shoulder strap, for easier carrying around.
Although very cheap, vacuum comes with HEPA and sponge air filters. While sponge filter is washable, I am not so sure about HEPA filter – personally, I don't think that it is washable. VonHaus did not specify whether or not it is washable – since pack of 3 such HEPA filters costs around $10-$12, I really doubt that they are washable.
This is one of the cheapest vacuums with HEPA level air filtration.
If you need replacement HEPA filters for VonHaus 600W 2-in-1 Corded Upright Stick, feel free to follow VonHaus Replacement HEPA Filter Amazon link (link opens in the new window).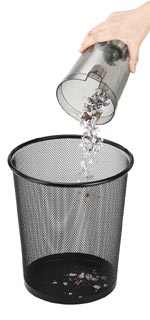 Dirt bin is transparent and its capacity is around 1.2 liters.

Vacuum cleaner comes with 1 year warranty.

Although great for the price, this vacuum cleaner has few cons, too:

– in most situations, power cord is long enough, but it could be longer. Also, there is no automatic rewind system – this rewind system would add to the weight and increase the price, but it would be nice thing to have,

– there are no headlights – few LEDs would not increase weight and perhaps price, but would require some wiring to be done. But, headlights can be very helpful when cleaning under furniture and in similar low-level light conditions. Also, headlights can help in spotting fine dust and hair on the floor, especially on the hard floors like tiles, stone and similar.

– full bin indicator is not available, but since dirt bin is transparent, this is not big issue. However, there is no filter clog indicator and any filter issues can be noticed by change in vacuum cleaner's noise and cleaning performance.

– being so strong (again – 600W!) and lightweight, vacuum cleaner is understandably noisier than similar handheld vacuums, especially cordless vacuum cleaners. It is not 'jet taking off' level of noise, but one can't vacuum while, for example, kids are sleeping in the same room and similar.

– one of the biggest cons of this vacuum cleaner is that attachments are held in place by means of friction, and over time this can lead to issues with attachments falling off. However, with 130 air watts of suction power, attachments are firmly held on, at least while vacuum is turned on.
Long story short – VonHaus 600W 2-in-1 Corded Upright Stick with Turbo Rotating Brush and three replacement HEPA filters can be found around or below $70-$80, which makes it one of the best and most affordable vacuums in this price range.
As second and as emergency vacuum cleaner, it is great and it can be used even as main vacuum cleaner in small homes and apartments. But, if you do have larger home, kids and especially furry pets, with plenty of carpets, you simply require bigger, sturdier and more expensive vacuum.
For more reviews and recommendations, feel free to follow VonHaus 600W 2-in-1 Corded Upright Stick Vacuum Amazon link (link opens in the new window).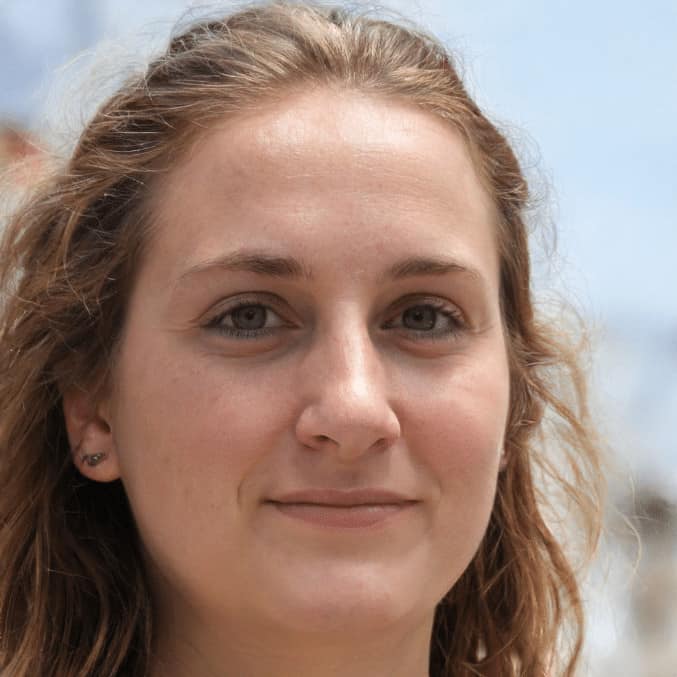 With a degree in engineering, Kathryn Hansen loves to write about how things work. Having her own dilemmas on how to pick the best vacuum cleaner for her large family (with a handful of furry four-legged members as well), Kathryn decided to help others in the same situation. After all, vacuum cleaners are critical to a healthy lifestyle and people have a hard time choosing the best one for their needs.