Handheld vacuum cleaners are small vacuum cleaners that can be operated using only one hand. They are mostly powered by rechargeable batteries (cordless handheld vacuum cleaner) or sometimes by mains power.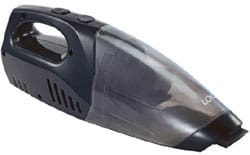 Handheld vacuum cleaners are small vacuum cleaners that can be operated using only one hand. They are mostly powered by rechargeable batteries (cordless handheld vacuum cleaner) or sometimes by mains power (corded handheld vacuum cleaner).
Some of them are rated for wet-dry dirt, but they must be cleaned after cleaning wet materials to avoid unpleasant odors. Small vacuum cleaners powered by rechargeable batteries are often found in the kitchens, cars, and similar areas where dirt must be cleaned quickly and from tight and narrow areas.
Very often, new models of handheld vacuum cleaners (both cordless and corded) feature washable HEPA filters for much improved air filtration.
Cordless Handheld Vacuum Cleaner
Cordless handheld vacuum cleaners are usually small vacuum cleaners suitable for one hand operation in tight areas like kitchens and cars, where small dimensions are needed. Time of operation is often not important since they are mostly used only in 'emergencies'. Some models can be held in charging stations all the time – read the instructions since not all battery types allow this kind of operation. Car cordless handheld vacuum cleaners are recharged from the car electric system, mostly using a cigarette lighter adapter.
Suction power is not as strong when compared with corded vacuum cleaners, but cordless vacuums can be very very quiet…
 Corded Handheld Vacuum Cleaner

Corded handheld vacuum cleaners are somewhat larger than cordless vacuums, but they are usually much stronger. They are sometimes large enough that operation with one hand is very hard, but most of them can be easily operated with just one hand. Power cord limits the freedom of operation, but corded vacuum cleaners don't have battery related problems – charging, recharging, memory effects, power drop after a longer period of operation, etc. Often, corded handheld vacuum cleaners have more attachments for specialized operations like cleaning pet hair, cleaning different surfaces, etc.
What Is The Best Handheld Vacuum Cleaner
What is the best handheld vacuum cleaner depends on many things ranging from personal needs and preferences, types of areas being cleaned, available attachments, and similar. Handheld vacuum cleaners are often not suitable for vacuuming larger areas, but in 'emergencies' cordless handheld vacuum cleaners can be of great help – fast cleaning cars, kitchens, children's rooms, spilled dirt on the carpets, sofas, chairs, etc.
Due to their small dimensions, they can be easily stored and used quickly when needed. Often, they are very cheap when compared with 'normal' sized canister or upright vacuum cleaners, providing similar performances for just a fraction of cost – great as a second home vacuum cleaner.
For cleaning larger areas, handheld vacuum cleaners are not as suitable as canister or upright vacuum cleaners.
Best Handheld Vacuum Cleaner Models Available Today
ThisWorx For Portable Car Vacuum Cleaner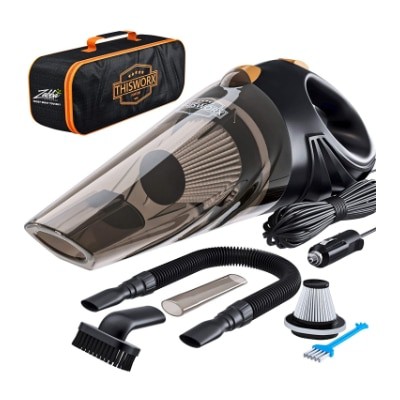 Coming in two colors (black or white), the ThisWorx For Handheld Vacuum Cleaner weighs only 2.4 lbs but has a high power 106W & 8.8 amps motor and metal turbine for the ultimate suction power.
The ergonomic design of this hand vacuum ensures you can reach all the nooks and crannies of your car. And the transparent trash container makes it easy to empty it and the protective lid keeps the trash inside at all times. Furthermore, it comes with three all-purpose nozzles, a carrying bag for easy storage, a special filter cleaning brush, and a spare HEPA filter. It makes for an awesome gift for ride-sharing drivers and car lovers as well.
BLACK+DECKER Dustbuster Cordless Handheld Vacuum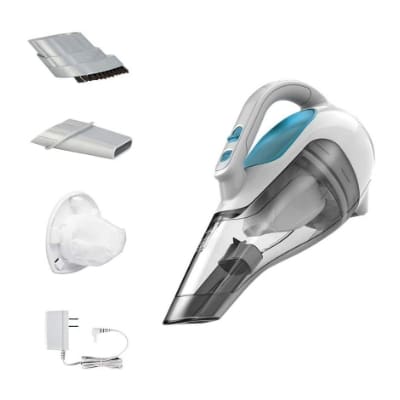 There are two versions available for this particular unit: a regular hand vac and a slim nozzle hand vac. The 1.5 AH lithium technology inside this unit's battery provides strong suction and extended run time.
We like the increased bowl capacity on the regular hand vac version, as it comes with a washable bowl and filter. And as far as attachments go, it comes with a crevice tool for hard to reach areas and a brush for upholstery. We also like the unit's wide mouth design that's able to trap even larger debris. This feature is further enhanced by the hand vac's cyclonic action.
As for the slim nozzle hand vac, it comes with a jack plug charger, a wall mount, an extendable crevice tool, and a flip-up brush. Overall, either one of these versions will greatly satisfy your hand vacuuming needs.
Final Verdict on Handheld Vacuum Cleaners
If you want a portable vacuum cleaner that's great for cars and hard to reach areas, going with a handheld vacuum is a no-brainer. It might not be as powerful as other types of models out there, but for its intent and purpose, the two above-mentioned products do a great job.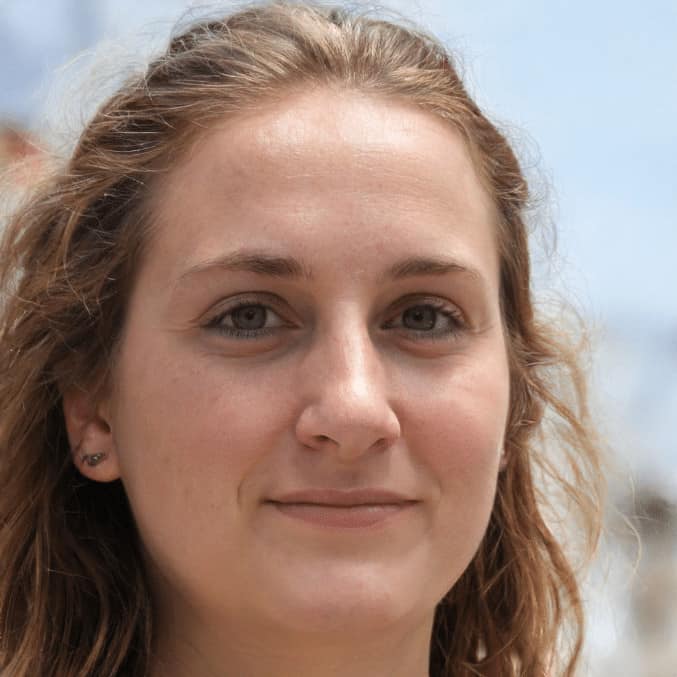 With a degree in engineering, Kathryn Hansen loves to write about how things work. Having her own dilemmas on how to pick the best vacuum cleaner for her large family (with a handful of furry four-legged members as well), Kathryn decided to help others in the same situation. After all, vacuum cleaners are critical to a healthy lifestyle and people have a hard time choosing the best one for their needs.