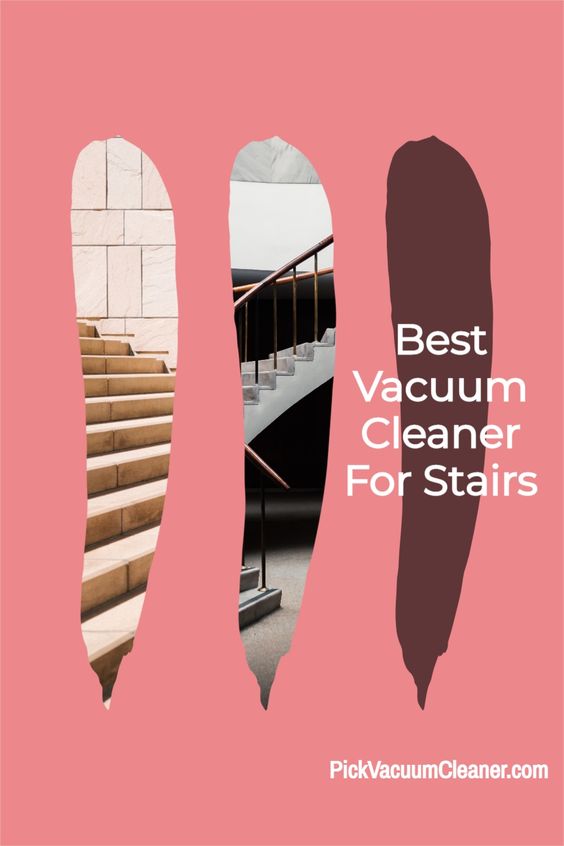 Cleaning stairs can be a daunting task, aggravated even more by the number of hard to reach corners, edges, stairs' material, stairs' cover, etc. Having the right tool for the job makes this job much easier – a good stair vacuum cleaner. Today, we will offer you this quick guide on how to choose the best vacuum cleaner for stairs. We will discuss the criteria you need to factor in your purchase decision and give you some examples of stair vacuum cleaners you might want to consider.
Before we begin, we have to remind you that there are plenty of vacuum cleaner types out there and you should pick the best one in full knowledge of how vacuum cleaners work. As you probably know, the tech specifications and features of a vacuum cleaner – including its size, weight, airflow, portability, and design can make your job of cleaning stairs easier or harder.
The main takeaway here is that you need to do your homework right and understand that not all vacuum cleaners – no matter how good they are in general – are top choices for stairs as well. Just like not all vacuum cleaners, steam mops, or orbiter floor machines work in the same way for tile floors, for instance.
How to Choose the Best Vacuum Cleaner for Stairs
If you have only one stair leading from one floor to another, do you actually need another vacuum cleaner or your main vacuum cleaner can do the job well? Before deciding which vacuum cleaner to buy, one must consider a few things about vacuum cleaners and the cleaned area:
size and shape of the cleaned area,
the surface of the stairs,
availability of mains wall sockets,
frequency of cleaning,
health issues, etc.
The Types of Stairs You Have: Do They Matter When You Pick a Vacuum Cleaner?
Small stairs can be cleaned easily even with an upright vacuum cleaner or a canister vacuum cleaner. Cleaning with uprights can be physically demanding since such vacuums can be rather heavy. A small cleaning area ensures that that job is not too hard to do.
When it comes to canister vacuum cleaners, the vacuum hose from cylinder vacuums must be long enough to reach all stairs, without or with a minimum need to move the cylinder vacuum up or down the stairs.
Obviously, small and lightweight corded or cordless handheld or stick vacuum cleaners are much easier to use on stairs. Here are our recommendations when it comes to the best stick or handheld vacuum cleaners on the market!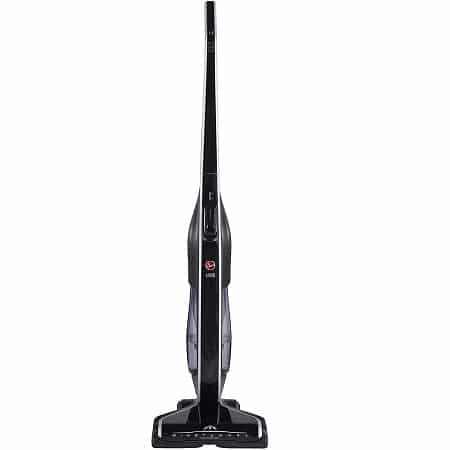 It is a cordless and bagless stick vacuum cleaner, based on Hoover's proprietary WindTunnel Technology.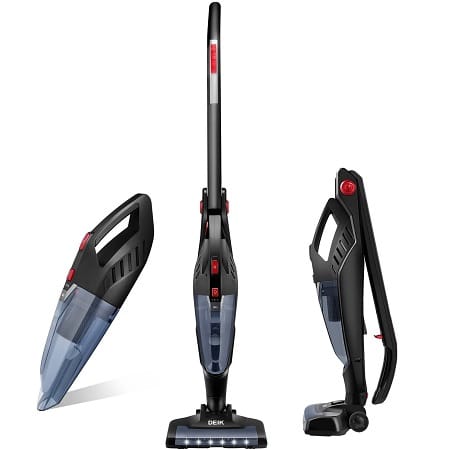 This device is a compact, lightweight, and versatile vacuum cleaner that you will enjoy using not only for stairs but for many other types of surfaces and cleaning areas.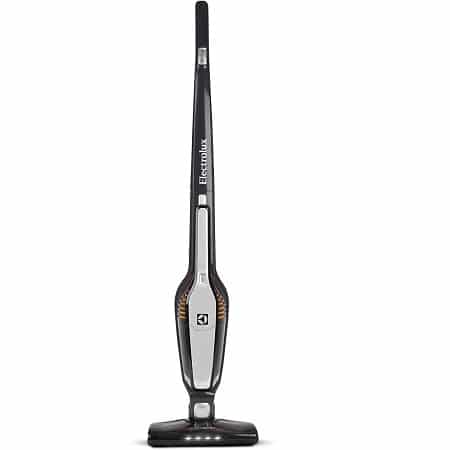 This is an affordable and very capable stick and a handheld vacuum cleaner combining several features in one device. You can use it as a cordless emergency vacuum cleaner and as a second vacuum cleaner in homes and apartments. Smaller homes with mostly bare floors can even use it as the main vacuum cleaner.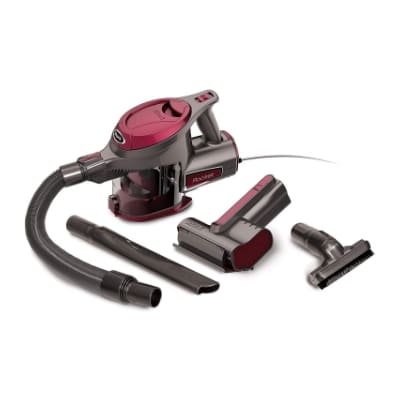 The Rocket Ultra-Light from Shark weighs under four pounds and features a motorized brush. Its brush agitates dust, dander, and hair out of rugs, carpets, and other surfaces. Moreover, it has a dust cup that empties with the touch of a button, so you'll no longer have to worry about dust bags.
The power cord is 15 feet long so you won't feel too constrained when cleaning the house with it. As long as you have a power socket near the stairwell, you'll get the job done easily without putting pressure on your arms or shoulders thanks to its incredibly light weight.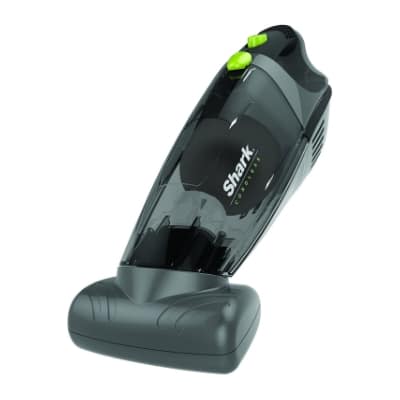 A powerful cordless handheld vacuum with a lithium-ion battery, convenient for all cleaning surfaces is the LV801 from Shark. It's the perfect handheld vacuum that's specialized in cleaning carpets and stairs flawlessly.
The detachable motorized pet brush removes pet hair and ground-in dirt from upholstery, carpets, car mats, seats, and more. But it's not just the main surface of the stairs that this little gadget can clean. It's also got a crevice tool that's meant for sucking dust and small debris from hard to reach corners.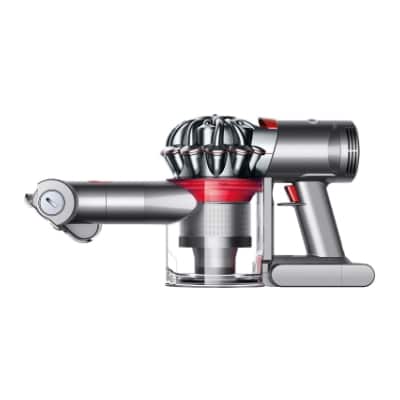 With a capacity of 15 gallons and a set of comprehensive cleaning tools, the Dyson V7 is phenomenally easy to maneuver on any given area, especially on stairs.
While its price is a little high, the quality is outstanding, and the fact that it's a cordless vacuum means you won't have any restricted movement whatsoever. Furthermore, it has a hygienic dirt ejector that allows you to drive out trapped dust and debris in a single action. And the best part about all of this is that you get a two-year warranty for parts and labor, unlike many other models where you only receive a one-year warranty.
The Shape of Your Cleaning Area: Does It Matter When You Pick a Vacuum Cleaner?
The shape of the cleaning area dictates the required shape of the cleaning head. Broad nozzles cover a large area in a single sweep and are great for right-angle corners. However, tight corners are sometimes hard to reach and you should use special crevice nozzles. However, it requires more time and effort.
How Well Do Corded Vacuum Cleaners Work for Stairs?
If the mains wall sockets are not near your stairs, you either must have a corded vacuum cleaner with a long enough power cord (or have a power cord extension) or you must have a cordless vacuum cleaner. Corded vacuums are usually more powerful than cordless vacuums and can operate almost indefinitely.
If you are looking for some of the best-corded vacuum cleaners for your needs, we recommend you check our guide on the SharkFLEX DuoClean Corded Ultra-Light Upright Vacuums – models HV390, HV391, and HV392. You will find that they do not only work great for stairs but for all types and sizes of surfaces you have in your house.
How Well Do Cordless Vacuum Cleaners Work for Stairs?
On the other hand, modern cordless vacuums powered by lithium batteries can operate 15-30 minutes at full power and their suction (pressure difference) is often the same as the suction of corded vacuums, at the expense of somewhat smaller cleaning nozzles. Being capable of operating for at least 15 minutes, it enables them to clean a relatively large area, even if the stairs are covered with a carpet, requiring the use of a rotating brush tool (slightly shortening operation time).
You may probably remember that we discussed extensively the Shark Rocket Complete DuoClean: HV380/HV381/HV382 Models – with an emphasis on the Shark Rocket Complete DuoClean HV382, as it is still one of the best vacuum cleaners for stairs when it comes to portability. In case you wondered how Shark and Dyson compared when it came to vacuuming stairs, here is what we said back then. To be clear, those statements still stand.
When we compared reviews of cleaning stairs between both brands, we found that most customers preferred the Shark Rocket Complete range as it can take on tough surfaces and awkward corners such as staircases. The portability of this range enables you to target corners that would otherwise be harder to reach with Dyson's range. With the help of a motorized attachment, you can also get deep into carpet fibers while accessing crevices that are otherwise difficult to reach.
What Are the Best Vacuum Cleaners for Stairs Covered with Carpets and Rugs?

Carpet covered stairs require strong suction and a rotating brush tool. It helps to remove dirt buried deep in the carpet and removing pet and human hair. If you have a pet with long hairs, be prepared for cleaning the rotating brush on a regular basis, regardless of brush design. Well-designed brushes must be cleaned, too! Of course, such a vacuum must be capable of providing good suction all the time and some systems with dirtbags lose their suction power when bags are full or almost full. Vacuum cleaners relying on the cyclonic effect for particle separation don't lose suction, even when dirt bins are full. However, disposable bags are simply thrown away and replaced with a new one.
For more information, we recommend you read our full guide on the best vacuum cleaners for pet hair and on the best vacuum cleaners for carpets and rugs. We are sure you will find plenty of information on how to choose the right vacuums, tools, and accessories to use for cleaning carpeted stairs as well, whether or not you have pets in the house.
What About Shampoo and Steam Vacuums?
Carpet shampooers and steam mops/vacuums can do wonders when cleaning carpets and similar surfaces. However, wooden surfaces don't like water in any form (liquid, steam, etc). If you have hardwood stairs covered with the carpet (fully or partially covered), don't use shampoo and/or steam vacuums to clean such stairs. Water can penetrate the wood and cause it to change shape, color, or even rot.
You should clean hardwood stairs with vacuum cleaners optimized for hardwood surfaces. Their rotating brushes must be gentle enough to avoid making scratches and other damage to the wood, or at least must be turned off. For more information on how to clean wood stairs, check out this guide right here!
What Other Criteria Should You Factor in When Buying the Best Vacuum Cleaners for Stairs?
The best vacuum cleaners for stairs must be light enough for you to carry them around with no problems. If you have dozens of stairs, you have to lift the vacuum that many times and there is a great difference between carrying 5 pounds or 15 pounds vacuums. And if you have to pull the power cord all the time, vacuuming becomes even harder.
Good air filtration is mandatory for modern vacuums. Even cheap, under 100 dollars/euros vacuums come with decent air filtration.
However, if you have problems with allergies, asthma, or simply want to keep the home clean, good HEPA grade filtration is necessary. This requirement increases a price a little bit, but already after the first vacuuming, the difference in the air quality will justify the price difference.
What Are the Best Vacuum Cleaners for Stairs On the Market Right Now?
Before we conclude this guide, we want to offer you a shortlist of the best vacuum cleaners for stairs that you can find on the market right now. We reviewed many of them and wrote comprehensive guides on them, so feel free to do as thorough a research as you please:
The Dyson V7 and Dyson V8 models. If you want a full guide on these convertible cordless vacuums, we recommend you to check out our Dyson V6 vs V7 vs V8 vs V10 vs V11: Side-by-Side Comparison Review. The Dyson V7 and V8 models are the best vacuum cleaners for stairs as weight goes.
The Shark Rocket DuoClean HV382 vacuum cleaner. As we suggested above, read the Shark Rocket Complete DuoClean: HV380/HV381/HV382 Models Comparison Review. It will offer you a better, clearer perspective on why Shark Rocket vacuums are some of the best vacuum cleaners to use in your home. The Shark Rocket DuoClean HV382 is the best vacuum cleaner for stairs when it comes to portability and maneuverability.

The BISSELL Pet Hair Eraser Handheld Vacuum. It is a small, yet very powerful corded handheld vacuum cleaner, coming at a very affordable price if you need a quick fix for your stairs. Many experts agree it is the best vacuum cleaners for stairs if you are looking for a cordless, lightweight device that can solve emergency situations quickly and with no fuss.
Long Story Short
The best vacuum cleaners for stairs are lightweight, can clean hard to get corners and edges, have good air filtration, and feature easily accessible brush tool power off/on the buttons. The best way to go about cleaning stairs is to choose a cordless vacuum. It will help you dispose of the dirt easily after the cleaning, regardless if it is a model with or without a dirt bag. You should use shampoo and/or steam vacuums for stairs only in special cases.
Do you use special vacuum cleaners for stairs? Which is the best option in your opinion? Share your thoughts and experiences regarding the best vacuum cleaners for stairs on the market in the comment section below! As usual, we love to hear and learn from you!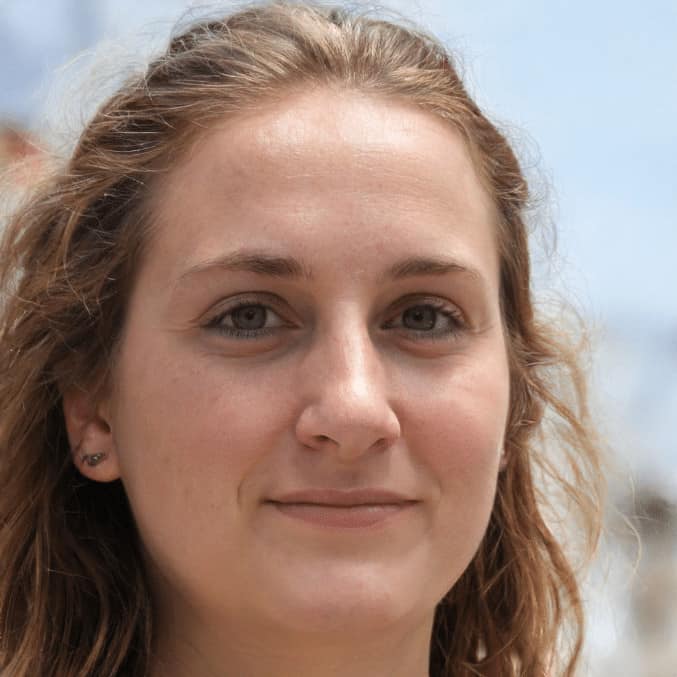 With a degree in engineering, Kathryn Hansen loves to write about how things work. Having her own dilemmas on how to pick the best vacuum cleaner for her large family (with a handful of furry four-legged members as well), Kathryn decided to help others in the same situation. After all, vacuum cleaners are critical to a healthy lifestyle and people have a hard time choosing the best one for their needs.