A carpet shampooer or shampoo vacuum cleaner is a type of wet and dry vacuum cleaner that uses water and/or special cleaning liquid for removing dried strains and similar dirty spots from areas that you cannot effectively clean with ordinary vacuum cleaners. Today, we will discuss a few things about these products, as finding the best carpet shampooer on the market requires some homework to do before you settle for the lowest price or the most famous brand.
What Should You Know about Carpet Shampooers?
As we said on a previous occasion when we discussed how to buy a vacuum cleaner, carpet shampooers are wet & dry vacuums designed for deep cleaning your carpets, with a focus on stain removal. We have already reviewed a handful of the best carpet shampooers available on the market today, but we will offer you a quick rundown of the most popular carpet shampooer models you can take advantage of today.
How Does The Best Carpet Shampooer Work?
Cleaning brush or brushes often use vibrations to help shampoo and cleaning liquid penetrate deeper into the carpet, separate the dirt from fibers and bring the dirt and dust to the surface, where it is removed by vacuum suction together with dirty cleaning liquid.
For a quick demonstration of how carpet shampooer works, let's check out this video from Hoover – one of the best carpet cleaners and vacuums manufacturer available on the market. As you can easily guess, we will have a bunch of Hoover carpet shampooers and cleaners present on this list.
If you want to learn more about carpet cleaning and you need the proper tutorial, here is our guide on dry carpet cleaning as an alternative to using carpet shampooers or other wet vacuum cleaners.
Now, back to how a carpet shampooer works the first thing we need to discuss is the cleaning liquids you use.
The Cleaning Liquids in Carpet Shampooers
The cleaning liquid is a mix of water and cleaning liquid concentrate (shampoo). Every manufacturer has a custom formula for cleaning liquid often designed for different floor surfaces. Also, cleaning liquids have different scents for an additional level of freshness and cleanliness.
Functioning and Performance
Some of the shampoo vacuum cleaners can operate as ordinary wet and dry vacuum cleaners, which is one of their great advantages – most drum-shaped carpet shampooers have this option. However, carpet shampooers in the form of an upright vacuum cleaner are usually designed to be used as carpet shampooers and washers and 'nothing' else.
For people with pets at home, a good carpet shampooer and washer can make a real difference. With a good carpet shampoo optimized for removing pets' stains and odors, deep cleaning of carpets is just a switch on the button.
Carpet shampooers spray and remove the cleaning liquid while deep cleaning the carpet. Many people don't like the idea of such cleaners, believing that such cleaning leaves their carpets soggy and wet.
In fact, for very dirty carpets, one has to spray with pre-spray and leave it for few minutes to prestart cleaning. According to the instructions, clean some of the 'problematic' areas with a cleaning pass with the water spray on and then again with the spray off. After testing the carpet with your hand, you can make another water-extract pass with the spray off. Cleaning carpets this way can make them look as good as new.
In most cases, a single pass of a good carpet shampooer/washer will thoroughly clean the carpets and rugs, leaving them almost dry – far from being wet and soggy.
What Is the Best Carpet Shampooer on the Market Today?
When it comes to the best carpet shampooer reviews and recommendations, we don't have just one product to show you today, but five of them. We picked them up – as always – by balancing their tech specs, features, performance, price, users' reviews, and durability. So, without further ado, let's see the best carpet shampooer units available today so you can make an educated choice!
BISSELLProHeat 2X Revolution Max Clean Pet Pro Full-Size Carpet Cleaner
If you were looking for the best carpet shampooer for pets, you just found it! The BISSELLProHeat 2X Revolution Max Clean Pet Pro Full-Size Carpet Cleaner, 1986 is a beast when it comes to removing stains and smells from your carpet. It can even remove skunk odor, which speaks volumes about the performance of this carpet shampooer. If you remember, we reviewed the Bissell 1548 ProHeat 2X Revolution Pet Full-Size Carpet Cleaner not so long ago. Let's just say this 1986 model is the newer, better carpet shampooer for pets.
Hoover Smartwash Automatic Carpet Cleaner
Probably among the top three best carpet shampooer units in the world, the Hoover Smartwash Automatic Carpet Cleaner (FH52000) is a large and quite heavy device. The good news is that it almost does the job alone, with little intervention from your part. You should not mistake this model for the Hoover Power Scrub Deluxe Carpet Washer FH50150 model that we recently reviewed. While the Power Scrub Deluxe comes with excellent tech specs and features, the Smartwash FH52000 will impress you beyond words. With a 4.6-star rating on Amazon and its unbelievable features, this carpet shampooer makes a very wise investment.
Bissell 86T3 Big Green Deep Cleaning Professional Grade Carpet Cleaner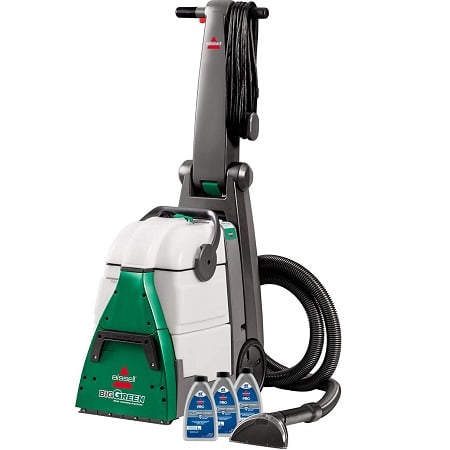 It seems that when you have to pick the best carpet shampooer on the market, you have to choose between Hoover and Bissell. The Bissell Big Green Professional Carpet Cleaner Machine, 86T3 model does not produce steam and its design is for carpet cleaning only. We have talked about this product before, but we cannot ignore it now when we discuss the best carpet shampooers on the market. Here are some of its best features:
Heavy-duty suction power aids in fast drying time.
Cleans on the forward and backward pass for reduced cleaning time and dries faster than the leading competitive rental carpet cleaners.
If you want a smaller model that is also a wet/dry carpet cleaner, you can also try the BISSELL Little Green ProHeat Compact Multi-Purpose Carpet Cleaner – 14259 Model. In comparison to its bigger brother, the Little Green is compact and you should use it for small areas and emergencies only.
Vacmaster Wet Dry Shampoo Vacuum Cleaner 3 in 1 Portable Carpet Cleaner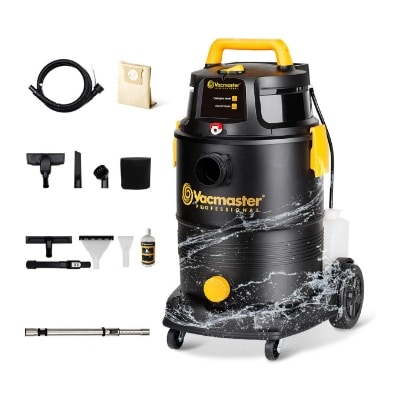 One of the more premium HEPA vacuum cleaners also happens to have a shampooer option. The model in question is the Vacmaster Wet Dry Shampoo Vacuum Cleaner, and it can master any mess such as dust, particles, industrial waste, and water stains. It's powered by a 5.5 HP motor which makes it ideal for cleaning most types of surfaces, including carpets, car interiors, sofas, and upholstery. As for capacity, it has an 8-gallon tank that holds a significant amount of dust compared to the previous carpet shampooers that we've reviewed so far in this article.
Furthermore, the vacuum is supplied with a washable PTFE cartridge filter and a HEPA filter which removes up to 99.97% of microscopic dust particles as small as 0.3 microns. And to top it all off, you also get remote operation on the nozzle controls, enabling you to switch between vacuum and detergent modes without interruption. The accessory kit includes a stainless steel rigid telescopic extension tube, a carpet lance, a handheld lance, special detergent, a dust bag, and various nozzles that are suitable for different occasions
SpotBot Pet handsfree Spot and Stain Cleaner with Deep Reach Technology 33N8
Our last model on this list might not be as powerful or spacious as the previous ones, but it comes at a price that's fair for what you're getting without sacrificing much of the qualities.
The BISSELL SpotBot comes equipped with two hands-free cleaning modes, a quick clean mode for fresh stains, and a deep clean mode for stains that have set in, so you can get the right level of cleaning in any situation imaginable. It also has two preset cleaning cycles that automatically spray, brush, and suction everything in their way.
Bottom Line
Now that you saw our selection of the best carpet shampooer units on the market, it is time for you to share your thoughts! Have you ever used a carpet shampooer before? Do you prefer in particular one of the models we mentioned in this guide? Do you have other brands you would like us to review in detail? Use the comment section below for all your inquiries and suggestions!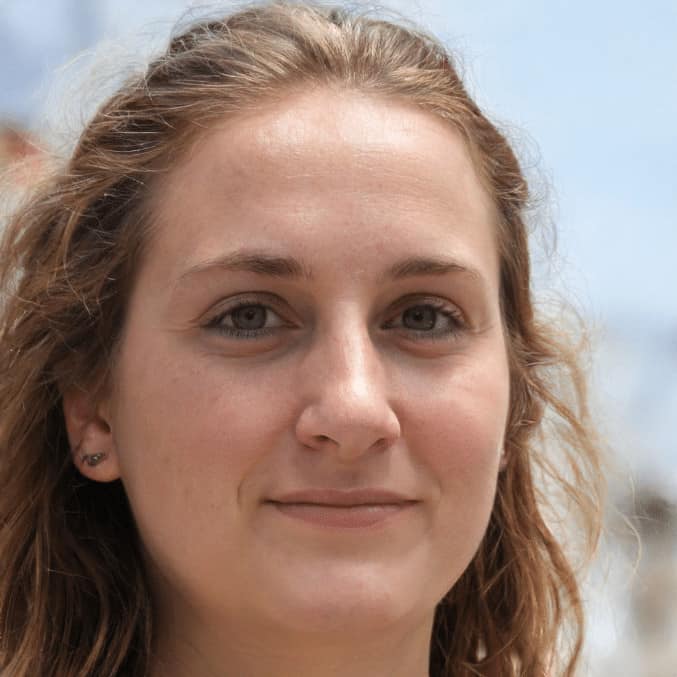 With a degree in engineering, Kathryn Hansen loves to write about how things work. Having her own dilemmas on how to pick the best vacuum cleaner for her large family (with a handful of furry four-legged members as well), Kathryn decided to help others in the same situation. After all, vacuum cleaners are critical to a healthy lifestyle and people have a hard time choosing the best one for their needs.