Shark Rocket Complete with DuoClean vacuum cleaners come as HV380, HV381 and HV382 ultra-light upright, convertible vacuums. They are very similar vacuums and differ mostly in color and available attachments. Also, they are fairly similar to Shark Rocket HV320/HV321/HV322, except that they are stronger, slightly heavier, have newer and better cleaning tools and they, of course, cost a little bit more.
Shark Rocket Complete with DuoClean Features and Specifications
DuoClean Technology
This series of Shark's ultra-light upright vacuums are based on their 'DuoClean Technology.'
This type of technology enables you to transition from carpet to wooden floor swiftly and easily.
Doing this is made possible with the two motorized brush-rolls that automatically adjust and switch according to the floor's material.

It means you don't need to stop cleaning or change the head or setting when moving from different floors.
Not only does DuoClean Technology adapt to multiple floor surfaces, but this also enables a thorough clean every time you use a Shark vacuum.
These combined brushes work simultaneously to lift and remove layers of dust, debris, and messes on carpets and hard floors. Also, the soft brush-roll enables a deep clean without you having to adjust any settings.
Lift-Away Technology
Another incredible feature of this vacuum range is the Lift-Away Technology that converts a vacuum from an upright model to a portable version in just a few seconds.
By switching to a lightweight option, you have the freedom and portability to move around your home to get into those hard-to-reach areas.
But, Lift-Away Technology does more than convert your vacuum's portability as it also provides an excellent clean around your home.

The Shark Rocket Complete range doesn't just rely on a powerful suction to create a great clean but features a brush-roll head that drives multiple rotations to lift dirt and crumbs you might not have even noticed.
LED lights on the floor nozzle and on the vacuum itself (important in hand vacuum mode) help spot various dirt and other objects and help with cleaning the floors and areas under the furniture and in other low light conditions.
People often consider these lights irrelevant, but when cleaning, the children's room, for example, they help spot smaller items like small toys and similar objects too and help avoid vacuuming them.
Brushroll Garage
One of the newer features is 'Brushroll Garage'.
This feature provides quick access to the brush roll from the top of the DuoClean cleaning head.

Due to the design of the spinning brush rolls, pet and human hair and other similar dirt can get entangled and prevent the Shark Complete DuoClean cleaning head from operating properly.

Thanks to the novel design, maintaining and cleaning the brush rolls is easier and faster.
Before this feature, you'd have to use a screwdriver to clean the brushes, but now that Shark has improved this design and usability, you can keep on top of removing any tangled dirt and debris in your vacuum as soon as it happens.
Swivel Steering
Since they are rather light (just under 10 pounds) and have swivel steering, they maneuver effortlessly around the furniture, corners, edges, stairs and other objects, obstacles, and narrow areas.
The swivel steering makes it easy to navigate around corners and move over bumps without losing any power or mobility.

Even as it twists around corners and along walls, the swivel steering ensures that the vacuum remains flat on the ground and focuses on picking up any particles along the way.
However, they tend to be a little bit awkward on the stairs and using other cleaning attachments in handheld mode is perhaps a better solution for cleaning the stairs.
On the other hand, some users like how they perform on the stairs and other narrow spaces.
Attachments
This vacuum collection comes complete with numerous attachments to improve the practicality and efficiency of vacuuming in your home.
The soft, dusting brush is ahead of the stiff bristle brush and combined with good suction (strong air flow), they enable so-called 'Triple Particle Cleaning'.
It offers excellent cleaning of large, small and stuck-on particles from floors and carpets at the same time which improves the cleaning and shortening required cleaning time.
This series of Shark's vacuums come with various

other

cleaning attachments, optimized for cleaning of the different surfaces and also various dirt, enabling these vacuums to clean from the floor to the ceiling.

They also come with two suction modes: the first one is meant for cleaning area rugs and bare floors and the second one is more applicable for high-pile carpets.
Convertibility and Storage
Shark Rocket Complete HV380/HV381/HV382 easily convert from uprights to handheld vacuums.
They're also convenient to store if you have limited space in your home.
Shark Rocket Complete with DuoClean vacuum cleaners come with wall mount storage hooks (for storing vacuum while not in use) and onboard accessory storage clips (for storing accessory tools onboard vacuum cleaner).
Also, HV381 and HV382 come with an 'Accessory Bag.'

This means that you can hang your vacuum up on the wall for easy access each time you're ready to vacuum.

When you don't use the vacuum in a portable mode, the power cord measures up to 30 ft which is an incredible distance compared to other brands.

Even when the vacuum isn't in portability mode, you're still not really that restricted.
The Dirt Bin
The dirt bin is transparent, and you can easily see what is in it – dust, hair, socks, etc.
At the same time

as noticing if you've accidentally vacuumed up something important

, it makes it easier to see if the dust cup is already full.

In that case, all you have to do is press a button then remove the entire dust cup so you can empty its contents over your trash bin.
This is an incredibly convenient and easy way to ensure your vacuum is never overfilled and will also save you money by not having to constantly buy vacuum bags each time it's filled with dirt.
The dirt bin also holds 0.25 gallons which is the same amount as the HV320 series. To put this amount into perspective, it's enough to vacuum around six rooms of an average-sized house.
Factors to Consider When Choosing a Vacuum Cleaner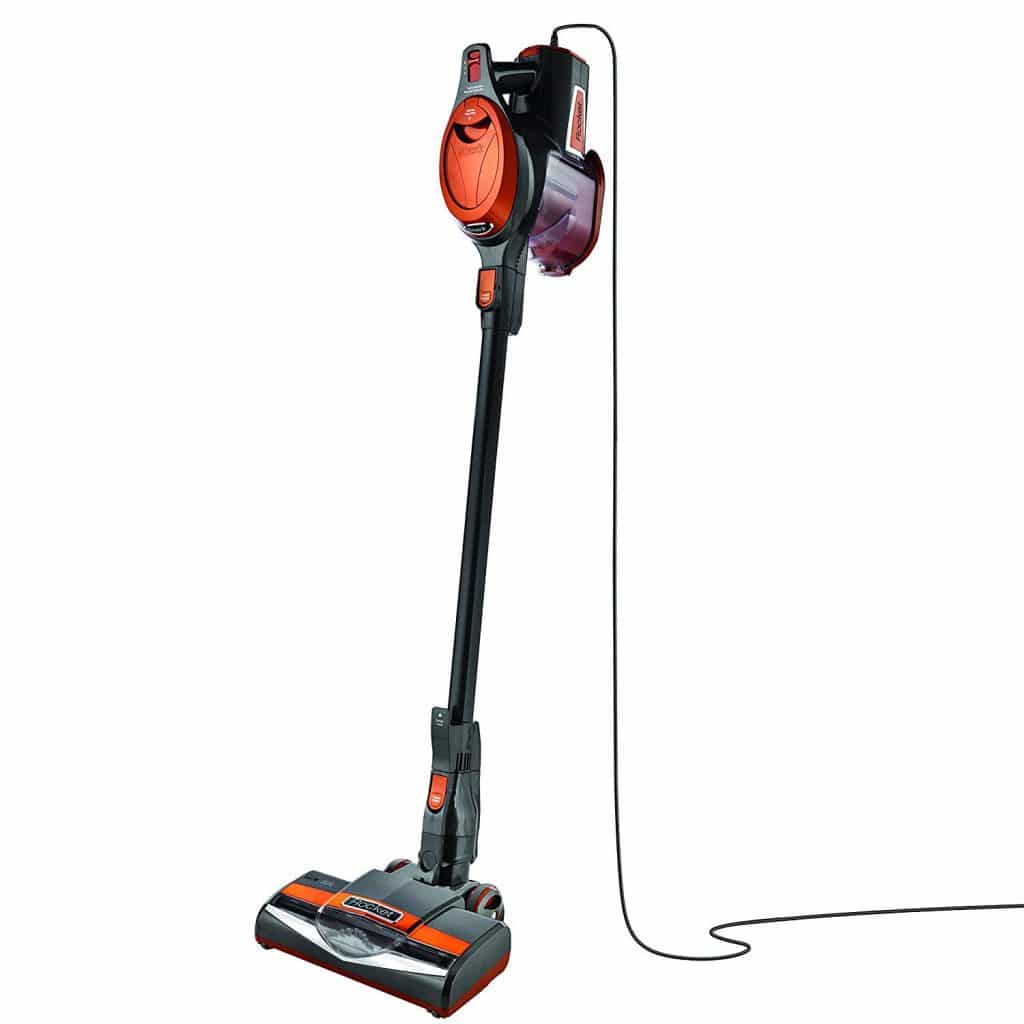 We appreciate that there are so many vacuum brands and models on the market right now so finding a specific product for you can be confusing. However, here's an informative breakdown of factors to consider when choosing a vacuum cleaner. Before you begin, make sure you understand vacuum cleaner specifications regarding power, efficiency, and tech specs!

Ergonomics
Ordinarily, this wouldn't be the first thing you'd consider when choosing a vacuum cleaner, but ergonomics are incredibly important to your health and the time you spend cleaning your home. There are many factors that can affect ergonomics.
First, the weight of the cleaner can cause stress on your wrists, back and arms.

When a cleaner is full, it can weigh between 20 and 40 pounds. It can require more power and mobility in your wrists to transport the vacuum from one room to another.

You should also consider how the handle is constructed. For example, does the handle offer a comfortable grip that you can place your hand around in a natural position?
Number of Motors
You should also consider the motor size in your vacuum and this is usually measured in amps.
As a general rule, the higher the number, the more powerful the vacuum which means it'll pick up more dust and dirt than a vacuum with a lower amp.

Although this might sound beneficial, you should consider that more power also means more noise, which isn't necessarily an inconvenience to everyone but can be for some.
Another factor to bear in mind is the number of motors.
An upright vacuum will usually have one motor that drives both the vacuum and brush to move.
But, you can also purchase a vacuum with a separate motor for the brush. It will increase productivity as the vacuum cleaner will take the lead for picking up any dirt rather than you having to push the vacuum to target cleaning.
What Type of Flooring You Have
This is a particularly important factor to consider and you'll more than likely have a variety of flooring types in your home.
If this is the case, you'll require a vacuum cleaner that can easily navigate between hard floors and carpets without any struggles or having to add new attachments to accommodate the different surfaces.

For hardwood or tile floors, a canister vacuum is an ideal choice for you as they move around quickly around and underneath objects.

Many of these vacuums also come with additional attachments should you have a rug or sofas that need vacuuming from time to time.

Alternatively, if you mainly have carpets in your home, you'll require a vacuum cleaner with at least one brush that offers more suction to pick up fine particles from carpet fibers.
More often than not though, owners prefer a combination of both vacuum cleaners that come with a convenient adjustment to provide a deep clean no matter the floor type you have.
HEPA Filtration
You might not think that a vacuum can save the day when it comes to allergies, but they totally can if you purchase the right model. HEPA filtration is a feature that modern vacuum cleaners have to capture pollutants to control people with allergies or asthma. As most of us spend most time inside the house, your home is more likely to be filled with pollutants that can add to allergies and illnesses without you knowing.
Thankfully, a HEPA filter built into a vacuum cleaner helps to purify the air inside your home and sucks it away.
This filter also controls odors in the home which is ideal for pet owners because it's not just the loose pet hair that creates an unpleasant smell.

HEPA filter works by completely sealing any allergies and pollutants it comes across on any surfaces to leave the air in your home fresh and healthy.
The Number of Levels in Your Home
Yes, homes can be more than two levels, but they can also be a bungalow and your type of home can affect what vacuum cleaner you should purchase.
If you have plenty of stairs, or perhaps steep steps, you're not going to want to carry a heavy vacuum up each flight of stairs.

Instead, you'll require a lightweight, possibly even cordless vacuum that you can easily transport among different levels.
If you have multiple levels in your home, you'll also require a vacuum cleaner that can target awkward corners on stairs and dig deep into carpet fibers while easily maneuvering between steps without any fuss.
Noise Levels
Vacuums can be noisy products since they generate a lot of power so it's expected that this will create a lot of sounds.
A large, heavy-duty vacuum will be much louder than one with a lower amp since it requires fewer motors to power the device.

Consequently, it's difficult to choose a powerful cleaner that is also quiet. Instead, you should prioritize what is more important for you.
Some vacuum cleaners can reach 47 dB which is extremely quiet while the average noise level is 75 dB.
Naturally, you'd prefer a vacuum cleaner that operates on a low volume, but consider if this extra price and lower power are worth this compromise.
The Amount of Maintenance Involved
Some of the most advanced vacuum cleaners deliver exceptional promises, but this doesn't come without a price.
For example, if you have a HEPA filter to help control allergies and pollutants in your home, bear in mind that you'll have to regularly clean and replace this filter, depending on the environment in your home and how often you vacuum, of course.
If you opt for a bagless vacuum, this can still require maintenance as you'll need to empty and wash the inside of the vacuum to ensure it's clean before the next use.
Shark vs Dyson Vacuum Cleaners
Another established vacuum brand is Dyson, and you might be questioning the difference between these two brands (if there are any) and factors to consider when comparing Shark with Dyson.
Basic Features of Dyson
First, let's briefly discuss some of Dyson's basic features and what makes it a highly-sought vacuum brand.
Dyson creates unique and trusting products that have incredible suction and easily turn around corners.

These features allow you to continue cleaning as you move from room to room and around awkward-shaped furniture.

Many of Dyson's products feature a rotating ball that enables you to turn and move.

This brand also features a Root Cyclone Technology to catch dust and pollen into the cleaner rather than being out in the air for people to breathe in.
https://www.youtube.com/watch?v=KTR_ilnouEA
Difference Between Shark and Dyson
To make each brand unique and successful in its own right, there have to be differences between the two. Let's take a look at comparing factors between Shark and Dyson to establish which brand is best suited for your needs.
1. Pet Hair
When looking at online reviews and comments, we found that most Dyson customers have a pet and find that their series of vacuum cleaners perform an excellent job at picking up pet hair, even if you have a long-haired dog.
It's worth crediting that Shark also has this feature too, although pet hairs can easily get tangled in the dust bin and require you to lift the hair out with your hands.
2. Lightweight and Free
Some vacuum users prefer a lightweight product that they can easily transport around the house, or if they have little strength.
Shark features an Ion F80 two-battery rotation that offers an extended cleaning time of up to 80 minutes without a cord.
On the other hand, the Dyson Cyclone V10 model still provides a thorough clean but only provides up to 60 minutes as it requires a single battery for operation.
3. Cleaning Stairs
When we compared reviews of cleaning stairs between both brands, we found that most customers preferred the Shark Rocket Complete range as it can take on tough surfaces and awkward corners such as staircases.
The portability of this range enables you to target corners that would otherwise be harder to reach with Dyson's range. With the help of a motorized attachment, you can also get deep into carpet fibers while accessing crevices that are otherwise difficult to reach.
4. Finding and Targeting Debris
We're incredibly impressed that the Shark range can find and target debris and dust using LED headlights. It helps to expose any hidden particles that you could miss with your eyes, and this feature also prevents you from vacuuming any important objects that might have fallen on the floor.
The Shark Rocket Complete DuoClean Models Compared
Shark Rocket Complete with DuoClean models comparison is given in the following table

:
Note: Keep in mind that things change over time, especially the list of available attachments. When you decide to buy a vacuum cleaner (any vacuum cleaner, not just these Shark's models), check what attachments are available with your desired model.
Shark Rocket Complete Review
The Shark Rocket HV380, HV381 and HV382 models are very light vacuums. In an upright vacuum mode, they weigh slightly less than 10 pounds, with the weight distributed between cleaning head (on the floor) and the vacuum unit (held in hand (s)).
Shark Rocket Complete: Tech Specs and Features
As the handheld units, they are very light (3.5 pounds without power cord), but also very powerful for the handheld vacuums – they are powered with 600 W motors (~5.5 Amps).

The power cord is 30 feet long and as such provides this unit with long reach via a single wall power socket. There is no automatic power cord rewind mechanism.
The latest model, HV382 comes with the most accessories and is more than suitable to act as the main vacuum cleaner even in larger homes.
Also, since Shark HV382 comes with TruePet Mini Motorized Brush aside from the standard dusting brush, pet owners can use it to thoroughly clean upholstery, stairs and other elevated surfaces from dirt, dust, pet hair and other often hard-to-clean dirt and debris.
Therefore, the Shark Rocket TruePet brush is also a must-have for those who are often confronted with a pet's excessive shedding.
Shark HV381 comes with 'Pet Multi-Tool,' which can be used as the 'TruePet Mini Motorized Brush,' but it is not so efficient.
The Shark HV380 doesn't come with cleaning attachments suitable for cleaning human and pet hair from furniture, stairs, upholstery and similar surfaces. It also doesn't come with an under appliance wand which is just as useful as the other attachments.
The Shark Rocket Complete with DuoClean models differs in price too, with HV382 being the most expensive – the additional cleaning tools justifying the price difference.
Note: If you don't have many issues with hair of any kind, Pet Multi-Tool (found on HV381 model) will do a thorough job, too.
Shark Rocket HV382 vs Shark Rocket HV322 Comparison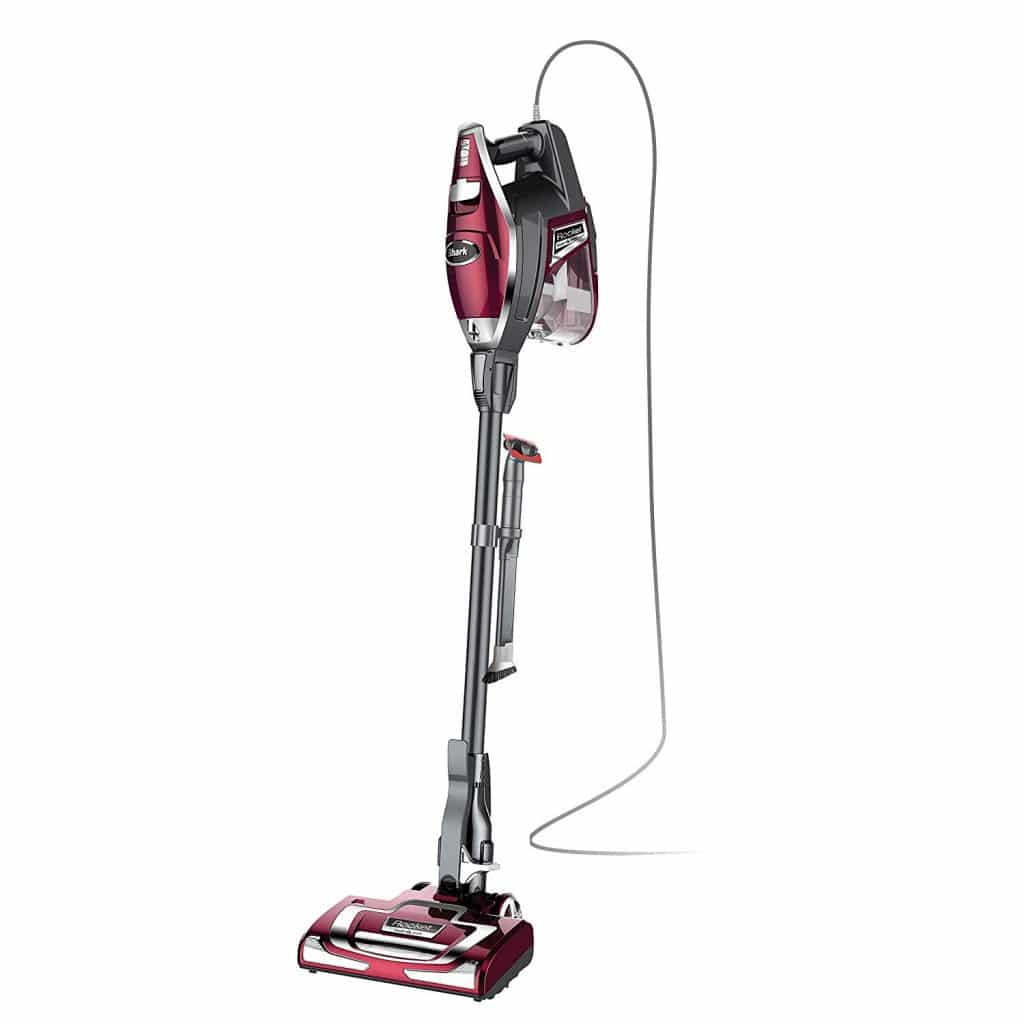 Shark Rocket HV322Shark Rocket TruePet Ultra-Light Upright (HV322) vacuum cleaner is very similar to the HV382 vacuum. They differ in a few essential things:
The Shark Rocket HV322 has a 500W motor, while HV382 has a 600W motor. That is a 20% difference in motor strength. A difference of 100W means a stronger suction and faster and better cleaning.

The HV322 main cleaning head is of a somewhat older design. It does its job well, but the DuoClean head on the HV382 model is better.

The HV322 is slightly lighter. Shark HV322 weighs slightly less than 8 pounds, while HV382 weighs 2 pounds more. These 2 pounds can be significant if the vacuums are going to be used by seniors or by kids (under the supervision of adults, of course!).

Both models have slightly different accessories, but both have the most important one: TruePet Mini Motorized Brush (IMHO, of course).

They both have swivel steering, XL capacity dirt bin, LED lights, and 30 feet long power cord.

The HV322 costs more than other HV30* and HV32* vacuums, and HV382 costs more than other HV38* vacuums and more than HV322 vacuum.
The Shark HV322 is a great convertible lightweight upright vacuum, and a great choice for people requiring a strong, affordable and versatile unit for smaller home or apartment.
You can occasionally find certified refurbished HV322 vacuums on the market. They come with a warranty too, just shorter than new units, but they are also cheaper than new HV322 units and especially new HV382 vacuums.
Personally, since the price difference between the new HV322 and HV382 is not big, and if you don't mind a unit that is 2 pounds heavier, go for Shark HV382.
Shark Rocket HV382 vs. Dyson V8 Absolute Comparison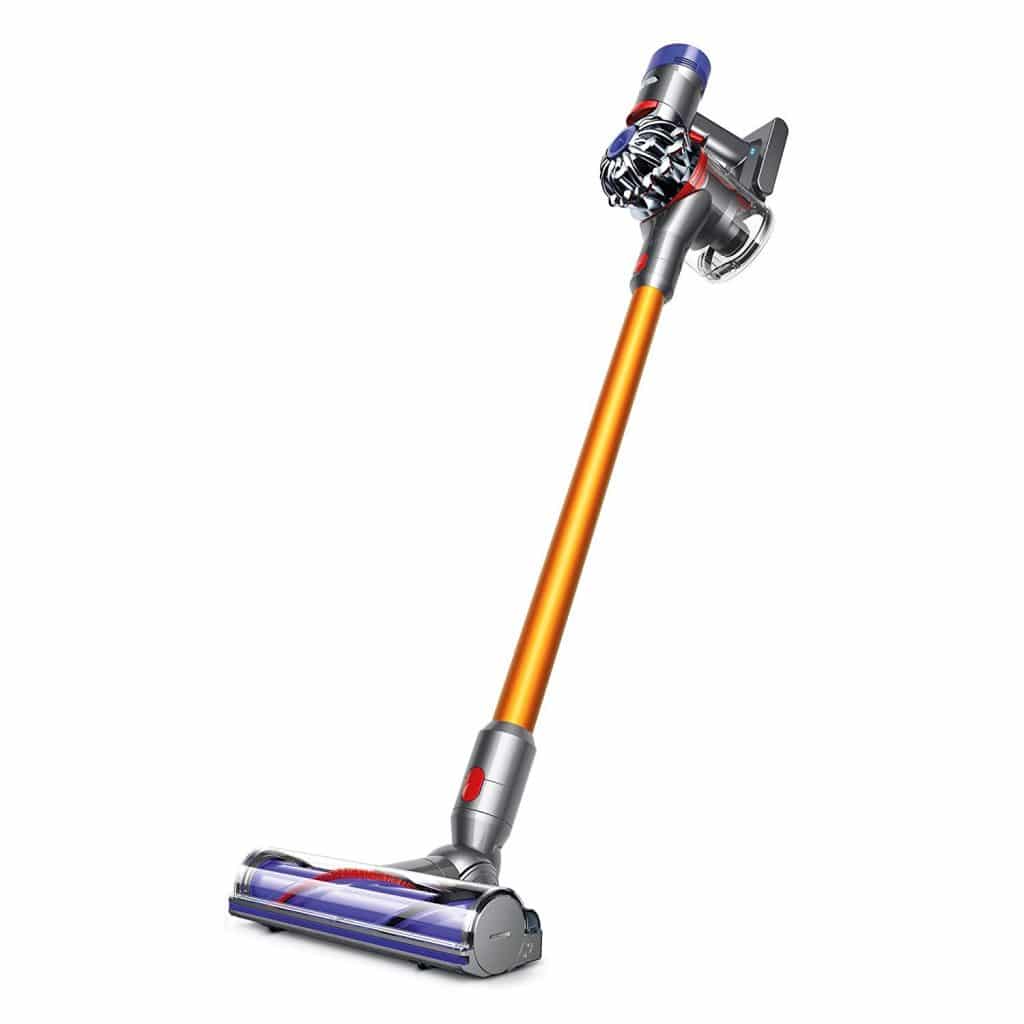 At a glance, Dyson V8 Absolute and the Shark Rocket HV382 are very similar models.
They are both lightweight and convertible upright/handheld units.

Both are suitable for cleaning various surfaces from the floor to the ceiling.

You can use both of them as the main vacuum cleaner not only in smaller homes and apartments but larger ones, too.
Dyson V8 Absolute is stronger and more expensive when compared with Dyson V6 and Dyson V7 models.
For more about these vacuums, check Dyson V6 vs. Dyson V7 vs. Dyson V8 Vacuum Cleaners article.

Main similarities and differences between Shark HV382 and Dyson V8

The Shark HV382 is a corded unit, while Dyson V8 is a cordless unit powered with a strong and lightweight lithium-ion battery.
While Shark HV382 depends on the mains power, Dyson V8 depends on the onboard battery.

Thus, Shark HV382 has a limited cleaning reach by the presence of a wall socket and 30 feet long power cord, and Dyson V8 has cleaning time limited by the capacity of the onboard battery.
In the so-called 'eco-mode' Dyson V8 can operate up to 40 minutes on the single battery charge and 7 minutes in 'max. power mode'.
In maximum power mode, Dyson V8 operates at 425W, but

doing so

drains the battery quickly.

On the other hand, Shark HV382 also has two operating modes, but its operating time is limited by the presence of the mains power only.

When the battery of Dyson V8 is fully drained, it requires 5 hours to fully charge, whereas Shark HV382 doesn't have such limits.

Dyson V8 is a lighter unit (5.75 pounds vs. 9.9 pounds), but it also has a smaller dirt cup (0.14 gal vs. 0.25 gal).

Shark HV382 has excellent air filtration, but the Dyson V8 is a

true HEPA vacuum cleaner

.
Both units come with similar cleaning attachments for cleaning elevated surfaces and various dirt, including human and pet hair.
The Dyson V8 Absolute costs much more than the Shark HV382 vacuum.
If you need a 'top of the line' cordless vacuum cleaner, Dyson V8 is the unit for you.
Shark HV382 is the cheaper unit that depends on the mains power, but it gets the job done, too, and maybe even better!
Final Review of the Shark Rocket Complete Duo Clean
The Shark Rocket Complete with DuoClean HV380/HV381/HV382 is a series of competent, ultra-light upright vacuum cleaners that you can store easily with their wall mount hook feature.
The HV382 model comes with the most accessories, thus costs the most of them.

However, if you don't need all those accessories, we might suggest that you opt for cheaper models.

But, if you're a pet owner or like to regularly vacuum your sofa or other areas or hard-to-reach areas in your home, this could be a great option for you.
However, in the long run, slightly higher initial investment justifies the higher price.
Overall, if we had to recommend one of these products to you, we'd suggest the Shark Rocket HV382. Its 600W-motor is incredible power and strength to clean an entire home, even one with pets, with no fuss.
Do you own one of these Shark Rocket Complete models? If so, we'd love to hear your thoughts and feedback on this range in the comments. Alternatively, if you have any more information to share about the Shark vacuum range, we'd love to hear that also.
For more details and special offers, check the Shark DuoClean Rocket Corded Ultralight Upright Vacuum HV382 Amazon link (link opens in the new window).
Shark Rocket Complete: FAQs
Which Shark duo clean is the best?
We recommend the Shark Rocket DuoClean Ultra-Light HV382 for small spaces. If you want a vacuum cleaner for all floor types, check out the Shark Navigator Lift-Away Professional. For pets, you should look at the Shark Ninja Rotator Powered Lift-Away TruePet.
Is Shark better than Dyson?
Dyson vacuums are more expensive than Shark vacuums. However, Shark vacuums are lighter and do the job well, even better sometimes.
How long do Shark vacuums last?
Depending on the use, Shark vacuums can last in between 5 and 7 years. Most models are durable and can handle dirt, debris, and pet hair like champions.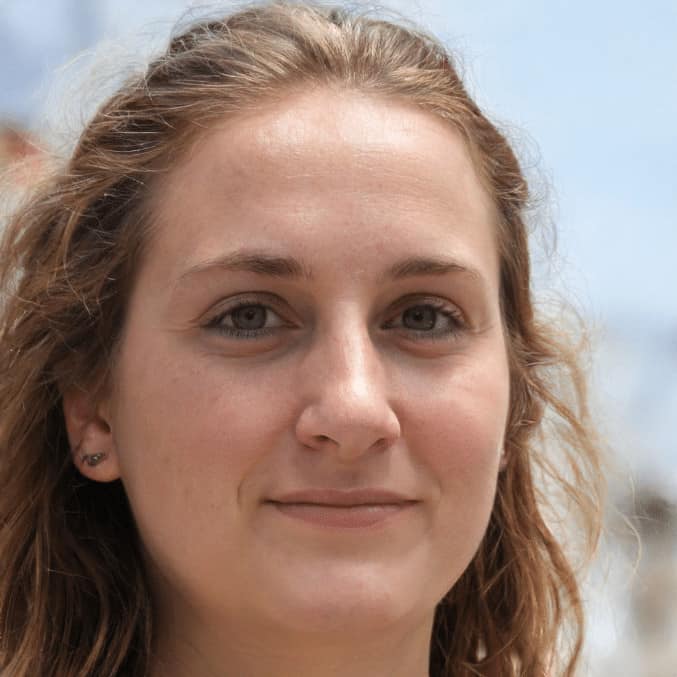 With a degree in engineering, Kathryn Hansen loves to write about how things work. Having her own dilemmas on how to pick the best vacuum cleaner for her large family (with a handful of furry four-legged members as well), Kathryn decided to help others in the same situation. After all, vacuum cleaners are critical to a healthy lifestyle and people have a hard time choosing the best one for their needs.