The Shark Professional Steam Pocket Mop is an excellent steam mop suitable for cleaning dirt and other messes from hard floor surfaces like tiles, marble, stone, and similar. Although it does have 'The Carpet Glider,' it is not especially suitable for carpets and rugs. But, it cleans hard floors thoroughly, and with acceptable price, it is one of the most famous steam mops around. Today, we offer you a full Shark Professional Steam Pocket Mop review, discussing the most essential tech specs of this product, its best features, and the reasons why you should buy it.
A Few Words on Steam Mops
Before we begin, as you probably know by now, we have to recommend you to learn as much as you can about vacuum cleaners in general and steam mops in particular, as steam mops come with different tech specs, features, uses, pros, and cons, although, technically, they are vacuum cleaners as well.
Steam mops and carpet shampooers are the most popular wet-dry vacuum cleaners. They come with true-and-tested efficiency in the cleaning and disinfection of hard surfaces (bathrooms and kitchens, tile floors and walls, wood floors, etc.) and in the effective removal of stains, mold, bacteria, mites, allergens, and all other varieties of ground-in dirt and debris. As we mentioned on a previous occasion when we described how vacuum cleaners work, most steam mops are corded units featuring a water-heating reservoir. Some modern models of steam mops also act as 3-in-1 devices, able to act as steam mops, vacuums, or carpet washers.
Now that we helped you refresh your memory and before we start with today's review, let's remind everybody that Shark makes some of the best vacuum cleaners on the market, so it is safe to assume that the Shark Professional Steam Pocket Mop will not put its brethren to shame.
Shark Professional Steam Pocket Mop Review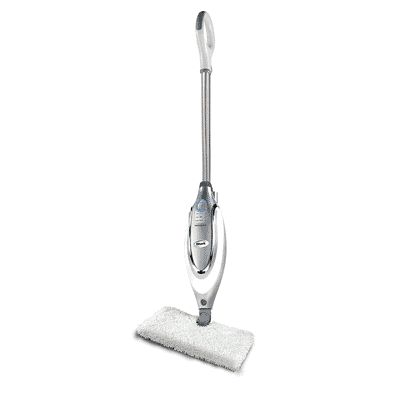 The Shark S3601D steam mop requires some assembly when purchased, but the assembly process is simple and straightforward – one more reason to check the manual first. So let's discuss the main tech specs and features of this unit in detail!
​Shark Professional Steam Pocket Mop Tech Specs and Features
Note that some water can be present around the water tank – Shark is testing water tanks by actually pouring water in the tanks and then pressurizing them. Good to know that tanks are tested.
The steam mop comes with a 1-year warranty – not bad for a device of such price range, but some similar mops have a longer warranty.
The maximum power consumption is 1550 watts, and the average steam mop has 30 seconds wait time for the heater to produce steam. In other words, this product is in the range of other steam mops.
Note that there is no power off/on a switch, and water heaters start to operate as soon as the unit is plugged into the wall socket.
The cord length is 25 feet (~7.6 m) and is enough for covering a larger area at home. If you need a longer cord, remember that 1550 watts at 110-120 volts require around 13-14 Amps, so choose an extension cord according to the required current.

The water tank is not removable – one gets a filling flask that is used for filling the water tank.
Speaking about this issue, some people are used to a removable water tank; some don't like it – it is strictly personal. The fixed water tank can contribute to overall strength and robustness, but it is also harder to replace if something goes wrong.
The Shark Pro Steam Pocket Mop S3601D comes with two cleaning heads: an all-purpose rectangular mop head and a triangle mop head for cleaning hard to reach areas.
Keep in mind that due to their design, the cleaning pads or pocket pads are two-sided providing double cleaning time before one has to change it. Cleaning pads can be used for about 20 washes and then must be replaced.
If you want your pads to last a little bit longer, and to improve the cleaning, sweep or vacuum the area first. This goes for all other steam vacuum cleaners and mops, not just for the Shark S3601D model.
Shark Professional Steam Pocket Mop Features
This steam mop has three steam settings. These intelligent steam control settings ensure efficient steam cleaning for every surface, may it be ceramic tile, hardwood, or marble, among others. These settings are as follows :
Dust
Suitable for getting rid of dirt on delicate surfaces like laminate, bamboo, hardwood, etc. Also, this setting can be used for light cleaning of surfaces like tiles and marble, too. Although the steam jet is not strong, it is strong enough to sanitize floors. Also, since this setting allows the steamer to give off the least amount of steam, it allows the floor to dry quickly. For a fair comparison, check out our Bissell 1132A Symphony All-in-One Vacuum and Steam Mop review, to understand better how these two products compare against each other.
Mop
Suitable for cleaning different types of messes off hard floor surfaces such as sealed hardwood, marble, stone, tiles, linoleum, etc. It is the most common setting for everyday cleaning of any surface that tolerates heat and moisture. For more information on how steam mops work and the features, you should be looking for when you decide to buy one for your home, read our guide on the best steam mops of the year, read the reviews, check the tables, and make the best choice! As you will soon see, we already listed the Shark S3601D Professional Steam Pocket Mop among the best of the best!
Scrub
Suitable for surfaces like stone, tiles, linoleum, and similar surfaces that tolerate heat and moisture. Sealed hardwood can occasionally be cleaned using this setting, just don't use it regularly. Also, any crack in the hardwood sealant can let moisture into the wood, and that can lead to buckling, rotting, and similar hardwood floor issues. If you want more information about how to choose the best vacuum cleaners and other cleaning devices for hardwood floors, check out our guide here!
The scrub setting can be used for carpets and rugs using 'The Carpet Glider' accessory. However, cleaning is not at its best. It will refresh the carpets and rugs and somewhat even clean them, but a good steam/shampoo vacuum cleaner will clean carpets much better. However, such a vacuum cleaner is several times more expensive than this steam mop! For you to make an educated choice, check out our guide on the best vacuum cleaners for carpets and rugs.
How to Use the Shark Professional Steam Pocket Mop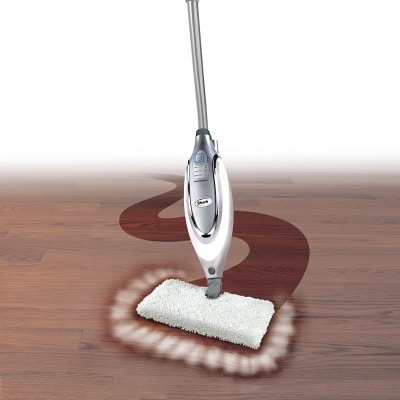 Although you can use tap water, distilled and/or ionized water is highly recommended. Using distilled water will help prevent lime buildup. When the water tank is filled to the maximum (500 ml) and using 'Scrub' setting, one can expect around 20 minutes of constant operation, and even longer when you use the 'Mop' and 'Dust' settings.
The Shark Professional Steam Pocket Mop (S3601D) is easy to clean around furniture, edges, and corners, thanks to the swivel mechanism. Note that the unit can't stand upwards on its own.
Shark Professional Steam Pocket Mop S3601D: Final Thoughts
​Long story short, the Shark Professional steam pocket mop is a very good all-around steam mop that comes with impressive two-sided pocket pads. The mop pads work wonders but are recommended for hard floors. Many people use this and similar steam mops on wooden, tile floors, and laminate floors, but only using 'Dust' and perhaps 'Mop' settings. Even so, be sure that such floors have a high-quality finish, which can withstand such cleaning.
​For more reviews and recommendations, follow the
Shark Professional Steam Pocket Mop (S3601D)
See also: 
BISSELL Little Green ProHeat Compact Multi-Purpose Carpet Cleaner – 14259 Model
Hoover FloorMate Deluxe Hard Floor Cleaner, FH40160PC, and FH40165 Models
Best Car Vacuum Cleaner – Top 5 Car Vacuums Reviews
If you have ever used the Shark Professional steam pocket mop, let us know what you think about it! We can't wait to hear from you and learn more from your experiences with such a product or similar devices. Use the comment section below to share your thoughts and ask us any questions you might have about this product! In case you want to tell us more about how this product works or if other users need to know a few particularities about it, feel free to mention them!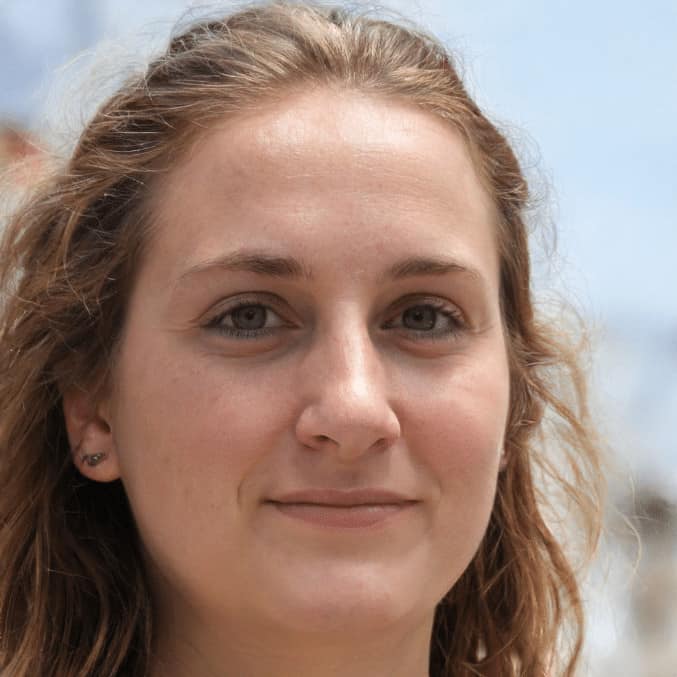 With a degree in engineering, Kathryn Hansen loves to write about how things work. Having her own dilemmas on how to pick the best vacuum cleaner for her large family (with a handful of furry four-legged members as well), Kathryn decided to help others in the same situation. After all, vacuum cleaners are critical to a healthy lifestyle and people have a hard time choosing the best one for their needs.