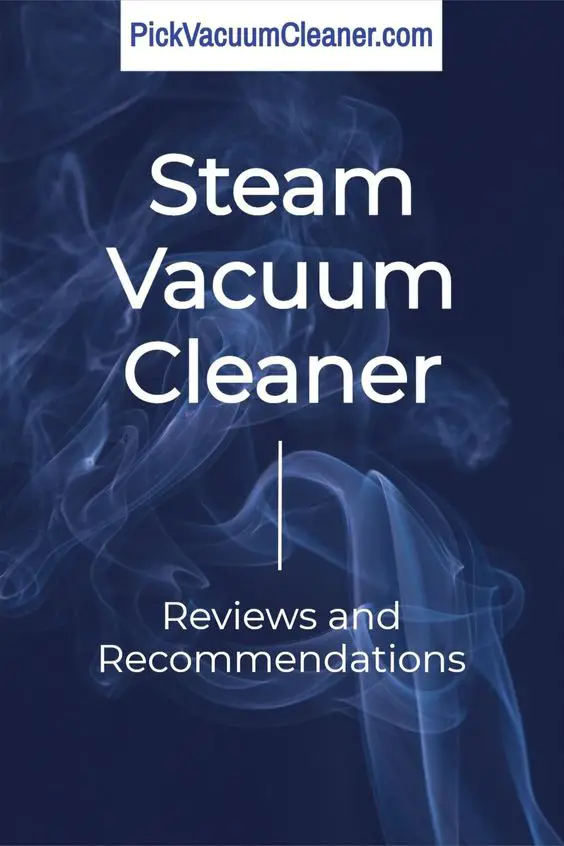 A Steam Vacuum Cleaner comes in two types: wet and dry. It uses steam at a high temperature for additional floor cleaning instead of only vacuuming like classic models.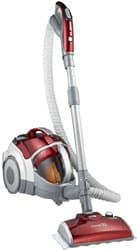 The steam vacuum cleaner is a great solution for those who are allergic to mites, pollen, dust and other particles. Another reason to get such a unit is to absorb allergens that can cause respiratory problems and other health issues.
Steam vacuum cleaners and steam mops use water steam heated to 120°C (250°F) or even more. Steam helps clean dirt, kill dust mites, disinfect floors, restore the shine, and remove stubborn stains.
Using superheated steam, steam cleaners leave the floors almost dry. It is possible that during the cold days, steam cleaner leaves a trail of condensed water on tiles. However, that layer of water is very thin and will evaporate quickly.
Steam Vacuum Cleaners for Hardwood Floors
Note that steam is very hot and can be dangerous to humans, pets, and sensitive surfaces. It is very important to be careful when cleaning sensitive surfaces because they can react with hot steam and can get damaged. For example, if the hardwood floor finish has cracks or at least pores, water vapor can enter wood itself and such wood can change shape, buckle or even start to rot.
If you are not certain, be sure to read the manual of your steam cleaner. And if you have older hardwood floors, it would be advisable to refinish your hardwood floor using a finish that is resilient to steam cleaning. Such finish perhaps costs a little more, but in the long run, it is worth it.
Steam Vacuum Cleaner vs Steam Mop
Steam mops are steam cleaners that are not using any suction mechanism and rely only on steam to clean the surface. Some models also use additional cleaning agents to clean the floor surface. It has a microfiber pad positioned under the unit that traps the dirt with the help of steam. When the pad is dirty, you must clean it and dry it before you can use it again. Some people omit 'drying' the pad, but that can increase the amount of water left on the surface after the cleaning.
Scrubbing Systems
Some models of steam cleaners (vacuums or mops) have scrubbing system that scrub surface up to 1000x per minute (or even more). Such systems enhance the cleaning even more, however, if the hard object is caught between the microfiber pad and the floor, sensitive floors can be damaged.
On the other hand, when using scrubbing steam cleaners with cleaning agents with added polish, surface is cleaned, almost sterile and looks almost like a new one.
Exhaust Filtration
Superheated steam kills at least 99% of bacteria, mites and other similar bugs. Furthermore, when the vacuum absorbs the steam, it sticks the pollutants inside the vacuum bag. HEPA level of filtration is recommended and most high-priced steam vacuums do have HEPA filters. A few models even combine these with charcoal filters. Such a combination provides practically 100% sterile air exhaust.
Sometimes it is hard to clearly distinguish between the types of vacuum cleaners. However, with the guides on our website, you'll be able to find exactly what you need without much hassle.
Steam vacuum cleaner prices are fairly similar to other vacuum types. If you have pets or children, then investing in a steam vacuum cleaner is a great choice. And if you have a larger area to clean, we recommend wet and dry bagless cyclonic vacuum cleaners with steamers. Although they are not cheap, you'll get immeasurable quality for the money.
Examples of Good Steam Vacuum Cleaners
Now that we've got the basic specs you should look for, let's take a look at some of the best steam vacuum cleaners that you can find online right now.
BISSELL PowerFresh Steam Mop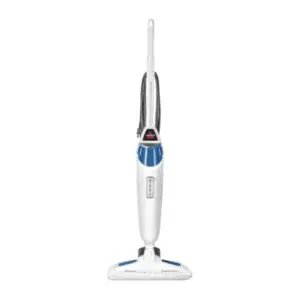 Probably the best steam vacuum cleaner for this price range is the BISSELL PowerFresh Steam Mop.
As with all vacuums of this type, it eliminates over 99% of bacteria and germs, and you can use it on hardwood, ceramic, granite, linoleum, and marble.
The flexibility of operation is astounding considering its size and highly affordable price. It comes with a digital control pad that allows you to set the amount of steam you need depending on the type of surface or stain you want to clean.
Also, the BISSELL PowerFresh Steam Mop comes with a microfiber soft pad, scrubby pad, two fragrance discs, and a carpet glider. For even more added convenience, it features a 23-foot power cord and swivel steering. Furthermore, you can easily remove the water tank to fill it in the sink or bathtub so you won't need any plumbing modifications whatsoever.
Pros
Wide angles of cleaning and good coverage of multiple types of floors
Excellent for multiple sizes and types of surfaces
Removable water tank you can easily fill at the sink
BISSELL promises to save homeless pets with each purchase of this vacuum through their Pet Foundation
Cons
Some people complained about poor customer service
If you tighten the cap too hard, it might break
Verdict
The PowerFresh Steam Mop from BISSELL is absolutely astonishing for its price.
With a low-profile mop head that can enter small corners and several other desirable features, you know you're getting all your money's worth. Plus that it's great for households with kids and pets alike.
LIGHT 'N' EASY Multifunctional Steam Mop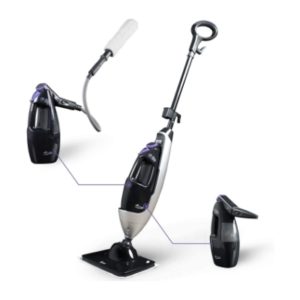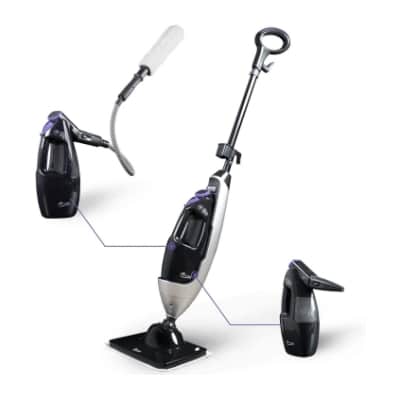 Much like the company's name implies, the LIGHT 'N' EASY Steam Mop comes at a little below 10 pounds. Its size further showcases just how compact it is, coming at only 28 x 12.5 x 7 inches.
Leaving its compactness aside, however, its functionality doesn't disappoint either. The LIGHT 'N' EASY Multifunctional Steam Mop can handle hardwood, tiles, ceramics, grout, vinyl, and laminate. On top of that, you also get a couple of attachments, one of them being purposefully made for cleaning windows.
What's more, it has a highly intuitive smart switch that automatically shuts off the steam when you put the mop in an upright position so that you won't damage the floors. On top of that, it only takes 30 seconds to heat up, greatly reducing the waiting time whenever you might want to clean around the house.
Pros
Can easily clean multiple types of surfaces, and not just floors
Comes with attachments for all types of spaces, including really tight corners
The unit is surprisingly quiet for how well it performs
You don't have to press a button to spray steam, the vacuum does it continuously
Cons
A few users felt it was a little hard to push around
Some attachments might wear out faster
Verdict
The LIGHT 'N' EASY Multifunctional Steam Mop is a fantastic choice for those who want a compact powerhouse of a steam vacuum. We like that it can clean numerous types of surfaces, including windows, with ease.
The Bottom Line
Now that you know all the advantages a steam vacuum cleaner can bring you and what specs to look for, you should have an easier time choosing one that suits your needs.
The two models that we've recommended are currently the best-rated at Amazon and come at a price that nearly anyone can afford without breaking the piggy bank.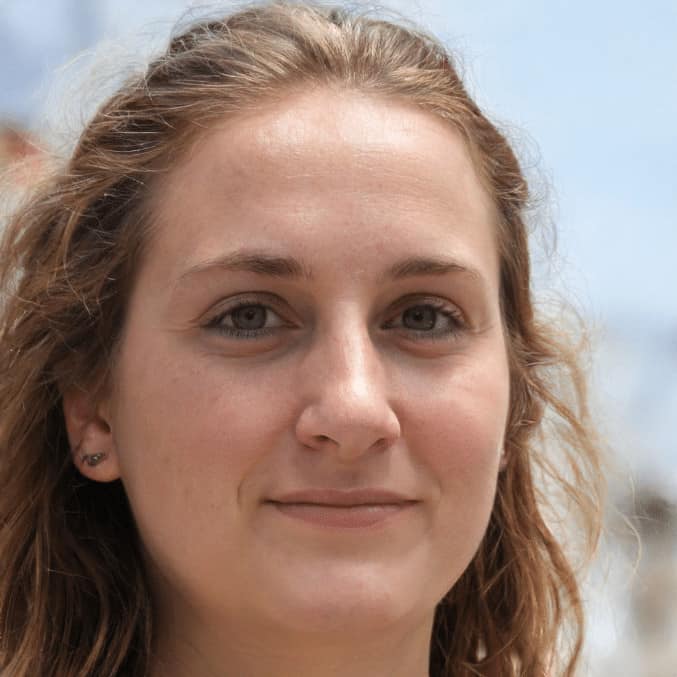 With a degree in engineering, Kathryn Hansen loves to write about how things work. Having her own dilemmas on how to pick the best vacuum cleaner for her large family (with a handful of furry four-legged members as well), Kathryn decided to help others in the same situation. After all, vacuum cleaners are critical to a healthy lifestyle and people have a hard time choosing the best one for their needs.