​The Hoover FloorMate Deluxe Hard Floor Cleaners – the FH40160PC and the FH40165 models – are wet and dry hard floor scrubbers. Both models are suitable for cleaning surfaces like sealed wood, vinyl, tile, grout, etc. Dual tank technology keeps dirty and clean water separated and ease the cleaning and filling of each tank.
Today, we will discuss both Hoover FloorMate Deluxe models, offering you comparisons, reviews, and detailed instructions on how to choose the best cleaning solution for your needs! William Hoover is a name intimately related to vacuum cleaners' history and development (together with other cleaning solutions).
Therefore, it should not be a surprise for anybody that some of the best hard floor cleaners, floor sweepers, and carpet washers proudly wear the name of this brand.
Hoover FloorMate Deluxe Tech Specs and Features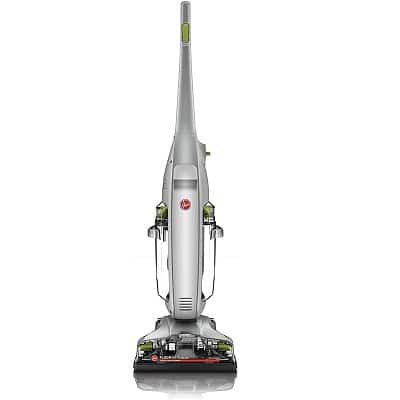 The Hoover FloorMate Deluxe Hard Floor Cleaner is based on 'Multi-Purpose Spin Scrub' technology.
It features counter-rotating brushes that gently wash and scrub hard floors from all angles. The cleaning brush is removable for easier cleaning.
The unit has two individual tanks, not just a tank with separated clean and dirty water. This makes the filling, emptying and cleaning of each tank easier and faster. Note that the tanks are rather thin and tall and they can't be filled/rinsed in every sink.
Both tanks have a capacity of 1.5 quarts (~1.42 liters, 48 ounces). The clean water tank doesn't have a water heater, but it can and should be filled with warm (not hot) water before cleaning. Right after cleaning, it is highly recommended to empty and clean the dirty liquid tank.
Both models have two modes of operation: wash mode and dry mode.
The wash mode uses brushes to clean while suctioning up excess water. The dry mode stops the brushes and suction the water to remove any excess while improving drying time.
The unit comes with two brushes: SpinScrub Wood Floor Brush (which is usually assembled in the unit) and SpinScrub Tile & Grout Brush.
The SpinScrub technology is proudly developed by Hoover and works well with various types of hard floors such as laminate floors, hardwood floors, marble, and ceramic tiles among others.
Hoover FloorMate Deluxe FH40160PC & FH40165 Models Comparisons
As previously mentioned, the spinning scrub brushes are gentle and safe for scrubbing different types of hard floors including sealed wood, laminate floors, vinyl, tile, grout, and similar surfaces. Just make sure you use the right brush.
Keep in mind that there are different solutions and vacuum cleaners for tile floors, so it is best to use our guides and recommendations before getting the best cleaner/floor scrubber for your particular floors.
When it comes to cleaning sealed wood and laminate floors, keep in mind that cleaners like these use water and cleaning solutions to improve the cleaning. If the wood finish is not sealed and if the laminate floor is not certified for such cleaning, DON'T clean it with wet/dry and similar cleaners.
If you want more cleaning solutions from Hoover that meet your particular needs, remember that the Hoover Power Scrub Deluxe Carpet Washer FH50150 model is also one of the most popular carpet washers/cleaners/scrubbers on the market.
The moisture will penetrate into the floor and make wood bent and rot over time, and it will essentially destroy your floors. But, for tiles and similarly resistant floors, cleaners like this are excellent for keeping them clean.
FH40160PC & FH40165 Models Similarities and Differences
Hoover FloorMate Deluxe Hard Floor Cleaners usually come with 16 oz Multi-Floor Plus 2X cleaning solution. Depending on your floors and type of dirt, you can find a more specific solution which will do its job even better.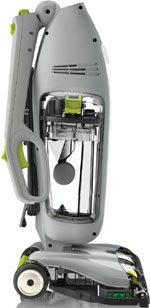 The main difference between these vacuum models is in the handle – FH40165 has a folding handle which minimizes the required space for storing the unit after cleaning. Also, depending on the store, FH40165 can come with more cleaning solutions than the FH40160 model – hence the variable difference in price.
The unit must be assembled before first use. The assembly is easy and can be done in minutes. Before first use (and before assembly) it is highly recommended to read the manual first.
The wheels are soft and gentle and enable easy maneuvering with the cleaner.
Unit weight is 13.8 pounds (~6.25 kg) when tanks are empty – even when filled, the unit is still rather easy to move over the various floors.
The motor draws 3.5 Amps and is strong enough for the unit like this.
The suction power of the vacuum is also quite impressive. The unit is not loud, but IMHO, could be quieter, too.
The power cord is 20 feet (~6.1 m) long and is long enough for small apartments and similar areas.
However, with 11.5 inches (~29.2 cm) wide nozzle and 1.4 liters tanks, the unit can cover and clean a rather large area quickly. In the experts' opinion, the longer power cord would be beneficial.
Personally, it should be at least 30 feet (10 m) long. Also, the unit has no power cord auto-rewind mechanism – perhaps this is the reason why the length of the power cord is limited to 20 feet.
Before we move on to the next chapter of our guide, let's see a short video provided by Hoover that explains the main difference between the FloorMate Deluxe (FH40160) and the newer model, the FloorMate Edge (FH40190).
How to Use the Hoover FloorMate Deluxe
First, you need to adjust the handle to its operating position by stepping on to the pedal found at the back of the machine. Look for the switch and push it once to turn the vacuum on. Once you're done, you can push the same power button again to turn the machine off.
Let's see a short tutorial on how to use the Hoover FloorMate Deluxe!
If you need to transfer the machine to another room, just put the vacuum's handle in an upright position and tilt it backward on its rear wheels. Then, push the unit forward to move it around. If you're worried about your floors and don't mind carrying the unit, you can do so using the handle found at the front of the vacuum.
You may refer to the user manual of these models for further information. The manual can be readily downloaded online, so you can check it out anytime.
Final Thoughts on the Hoover FloorMate Deluxe Hard Floor Cleaner
We have laid out all the significant features of the Hoover FloorMate Deluxe vacuum and also included our review of two specific models. As you can tell, these vacuum cleaner units are some of the best ones in the market. While they share some of the good stuff, they do have their fair share of limitations. For one, these models work best only with sealed hardwood. So, if yours aren't sealed, this may not be the smartest choice for you.
Hoover FloorMate Deluxe Hard Floor Cleaner: FAQs
What cleaning solution can you use in a Hoover FloorMate?
We recommend you use the branded Hoover cleaning solution for hard floor for your Hoover FloorMate as it is fully compatible with the device and able to remove all possible dirt types on sealed floors. Using branded cleaning solutions with cleaning devices usually prolongs the lifespan of a vacuum cleaner or a carpet washer. However, if you are out of stocks, you can also use a mix of soapy water and up to 2 tablespoons of baby shampoo. Experts do not recommend DIY homemade cleaning solutions, as you risk clogging the FloorMate's tank.
Bottom Line
With that said, you know it all comes down to your personal needs and preferences. Either way, both Hoover FloorMate Deluxe Hard Floor Cleaner vacuum models will surely get the work done. If you ever used one of these models or you are currently enjoying their benefits, tell us a bit about your experience with them! Do they work as advertised? What other using tips and tricks can you offer our readers?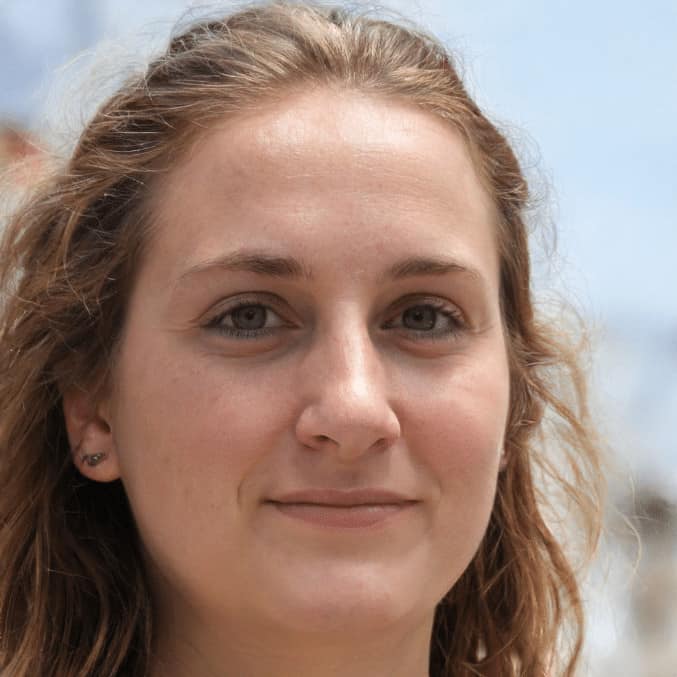 With a degree in engineering, Kathryn Hansen loves to write about how things work. Having her own dilemmas on how to pick the best vacuum cleaner for her large family (with a handful of furry four-legged members as well), Kathryn decided to help others in the same situation. After all, vacuum cleaners are critical to a healthy lifestyle and people have a hard time choosing the best one for their needs.