The Bissell 1132A Symphony All-in-One Vacuum and Steam Mop tool is, as its name suggests, a vacuum cleaner and a steam mop combination in one appliance. Due to its relatively small size, its acceptable price and many features, it is one of the most popular devices in its class. Today, we offer you a Bissell 1132A Symphony All-in-One Vacuum and Steam Mop review and buying guide.
As we said on a previous occasion, the Bissell 1132A Symphony All-in-One Vacuum and Steam Mop is one of the best steam mops on the market this years. So check out the review and the buying guide below!
The Bissell 1132A Symphony Tech Specs and Features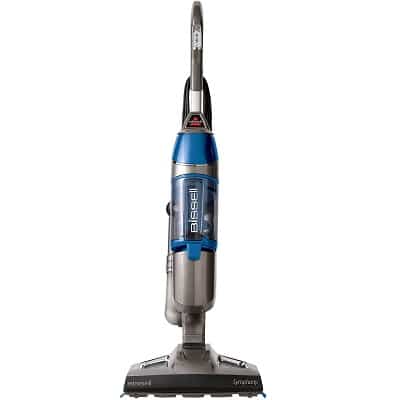 Let's see this cleaning tool's best tech specs and features!
It saves cleaning time by vacuuming and steaming at the same time.
The vacuum uses strong cyclonic vacuum action for debris pick up. Bissell 1132 uses so-called Dry Tank Technology. The debris stays dry even when vacuuming is combined with steaming to avoid any unpleasant smell later.
With its steam cleaning ability, it can eliminate 99.9% of germs and bacteria, when done in a test lab. In real life, it all depends on dirt build-up and time of steaming.
The steam mop easily removes tough, sticky messes from hard surfaces.
The vacuum uses edge bristles to sweep debris away from edges and clean them using suction and/or microfiber mop pad.
It measures 9x11x46.5 inches (23x28x118 cm) and weights around 10.1 pounds (around 4.6 kg). It is heavier than similar sized steam mops, but it is vacuum-steam mop combo.
The water tank capacity is around 400 ml and the tank is not removable.
What to Know Before You Buy A Bissell Symphony Vacuum Cleaner and Steam Mop
Bissell 1132A Symphony also comes with a cup that helps measure the proper amount of water (one needs 2 cups to fill the tank). It is recommended to use distilled/deionized water, to avoid scale build-up on the heater and other internal components and to avoid any marks and stains on the cleaned area. If you run out of distilled water, use regular, tap water, but don't do it regularly, especially if your tap water is hard one.
The device is easy to use with 'Easy Touch Digital Controls', 5-way adjustable handle, and Quick-Release Mop Pad Tray.
Also, it comes with 4 pads – 2 soft microfiber pads for cleaning hardwood floors and 2 though pads for scrubbing hard floors like tiles and similar.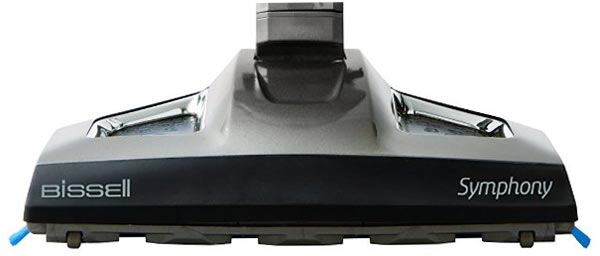 Note
The Bissell 1132 Symphony is recommended for hard floors like tiles, stone, vinyl, linoleum, and similar. It is not recommended for hardwood and laminate floors – at least don't use it on such surfaces often. Even 'sealed hardwood floors' could have issues, because sealant can have small, invisible cracks that can let moisture in the wood, leading to wood buckling and rotting. Occasional cleaning of such surfaces is possible, just be sure to test it on small, relatively 'invisible', area. Better safe than sorry …

What Else Should You Know about the Bissell 1132A Symphony?
Let's see other important things you need to know about the Bissell 1132A Symphony and also answer some of the most frequently asked questions related to this product!
Can the Symphony also clean carpets?
The Bissell 1132A Symphony can be used on carpets, too, like many other Bissell vacuum cleaners.
The carpet glider accessory can be purchased separately and using it, one can vacuum and 'refresh' carpets. Of course, bigger and stronger vacuums, with cleaning heads optimized for carpets and rugs, clean such surfaces better. But again, Symphony is optimized for hard surfaces and that where it should be used. However, if you want some of the best vacuum cleaners for carpets and rugs, do further research into the matter, as the Bissell Symphony is just one of them. You may be also interested in brands like Dyson or Hoover.
The power cord is 25 feet (around 7.6 m) long and it makes possible cleaning of a larger area without constant plugging in and out. If you do need extension cord, remember that this device need at least 13-14 Amps current.
Unfortunately, there is no on-board automatic winding mechanism of any kind – most of the similar devices don't have one, so it is not big minus 🙂
Do you want to know the difference between the 1132 model vs 1132A model?
The difference between these two models are just in color, 1132 is red and 1132A is blue. Everything else is the same.
How often one has to change pads?
Well, that depends on how dirty the floors are. If your floors are cleaned regularly and they are 'low traffic floors', pads can be changed after cleaning every 1500-2000 square feet (140-180 square meters) or simply clean the pads after each cleaning.
Should you vacuum before you steam?
This is a recommendable practice, especially if the floors are really dirty. It perhaps prolongs the cleaning itself, but in the end, it provides better results. Also, when vacuuming first, the cleaning pads last longer and are changed less frequently.
Conclusion
When using steam mops, there is usually no need to add any chemicals to 'enhance' the cleaning. That is why these cleaners use hot steam, after all. That goes for Symphony, too. Just be sure to change pads when they get dirty and be careful when changing them as they can be rather hot from steam.
Other than that, we hope you enjoyed this review and that we helped you make the best choice for your home. If you have used or are using this product, share your thoughts with us in the comment section below!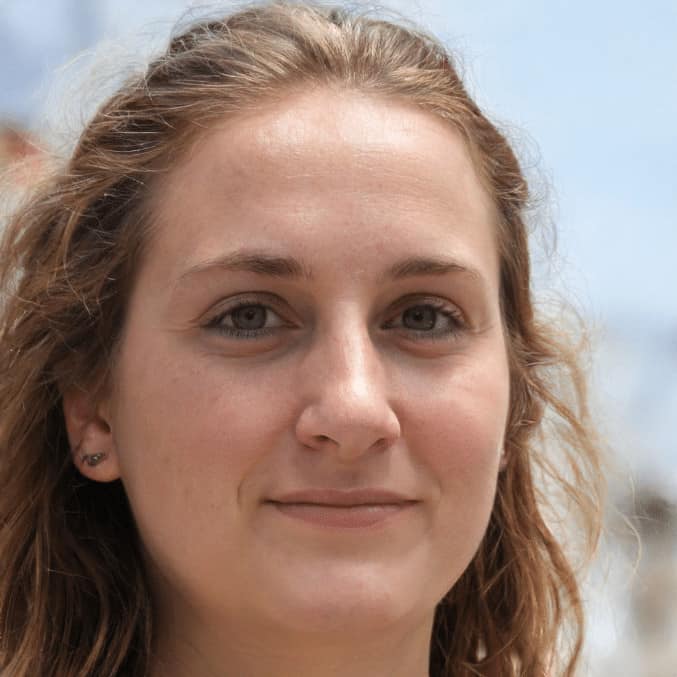 With a degree in engineering, Kathryn Hansen loves to write about how things work. Having her own dilemmas on how to pick the best vacuum cleaner for her large family (with a handful of furry four-legged members as well), Kathryn decided to help others in the same situation. After all, vacuum cleaners are critical to a healthy lifestyle and people have a hard time choosing the best one for their needs.