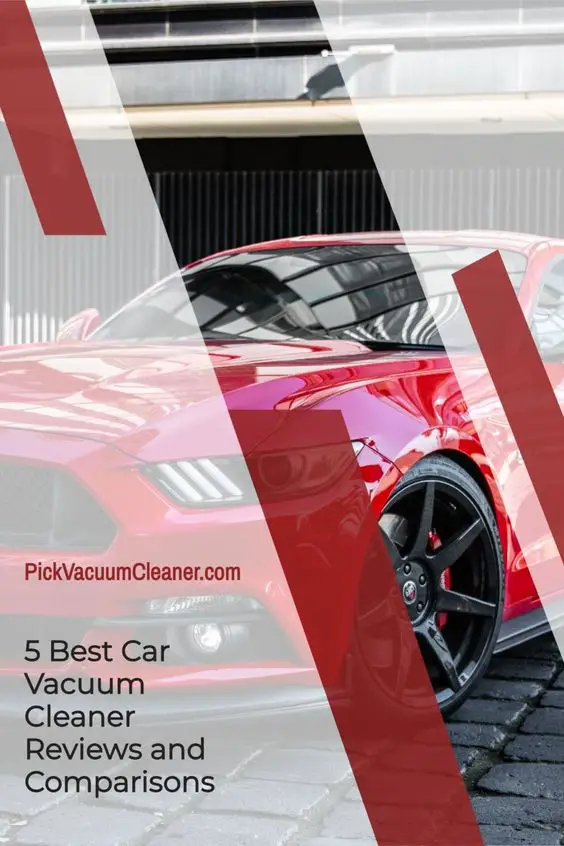 A clean car means more tips if you're an Uber/Lyft driver or a good impression on a first date. So, why lower your chances? Moreover, a clean car – inside and out – helps you maintain a good state of health. It can also allow you to resell the vehicle at a good price! Check out the best car vacuum cleaner options on the market! We have product comparisons and reviews, together with a buying guide. We hope this article will help you make the best choice for your needs!
Why Do You Need the Best Car Vacuum Cleaner?
Vacuuming cars can be a problem. Hard to reach surfaces like under the seats, various types of surfaces and dirt, cleaning emergencies, etc. represent different challenges for a car vac.
In certain situations, a small cordless handheld vacuum cleaner will do the job fast and thoroughly, but in certain situations, even large and powerful industrial drum vacuum cleaner will struggle to do the job properly.
Of course, you could go to a car wash and save yourself the hassle of vacuuming your own car. But, whatever you save on, either time and effort or money, make sure that you get the biggest gain in the long run.
Simply put, you need to weigh your choices carefully. Do you have extra cash to spend on a regular car wash or would you rather get yourself a car vacuum of your own?
How to Choose the Best Car Vacuum Cleaner
Before picking out a car vacuum, be it a handheld one, a shop vac, or a car wash vacuum, there are a few things you need to learn about these machines.
Vacuums, in general, are designed to rid most surfaces of dust and debris. However, some models may also come with different features and attachments like a dusting brush or a crevice tool which can help you reach every nook and cranny. Before anything else, check out the vacuum cleaners' specifications and tech specs to understand better what to look for when buying a vacuum cleaner for your vehicle or your home.
In other words, different models of vacuums can vary when it comes to attachments, features, and overall performance. Knowing these things will help you choose the best vacuum to use in cleaning your car.
Vacuum Cleaner Types
Vacuums come in various types and sizes. Classic upright vacuums are great for flat surfaces, but for cleaning cars, not so much. It is rather hard for them to reach all the tiny cracks and crevices in a vehicle.
On the other hand, canister vacuums with their hoses are usually excellent contenders for the best car vacuum cleaner spot for several reasons: they are powerful and have great suction, the hose can reach different areas with a crevice tool, and if required, cleaning can be done using only the hose itself, providing the strongest suction possible.
So, if you prefer upright vacuum cleaners, but also need to vacuum your car, consider buying a second, a smaller and cheaper vacuum cleaner that can be used for cleaning both your car and house and/or buy an upright vacuum cleaner that has a cleaning hose as an option.
Handheld vacuums are popular car vacuums for several reasons – they are light weight and generally small in size and come with a cleaning hose or crevice, or similar tools that can reach tight places including under your car seats.
Such vacuums can be used at home, in the car, on the boat, etc for regular cleaning of smaller areas and when required, in emergencies. The suction strength of handhelds and other vacuums varies greatly, and in most cases, it depends on the power source.
Best Car Vacuum Cleaner's Strength and Power Source
Car vacuums can be powered by batteries, using a cigarette lighter adapter or using mains power. Rarely, cars can be vacuumed using industrial vacuums powered by compressed air.
Battery operated car vacuums are handheld vacuums that are excellent in emergencies, have decent suction and decent air filtration. However, keep in mind that performances and battery life depend on price.
Cheaper cordless vacuums cost below 30 dollars/euros and are powered by NiCd batteries and have simple mechanical filters. On the other hand, more expensive cordless vacuums can cost more than 100 dollars/euros (even much more!), but are powered by lithium-ion or lithium-polymer batteries and are equipped with several filters, washable HEPA filters included.
Battery-operated vacuums can be used without a power source present in the form of a wall power outlet or a cigarette lighter socket and adapter, giving them the freedom to operate wherever and whenever.
But battery strength and capacity limit their operating time and suction strength. Cheap NiCd vacuums can clean smaller spills and smaller areas, but they can have issues with cleaning an entire car, especially when batteries are older.
Note
Vacuums that are operated using lithium batteries usually can vacuum several cars and be fully recharged in a few hours. But they cost more. If you want a significantly longer battery life, choose a vacuum that's powered by a lithium-ion battery.
Car vacuums that plug into the cigarette lighter socket use the car battery as a power source. Since such cigarette lighter sockets have 10 Amps fuses, these vacuums are usually limited to a 120W max – this is decent power for smaller handheld vacuums.
Such vacuums often come with various tools for cleaning tight and hard to reach places, such as onboard hoses, crevice tools, cleaning brushes and similar.
One of these vacuums' limitations is the length of the power cord, and most of these vacuums can clean an entire car, but some can have issues in reaching car trunks – please, read the labels and manuals of the vacuums if you have larger SUVs, or caravan and sedan cars.
Note
Under the heaviest load, these vacuums can draw max 10 Amps, and if they operate for 30 minutes, they will discharge about 5Ah from the car battery. These days, most car batteries are above 60Ah, so this 5Ah represents less than 10% of battery capacity. Even Yugo 45 has a battery that can withstand such discharging. I think…
I never vacuumed my car for longer than 10 minutes…
Mains powered car vacuums can have several kW motors and can operate for an extended period. They have the strongest suction of all car vacuums, largest capacities of dirt bins, largest possible selection of cleaning heads and tools, but they require – mains outlets and power cords of sufficient length to reach the car.
If you live in the house and have a garage, this should not be a problem. Also, such vacuums have excellent air filters and can do the job easier and faster than other vacuums.
Note that they are somewhat hard to be used in emergencies – which is crucial for people with kids and pets.
Steam vacuum cleaners and steam mops can be used to clean and sanitize surfaces that tolerate steam cleaning – such cleaners operate using mains power, so be sure that you have a mains power socket and long enough power cords near your car.
A Car Vacuum Cleaner's Air Filtration
Air filtration is essential for car vacuums since various allergens can easily get inside the car – just open the window while driving around. A car vacuum cleaner with good air filtration will remove such particles from the car and trap them inside the dirt bin, dirtbag (reusable or not), or filter (washable or not)!
People having health issues caused by allergens, mites, and similar should thoroughly clean their cars on a regular basis, AND should regularly clean/replace their car cabin filter(s) too – driving around during spring with the windows down can be quite relaxing for most people, but also a nightmare to others…
Which Is the Best Car Vacuum Cleaner on the Market?
Considering the differences in our needs and preferences, you may find that what works for others may not necessarily work for you. That said, instead of naming just one product, we have made a list of five different models that top the rest of the units that you can find on the market.
We have also included a short review for each unit so that you can get an idea of how well they perform and what are their limitations. Hopefully, this will help you choose which specific model suits you best. Check them out in the next section of this review.
Top 5 Best Car Vacuum Cleaner Reviews and Recommendations
Here is a list of the top 5 best car vacuum cleaner models according to our opinion. You may agree with us or not. However, these five vacuums will clean your car thoroughly. They do have their strengths and weaknesses and before purchasing any of them (or any other vacuum cleaner or home appliance), be sure to check if that device really suits your needs.
On this list, you will notice that there are no large vacuum cleaners (upright vacuums, cylinder vacuums, drum vacuums, etc) that can be found in any home as the main vacuum cleaner.
If you do have such type of vacuum cleaner, it can be used as a good car vacuum cleaner, but its main purpose is not car vacuuming.
And, here is the list:
1. Eureka Hand-Held Vacuum 71B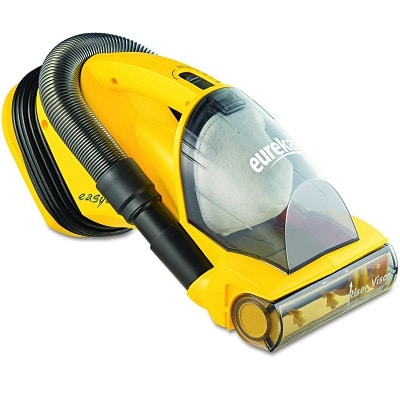 The Eureka Hand-Held Vacuum 71B is a small, but powerful corded vacuum cleaner. With two motors, one for vacuum suction, second for brush roll, and with other product features, this handheld vacuum cleaner is an excellent choice for anybody in need of a small and compact handheld vacuum cleaner.
This vacuum cleaner is a little bit bigger (and heavier) than most common cordless operated hand-held vacuum cleaners, but it is much stronger – great suction power is combined with revolving brush that helps clean even the hardest dirt and messes on your car seats and carpet.
For cleaning hard to reach places, it has an onboard hose.
2. Black & Decker PAV1200W 12-Volt Cyclonic-Action Automotive Pivoting-Nose Handheld Vacuum Cleaner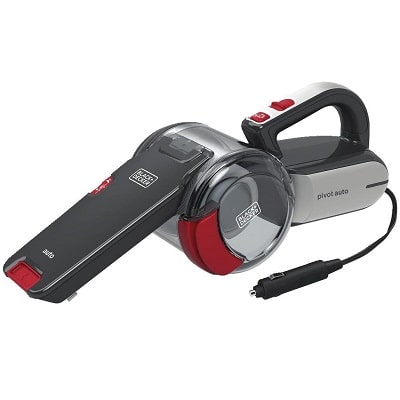 Black & Decker PAV1200W 12-Volt Cyclonic-Action Automotive Pivoting-Nose Handheld Vacuum Cleaner is a small, lightweight, but powerful vacuum cleaner, powered through a car lighter outlet. The price is more than reasonable.
The model doesn't have its own batteries but is powered by the car battery. This vacuum cleaner can operate for an extended period, without power loss. Also, it has a bagless design with cyclonic filtration. This cyclonic action ensures that there is no suction loss when the dirt cup is filled with all the debris and other messes you just cleaned out. Dirt capacity is around 11.8 oz.
This vacuum cleaner is rated at around 11 air watts. Don't know what an air watt is and what it means for a vacuum's cleaning prowess? Check out our article on Vacuum Cleaner Specifications and learn how to read vac's technical specs like the pros.
3. BISSELL Pet Hair Eraser Handheld Vacuum
The BISSELL Pet Hair Eraser Handheld Corded Vacuum 33A1 model is a small, yet very powerful corded handheld vacuum cleaner. It doesn't feature 'fancy' things like rotating brush, but it gets the job done easily.
This is a very powerful and lightweight handheld vacuum cleaner, like most Bissell models on the market. when switched on, one feels torque from motor starting. This vacuum cleaner sucks plenty of air and creates strong suction for cleaning dirt and debris – the problem can be exhaust air that sometimes can interfere with the cleaning surface and blow away the dirt.
However, this can be easily avoided with careful handling of the vacuum cleaner. The power cord is 16 feet (5.5m) long, and for cleaning the car, it could be a little bit longer.
4. Black & Decker Dustbuster Handheld Vacuum HHVI315JO42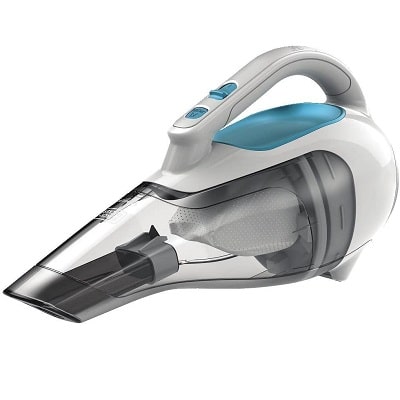 Black & Decker HHVI315JO42 Dustbuster handheld vacuum is a reliable and affordable cordless vacuum cleaner with generally good suction and good air filtering packed into a rather small and lightweight product.
Unlike many cordless vacuum cleaner models that are powered with NiMH batteries, this model features lithium technology. It means it is offering great suction power at a low price with extended run time.
This model uses removable and washable filters. The cyclonic separation spins dust and dirt away from the filter, so suction power stays strong even when dirt bin is almost full with dust and other debris. The crevice tool is excellent for hard to reach areas and you will enjoy the brush for upholstery.
5. Black & Decker FHV1200 Flex Vac Cordless Ultra-Compact Vacuum Cleaner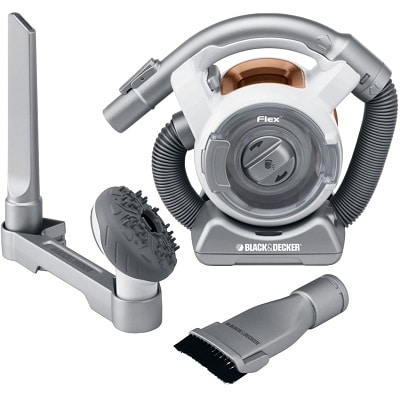 Black & Decker FHV1200 Flex Vac Cordless Ultra-Compact Vacuum Cleaner is cheap and versatile compact, handheld, cordless vacuum cleaner.
It is larger and stronger than the average cordless vacuum cleaner, but a little bit weaker than a standard compact corded vacuum cleaner – but those vacuums don't have the freedom and autonomy of corded vacuum cleaners.
It comes with 4-foot flexible hose, long crevice tool, nozzle/brush tool, and pet-hair cleaning tool – various accessories for improved and reliable cleaning of many surfaces, not only in the car but including those tight spaces and hard to reach areas like under your car seats.
Also, it has a 3-stage filtration system for cleaning air exhaust, providing outstanding filtration which is great for everyone having problems with allergies and asthma.
Best Car Vacuum Cleaner Models: Runner-Ups
The fact that there are so many car vacuums in the market, it won't be realistic to say that there are no other models out there that are also worth considering.
Of course, there are other great vacuums that aren't on our list but may still meet your personal standards. For example:
ThisWorx Portable Vacuum Cleaner for Car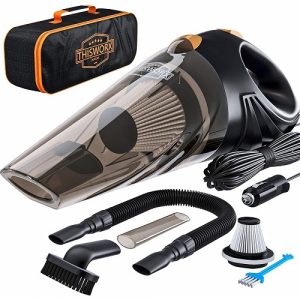 ThisWorx Portable Vacuum Cleaner is a number one best-seller on Amazon and for several good reasons. ThisWorx packs all the things a car vacuum cleaner should have (and more) at a surprisingly reasonable price.
Thanks to its 106W motor, this tiny vacuum cleaner has great suction for a car vac, but don't expect it to match the performance of a shop vac or that of a gas station vacuum. It does suck up pet hair, crumbs, and even sand like there's no tomorrow but for more complex cleaning tasks we recommend spreading some hard-earned cash on a shop vac.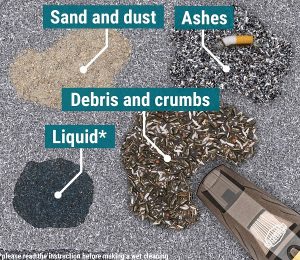 The ThisWorx is an excellent choice for families with small kids and/or pets that need to do a lot of spot cleaning in their personal vehicles without the hassle of pulling out the upright or canister every time there's something to clean.
You'll be surprised with the quality of the product (several users have confirmed that this car vac looks much better in person than in the manufacturer's pictures.) Also, the attachments are useful and no-nonsense although they feel as being made from cheaper materials.
The vac is compact for easy storage (you'll get a free storage case with your order) and comes with a long enough cord (16.4 ft.) for you not to worry about not being able to reach all your car's seats or trunk.
Another big plus of this car vac which convinced us to add this vac to the list of the best car vacuum cleaner options currently on market is that it is low maintenance. It comes with a washable HEPA filter and a small cleaning brush for the filter (we didn't expect that).
What's more, if the HEPA filter gets worn-out beyond repair, you have a backup HEPA filter for just in case. Check out the price of this awesome car vac on Amazon.
PROS
Great for big cars (even for SUVs, mini vans, and pickups)
Excellent for quick touch-ups
Quality build
Backup HEPA filter
Decent suction
CONS
Not for deeply rooted dirt
Will blow the fuse of the cigarette lighter outlet if the outlet is under 15 amps
HOTOR Car Vacuum Cleaner (5th Gen)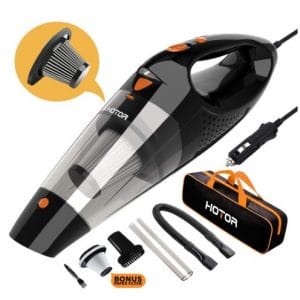 This sleek car vacuum cleaner by Hotor comes with a quality design and a premium feel. What caught our attention is that, unlike other vacs in its class, it comes with a super useful led light and a reusable stainless-steel filter.
It is great for families with snack-loving kids, fluffy-pet owners, and people into the ride-sharing business. Apartment dwellers will love this vac too as no house vacuum has a cord long enough to reach your car outside. All in all, this is a reasonable priced car vac that does what it is supposed to.
This Hotor model is the fifth generation in the series so it comes with some handy improvements: the SS filter and Led light being the most outstanding. Just like other corded car vacuums, this unit is great for light cleanups, spot cleaning, and those unintentional drops and spills that more often than not happen in a car.
It comes with handy attachments and a carry bag spacious enough to fit the vacuum and accessories for you to easily store them in your car. We've noticed that the suction is greater when using the brush attachment. The brush is also recommended for scrapping and loosening stubborn dirt and pet hair from porous flat surfaces.
Check out the video below and see what this baby can do.
However, don't expect this vacuum to do the work of an industrial unit which you can usually find at gas stations and car washes. It is designed just for light duty but does a decent job at a price that's hard to beat
Also, the stainless-steel filter is what makes this model stand out from the crowd. Stainless steel filters have a longer lifetime than the fabric/paper ones, they are easier to wash and maintain, and don't give off a strong smell when the vacuum is in use.
Another big plus of the HOTOR is that you can use it without the need for your car to be idling, which means big savings on gas in the long run. Just make sure that you get the AC-to-DC adapter with your purchase.
The only downside of this unit is the suction issue. According to multiple purchasing customer reports, suction may vary greatly from one purchased unit to another.
Fortunately, this problem is exquisitely being taken care of by HOTOR's customer service team, which will replace any defective unit with a new one or offer a full refund no questions asked.
PROS
Compact and lightweight
Long cord (16.4 ft) – great for big cars too
Stainless steel filter
AC-to-DC adapter
Spare fuses and backup paper filter included
Excellent customer service
CONS
Inconsistent quality
SS filter is challenging to remove on the first try (read the instructions carefully)
Ridgid WD4070 4 Gallon Portable Vacuum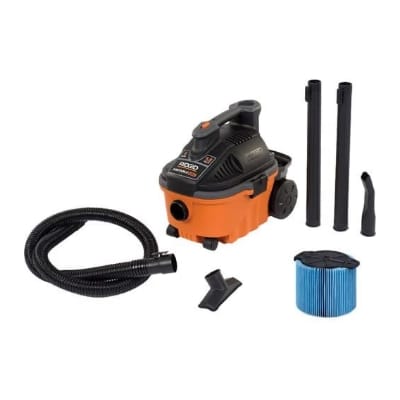 This 12-pound vacuum cleaner is easy to maneuver and carry around as you are not limited by a power cord or bulky measurements. In fairness, it's not the smallest unit that you can find on the market, but users and reviewers don't seem too stressed out about using it to clean their cars.
It has a three-layer fine dust filter that traps small dust particles and even hard crumbs such as the ones from a drywall surface. The large carry handle is designed for convenient portability and the large rear wheels & casters provide great mobility over carpeted floors, thresholds, and even rough floors at job sites.
Furthermore, the patented scroll noise reduction provides quiet operation by precisely controlling the flow of air through the entire vac. And, finally, the hose has a powerful locking mechanism that ensures it won't come loose during the cleaning process.
70mai Handheld Cordless Car Vacuum with HEPA Filter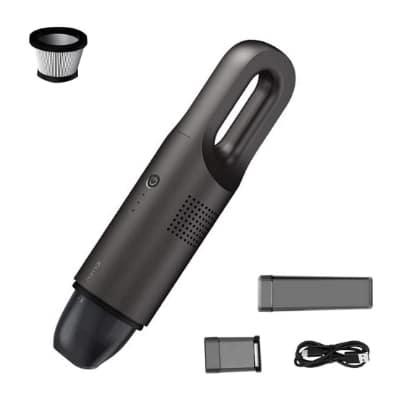 The 70mai car vacuum cleaner features a 5000pa fade-free suction with 32000rpm high-speed efficiency to meet your daily cleaning needs. It operates using four batteries, each with 1000 mAh capacity, providing you with up to 24 minutes of runtime with the maximum speed and suction settings.
One thing we like about the 70mai Handheld Cordless Car Vacuum is that it comes with a dual-layer HEPA filter that traps dust particles and allergens efficiently without letting them escape. Another aspect that makes this car vacuum desirable is its noise rating of only 65 decibels (which is about as loud as a regular conversation). Finally, we love the fact that this unit comes with fast charging via a USB type C port, a 30-day money-back guarantee, a full one-year warranty, and guaranteed lifetime customer support for any problem that you might encounter.
Choosing the Best Car Vacuum Cleaner: Final Thoughts
There you have it. Those are the top five car vacuum models that we believe are worthy of your investment. Whether you prefer a battery-operated unit or those that can be attached to a cigarette lighter adapter in your car, it's all up to you. If you prefer a model with several attachments, feel free to purchase one.
Also, when choosing a vacuum, always pay attention to their features and decide whether those things are what you really need. A practical choice would be the one that does a decent job without breaking the bank. At the end of the day, it all boils down to your personal standards and budget.
Whatever you will use depends on your preferences and needs – in most cases, I clean my car with my main vacuum cleaner, but when going on longer trips with kids, I have a cheap cordless around. Better safe than sorry.
You Might Also Like: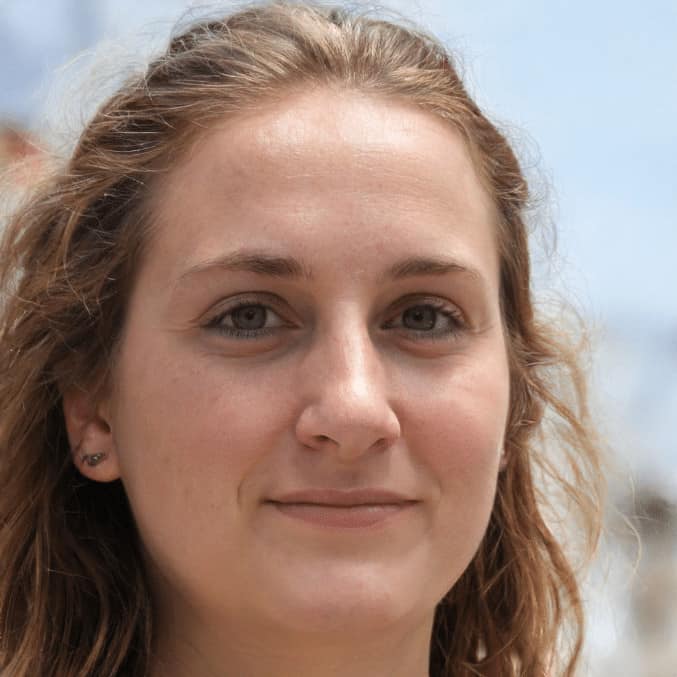 With a degree in engineering, Kathryn Hansen loves to write about how things work. Having her own dilemmas on how to pick the best vacuum cleaner for her large family (with a handful of furry four-legged members as well), Kathryn decided to help others in the same situation. After all, vacuum cleaners are critical to a healthy lifestyle and people have a hard time choosing the best one for their needs.