The Hoover Power Scrub Deluxe Carpet Washer FH50150 model is one of the most popular carpet washers/cleaners/scrubbers on the market. It comes with many features that help one to keep carpets clean with ease. And best of all, FH50150 comes at a very acceptable price.

The device comes with many features that help one to keep carpets clean with ease. Let's see what makes this model one of the best carpet cleaner machines on the market!
Hoover Power Scrub Deluxe Carpet Washer FH50150 Review
Before we begin, let's talk about deep carpet cleaning first. This technique represents the combination of 'Spinscrub technology' – a set of counter rotating brushes that clean carpet fibers from all sides – and cleaning water with carpet shampoo.
The brushes rotate around a vertical axis, so they don't roll over carpets. Another thing you need to know about brushes, in general, is that they are removable for easy cleaning. This aspect is very important for people with pets, as pet hair often getting into moving parts.
Actually, you can remove for cleaning and maintenance every part of the cleaner that can absorb dirt and hair inside it. Some of the best vacuum cleaners for carpets and pet hair, in general, come with tech specs and features to make your life more comfortable and your chores easier.
Interested in floor scrubbers as well? Floor scrubbers and polishers are rotary and orbital floor cleaning machines that clean or polish the floor using a cleaning pad with or without a cleaning agent or protective wax. Learn more with this guide on the best floor scrubbers!
The Hoover Power Scrub Deluxe Carpet Washer FH50150 Tech Specs and Features
The first thing to know about the Hoover Power Scrub Deluxe Carpet Cleaner is that the manufacturer designed it specifically to clean carpets and other fabric surfaces. Of course, its capabilities supersede those featured by all carpet sweepers and many vacuum cleaners or carpet washers.
After all, the Hoover brand stands out of the crowd not only for its contribution to the history of vacuum cleaners but for its continuous ambition of providing users with the best products and solutions.
The device has two spill-free, easily accessible tanks that easy to fill, empty and clean. The clean water and dirty liquid are kept in separate tanks!

The scrubbing brushes of the Hoover Power Scrub Deluxe Carpet Washer FH50150 are turned off only when the handle is in the upright and locked position. For example, when the cleaning hose is being attached. This way, brushes will not damage a spot on the carpet by constant scrubbing.
The carpet cleaner has a wash/rinse selector, enabling one to wash carpets with water and cleaning solution and then rinse carpets with water only, to remove any soap residue.
This device features an automatic mixing of the cleaning solution with the water, so one can choose a water only (rinse) or water with a cleaning solution (wash).
The FH50150 model doesn't have a low water indicator or anything similar, but both tanks are transparent and liquid levels are clearly visible.
The Dual V nozzle provides powerful and consistent edge-to-edge forced heated airstream for fast dry time. After cleaning, carpets are not wet, but if plenty of liquid is used, carpet might be moist a little bit and require some extra drying time. But generally, your carpets will be almost dry after cleaning.
Note: The FH50150 model is NOT a steam vacuum cleaner!
The Hoover Power Scrub Deluxe Carpet Washer FH50150 is relatively lightweight. It has 19 pounds (around 8.6kg) and large rear wheels. You can easily move it around the furniture, even on deep carpets. But, being almost 20 pounds, it is not so comfortable to move up-and-down on stairs by elderly people, teenagers, or people with a frail constitution.
However, the FH50150 model is one of the lighter products in its class.
The power cord is 20 feet (6m) long. It is thus sizeable enough to cover large rooms and perhaps adjacent areas, but for covering more than that, one has to change sockets.
What Else Should You Know About the Hoover Power Scrub Deluxe Carpet Washer FH50150?
One of the first things to know about the Hoover FH50150 carpet cleaner model is that it comes with a handful of useful accessories:
SpinScrub Powered Hand Tool,
Stair Tool,
Upholstery Tool,
Crevice Tool,
16 oz. Cleaning Solution,
Mesh Tool Storage Bag.
Each of these tools enables the cleaning of various surfaces in specific situations. For example, the cleaning nozzle with rotating brushes is 11.25 inches (28.6cm) wide and it can't reach tight places. However, the device has 8 feet (2.4m) long cleaning hose that can accept various cleaning tools.
This carpet cleaner comes with 16 oz (around 0.46l) of cleaning solution (carpet shampoo/soap) that does an excellent job in cleaning carpets.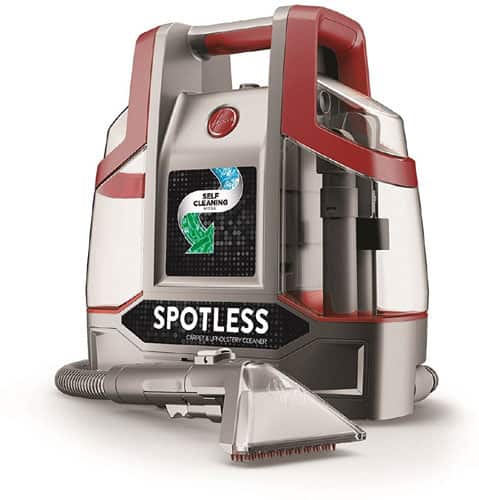 Before using ANY cleaning liquid be sure that your carpets tolerate such a solution. If you are unsure, test on a small surface, just to be certain you do things right.
Keep in mind that this is not a vacuum cleaner, it is a carpet scrubber device that doesn't produce suction like 'classic' vacuums do – when in rinse mode, it will 'suck-in' dirty water with a dirt, including, for example, sand particles.
However, if you have kids and pets that constantly go in and out, vacuuming first and then carpet shampooing/scrubbing is recommended.
Are you looking for a vacuum cleaner able to remove all the pet hair and dander on your clothes, in your food, and in your air? Check out the Dyson Ball Animal 2 review and see if it fits your needs!
Why Should You Buy the Hoover Power Scrub Deluxe Carpet Washer FH50150?
Let's see why you should buy the Hoover Power Scrub Deluxe Carpet Washer FH50150 now that we saw its best tech specifications and features. Before we begin, however, make sure that you understand vacuum cleaners' specifications and the differences between them and other cleaning solutions, including carpet washers and floor scrubbers!
The Hoover Power Scrub Deluxe Carpet Washer FH50150 features the Smart Tank system. It makes emptying and filling easy with no mess, no tools, and no waste of time. The recovery tank comes with a quick pour spout for ease of use and comfort.
The Dual V nozzle allows for strong, equal suction to clean surfaces quickly and evenly.
The heated drying feature is among the most loved ones among customers. It allows the device to apply forced heated air to carpets to help speed up the dry time.
The Dual Tank design with separate tanks for clean and dirty water allows you to fill, empty, and rinse each tank with no stress and no complications or messes.
The Automatic Detergent Mixing feature offers you a no-fuss correct mix of detergent and water for optimal cleaning results.
The 8′ Ready-To-Use Hose and Upholstery Tool helps you do achieve the deep cleaning of stairs and hard-to-reach areas.
One of the best parts is that in the box, you will find the Stair Tool, the Upholstery Tool, the Crevice Tool, and a much-welcomed Sample Bottle of Solution. This device kind of beats the dry carpet cleaning at home, although you should check it out as well in case you don't want any type of moisture reaching your carpets!
Verdict
Long story short, the Hoover Power Scrub Deluxe Carpet Washer FH50150 is an excellent carpet scrubber/washer. Users are more than enthusiastic and happy when it comes to this product, especially considering its performances and price.
If you have long hair pets, vacuuming first with a good pet hair vacuum might come in handy. Otherwise, this unit will do a fantastic job of making your life easier and more comfortable!
Hoover Power Scrub Deluxe Carpet Washer FH50150: FAQs
What is the difference between the Hoover Power Scrub Deluxe and the Elite model series?
The major difference between the Elite models and the Deluxe models is the Quick-drying mode. The Hoover power scrub Elite FH50251PC runs in two cleaning modes and allows your carpet to dry in less than an hour. Even if you can obtain similar results with the Hoover Power Scrub Deluxe, the series lack the Quick-dry feature.
Can you use any carpet shampoo in a Hoover?
Yes. You do not have to buy branded carpet cleaners and shampoos to use with your Hoover. Any high-quality carpet shampoo/detergent will do a great job as well.
What is the best carpet cleaner on the market?
When it comes to the best vacuums and cleaners on the market, we prefer the Hoover series and the Bissel models. The Hoover Power Scrub FH50150 and the Bissell Deep Clean Premier are among the most accessible and affordable high-quality devices for your carpets and floors.
Do You Want to Learn More about Vacuums, Steamers, and Other Cleaning Solutions? Check Out Our Latest Posts!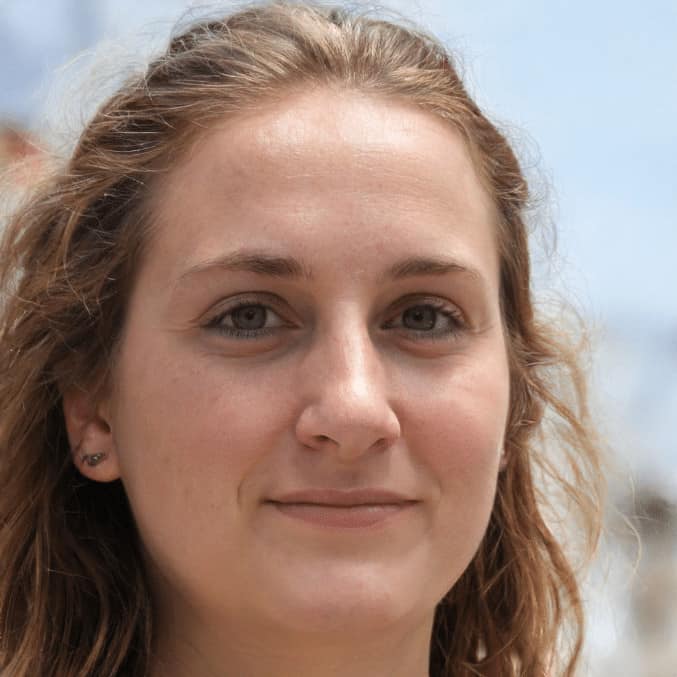 With a degree in engineering, Kathryn Hansen loves to write about how things work. Having her own dilemmas on how to pick the best vacuum cleaner for her large family (with a handful of furry four-legged members as well), Kathryn decided to help others in the same situation. After all, vacuum cleaners are critical to a healthy lifestyle and people have a hard time choosing the best one for their needs.