The Bissell Powergroom Multicyclonic Bagless Canister Corded Vacuum – Model 1654, is a midrange vacuum cleaner, suitable for cleaning various surfaces, including bare floors, carpets, low pile carpet, stairs, upholstery, etc. Due to the telescopic wand and motorized brush roll, it can easily clean hard-to-reach areas like under the sofas, around the furniture, in the corners and so on. Today we will present you with our Bissell Powergroom Multicyclonic Bagless Canister Corded Vacuum review, highlighting its tech specs, features, and other recommendations.
Bissell Powergroom Multicyclonic Bagless Canister Corded Vacuum Model 1654 Review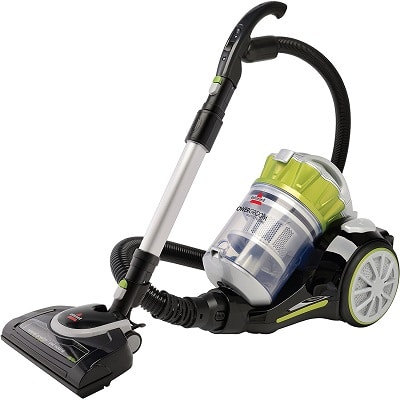 We have talked about Bissell vacuums before, but it's time to discuss in detail yet another model. If you want more information about the Bissell 3 in 1 Vac Corded Lightweight Stick Vacuum, we encourage you to read our review and buying guide. However, now it's time to see the main tech specs and features of this high performing Bissell Canister Corded 1654 vacuum.
Bissell Powergroom Multicyclonic Bagless Canister Corded Vacuum Model 1654 Tech Specs and Features
Here are the most important highlights when it comes to this vacuum cleaner's tech specs and features. A word of advice, though: before you buy any type of vacuum cleaner, make sure you learn and understand vacuum cleaner's specifications and tech features. They are crucial to your purchase decision.
You should also check out our vacuum cleaners' buying guides and reviews for a deeper understanding of how various types of vacuums work. You can consider bagless canister vacuums, classic canister vacuums, upright ones, cordless ones, and so on. Most of them have quite impressive abilities, so if you are in the market for a new vacuum, do your homework well first.
The Bissell Powergroom Multicyclonic features, in short, are as follows:
2 liters dirt cup capacity;
Motorized brush roll for both carpets and hard floors;
Dirt tank designed for easy disposal of dirt and debris;
Fingertip controls for convenient access to the brush roll settings (on/off), and variable suction to easily transition from carpet to hard floors;
In the package, you will find included the upholstery and crevice tools;
Telescopic wand for comfortable maneuvering around and under furniture and for the smooth cleaning of hard to reach areas such as drapes and ceilings;
Automatic (push-of-a-button) cord rewinding;
1-year warranty policy;
Dimensions: 11.8 x 15.1 x 13.5 inches;
Weight: 10 pounds
Why Should You Buy the Bissell Powergroom Multicyclonic Bagless Canister Corded Vacuum Model 1654?
Here are some reasons why you should consider this vacuum cleaner as your next cleaning solution!
The main cleaning tool of Bissell Powergroom 1654 vacuum is a motorized carpet/floor nozzle with auto-height adjustment, suitable for various dirt types and hair pick up from carpets and hard floors.
The brush roll can be easily switched on and off, depending on the surface. Avoid using brushes and similar cleaning aids on wooden floors, no matter how soft the bristles are unless they are designed for such floors.
The brush roll can be easily removed and replaced by other cleaning attachments, depending on the cleaned surface. The vacuum comes with a dusting brush, upholstery and crevice tool, too, as we said earlier.
The telescopic extension wand enables cleaning various surfaces from the floor to the ceiling and extend the reach of this vacuum cleaner.
The Bissell Powergroom air filtration is based on Multi-Cyclonic Technology, which extends the performance of vacuum cleaner and helps to keep vacuum filters cleaner for a longer period of time.
Multi-level filtration helps reduce household allergens and other airborne particles. Filtration is very good, but this is not a true HEPA vacuum cleaner.
Also, the cyclonic separation keeps the suction level until the dirt bin is almost full. The dirt bin capacity is 2 liters and since it is transparent, one can easily see type (dust, hair, socks …) and amount of the dirt.
Since dirt bin is emptied easily, with just a touch of the button, don't wait until the dirt bin is almost full 🙂
The vacuum cleaner comes with an automatic cord rewind system.
The power cord is 18 feet (~5.5 m) long and it could be longer. However, keep in mind that this is a canister vacuum cleaner and the maximum reach is defined by the length of the power cord, hose and extended telescopic wand.
The motor draws around 9.2 Amps. There are vacuums with stronger motors on the market, but the suction is good, despite long hose and telescopic wand. Note that one of the advantages of upright vacuum cleaners is that the motor is very close to the cleaning head.
This is not possible in canister vacuum cleaners and canister vacuums have some airflow losses and hence lower efficiency when compared with uprights.
This model's hose is very flexible and strong, but don't try to walk over it.
The wheels are large and provide good maneuverability.
Just note that there are no special soft bumpers or strips around the unit. Be careful when pulling the unit near furniture and other potential obstacles.
The Bissell 1654 Powergroom doesn't have an airflow indicator, but it is fairly easy to notice if something has clogged the hose or wand. Also, in the case of reduced suction, one has to check the filters, too.
As a bagless canister corded vacuum cleaner, the Bissell 1654 model is rather light – 10 lbs (~4.26 kg) weight of the canister and 16 lbs (~7.25 kg) total weight.
The vacuum cleaner comes with a 1-year limited warranty. Before using the unit, be sure to check the manual first.
Verdict
Long story short, the Bissell Powergroom Multicyclonic Bagless Canister Vacuum is a very good vacuum cleaner that can be used as the main vacuum cleaner in small and large homes and apartments. It doesn't have onboard storage for accessories, the power cord could be longer, it is not a true HEPA vacuum cleaner, but as a unit, it will do its job properly.
The video below – provided by Bissell will help you learn more about the excellent features of a C4™ Cyclonic Canister Vacuum. The technology helps you transition smoothly from carpets to hard floors, clean upholstery, and stairs, and target hard to reach areas.
Bissell Powergroom Multicyclonic Bagless Canister Vacuum FAQs
How do cyclonic vacuum cleaners work?
When you vacuum, in the first stage, the air enters in a perpendicular direction to the cylindrical dirt bin. Next, it spins around the cyclone that is in the middle of the dirt bin. During this spinning stage, all dirt and debris particles are pushed towards the edge in a swirl motion so they fall down and deposit on the bottom of the bin. At the same time, the holes in the cyclone draw up the air.
Are Bissell vacuums worth it?
Bissell makes some of the best vacuum cleaners on the market. Compared to Dyson or Shark, for instance, they are more affordable. You can find a Bissell vacuum to meet and serve all needs, either you want a spot-cleaning vacuum that is easy to operate or a larger canister vacuum for deep cleaning and more complex operations.
Bottom Line
As we said, Bissell makes some of the best vacuum cleaners on the market with excellent specs and affordable prices. Have you ever used a Bissell vacuum cleaner before? What is your experience with it? Does it work as well as advertised or are you considering switching to other models? If you prefer canister vacuums over other vacuum types and models, tell us why! Leave your thoughts in the comments section below!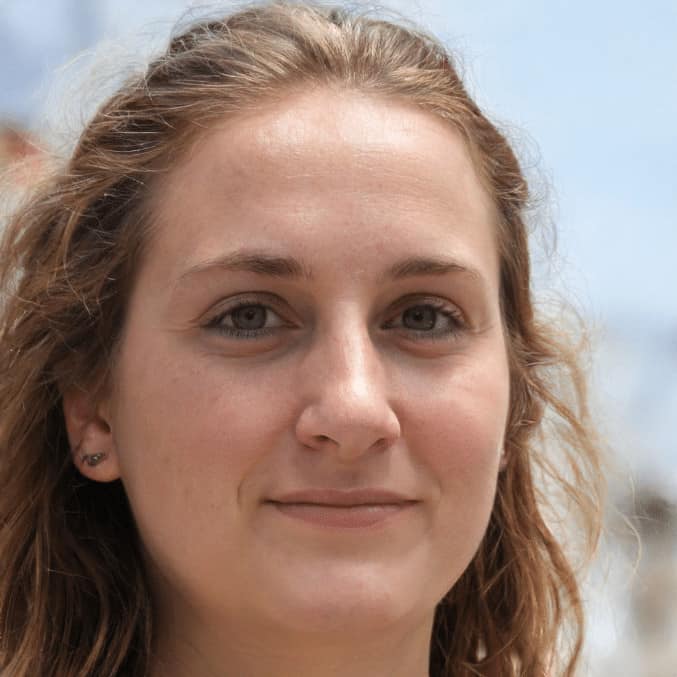 With a degree in engineering, Kathryn Hansen loves to write about how things work. Having her own dilemmas on how to pick the best vacuum cleaner for her large family (with a handful of furry four-legged members as well), Kathryn decided to help others in the same situation. After all, vacuum cleaners are critical to a healthy lifestyle and people have a hard time choosing the best one for their needs.