The Bissell 3 in 1 Vac Corded Lightweight Stick Vacuum is simple and affordable convertible vacuum cleaner. You can use it as a floor vacuum, handheld vacuum and as a multi-purpose vacuum cleaner. Lightweight design enables the unit to be easily carried around, while good suction helps the unit to be used as the second home vacuum cleaner at larger homes and apartments for emergencies and quick cleanups.
Bissell 3 in 1 Vac Corded Lightweight Stick Vacuum Review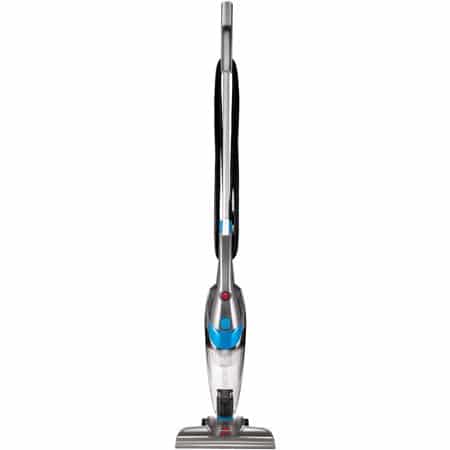 Tech Specs and Features
The Bissell 38B1 3-in-1 Corded Lightweight Stick Vacuum is designed to be used as a lightweight stick vacuum on the carpets, hard floors and area rugs.
The unit is powered via 2 Amp motor providing good suction and 16 feet (~4.9 m) long power cord.

The power cord could be longer, but this unit is not designed for cleaning large homes using just one wall power socket.

Also, the unit doesn't come with a power cord rewind mechanism – it would increase the price of the unit, but also mechanical complexity and weight.
As a stick vacuum cleaner, the Bissell 3 in 1 vac can easily reach and clean surfaces like under beds and furniture, along the baseboards, edges, corners and similar.
It doesn't have a full swivel mechanism, but it is simple and lightweight and easy to maneuver around the obstacles.
Why Should You Buy The Bissell 3 in 1 Vac?
Here are some reasons why this affordable vacuum cleaner may be the smartest choice for your family:
The main cleaning nozzle is 9.44 inches (~24 cm) wide – a very good balance between being wide enough to clean the relatively large area quickly, but also being narrow enough to be able to clean around and under the furniture, stairs, chairs, tables, etc.

Air filtration is a combination of cyclonic separation and mechanical filtration.

Mechanical filter and dirt cup are washable, just be sure not to assemble the unit until they are fully dried. If the mechanical filter is damaged, it must be replaced.

Dirt cup is transparent, helping the user to estimate when it is time to empty the dirt cup – personally, empty the dirt cup after each use.

Dirt cup capacity is 0.75 liters and the unit weighs just 3.5 pounds (1.6 kg).
By quickly removing the handle and by keeping the main cleaning head attached to the unit, you can use the Bissell 3 in 1 vac for cleaning stairs and other flat, harder to reach surfaces.
Also, by removing both the handle and the main cleaning head, you can use this vacuum as a rather strong handheld vac, with or without a crevice tool. Crevice tool enables the vacuum to clean narrow and tight spaces.

The Bissell 3 in 1 vac is very simple to use the unit, but it is highly recommended to read the manual/instructions before the first use. Just in case …
The unit comes with a 1-year limited warranty, which is actually very good for the unit in this price range.
Important Note
Unlike larger, more expansive vacuums, there are some features that Bissell 38B1 doesn't come with:
airflow indicator – if there is a clog in the system, it is up to the user to detect it,
dirty filter sensor – when the filter is dirty, suction is decreased. Again, it is up to the user to judge when it is time to clean or replace the filter,
roller brush – unit lacks roller brush for deep cleaning of embedded dirt and pet and human hair from carpeted floors,

no soft bumper – main cleaning head comes without a soft bumper to prevent damaging the walls and furniture by hitting them with the vacuum (and to prevent damaging of the vacuum itself).

Fortunately, the vacuum is light and easy to maneuver, decreasing the possibility of actually hitting something. Nonetheless, be careful around the furniture and near the walls and other similar objects.
The Pros and Cons of the Bissell 3 in 1 Vac
Pros
Lightweight convertible stick vacuum
Converts to a hand vacuum
Multiple uses
Affordable
Great at picking up hair and fine particles
Cons
Lacks some features
Only 1-year warranty
Verdict
The Bissell 3 in 1 vac is a very affordable unit that will do its job properly. We have listed several features that this vacuum doesn't have, but the vacuum cleaners that present all those features cost more, much more. For a better understanding of vacs' parameters and tech specs, check our guide on vacuum cleaners specifications. Moreover, keep in mind that this Bissell model converts to a handheld vac, which is quite useful. If you need a simple, but reliable and versatile corded, bagless, lightweight stick/handheld unit, consider this Bissell 3 in 1 vac unit.
The Bissell 3 in 1 Vac: FAQs
What is a 3 in 1 vacuum?
The Bissell 3 in 1 vac is a practical product you can use in multiple ways: as a vacuum stick for floors and carpets, as a conveniently stairs' cleaner, and a handheld vacuum for several other surfaces.
How do you take apart a Bissell 3 in 1 vacuum?
Start by pressing on the base clip to separate the motor case from the trash container. Then, take off the power cord by twisting the wire hook around, pull the extension clip, and take out the extension bar.
What are the main advantages of a Bissell 3 in 1 vacuum?
It is affordable;
You can convert it into three different devices;
It is easy to use, convenient, practical and works with almost all types of floors.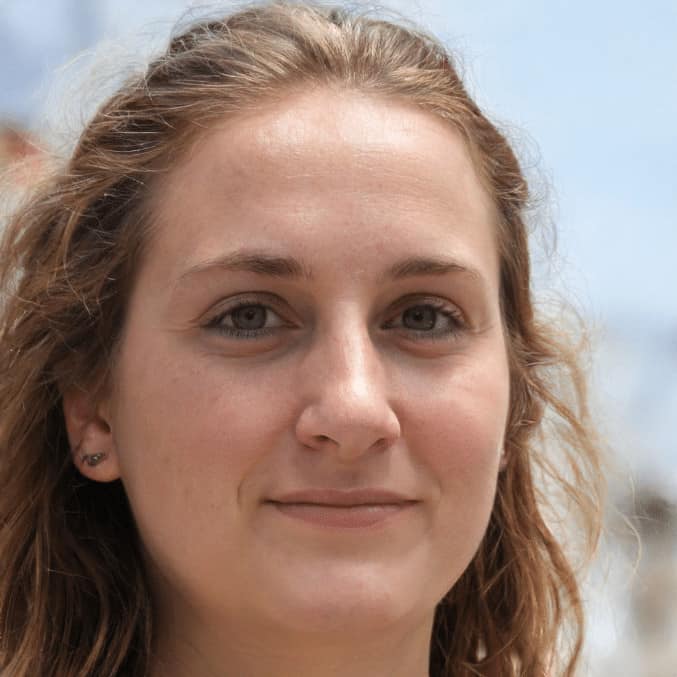 With a degree in engineering, Kathryn Hansen loves to write about how things work. Having her own dilemmas on how to pick the best vacuum cleaner for her large family (with a handful of furry four-legged members as well), Kathryn decided to help others in the same situation. After all, vacuum cleaners are critical to a healthy lifestyle and people have a hard time choosing the best one for their needs.