Bissell 86T3 Big Green Deep Cleaning Professional Grade Carpet Cleaner Machine is a big, sturdy, relatively heavy carpet cleaner with a very acceptable price tag and carpet cleaning capabilities of the professional carpet cleaners. Today, we will present you with our Bissell 86T3 Big Green Carpet Cleaner Machine review, emphasizing on its tech specs and features, pros, cons, and reasons for you to buy (or not to) buy it.
Before we begin, let's take a minute to discuss carpet cleaners. As you probably know, Bissell makes some of the best carpet cleaning machines. For more information on various models of outstanding carpet cleaners, check out the Bissell 1548 ProHeat 2X Revolution Pet Full-Size Carpet Cleaner review, the BISSELL Little Green ProHeat Compact Multi-Purpose Carpet Cleaner review and the Bissell 3624 SpotClean Professional Portable Carpet Cleaner review as well. It would help, in our oppinion, to understand the differences across these devices and make the best choice for your needs.
We also recommend you to check out our full guide on how to pick a vacuum cleaner. There, you will find useful information on how vacuum cleaners work and what technical specifications you should look for when you decide to buy a cleaning machine for hard floors or carpets.
Now, let's return to our Bissell 86T3 Big Green Carpet Cleaner Machine review and learn everything you need to know about this product!
Bissell 86T3 Big Green Carpet Cleaner Machine Review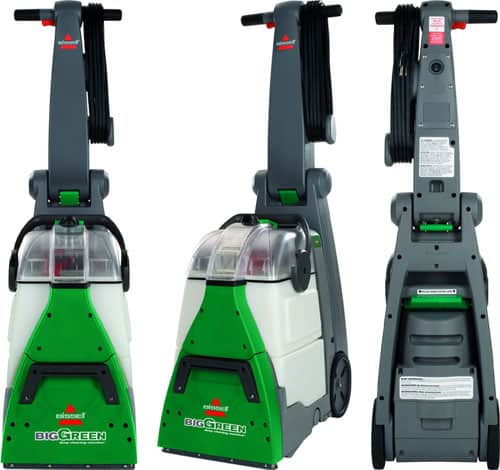 One of the first things to mention when it comes to this product is that it is rare to find a cleaning machine with an almost perfect score. The Bissell 86T3 Big Green has 4.7 stars on Amazon, coming from over 5,000 satisfied customers, and this speaks volumes about the product's performance and quality. So let's see what makes people so happy about it, shall we?
Bissell 86T3 Big Green Carpet Cleaner Machine Tech Specs and Features
This carpet cleaning machine is suitable for various surfaces like low to medium pile carpets, upholstery, and stairs.
The unit comes with two tanks – one for clean water and another for dirty liquid.
Also, the carpet cleaner features a built-in flow indicator. It monitors water and solution levels and lets the user know when it is time to check the tanks.
With the cleaning path width of 10.5″ (~27 cm) and the unit cleaning on both forward and backward pass, the unit enables one to clean a rather large area quickly.
The unit weighs 40.6 lbs (~18.4 kg) and when compared with other carpet cleaners and especially 'common' vacuums. It is rather heavy, too.
Unit dimensions: 42.25 x 20.5 x 11 inches (~107.3 x 52.1 x 28 cm).
In order to improve cleaning, Bissell 86T3 can use warm water, but it doesn't come with a water heater. Also, if the carpets are really dirty, it is highly recommended to vacuum them using a good vacuum cleaner first. Then, you should pre-treat stubborn stains before cleaning. Finally, you should clean the carpet using an adequate cleaning solution.
How to Use the Bissell 86T3 Big Green Carpet Cleaner Machine?
If you need to clean carpets often and you want the best vacuum cleaner for carpets and rugs (especially if you have pets as well), we recommend the Dyson Ball Animal 2 Vacuum Cleaner, the Dyson DC65 Animal Complete Upright Vacuum Cleaner, or the Hoover SteamVac Carpet Cleaner with Clean Surge.
After cleaning, carpets are slightly moist and they require some time to properly dry out. During the summer, when windows are open, carpets are dry in less than an hour. During winter, it can take several hours for carpets to completely dry out. If you want to learn more about cleaning carpets with little effort but great efficiency, we recommend you to read this guide on dry carpet cleaning as well.
When it comes to cleaning carpets, you can never have too many tips or tricks to make your life easier and your job smoother. For this reason, we also recommend you to check out other carpet cleaning solutions and methods you could try at home!
However, this carpet cleaner is easy to use and operate, thanks to the large wheels and adjustable two-hand handle. When the tanks are empty, you can carry the unit upstairs, if you wish to do so. However, the wheels are positioned in the way that it is easy to pull the unit up the stairs, even if the tanks are full.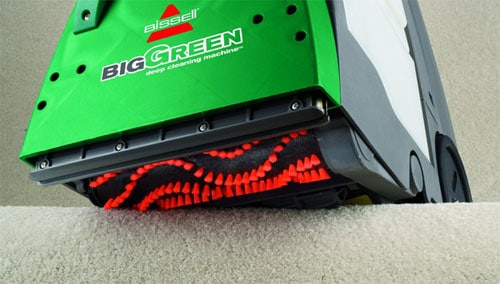 What Else Should You Know about the 86T3 Big Green Carpet Cleaner Machine?
Here are more tech specs and features that might interest you before you purchase this professional carpet cleaner!
For most of the cleaning, the Bissell 86T3 uses Rotating DirtLifter PowerBrushes and for cleaning hard to reach areas it uses 6″ (15 cm) stain tool on 9 feet (~2.75 m) cleaning hose.
The Bissell 86T3 Big Green Carpet Cleaner Machine uses two electric motors for operation – one is for cleaning brush and the second is vacuum motor for water extraction.
Although a rather large and heavy, the unit comes with a power cord. It has no batteries for cordless operation.
The power cord is 25 feet (~7.6 m) long.
Although the carpet cleaner has no automatic rewind system, and although long cords can be problematic during operation, the power cord could be somewhat longer. If you do need a longer power cord, feel free to use a properly dimensioned extension cord.
In order to improve cleaning, Bissell offer various cleaning formulas, suitable for use in Bissell 86T3 Big Green carpet cleaner.
Bissell 86T3 Big Green Carpet Cleaner Cleaning Formulas
Photo
Cleaning Formula
Professional
Deep Cleaning
Pet Stain & Odor
Deep Clean & Protect
Allergen Cleansing
Spring Breeze
Tough Stain Pretreat
Recommended For
Out Cleans all other formulas for general cleaning
Removes tough pet stains and contains patented odor removal technology
Deep cleans carpets and protects from future stains with Scotchgard Protector
Helps remove pet & pollen allergens
Powerful cleaning with a refreshing scent
Pretreat to penetrate and loosen tough stains
2X Concentrated
Yes
Yes
Yes
Yes
Yes
–
Scotchgard Protection
 Yes
Yes
Yes
–
–
–
Check Latest Price
Bissell 78H6B
Bissell 99K5A
Bissell 62E5A
Bissell 89Q5A
Bissell 1052A
Bissell 4001A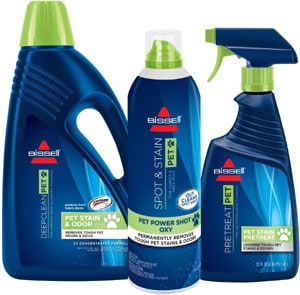 Also, note that the Scotchgard Protection feature improves protection from future stains and ease their cleaning. Using the right cleaning solution can significantly improve carpet cleaning. Cleaning solutions can be ordered individually or as a combination of several cleaning solutions for a specific use.
Bissell 86T3 comes with 5-year limited warranty. We highly recommend you to read both warranty terms and manual before first use.
86T3 Big Green Carpet Cleaner Machine Review: Bottom Line
The unit is simple to operate, but the manual is short, so do yourself a favor and read it at least once 🙂 Long story short, the Bissell 86T3 is an excellent machine that comes with a nice, but acceptable price tag. If you have a need for regular cleaning of large carpet surfaces, consider this unit. Since it is not so cheap if you can borrow or rent the unit for a test run, do it.
Our final verdict is fully in line with the verdict offered by its users: it is probably one of the best purchases you will ever make when it comes to cleaning carpets and rugs. This unit boasts excellent suction power, heavy-duty performance at a very decent price, 5-years warranty, reliable tech specs and features, and everything else you wish for from a device of this type.
We fully recommend the Bissell 86T3 and we would love if you could share your own experience with this product in case you already have and used one! Feel free to comment in the dedicated section below and share your thoughts with us!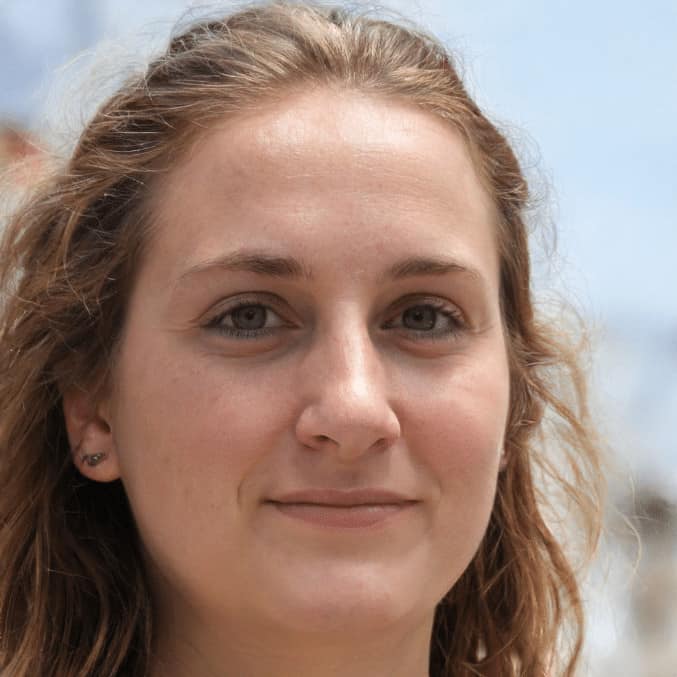 With a degree in engineering, Kathryn Hansen loves to write about how things work. Having her own dilemmas on how to pick the best vacuum cleaner for her large family (with a handful of furry four-legged members as well), Kathryn decided to help others in the same situation. After all, vacuum cleaners are critical to a healthy lifestyle and people have a hard time choosing the best one for their needs.