Bissell 1548 ProHeat 2X Revolution Pet Full-Size Carpet Cleaner is a well-built, lightweight, and affordable carpet cleaner that comes with many features and options. It is designed for deep cleaning of carpets, rugs, and similar surfaces, regardless if they are flat floors, stairs, upholstery, and similar.
Just like its brethren – the BISSELL Little Green ProHeat Compact Multi-Purpose Carpet Cleaner and the Bissell 3624 SpotClean Professional Portable Carpet Cleaner – this Bissell model is of high quality and boasting very compelling tech specs. We will discuss them in a few moments!
Bissell ProHeat 2X Revolution Pet Full-Size Carpet Cleaner Review

Let's start off by mentioning that the Bissell 1548 ProHeat 2X Revolution Pet Full-Size Carpet Cleaner offers two cleaning modes:
Express Clean Mode for quick clean-ups
According to the manufacturer, the Express Clean mode allows carpets to dry within an hour. During this time it is not recommended to walk over the carpets. Drying time depends on many factors, like water temperature (maximum recommended is 140°F – 60°C), air temperature, airflow, etc. If you are in the hurry, open the windows and turn on the heating. This is not the most efficient way to clean the carpets and rugs, but …
Deep Clean Mode for cleaning stubborn stains
The Deep Clean Mode performs a thorough deep clean on carpet and rug fibers and removes stubborn stains, but it uses much more water and cleaning agent than Express Clean Mode. Such carpets and rugs require more time to dry out.
If possible, leave them overnight to thoroughly dry out. Increasing the heating and airflow and temperature shortens the drying time. According to the manufacturer's ads, the Bissell Proheat 2X Revolution Deep Cleaning Mode could clean even better than the leading rental machines. If Bissell's Professional formula is used – the Bissell 1548 comes with one such formula, then try and test it in real life.
Note
Be very careful about cleaning carpets and rugs using carpet cleaners, shampooers, and steam vacuums – increased moisture and heat can damage sensitive floors. Personally, Deep Cleaning Mode should be used only on carpets and rugs on tiles, stone, and similar heat and moisture resistant surfaces.
Bissell ProHeat 2X Revolution Pet Full-Size Carpet Cleaner Tech Specs and Features
Keep an eye on the sensitive and oriental carpet and rugs. Just to be sure, check the manufacturer's tag on the carpet or rug. If it has a W or WS tag, it should be safe to clean such a carpet or rug using Bissell 1548 carpet cleaner. However, pretesting is still highly recommended. If the carpet or rug has an S or X tag, it is not recommended to clean it using Bissell 1548 carpet cleaner with warm water and cleaning agent.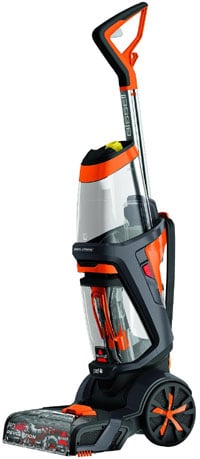 This Bissell carpet cleaner comes with:
one 7 ft hose,
one 3″ Tough Stain Tool,
one Pet Stain Tool,
one 8 oz. bottle of Deep Clean + Antibacterial Formula,
one 8 oz. bottle of 2X Professional Formula.
Tough Stain Tool and Pet Stain Tool should be used when required to remove such stains with or without pre-soaking with water and cleaning agent. However, to achieve the best cleaning results, it is often recommended to vacuum the carpets with good pet vacuums and then to use Bissell 1548 carpet cleaner.
Personally, pre-soaking of the most stubborn stains with warm water and cleaning agent mixture (according to the manufacturer's instructions) can greatly help in removing such stains and is enough – no need for additional vacuuming before cleaning the carpets.
What Else Should You Know about the Bissell ProHeat 2X Revolution Pet Full-Size Carpet Cleaner?
One of the features is the so-called HeatWave Technology, which maintains water temperature. The tank is filled with warm water and such water is used to clean the carpet – warm water helps loosen the dirt from carpet fibers and generally, clean better.
The cleaner is lightweight, weighing little less than 18 pounds (8.1 kg) – lightweight enough to be maneuvered easily around furniture and corners. Low-profile cleaning feet can access under furniture and clean such, hard to reach, areas. For even more hard to reach and complicated surfaces, use detachable hose and tools for deep cleaning stairs and upholstery.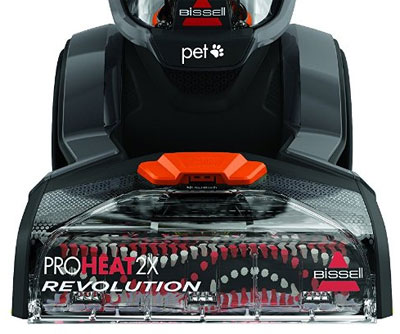 The Dual Rotating PowerBrushes has 12 deep cleaning brush rows to help get up set-in messes, regardless of the cleaning mode used.
Two separate clean and dirty water tanks. Instead of bladder water tanks found in some ProHeat 2X carpet cleaner models, Bissell 1548 ProHeat 2X Revolution Pet Carpet Cleaner uses separate tanks for clean and dirty water – this is, IMHO, much better solution since many users have complained about single water tanks with a bladder inside that separates dirty from clean water. Clean water capacity is one gallon – more than enough for home use.
The power cord is 22 feet (~6.7m) long and can cover one larger area since this is not entry-level carpet cleaner, a longer power cord would be nice, for example, 30-33 feet (9-10m) would be great. The motor is rated at 6.8 A (7 A) and it has plenty of power to remove any excess water from cleaned carpet or rug.
Long Story Short
This is a great carpet cleaner that comes at a great price. This is one of the best buy machines in its class. There are better carpet cleaners that come with more features and more cleaning tools, but they are more expensive.
Other Similar Products
Eureka NEU182A PowerSpeed Lightweight Bagless Upright Vacuum Cleaner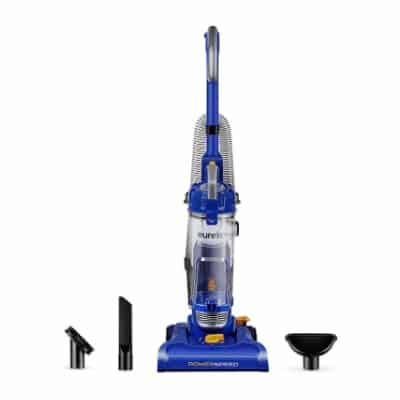 What we like about the Eureka Upright Vacuum model NEU182A is its pure suction power and the fact that it's got 12.6-inch wide nozzle that cleans more with an impressive quickness. Multiple accessories included: a quick-release handle connected to the stretch hose for above-floor cleaning. A 7-inch-long crevice tool, dusting brush, and upholstery tool help clean hard-to-reach areas. Extract dirt, pet hair, freshen up your car, curtains, ceilings or door frames. For your convenience, they are all stored right on board.
Furthermore, it has a 1-liter extra-large capacity dust cup for added convenience, so you won't have to empty it as often as with other similarly-sized upright vacuum cleaners. The height adjustment options also make it easy to use this unit on several types of floors and surfaces, including carpets, shag rug, hard floors, etc. Overall, we really recommend this product given its price tag and the brand that produces it.
Shark AZ2002 Vertex DuoClean PowerFins Upright Vacuum Cleaner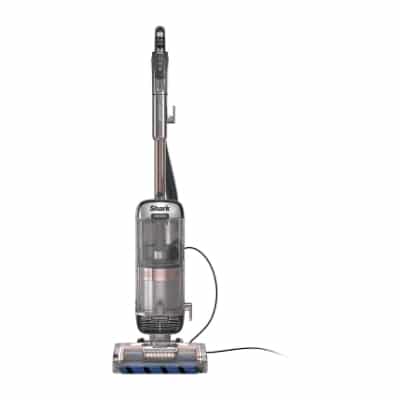 This is one of Shark's most powerful vacuums yet, equipped with DuoClean PowerFins. What this means is that a power roller and a soft roller combine continuously on all floor types to create that perfect cleaning power you've been searching for. This in turn means that it can dig deep into carpets, directly engage floors, and pick up more dirt in every pass.
Furthermore, it's also got a self-cleaning brushroll that can easily pick up pet hair without getting it tangled. And, of course, we couldn't have such a qualitative upright vacuum without a HEPA filter. As with all quality HEPA filters, this one traps 99.9% of all dust and allergens as small as 0.3 micron. And to top it all off, the powerful LED lights on the nozzle reveal hidden debris around your home.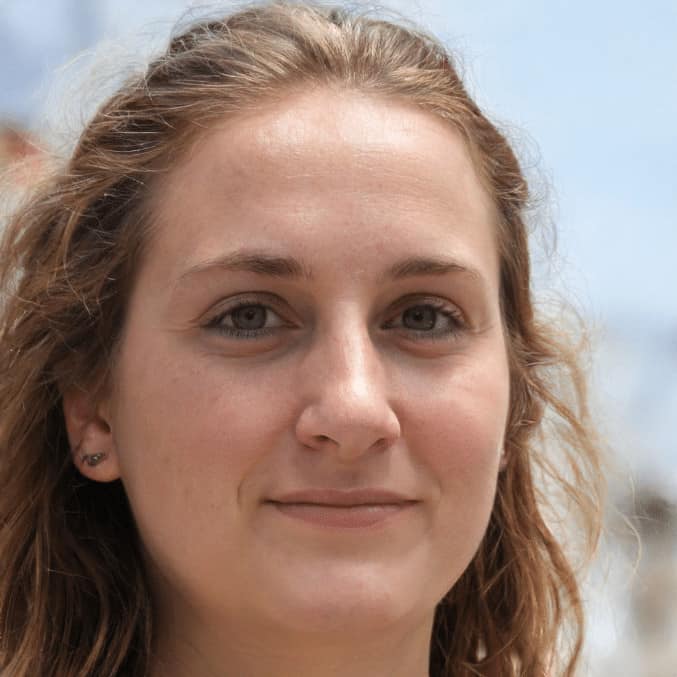 With a degree in engineering, Kathryn Hansen loves to write about how things work. Having her own dilemmas on how to pick the best vacuum cleaner for her large family (with a handful of furry four-legged members as well), Kathryn decided to help others in the same situation. After all, vacuum cleaners are critical to a healthy lifestyle and people have a hard time choosing the best one for their needs.