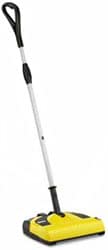 A carpet sweeper is technically not a vacuum cleaner. Carpet sweepers are mechanical devices used for cleaning carpets and similar floors. If you ever wondered how does a carpet sweeper works, here it is in short. The carpet sweeper's main function is to sweep the floor's dirt and dust and collect them into their container. This container is a small box featuring brushes and rollers connected by gears or belts. Carpet sweepers also sport height adjustments to make sweeping more comfortable on different carpet lengths or bare floors.
Today, vacuum cleaners superseded the use of carpet sweepers. However, these devices are still in use at homes and for commercial applications where their lightweight and quiet operation is appreciated.
If you are into bits of trivia and history, you should know that the invention of carpet sweepers belongs to Melville R. Bissell of Grand Rapids, Michigan, United States. The name Bissel must ring a bell, as Bissell vacuum cleaners are some of the best on the market. Mr. Bissell patented the design of the carpet sweeper in 1876 and started selling the devices in 1883. As you can see, carpet sweepers are old, but not obsolete. You will not have the surprise of your life to learn below that some of the best carpet sweeper models on the market today come from Bissell.
Carpet sweepers are not a thing of the past because they allow users to quickly clean smaller areas without making any noise that could disturb anybody in the room.
The Benefits of Owning a Carpet Sweeper
Before we begin discussing the best carpet sweeper units on the market, let's look into the benefits of owning one. It doesn't mean you have to ditch your vacuum. It means they are a great addition to your current cleaning routine. Below are the main benefits.
1. Lightweight and Easy to Use
We all know that sometimes, a canister vacuum cleaner can be a nightmare to carry around your house on cleaning days, but it might seem like there's no other alternative to cleaning your floors. However, a carpet sweeper comes in a lightweight design that is easy to carry around. These cordless inventions are easy to pick up and use, even on the stairs and awkward spaces. That's great if you suffer from a bad back or merely don't like lifting heavy equipment.
Floor sweepers are also incredibly easy to use, and you don't have to fiddle around with different settings and struggle to find a spare plug socket around your home. As a result, they're great for older adults or anyone with a disability.
2. Minimal Noise
Not everyone has a 9-5 job, which can make cleaning the home difficult when others are asleep. Thankfully, a carpet sweeper is virtually silent, so you can clean all the rooms in your home without disturbing anyone. It's also a great feature if you have pets in your household who are easily frightened by the sound of a regular vacuum. Plus, this minimal noise also means that you can carry on listening to music or continue your conversation without a noisy device disrupting you. If you check out a vacuum cleaner's specifications, you will realize that most models feature noise levels between 65 and 75dB. By comparison, a carpet sweeper is completely silent.
3. Inexpensive to Purchase and Run
Vacuums are certainly not the cheapest household product on the market, and they can also be costly to maintain. Fortunately, a carpet sweeper is reasonably priced so it won't break the bank to purchase one. Plus, these are cordless, so there's no need for electricity to increase your energy bill further.
They are also a great feature to help the environment if your interest lies with green cleaning principles. You also don't need any bags to store any dirt and dust the sweeper collects, as you empty the dust bin once it's full. Due to no cords or electricity used to operate the machinery, you won't need to replace any parts as you would with a vacuum cleaner.
4. Effective For In-between Cleans
Most importantly, these creations are effective at cleaning a variety of floors. Although we don't recommend replacing your vacuum entirely with a floor sweeper, even if it is the best carpet sweeper on the market, these tools are great for keeping you on top of your housework in-between cleaning sessions.
Let's say you spill some food on the floor in the kitchen but don't want to bend down with a dustpan and brush. Well, now is the perfect time to use a carpet sweeper.
Manual vs. Cordless Carpet Sweeper
If you're wondering which option to choose from the best carpet sweepers on the market, take a look at the below specifications to help you make up your mind:
Manual Carpet Sweeper
A manual carpet sweeper is usually a small box with a base that has rollers and brushes and a long, often adjustable, handle. As the carpet sweeper moves over the floor, the rollers force the brushes to rotate and force dirt into the dirt container. You could consider the use of a carpet sweeper as a form of dry carpet cleaning at home, but in this particular case, you do not use any products, powders, compounds, etc.
Most manual carpet sweepers have several different brushes that help improve cleaning. They are optimized for different types of dirt and debris. For example, one brush can be optimized for larger debris, while the second brush is optimized for smaller particles and hair.
To improve cleaning along the edges, you can use additional edge brushes.
Furthermore, to enhance hygiene, modern carpet sweepers have very simple, but efficient dirt bins that allow the user to empty the unit with no dirt, which is very important if you let the kids do the job.
Cordless Carpet Sweeper
Cordless carpet sweepers use an onboard rechargeable battery to rotate brushes and clean the floor. Although cordless sweepers are somewhat heavier than manual carpet sweepers, they are easier to move around and clean with, since they use electric motors to rotate the brushes and do the cleaning.
Cordless carpet sweepers are very similar to manual carpet sweepers in the design and construction of brushes and dirt bins. Many manufacturers often have both versions of the same model.
Wireless carpet sweepers also cost more than manual carpet sweepers, but they are all still very cheap cleaning units.
Finding the right carpet sweeper depends on the model and the size of the floors that you have to clean. The choice also depends on how often you need to clean carpets or floors.
Some battery-operated vacuum cleaners are very quiet during operation, and they replace carpet sweepers even where you need low volume operation. On the other hand, a rechargeable carpet sweeper is battery operated and is very efficient, very quiet and very light. Some smaller models weigh about a pound.
The Best Carpet Sweeper Units on the Market Today
Below is a list of the most popular manual and cordless carpet sweepers designed for home and commercial use. For each product, we've provided a brief specifications list and insight review to help honestly represent these floor sweepers.
BISSELL Natural Sweep Dual Brush Sweeper, 92N0A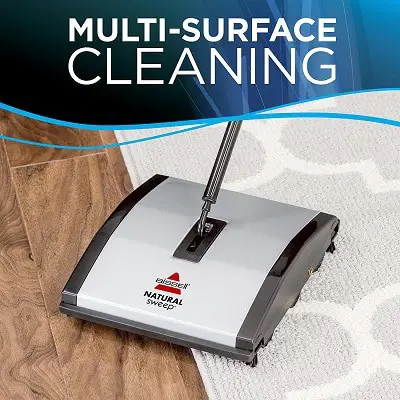 BISSELL Natural Sweep Dual Brush Sweeper Tech Specs and Features
Easily picks up crumbs, pet hair, cereal, dirt and more;
Cleans hard floor surfaces, area rugs and carpet;
Dimensions: 4×11.8×12.8 inches (10x30x32.5 cm);
The Dual Rotating Brush Rolls pick up large and small debris on forward and return passes;
The design features 100% recycled plastic and the sweeper is PVC-free;
For every purchase, the company donates a part of your money to the BISSELL Pet Foundation to help save homeless pets.
BISSELL Natural Sweep Dual Brush Sweeper Review
The BISSELL Natural Sweep Dual Brush Sweeper is ideal for many types of households. For example, it can clean and remove dirt from carpets, bare floors, and virtually any other floor type without using any electricity. Not using any power helps decrease your energy bill, so you don't have to worry about money as you clean the house. With rolling sweepers, this product features incredible suction that manages to pick up any unwanted hair, dirt or debris left on the floor without you having to bend down and pick them up.
Using and emptying this appliance is easy and never a daunting task. Merely open the two hinged doors and throw away any contents into the trash when you've finished. This floor sweeper is very effective at collecting dust and hairs, so you might need to empty the machine more than you anticipated. Although the bin capacity is a reasonable size, it's not necessarily a disadvantage to the product that it collects so much unwanted dirt from the floor.
It's super simple to care for this floor sweeper, and it comes with step-by-step instructions to guide you through the process. Begin by emptying the bin, so there's no hair or dust remaining in the sweeper. From this stage, take a cloth and wipe around the twin dirt pans. You'll then need to remove any hairs that could have gotten caught in the brushes, so use a knife to pick out any trapped hairs or string. However, don't apply much pressure or you risk breaking the brushes or putting yourself in danger.
Verdict
With a creatively slim design, this floor sweeper enables you to target hard-to-reach spots around your home with minimal effort required. This product doesn't need a motor to operate around your home sufficiently, and it doesn't produce any noise, vibrations, or heat. As a result, it's a great go-to appliance for busy households with pets and young children who don't like the sound of a vacuum.
Rubbermaid Commercial 421288B Executive Series Galvanized Steel Floor and Carpet Sweeper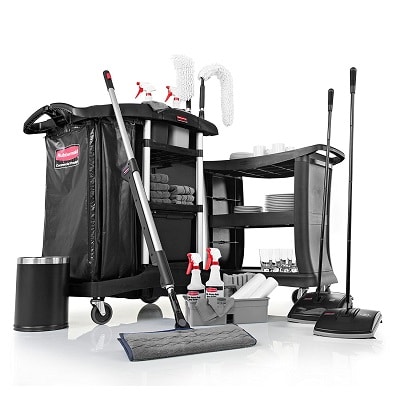 Rubbermaid Executive Series Galvanized Steel Floor and Carpet Sweeper Tech Specs and Features
The carpet sweeper has an efficient 6.5-inch sweep path
Smaller size gets into tight spots
Easy-open debris pan for effortless cleaning
Constructed of durable galvanized steel and tough ABS plastic
Best for bare floors or low pile carpets
Dimensions: 12 x 10 x 4 inches
Design: durable galvanized steel and tough ABS plastic
Rubbermaid Executive Series Galvanized Steel Floor and Carpet Sweeper Review
Rubbermaid specializes in making cleaning products for your home and commercial use, so this floor sweeper by this brand has many incredible features. As soon as you receive this product, you'll be amazed by how simple and quick it is to set up and get going. You don't need any prior experience or special equipment to begin using it, which helps to make the process stress-free and straightforward. Begin by attaching the handle to the sweeper, and you're ready to go. You can also adjust the height to suit you and target any specific areas in your home. For example, when cleaning under your bed, you'll likely need a longer handle to reach the area.
The Rubbermaid floor sweeper is ideal for busy households with parents, children, and pets running around. Its power is incredible for such a small device, and you don't have to pull or drag the machine to achieve the required results. In fact, the sweeper picks up any hair, dirt, and debris almost instantly. We love that this device somehow manages to collect any stuff on the floor that you wouldn't ordinarily see. It will collect even the tiniest speck of dirt to leave your carpets and hard floor clean and tidy all day every day.
Verdict
This is one of the best carpet sweepers on the market that uses natural boar bristles on the rotating brushes. This material cleverly collects any fluff, dust, and pet hair from the brushes while not damaging your floor surfaces at the same time. When you're finished with each clean, the dirt trap is easy to remove and replace ready for your next cleaning session. This floor sweeper only weighs 3.5 pounds, which is great for a quick clean around your home when you only have limited time. This lightweight also makes the machine more comfortable and safer to use as you don't have to operate anything heavy when it's time to clean.
Casabella Neon Carpet Sweeper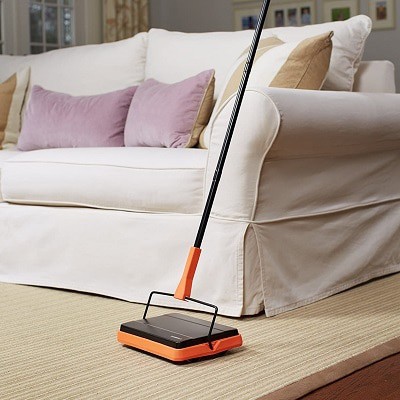 Casabella Neon Carpet Sweeper Tech Specs and Features
No electricity needed; works on all carpet types
Bristle comb cleans roller brushes; bumper keeps furniture safe
Easy to empty dirt chamber;
Design: made of metal for durability
Hang to store or pole comes apart in three easy pieces for compact storage
Dimensions: 47.5 x 7.8 x 11 inches
Casabella Neon Carpet Sweeper Review
The main factor that makes this floor sweeper unique to other products in the market is its design. From first glance, you can appreciate that the designers and engineers considered how a consumer would feel about a product stored in their house. Therefore, it's modern, sleek, and attractive. It's small and easy to store and comes in an array of colors to match your room and personal tastes.
But aside from looks, this floor sweeper is an ideal household product to keep on top of your floor cleaning. The metal panel at the bottom of the sweeper collects fluff, pet hair and dust like a magnet. As the panel is 10.5 inches wide, this floor sweeper can target a large surface area in one go without you having to push and pull the product.
When looking at reviews on how this product performs on hard floors, there are mixed reviews. Some customers comment that it doesn't perform as well as it does on carpets while numerous other customers are pleased with its ability to collect dirt from the laminate and tiled floor. That depends immensely on the amount of dirt, dust, and pet hair you have lying on your floors and if the brushes have been thoroughly cleaned out.
Verdict
This sweeper is designed to last, and it truly cares about your floor and objects in your home. The soft bumper on the exterior protects any surfaces it comes into contact with while cleaning your home. That means any chair or table legs won't get damaged and dinted as you navigate from room to room. Also, it only takes a few gentle swipes on your carpet to clean your surfaces, whereas some carpet sweepers require more effort to collect dirt and fluff.
Bissell 28806 Perfect Sweep Turbo Rechargeable Carpet Sweeper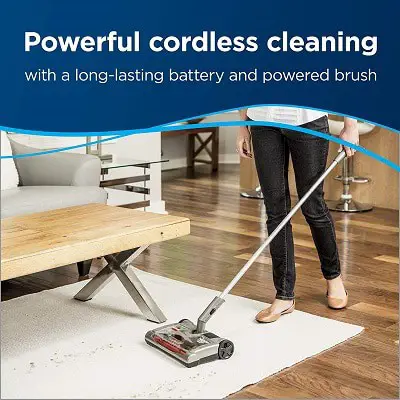 Bissell 28806 Perfect Sweep Turbo Rechargeable Carpet Sweeper Tech Specs and Features
Up to 60 minutes of cordless cleaning time;
Easy-to-remove, top loading dirt container;
Safe on carpet, rugs and hard floors;
Perfect for in-between cleanings;
By purchasing this product, you will support the BISSELL Pet Foundation in its mission to help save homeless pets;
Dimensions: 8.2 x 12.8 x 43.5 inches
Bissell 28806 Perfect Sweep Turbo Rechargeable Carpet Sweeper Review
The Bissell floor sweeper is a versatile cordless product that is great for keeping on top of your housework in-between cleaning sessions. It seems durable and innovative enough that it can collect dirt, dust, and hair from carpets. It also cleans rugs and hard floors to leave your home clean and tidy at all times. We love that this floor sweeper runs for up to 60 minutes at a time. Therefore, even if you don't use the entire battery charge in one session, it can run over for the next time you use it. As the appliance is cordless, it's easy and safe to navigate around your home without any cords holding you back or getting in the way.
We also love that this floor sweeper comes in a slim and discreet design to help you reach difficult areas in your home. For example, you can reach under the bed, around furniture, in-between chair legs, and under a desk without having to move around furniture and objects. As a result, cleaning time is massively reduced, and you don't have to cause major destruction around your home each time you clean.
Bissell's flexible design means that you can target your baseboards without leaving any scuff marks. The rotating brushes help to collect dirt all along the edges on your floor, and this product doesn't merely move hair and dust around.
Verdict
Some consumers even reported that this floor sweeper is a great way to get children helping out with housework. As it's lightweight, cordless, and easy to operate, there are no risks with youngsters using this appliance. Brushes can be tedious for children, but this floor sweeper makes cleaning less daunting and more efficient. When you use this product, you'll be amazed that it only takes a few minutes to clean each room. Plus, you don't need to mess around with plugging in a vacuum to clean your floors. That is particularly great for any messes in the kitchen when food drops on the floor, but you're in too much of a rush to get out the vacuum.
Shark 10″ Rechargeable Floor and Carpet Sweeper (V2930)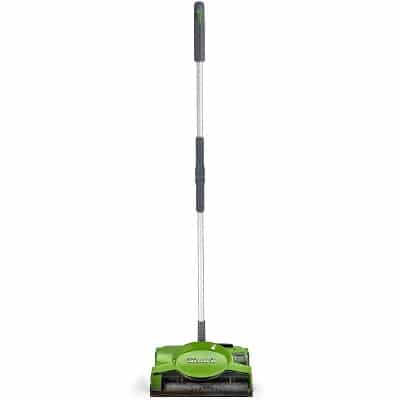 Shark 10″ Rechargeable Floor and Carpet Sweeper (V2930) Tech Specs and Features
10″ motorized brush sweeps any size/type of debris into an easy to empty dust cup
Folding BACKSAVER handle reaches low even where your vacuum can't
Ultra lightweight plus swivel steering for easy maneuverability
Low profile and long reach
Long lasting rechargeable battery (NiMH 4.8v)
Dimensions: 10 x 9.9 x 43.8 inches
Shark 10″ Rechargeable Floor and Carpet Sweeper Review
This Shark rechargeable brush has so many incredible features that make it a great household cleaning appliance, like most Shark vacuum cleaners and other cleaning tools.
10 inches in length, it has clumps of bristles that are located opposite each other to stimulate a powerful application every time you use it. The brush roll system uses a motor that helps to collect up as much dirt and deposit on the floor as the floor sweeper finds. Once you've finished your cleaning session, the dust bin is easy to empty as you merely pull it out from the side and remove any dirt and dust the sweeper collected.
Another incredible feature of this Shark product is the edge-cleaning squeegee that targets right up to walls to provide a thoroughly clean result. This means that no dirt or dust gets pushed to the side and requires a vacuum to finish off the cleaning process. Also, the powerful motorized brush roll is ideal for sweeping up any size of type of debris to help keep your home as clean as possible.
The Backsaver handle means that you can reach low areas in your home, such as under furniture, without having to bend down and potentially hurt your back. As this floor sweeper is also lightweight, this means it's incredibly user-friendly and easy to move around in your home on an array of surfaces.
Verdict
We appreciate that this floor sweeper can target all types of floor surfaces, from carpets to hard floor which makes it a great purchase for most homes. When using this product, you might not think that it's working as hard as it is because there's no noise or signs of struggling. However, once you empty the sweeper, you'll be surprised by the amount of dirt and hair that comes from the dust bin. This efficient use also means that cleaning takes nearly half the time compared to some of the other best carpet sweepers on the market.
Shark 13″ Rechargeable Floor & Carpet Sweeper (V2950)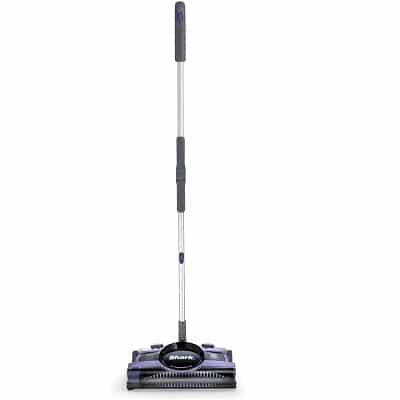 Shark 13″ Rechargeable Floor & Carpet Sweeper Tech Specs and Features
13″ motorized brush with 2 speeds – provide for superior cleaning on bare floor and carpet
Folding BACKSAVER handle and low profile reach under furniture with ease
Ultra lightweight plus swivel steering for easy maneuverability
Easy to empty dust cup – discard debris with the push of a button
Edge cleaning squeegee grabs debris from along walls
Powered by 7.2V NiMH battery
Dimensions: 5.5 x 17.8 x 13 inches
Shark 13″ Rechargeable Floor & Carpet Sweeper Review
This is another great home product by Shark that offers incredible results for every customer. It's relatively similar to the above option, aside from a few minor tweaks that make it unique. First, the 13-inch brush roll targets a larger surface area so that the cleaning time is cut in half. That's great for spacious rooms or busy areas of the house where dirt and fluff tend to accumulate. This floor sweeper can also reach close to walls to ensure that no place in your home is missed. But don't worry that you need to put a lot of effort into this product to obtain a clean home. The Backsaver handle provides support to prevent discomfort when cleaning. All you have to do is press the Backsaver button and it will trigger the feature.
Another great feature that makes this Shark product to the list is the anti-jam feature that prevents the motor from overheating. As soon as the sweeper senses that it's becoming overloaded with hair, dirt, and dust, it'll trigger a light to warn you that the dust bin needs emptying. If you choose to ignore this light, you'll create more work for yourself and potentially have to pick hair and dust out with your hands.
Verdict
We love that this floor sweeper has two-speed settings to select from. The decision for which one you choose depends on the level of intensity you need as well as the floor type. Simply tap the button with your foot, and this will trigger the appropriate setting for you. When targeting hard floors, select the option that presents one light so that you can correctly and efficiently clean your floors without creating any damage. When you're ready to clean carpets and rugs, switch to two lights.
OnTel Products SWSMAX Max Cordless Swivel Sweeper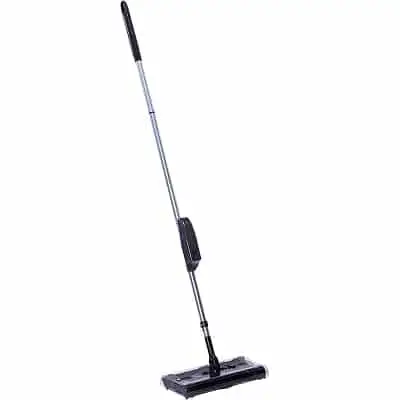 OnTel Products SWSMAX Max Cordless Swivel Sweeper Tech Specs and Features
Does not require expensive, messy bags
Low profile design makes clean up under furniture a snap
Its flat shape fits under tables, couches, and other hard to clean areas
The Swivel Sweeper Max's corner brushes spin at 4000 rpm
Removable, Cleanable, Reusable bristles; 7.2V rechargeable battery
Dimensions: 13 x 7 x 4 inches
OnTel Products SWSMAX Max Cordless Swivel Sweeper Review
The Max Cordless Sweeper uses durable bristles to collect all kinds of dirt without damaging the sweeper's brushes or your flooring. These bristles are removable too so you can clean out any excess hair and fur that might have gotten tangled up. By removing the bristles, you can speed up the process and ensure that your floor sweeper remains in excellent condition.
If you dislike cords, you'll appreciate that this product doesn't have any to provide you with more mobility and safety. It also comes with a wireless charger so you can plug the floor sweeper into a socket whenever it needs a boost of energy. The indicator light will notify you when the sweeper is charging and ready for use again.
Verdict
The Max Cordless Sweeper is a great way to keep your home tidy and dust-free. You can use this sweeper to collect any food, dirt, or soggy particles from the floor. It'll also suck up any surrounding dirt at the same time. With a slim and modern design, this Max Cordless Sweeper allows you to reach under sofas and beds along with a 360-degree pivot to reach any angle on the surface you're focusing on. With a combination of four brushes, it works tirelessly to ensure your floors are spotless. That also means that the floor sweeper puts in the work so that you don't have to.
There are many other similar products on the market, and most of them differ in very small details. However, note that some manufacturers advertise their manual carpet sweepers as being cordless. Technically speaking, they are right, since such manual sweepers are indeed wireless with no power cord of any kind.
Carpet sweepers are among some of the best solutions to clean a carpet without a vacuum cleaner. However, the question remains: which is the best carpet cleaner for your needs? Let's try to answer in the section below!
Which of These is The Best Carpet Sweeper For You?
With a variety of carpet sweepers to choose from, we know that making a decision can be complicated. However, bear in mind the considerations we made previously to help narrow down your search. Although some products might claim to be the best at sucking up dirt, perhaps you're more focused on a lightweight design that is kind on your back. If so, always choose wisely according to your needs.
If we had to pick just one carpet sweeper to our readers, it'd be the Bissell 28806 Perfect Sweep Turbo product for many reasons. First, it's an excellent price which makes it a non-risk product and great spare appliance in case your vacuum stops working. With a slim design and 60-minute battery life, it's an impressive carpet sweeper that we're excited to present to you.
Best Carpet Sweepers: FAQs
Are carpet sweepers worth it?
Yes. Even if they cannot handle large volumes or spills, they are a convenient solution to deal with mild cleaning routines with no effort, no handling of heavy equipment, no disturbing sounds, and no consumption of energy. In between cleanup sessions and dealing with a small spill, pet hair, and some random dirt throughout the day makes carpet sweepers a nice addition in any household.
How do you clean a carpet without a vacuum?
If you don't want to use a vacuum for various reasons to clean a carpet, you can use a carpet sweeper or a carpet dry cleaning procedure at home.
Have any of the above products stood out to you? Share your thoughts or any other recommendations in the comments.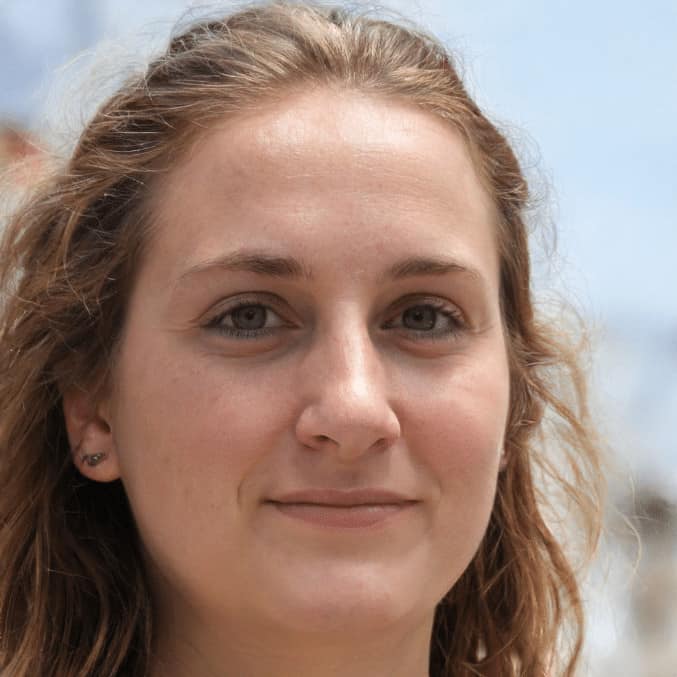 With a degree in engineering, Kathryn Hansen loves to write about how things work. Having her own dilemmas on how to pick the best vacuum cleaner for her large family (with a handful of furry four-legged members as well), Kathryn decided to help others in the same situation. After all, vacuum cleaners are critical to a healthy lifestyle and people have a hard time choosing the best one for their needs.