The Bissell 19404 PowerFresh Pet Steam Mop is one of the best and one of the most popular steam mops on the market. It comes with a very acceptable price and it gets its job done with little to no effort from your part. Today, we will discuss the Bissell 19404 PowerFresh Pet Steam Mop review, analyze its tech specs and features, and discussing its worth should you want to purchase it.
What Should You Know about the Bissell 19404 PowerFresh Pet Steam Mop?
Before we begin with the review, we have to mention a few things about this product. First, it is one of the best steam mops to buy in 2020. Its excellent tech specs and features compare to those of other reputable steam mops available on the market, such as the O-Cedar Microfiber Steam Mop that we already reviewed or the Shark S3601D Professional Steam Pocket Mop, among others.
Another topic we would like to focus on before we move on with the review is how steam mops work. Usually, steam mops feature a water reservoir. When you turn them on, the device heats the water in the tank. The mop then releases one or more dry stem jets to moisten a microfiber pad. As you swipe the floors with the mop, this heated, moist pad collects dust, debris, mites, and other types of dirt off your floor. Since we are talking about steam able to reach temperatures of over 200 F and more, steam mops become extremely effective against bacteria, pathogens, and other microorganisms. In conclusion, steam mops are excellent tools for the disinfection of hard floors.
One should never compare the performance of a steam mop with that of a vacuum cleaner. If you know how vacuum cleaners work, you understand that one cannot replace the other, but you should use them both when the situation requires. Now, that you know a few more things about steam mops in general, let's discuss this unit in particular!
Bissell 19404 PowerFresh Pet Steam Mop Review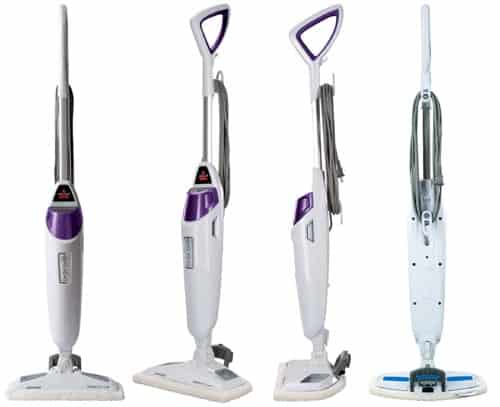 First of all, the Bissell 19404 steam mop was designed for hard floors and not for carpets. It is a lightweight cleaner, with good power cord length. When combined with swivel head, it can cover large areas and is capable to maneuver into tight spaces.
When used as directed, this steam mop sanitizes floors by eliminating 99.9% of germs and bacteria using steam only, with no additional chemicals.
Bissell 19404 PowerFresh Pet Steam Mop Tech Specs and Features
Let's see a quick rundown of this steam mop's best technical specifications and features!
Height x Width x Depth – 46x13x9.5 inches (117x33x24 cm),
Weight – 6 lbs (2.7 kg),
Line voltage – 110 V,
Power Cord – 23 feet (7 m),
Power – 1500 W,
Tank capacity – 15 ounces (~0.44 l),
Cleaning Width – 13 inches (33 cm),
Heating Time – 30 seconds,
Features the built-in Easy Scrubber to remove stubborn spots,
Allows you to customize your cleaning with the SmartSet digital variable steam control,
Neutralizes odors with the included Odor Eliminating Fragrance Discs.
One of the most important things you should know is that the Bissell 19404 steam mop comes with a two-year warranty, as other Bissell carpet cleaners or Bissell cleaning machines do. If you are interested in some affordable, highly-performing Bissell vacuum cleaners or excellent vacuum cleaners under $100, we also recommend you to check this guide right here!
In the package, you will also find two different microfiber pad  designed for different levels of scrubbing.
How Do You Use the Bissell PowerFresh Pet Steam Mop?
For a demonstration, we invite you to watch a short video from Bissell, showing you how do you use the Bissell PowerFresh Pet Steam Mop. If you get into "sticky" situations sometimes – in the kitchen, bathroom, or around the house – this steam mop will make your life easier. As long as you understand that you should manipulate the device with care before and after the cleaning session, you will enjoy this unit for many years.
What Else Should You Know about How The Bissell Pet Steam Mop Works?
The microfiber pads are, of course, washable and reusable. Pads are easy to put on and take off. They fit around the mop with an elastic band on the pad rather firmly and you can use them with no need to correct their position on the cleaning head.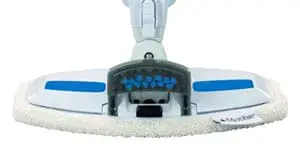 If the microfiber mop pads are not able to remove stubborn stains, you can use the flip-down Easy Scrubber within seconds for additional scrubbing.
Easy Scrubber is a great aid, especially on tiles, stone, marble, vinyl, linoleum, and similar floors. However, if you are using this mop to clean the hardwood and laminate floors, use it carefully, since it can, especially in combination with hot steam, damage sensitive surfaces. If your laminate is certified for steam vacuums and mops, then feel free to clean them using this mop. Nevertheless, first, give it a try on some small inconspicuous area – this especially goes for the 'sealed' hardwood floors.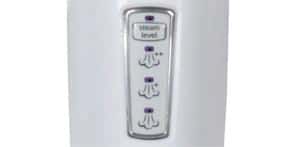 You can pick and adjust the steam strength according to your present needs using the SmartSet digital variable steam control (with three settings – low, medium, high).
Using the strongest setting ('High'), the mop can operate for about 15 minutes, without stopping.
On lower settings, operating time prolongs.
When the tank is empty, one can remove it from the mop, fill it and reattach it to the mop rather quickly.
Although the steam and pads clean the floors thoroughly,  to eliminate odors completely, one can use additional fragrance discs. Some people don't like the idea of using fragrance discs or scented water. They want their floors cleaned and not generating odors and perfumes. Most would agree that they are right, but on the other hand, the scent is not strong and rarely will cause any issues even to people being sensitive to such things. Give them a try and if you don't like them, don't use them.
Bissell PowerFresh Pet Steam Mop: Frequently Asked Questions
Can I use vinegar in the Bissell steam mop?
We do not recommend using chemicals or disinfectants with the Bissell steam mop or other steam mops for that matter. Keep in mind that, when heated, such substances can release toxic fumes. However, if you want to clean and disinfect a heavily soiled surface – tile, ceramic, etc. – you can use a mix of vinegar and water. Do not use vinegar and any other product with your steam mop on hardwood floors, because it will damage the floor's finish.
Which is better, the Bissell PowerFresh Steam Mop or the Shark Professional Steam Pocket Mop?
They are both incredible devices, offering you plenty of value for the money you spend on each of them. The Shark Professional Steam Pocket Mop does not feature a removable water tank, for one, and comes only with a year warranty. Both the Bissell and the Shark steam mops heat the water in about 30 seconds, but the Shark is harder to find on the market and boasts fewer features. So if you do have to choose between them, we would recommend the Bissell PowerFresh Steam Mop.
Can I use tap water in my Bissell steam mop?
You can use tap water in steam mops, but distilled water is better and we recommend you to give it a try. It is likely you find this suggestion upon reading the instruction manual as well. Distilled water comes with more benefits than regular tap water and most specialist vote for its use.
Bissell 19404 PowerFresh Pet Steam Mop Verdict and Conclusion
This little device cleans thoroughly. While it may not deliver an EPA (Environmental Protection Agency) certified level of disinfection, it will do its job and make yours easier. It is one of the best steam mops on the market and it comes at a great price (below 100$). With its more than the decent warranty of two years, the tech specs, features, customers' reviews, and Bissell's reputation, you can be sure that the Bissell PowerFresh steam mop is worth every cent!
If you ever used this steam mop, please tell us so in the comment section below! We would love to hear about your experiences with this device and your opinions regarding its performance! Write to us today and let the community learn what steam mops people prefer today, how they feel about Bissell cleaning tools, and what other suggestions they have when it comes to cleaning and disinfecting the hard floors!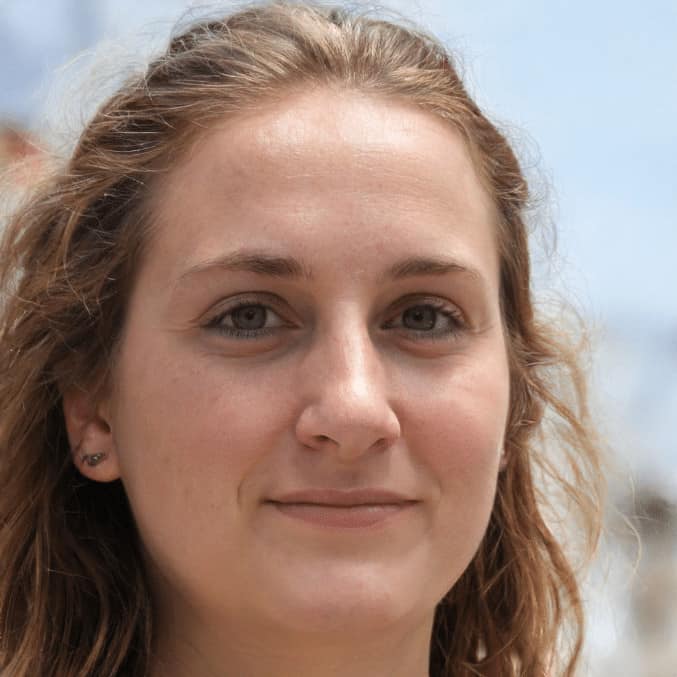 With a degree in engineering, Kathryn Hansen loves to write about how things work. Having her own dilemmas on how to pick the best vacuum cleaner for her large family (with a handful of furry four-legged members as well), Kathryn decided to help others in the same situation. After all, vacuum cleaners are critical to a healthy lifestyle and people have a hard time choosing the best one for their needs.