The O-Cedar Microfiber Steam Mop is a well designed, lightweight, and affordable steam mop. Due to its features and price, it is a very popular steam mop. Today, we will see together the O-Cedar Microfiber Steam Mop review and understand better why you should use this product. At the end of this guide, we will also offer you more information on steam mops so you can make an educated choice.
The unit doesn't have an additional scrubbing system and it can operate only as a steam mop, not as both a steam mop and steam vacuum – like the Bissell 1132A Symphony All-in-One Vacuum and Steam Mop tool -, but it is simple to use, very simple to operate and it will help the user to keep the home clean.
Before we begin with our O-Cedar Microfiber Steam Mop review, we recommend you to read our guide on how vacuum cleaners and other cleaning devices work. It will give you a better understanding on how to match your cleaning needs with the best device for the job. Moreover, we also suggest you consult our guide on the best steam mops of 2020. You will learn the difference between steam mops and steam vacuums, the most crucial tech specs and features of a steam mop to include in your purchase decision, and more.
O-Cedar Microfiber Steam Mop Review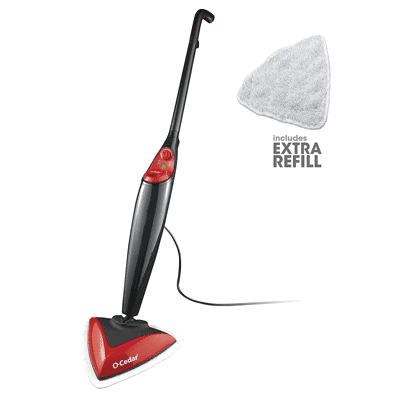 As you know, before we begin to discuss the details of any product we review, we first present you with the item's tech specs and features. The O-Cedar Microfiber Steam mop comes with a handful of benefits that convinced users to offer it a 4.1 rating on Amazon. So here are the main advantages as offered by the manufacturer:
Heating time (from the moment you plug the device to the moment you have full steam capacity for cleaning): 20 seconds;
Steam level settings are adjustable;
Tested on the E.coli bacterium, the steam mop can kill 99.9% of bacteria and pathogens on surfaces without the additional use of chemicals or disinfectants;
The design is lightweight and suitable for people of all ages and weight lifting abilities: its dimensions are 53 x 12 x 8.75 inches and its weight is 5 lbs;
According to the manufacturer, this steam mop is an excellent choice for all sealed hard floor surfaces including tile, wood, vinyl and laminate;
The Snap-On carpet glider coming together with this product allows users to refresh their carpets in a matter of minutes;
The kit includes microfiber pads that are machine washable for up to 25 times.
Now that you have a full and clear picture of what this product does or should do, let's get into the details. As a piece of advice, before you buy any steam mop, we recommend you to set your expectations straight. The way you use a steam mop correctly has a major influence on its performance and efficiency. Now, let's get into the details and explanations regarding how this steam mop really works!
O-Cedar Microfiber Steam Mop Tech Features and Specifications
The O-Cedar Microfiber Steam Mop has 1550W heater, which heats the water rather quickly – in 20 seconds. This is an important feature to consider, especially if you are in a hurry to clean your floors quickly and efficiently.
The power cord is ~20 feet (~6.1 m) long and, in our opinion, it could be longer. If one needs a longer power cord, you might use the extension cord. However, have in mind that the unit requires ~14-15 Amps of current and that it uses a polarized plug – one blade is wider than the other. Anyway, if you need to clean a larger area, unplug the unit from one and plug it in another wall socket, without using the extension cord.
Also, there is no automatic rewind system. The good thing is that there is a power switch – many similar units start to heat the water as soon as they are plugged into the wall socket.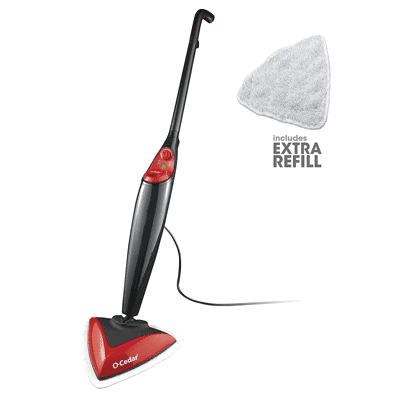 The O-Cedar Microfiber Steam Mop comes with two microfiber pads and a snap-on glider for refreshing the carpets. These features make this unit a versatile cleaning device for maintenance and quick fixes in between two major cleaning sessions.
As we said above, the unit is very light and weighs only 5 pounds (2.3 kg). Thanks to the triangle cleaning head and swivel mechanism, it easily cleans corners and edges and hard-to-reach surfaces like under and around the furniture.
The unit's width is 300 mm (~12 inches), length 200 mm (~8 inches), height 1260 mm (~50 inches) and tank capacity is 400 ml (~14 ounces). You should also know that the device comes with a 200 ml measuring cup.
Personally, I don't like the fact that the water tank cannot be detached from the unit. Also, it requires two refills with the cup to be fully filled.
To make things 'worse', the water tank is not transparent and one doesn't know how much water there is in the tank as long as the steam comes out. Or the red LED light turns on.
So, before turning the unit on, before each cleaning, refill the tank, just to be sure.
As you saw from our quick rundown of tech specs and features, the unit includes a carpet glider. It helps in the refreshing of the carpets and rugs, but it doesn't actually clean them. Nonetheless, it is a welcome feature when you focus on maintenance or the solving of small carpet spills and other "crises."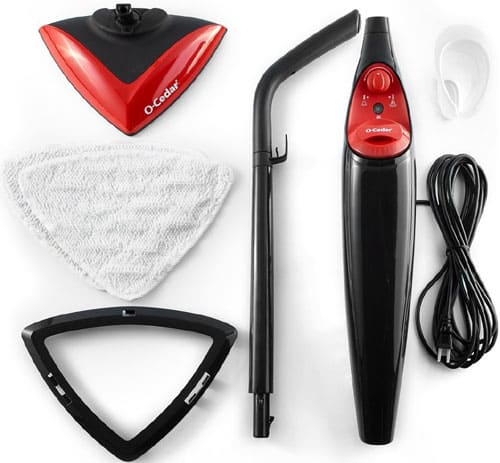 Note
When it arrives, you must first assemble the unit according to the specifications in the users' manual. The assembly is rather easy, just be sure to check the manual first, not just for assembly, but to familiarize yourself with your unit, too.
How to Use the O-Cedar Microfiber Steam Mop for Maximum Efficiency
One of the advantages of this steam mop is that you can change the amount of steam depending on the cleaned surface and the amount of dirt. When set to minimum, the steam mop provides 14 grams of hot steam per minute and when set to maximum, the unit provides 23 grams of steam per minute.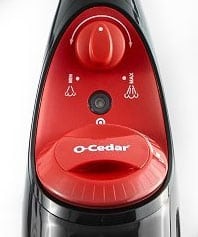 The lowest setting should be used on wood and laminate floors if such floors are certified by their manufacturer for such cleaning.
The highest steam setting should be used to clean tiles, marble and similar very resistant floors.
Adjust the steam settings for other floors types according to their sensitivity and amount of dirt.
According to the steam mop manufacturer, the unit can use ordinary tap water. Unfortunately, there is no limescale build-up sensor. So, when the unit begins to produce less steam than usual or even fully stops producing steam, one needs to remove the limescale from the unit. Fortunately, the steam mop manual provides exact steps on how to clean the unit.
Personally, I think that distilled or demineralized water is not so expensive, it leaves no marks or streaks on the floor, and it doesn't lead to limescale build-up in the steam mop. So, use distilled or demineralized water, especially in the areas with hard tap water. But that's just me…
Like many similar steam mops, this steam mop kills 99.9% of bacteria without any cleaning chemicals in lab conditions. In real-life conditions, this result can be even better if the unit passes more slowly over the surface. Or it can be worse, if the floor is uneven, or if there are cracks where the steam can't reach easily and raise the temperature fully.
Since this is a steam mop only, it is good practice to vacuum the floors first, if they are really dirty. In this way, you don't have to change the mop pads often and there are no interruptions during cleaning.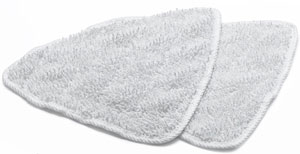 The unit comes with 2 microfiber pads, as we already mentioned. You can wash them up to 25 times in the washing machine after which you should replace them with new ones. The microfiber pads are relatively cheap and one should always have one or two spare pads.
As the pads replacement goes, the process is straightforward and easy. Just be aware that used pads can be very hot. They absorb dirt, dust, bacteria, and moisture very well, but over time they degrade. Newer pads also help floors get dry faster.
You can get the O-Cedar Microfiber Steam Mop Refill pads (pack of two) at a very affordable price. Moreover, just like the steam mop itself, the pads also come with enthusiast customers' reviews and Amazon rankings.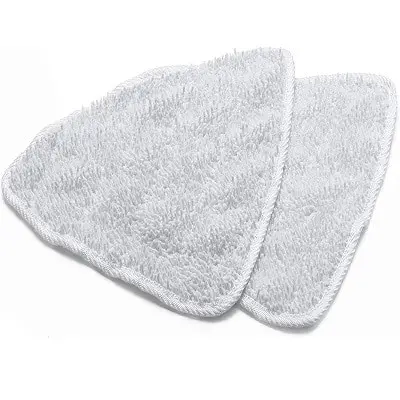 Last but not least, this unit comes with 1-year warranty, which is acceptable for a steam mop in this price range.
O-Cedar Microfiber Steam Mop Verdict
The O-Cedar Microfiber Steam mop is an excellent choice for all sealed hard floor surfaces including tile, wood, vinyl, laminate, and other hard floors. When it comes to wood, laminate, and similar floors, keep in mind that the finish must be in perfect condition, or the steam will penetrate through the cracks. In the long run, it can cause wood to rot and change its shape. In any case, be sure to use lower steam settings on such floors.
All in all, the O-Cedar Microfiber steam mop is a great product to use for home maintenance. The downside is that it is a quite hard-to-find product, so if you are interested in steam mops and want some alternatives, we also recommend the Bissell 19404 PowerFresh Pet Steam Mop, the Shark Professional Steam Pocket Mop, or the Black & Decker BDH1850SM and BDH 1855SM Steam Mops.
O-Cedar Microfiber Steam Mop: FAQs
Before we see you next time, let's answer first a few of the most frequently asked questions regarding the O-Cedar microfiber steam mop and steam mops in general.
Can you machine wash the O-Cedar mop head?
As we said in the beginning, you can machine wash the O-Cedar cleaning pads up to 25 times before you need to replace them with new ones.
Is floor steaming better than floor mopping?
No matter what steam mop you choose to buy, the use of such device is the more efficient and sanitary way to remove dirt, bacteria from your floors. Steam mops absorb the dirt and the high heat levels kill most common types of home pathogens or dust mites lying around in your house. In comparison to a simple bucket-and-water mop, a steam mop solves cleaning and maintenance faster and with better results.
Can you use disinfectant with the O-Cedar steam mop or steam mops in general?
The O-Cedar steam mop does not require the use of chemicals or disinfectants in particular. When it comes to adding substances to a steam mop's water tank (in case there is one to use), make sure you pick them only according to the manufacturer's suggestions and instructions. When heated, some cleaning chemicals and disinfectants can release toxic fumes. Even if you can add cleaning products to a steam mop's tank, only do so by following the manufacturer's instructions to a tee.
Bottom Line
In case you never used the O-Cedar steam mop, you can give it a try, as it is a great product with few flaws but excellent reputation and customers' reviews. If you ever used one, we would love to hear how you feel about it and what (good or bad) experiences you had with it so far. Use the comment section below to share your thoughts with our community!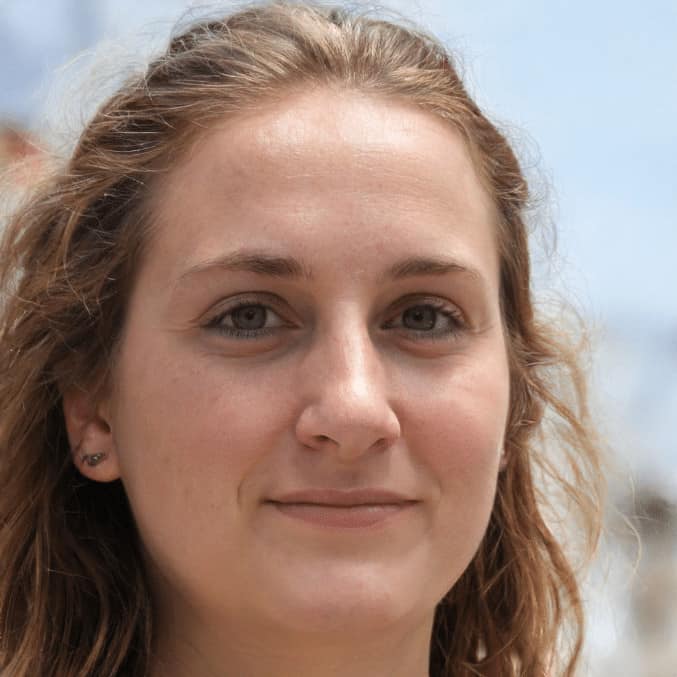 With a degree in engineering, Kathryn Hansen loves to write about how things work. Having her own dilemmas on how to pick the best vacuum cleaner for her large family (with a handful of furry four-legged members as well), Kathryn decided to help others in the same situation. After all, vacuum cleaners are critical to a healthy lifestyle and people have a hard time choosing the best one for their needs.