Bissell 1650A Pet Hair Eraser Vacuum is corded, bagless, upright vacuum cleaner with additional extension hose. Bissell 1650A is optimized for cleaning pet hair from various surfaces, but it can easily handle all kinds of debris.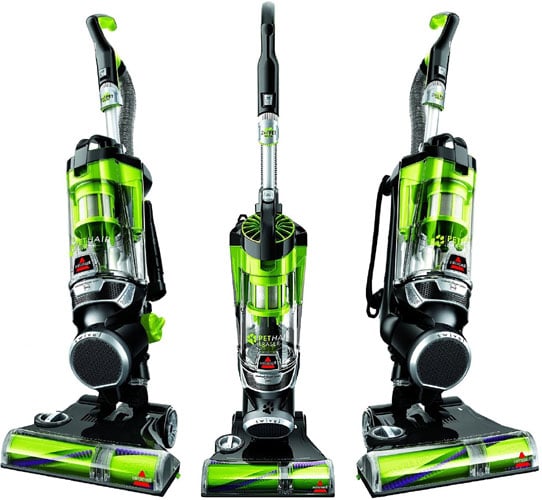 Bissell 1650A Pet Hair Eraser Vacuum Features and Specifications
Cyclonic Pet Hair Spooling System – Bissell 1650A is equipped with 'Cyclonic Pet Hair Spooling System' which traps and separates human and pet hair from other dirt, spooling the hair together for much cleaner, hands-free emptying of the dirt bin. It is bagless vacuum cleaner, requiring no cleaning bags.
Dirt cup with capacity of 1.5 liters is relatively small, but it can hold large amount of hair and other debris. It is transparent and can be easily emptied.
SmartSeal Allergen System – Bissell 1650A is designed to capture and hold dust and allergens inside the vacuum, so they don't escape back into the air. Vacuum uses cyclonic air/dirt separation, aided with the washable pre-motor mesh and foam filters and the bottom post-motor filter. Air filtration is excellent, but this vacuum cleaner is not certified as HEPA vacuum cleaner.
SuctionChannel Technology for Edge-to-Edge Cleaning – Bissell 1650A Pet Hair Eraser creates a direct suction path for powerful edge-to-edge suction that maximizes pickup of pet hair and debris. Cleaning path width is 12 inches (~30.5 cm) enabling one to clean rather large area quickly. Main cleaning tool is tangle-free Pet Hair Eraser Brush Roll which does its job well, but it requires some maintenance and cleaning from time to time.
Bissell 1650A has a separate switch to shut off the roller brush for cleaning hard and wooden floors, but the roller brush is also automatically turned off when the handle is locked in the upright position. This feature protects the sensitive carpets from wearing out when using the wand.
The unit has 8.5 Amp motor which provides very good suction at moderate noise levels – it is not whisper quiet, but it is far from being fighter jet at take off 🙂
Bissell doesn't provide strength of suction in Air Watts for this unit.
Multi-Surface Cleaning
– Bissell 1650A is optimized for multi-floor cleaning of pet hair, dirt, and debris pickup from multiple surfaces including bare floors, carpets, hard surfaces, upholstery, stairs etc. Unit has 5 surface height settings and it comes with brush On/Off switch – important on delicate surfaces like sensitive wooden floors.
Swivel Steering – 1650A Pet Hair Eraser has swivel steering, enabling easily maneuvering around furniture, edges, corners and other obstacles. Unit weighs 18 pounds (8.15 kg) and it is not the lightest vacuum around, but it steers easily. To protect the furniture and walls, Bissell 1650A has soft bumper, however, it is highly recommended to avoid hitting the walls, furniture and other objects during vacuuming.
In order to cover larger area using single power outlet, Bissell 1650A has 30 feet (~9.15 m) long power cord. However, it doesn't have automatic power cord rewind mechanism – the power cord wraps on the back of the machine.
Febreze Pet Odor Eliminator – Unit comes with the built-in 'Febreze Pet Odor Eliminator' filter, which eliminates odors and freshens the cleaned area. Note that vacuum cleaner comes with both a Febreze Pet Odor filter, and a regular unscented filter. Scent is not strong, but if you don't want scent of any kind, use regular unscented filter.
Specialized Pet Tools to Clean Anywhere – This unit comes with a full set of cleaning tools for easy removing deeply embedded pet hair and dirt from various areas and surfaces.
Quick Release Wand – Bissell 1650A is upright vacuum cleaner and although it steers easily, it can't reach tight areas and corners like canister or stick vacuums. Quick release wand helps Bissell 1650A to double as upright and, up to the point, as canister vacuum cleaner. Wand easily disconnects from the vacuum body with the simple push of a button and makes pet and other cleanups easy with other quick, interchangeable one-click tools. Hose is 8 feet (2.4 m) long and enables cleaning from the floor to the ceiling. If you do have really tall ceilings, 8 feet hose perhaps lacks a foot or two in length for true 'floor to the ceiling' cleanups.
LED-Lit Crevice Tool – Crevice tool helps cleaning narrow and tight spaces, while LED light helps spotting the dirt and hair on such hard-to-reach places.

LED-lit crevice tool uses two small batteries (CR1632 3V) that must be replaced periodically.

Pet TurboEraser Tool is additional pet hair cleaning tool. It easily removes stubborn, embedded pet hair from carpets, stairs, upholstery and other similar surfaces where main cleaning head can't reach.

Rotating brush is air driven by the small air turbine. If the brush stops to rotate or rotate slowly, it is necessary to open the unit and check if everything is OK with the tool.

2-in-1 Pet Brush removes dirt from various sensitive surfaces. Rubber fingers help remove dirt from the furniture and a soft dusting brush cleans delicate surfaces. It easily connects to the handle or end of wand for longer reach.

If required, any extra cleaning tools can be ordered later.
The Bissell Pet Hair Eraser 1650A model comes with a limited 5 year warranty. When purchased, it requires some assembly, which can be done rather quickly. Before assembly and before first use, be sure to familiarize yourself with the unit by reading the manual at least once. 🙂
Long story short
– Bissell 1650A Pet Hair Eraser Vacuum is excellent upright vacuum cleaner for cleaning human and pet hair and other types of debris from various surfaces. It comes with very useful tools optimized for cleaning dirt from hard to reach areas, while flexible hose enables cleaning from the floor to the ceiling. Bissell 1650A is far from being lightweight, emergency vacuum cleaner – it is designed to be used as main home vacuum cleaner for years to come.
Price – it is not the cheapest 'pet hair' vacuum cleaner on the market, but what you pay is what you get.
For more reviews and recommendations, check Bissell 1650A Pet Hair Eraser Vacuum
Amazon link (link opens in the new window).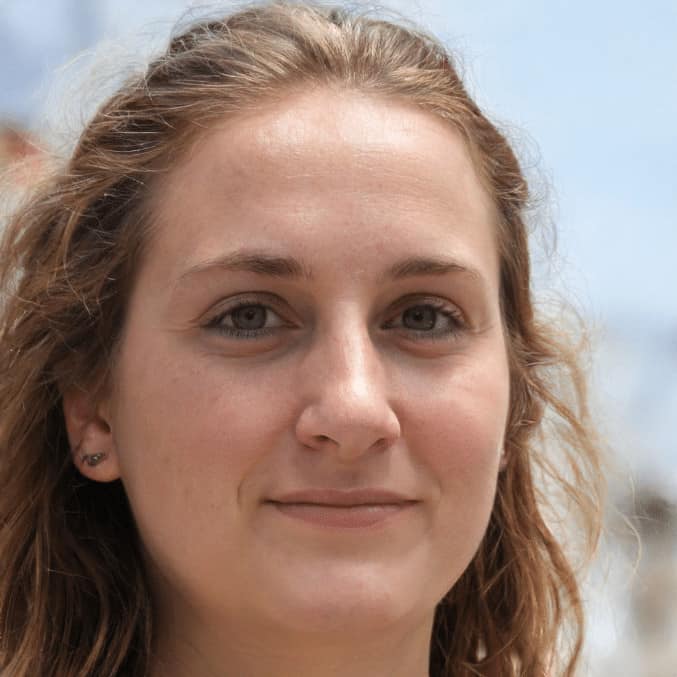 With a degree in engineering, Kathryn Hansen loves to write about how things work. Having her own dilemmas on how to pick the best vacuum cleaner for her large family (with a handful of furry four-legged members as well), Kathryn decided to help others in the same situation. After all, vacuum cleaners are critical to a healthy lifestyle and people have a hard time choosing the best one for their needs.