Areas covered with various vegetation require constant care in order to look great. Garden leaf vacuums, mulchers, and blowers are used to keep the gardens, driveways, yards, and similar areas clean and tidy. Garden leaf vacuums, mulchers, and blowers come in various sizes, types, and prices, and choosing the right one can be a daunting task. But it shouldn't! Let's see today the most important tech specs and features you should be looking for when you intend to buy a garden leaf vacuum and other similar tools. Read our recommendations and buying tips!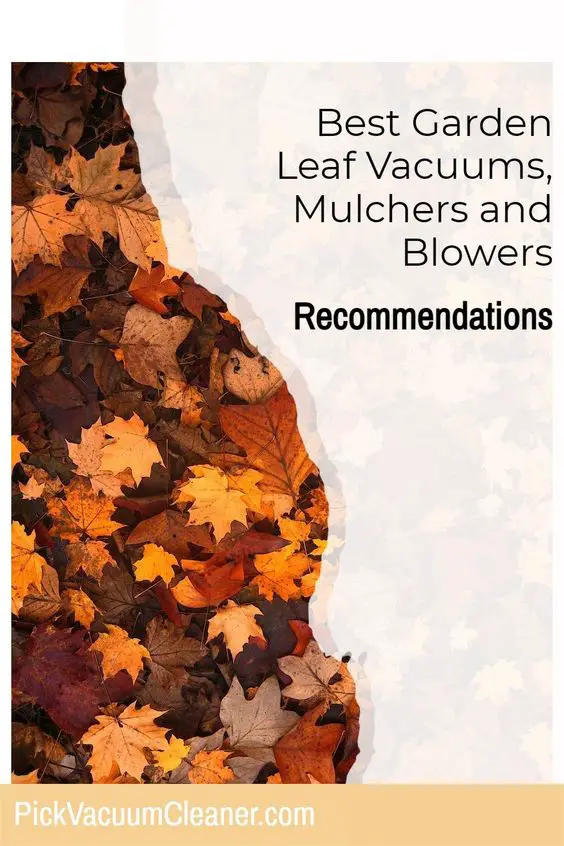 Why Do You Need the Best Garden Leaf Vacuums, Blowers, or Mulchers?
Spring and fall seasonal cleanup is a challenging activity in the lack of proper tools. Hiring a landscaping company to blow leaves, vacuum your driveways and pathways, or collect your dry leaves for you to make organic mulch out of them seems counter-intuitive.
When you can use your own tool, why should you pay for services you do not need? You can find some of the best leaf vacuums, mulchers, and handheld leaf blowers on the market at a fraction of the price you usually pay professionals for regular lawn care and landscaping services.
Moreover, keeping your yard clean whenever you want – and not depending on a company's schedules – is the sensible thing to do, especially if you want to make leaf mold for your garden and flowerbeds when you need it.
How to Pick the Best Garden Leaf Vacuums, Mulchers, and Blowers!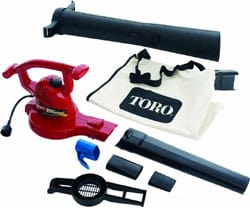 Just like you look at vacuum cleaners tech specifications before you buy the best one for your needs, you should also understand the features of garden vacuums, mulchers, and leaf blowers.
When looking for a new garden leaf tool, there are few things to consider!
Power Source
You can find the most leaf vacuums in gas-powered models, electric corded models, and electric cordless leaf vacuums varieties. For instance, the Hitachi RB24EAP 170 MPH Handheld Leaf Blower is an excellent entry-level commercial gas-powered leaf blower that comes at a very compelling price.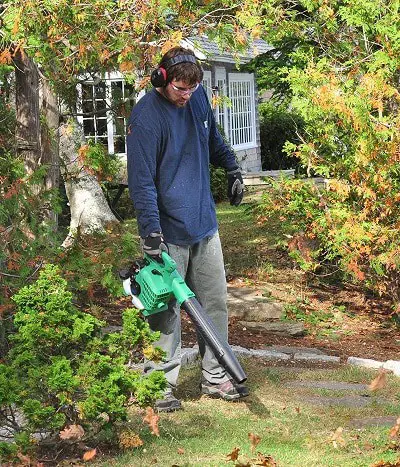 Tool Type
You can use garden vacuums designed for small gardens and backyards as garden leaf vacuums, leaf mulchers, and leaf blowers.
By comparison, the large, commercial and very powerful tools are often optimized for a single purpose and thus can be used only as leaf blowers or leaf vacuums. The latter often have metal impellers and you can put them at good use as leaf mulchers, too.
As you probably know, shredded leaves and small, thin branches occupy less volume than whole leaves and branches for making organic mulch at home. Therefore, storing more garden debris in the vacuuming bag is an additional reason why leaf vacuums have metal impellers with sharp blades.
Tool Size
Smaller garden leaf vacuums are weaker, but easier to carry around and use. Larger garden leaf vacuums have shoulder straps, they are bigger, heavier and sturdier and are stronger with stronger suction. For instance, the WORX TRIVAC 3-in-One Blower/Mulcher/Vacuum WG509 is a corded electric leaf blower, mulcher, and vacuum cleaner. This all-in-one design makes it not only one of the best garden vacuums and tools on the market, but it also makes it a sizeable unit.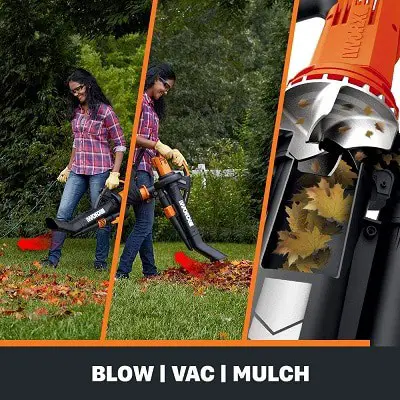 Cleaning Attachments
Even garden leaf vacuums and blowers have different cleaning attachments for vacuuming/blowing various types of debris that you can find in gardens and backyards: leaves, small branches, mowed grass, and so on.
The Most Important Technical Features and Specifications of Garden Vacuums
Before you buy any type of vacuum – for the garden or for the home, you should understand how these devices work and what their most important tech features are. When you shop for the best commercial vacuum cleaners on the market, you must know first the criteria that differentiates them. The same principle applies when you intend to purchase a leaf blower or a vacuum for your yard and garden as well.
Air Flow
Usually given in the Cubic Feet per Minute (CFM), this specification represents the amount of air that flows through the vacuum at any given moment.
Air Speed
Usually presented as Miles per Hour (MPH).
Note that some vacuum/blower models use special nozzles to increase the speed of the air, which might reduce the amount of airflow. If the airspeed is doubled, and the airflow remains the same (in CFM, for example), the engine power must be quadrupled.
Engine Volume
A measurement given in cubic centimeters (CCM), for gas operated garden leaf vacuums.
Motor Strength
This feature is given in Watts (W). The required current is given in Amperes (A or Amps) for electric leaf vacuums. For gas-operated vacuums/blowers, motor strength is often given in HPs and sometimes watts.
Battery
When you look for batteries in vacuum cleaners – no matter their type – look for voltage (V), capacity (Ampere-hours – Ah) and the chemistry type (especially for cordless leaf vacuums). If you want to learn more about batteries, check out our guide on vacuum cleaners' batteries types!
Weight
It is a very important feature when you work with leaf vacuum. This measurement represents usually the weight of the leaf vacuum, without or with an empty leaf bag.
There are also other features and details which might be important, but many of them are highly individual – for example, if someone is left or right handed and similar.
Gas Powered Garden Leaf Vacuums, Mulchers, and Blowers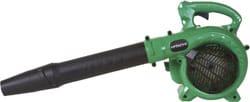 Gas-powered garden leaf vacuums use internal combustion engines to power impellers. They are very strong and since gas tanks are on-board, these vacuums are independent regarding external power sources. They don't require mains outlets for operation.
When the gas tank is empty, they are simply filled and ready to use again.
2-stroke engines use fuel-oil mix in different ratios, ranging from 1:25 to 1:50. The more oil the mix has, the better engine lubrication, but also more fumes and smoke is created during operation. It is vital to read the manual of the 2-stroke engines regarding fuel oil mix and use high-quality oil.
4-stroke engines run on pure fuel and they are much cleaner to operate. However, they require periodic oil checks and oil change according to the manufacturer's recommendations. Note that 2-stroke vacuums/blowers are usually smaller, lighter and less complicated to maintain.
Gas powered leaf vacuums and blowers are generally noisy units and their engines release exhaust gases, with high CO2 content and with not the most pleasant smell. Also, they are harder and more complex to maintain when compared with electric leaf vacuums.
Because of these features, gas-powered leaf vacuums and blowers are mostly commercial units, used outside small gardens and backyards. Check out our guides to better understand how vacuum cleaners work and how to choose the best vacuums for your needs!
Electric Corded Garden Leaf Vacuums, Mulchers and Blowers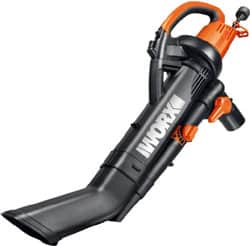 Electric corded garden leaf vacuums and blowers are the most common leaf vacuums found in home gardens and backyards.
Since they are electric, they are very quiet during operation, they have no exhaust fumes and they are easy to use and maintain.
High-end models are just as strong as leaf vacuums with internal combustion engines, but they depend on external power source in the form of mains outlet or gas/diesel/solar-powered electric generator.
Note
Gas-powered garden vacuums are more efficient than gas-powered generators combined with a corded electric vacuum.
The transition of electric leaf vacuums/blowers from one function to another is quick and easy to do and is often done without use of any special tools.
The biggest drawback of corded electric vacuums is dependence on mains power. Their range of motion is limited with the length of the extension cords and when buying one, it is good to measure your garden, backyard or driveway first and buy extension cord of required length and thickness.
Note
Electric corded garden vacuums come with very short power cord, or with no power cord at all. It is highly recommended to buy them as a combo (vacuum + cables), especially when found on sale.
Electric Cordless Garden Leaf Vacuums, Mulchers and Blowers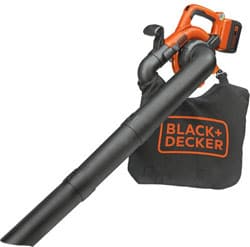 Cordless leaf vacuums share all pros and cons with some of the best home cordless vacuums. They are quiet during operation, have limitless range since they don't require the mains outlet to operate and can be used at the moment notice.
However, their power and operation time is limited by the amount of energy stored in the on-board battery.
To preserve the battery and prolong operating time, their power often can be finely tuned to match their job and type of debris.
In order to extend their operating time, multiple batteries can be used – one battery is used to power the vacuum, while another battery (or other batteries) are being charged. Note that even modern lithium batteries are drained faster than they can be recharged.
Cordless electric leaf vacuums can be rather costly, unlike corded electric leaf vacuums which are rather cheap without additional extension cord.
Since many manufacturers of cordless tools have standardized rechargeable batteries, if you do need a cordless leaf vacuum, consider buying one without batteries. You can use the batteries you already have.
---
Garden Leaf Vacuums to Consider
Toro 51621 UltraPlus Leaf Blower Vacuum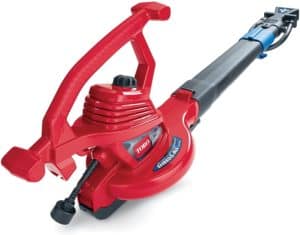 If you want a vacuum with superior blowing and mulching power proven by controlled laboratory testing, the Toro 51621 UltraPlus is one option that you wouldn't want to be forgotten from your potential wishlist. The unit's power goes up to 250 mph degree, has a 350 CFM blow mode, and a 410 CFM Vac mode.
As you can probably tell from these factors, the vacuum practically shreds leaves apart when it needs to. Includes the patented shreds-all shred ring that works with the metal impeller to reduce up to 97% of mulched debris to less than 1/2 inch. An oscillating nozzle kit is also included. This kit automatically sweeps the air back and forth, making a wider blowing path on hardscapes without requiring you to move your wrist.
Overall, we think you'll love the Toro 51621 UltraPlus Leaf Blower Vacuum for its efficiency, price to value ratio, and build quality that practically guarantees you'll be using it for years to come.
BLACK+DECKER LSWV36 Lithium Blower & Vacuum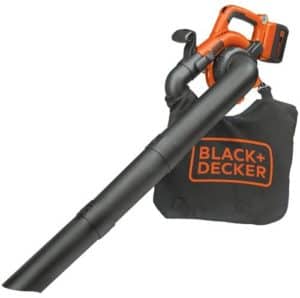 Black+Decker is a company that we respect for many of its appliances, and this vacuum leaf blower is one of those products that has us on our toes when it comes to quality and excellent price to value ratio.
One thing that makes this unit special is the fact that it creates zero emissions, so it's great for the environment as well as being a handy tool to have around. It has a 6:1 mulch ratio, and during vacuum mode, its weight falls around 6.9 pounds, while in blower mode the unit's weight is only 5.2 pounds.
It features Power Command controls for adjusting speed for maximum run-time or maximum power. The blow tube has a built-in scraper that enables the Sweeper/Vac to loosen matted leaves and stuck-on debris. In short, we really like this garden leaf vacuum and consider it to be one of the best options currently on the market.
---
Bottom Line
Garden leaf vacuums, mulchers, and blowers can be of great help in any garden, just be sure to use them properly. Always read the manuals, especially if you are taking a vacuum apart to do some maintenance work.
Impellers are sharp and shred leaves and branches to small pieces with ease. In conclusion, keep your fingers and other body parts far away. For any maintenance work, if unsure what to do, take your leaf vacuum to the professionals and tell them what you want to be done.
Best Garden Leaf Vacuums, Mulchers, and Blowers: FAQs
Are garden vacuums worth it?
If you compare the price of a garden vacuum or leaf blower with the pennies you give the boy next door for a spring or a fall cleanup, investing in such a tool may not seem worth it. However, for mid-to-large properties that need constant maintenance, leaf blowers and leaf vacuums are worth every cent in the long run. If you do have a green thumb and make mulch or leaf mold at home to boost the looks and health of your garden, you should definitely invest in such tools.
Do leaf vacuums work if the leaves are wet?
Some do and some do not – make sure you read each tool's tech specs and features. Mulchers usually work with wet leaves, but it all depends on the make and model that caught your interest. Our recommendation is to ask the manufacturer before buying any leaf vacuum.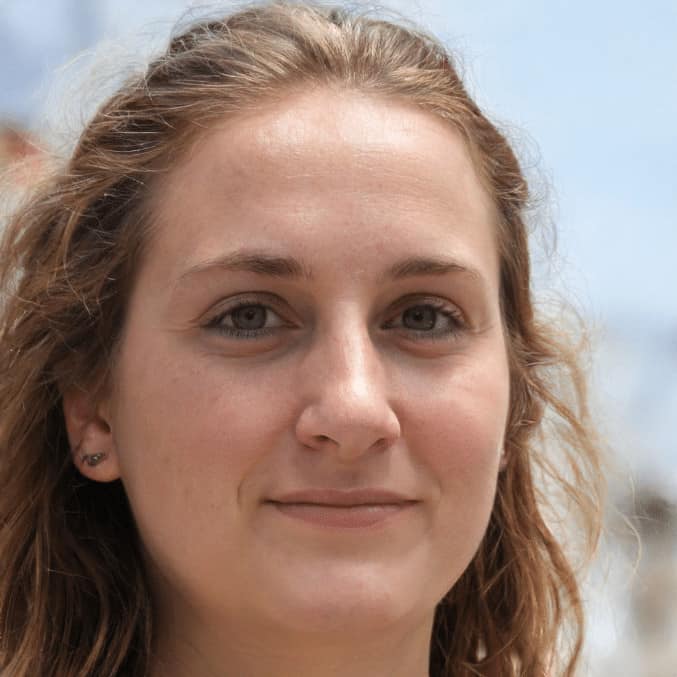 With a degree in engineering, Kathryn Hansen loves to write about how things work. Having her own dilemmas on how to pick the best vacuum cleaner for her large family (with a handful of furry four-legged members as well), Kathryn decided to help others in the same situation. After all, vacuum cleaners are critical to a healthy lifestyle and people have a hard time choosing the best one for their needs.