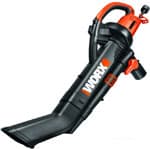 WORX TRIVAC 12 Amp 3-in-One Blower/Mulcher/Vacuum WG509 is a corded electric leaf blower, mulcher, and vacuum cleaner, all-in-one, unit. WG509 is very similar to WG500, WG505 and other leaf blowers/mulchers/vacuums from the same series, differing in details like mulch ratio, quality of impeller, speed control, and similar.
WORX TRIVAC WG509 is a very versatile unit – it transforms from one mode of operation to another using a simple switch. It features electronic variable six speed throttle control, which adjusts the machine's air flow from 75 to 210 mph (120 to 336 km/h) – level 5 hurricane.
The TRIVAC WG509 model is powered by a 12 Amp motor with a maximum air volume of 350 CFM (cubic feet per minute). The leaf vacuum cleaner is equipped with a 1.2 bushel (~11 gallons, ~43 liters) collection bag.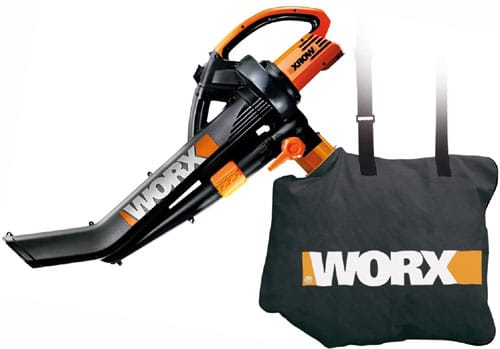 12 Amp electric motor is a clean, smell-free, and energy efficient alternative to gasoline-powered vacuums/blowers. When operating, unit noise is around 70-71 dB – very quiet operation. On the other hand, WG509 and other electric leaf vacuums/blowers can't be compared with commercial, gasoline powered vacuums/blowers in terms of air-flow strength.
Note: unit requires an extension hose to be purchased separately. When ordering one, have in mind required amps (12 A), required length, and protection of the extension cord (UV lights, mechanical damage, and similar).
WORX TRIVAC WG509 is a lightweight unit (8.6 lbs – 3.9 kg) and is well-balanced, suitable even for single-handed operation.
WORX TRIVAC WG509 has a 2-stage mulching system – as the leaves and other debris enter the vacuum, a high-velocity shredder blade shreds debris, while a metal impeller pulverizes the debris – at least dry debris. Metal impeller helps the unit provide a 15:1 – 18:1 mulch ratio – theoretically, 160 – 190 gallons of dry leaves will fit into the 11-gallon collection bag.
If the 1.2 bushel capacity bag is way below your needs, perhaps you should consider WORX LeafPro Universal Leaf Collection System with Multi-Fit Adapter and 8′ Hose
(Amazon link, link opens in the new window). Such 8 feet (~2.4 m) hose enables one to clean a circle of a radius of at least 3.2 m – almost 22 square meters (~236 square feet), without moving the leaf can/bin around.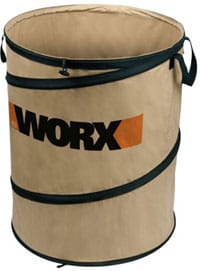 Such a system fits all major gas and electric leaf blower/vacuum brands. It is designed for high capacity leaf collection for all brands and waste cans and bins up to 96 gallons (~363 liters).
If you don't have such a can, perhaps you should consider WORX WA0030 Landscaping 26-Gallon Spring Bucket Yard Bag
(Amazon link, link opens in the new window).
It is a collapsible spring bucket, which is great for fallen leaves, grass clippings, weeds, plant material, and other debris collected with a garden leaf vacuum.
Long story short – WORX TRIVAC WG509 is a very good all-in-one electric, corded garden leaf blower/mulcher/vacuum. It helps keep the garden and yard clean year long. It is very quiet during operation, much quieter than gas powered units, but it is also weaker than gas powered units, at least larger ones – you win some, you lose some 🙂
For more reviews and recommendations, check WORX TRIVAC WG509 12 Amp 3-in-One Leaf Blower/Mulcher/Vacuum
Amazon link (link opens in the new window).
Other Similar Products
BLACK+DECKER LSWV36 Lithium Blower/Vacuum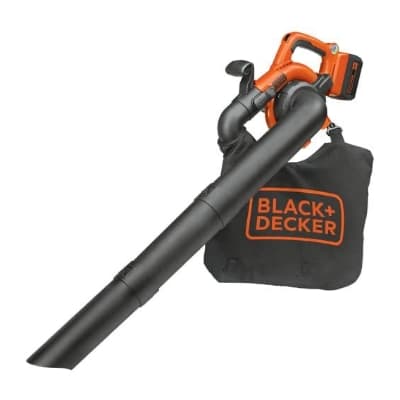 If you want a great vacuum and blower combo from a respectable company, then you might want to consider the BLACK+DECKER LSWV36 which runs on lithium batteries. Ideal for hard surfaces like patios, decks, walkways, driveways, and garages, the Sweeper/Vac has an efficient design and a 120-mph airspeed to make quick work of debris. And it easily converts to vacuum mode, enabling you to quickly clear your yard or patio (not recommended for use in the grass or flower beds).
Weighing in at just 5.4 pounds, this blower is light enough for anyone to use for extended periods. And it features a comfortable soft grip handle that's large enough for use with gloves. Overall, we think that this specific blower and vacuum combo is a great investment for anyone who's looking for a long-term solution at a relatively affordable price.
Toro 51609 Ultra 12 amp Variable-Speed (up to 235) Electric Blower/Vacuum with Metal Impeller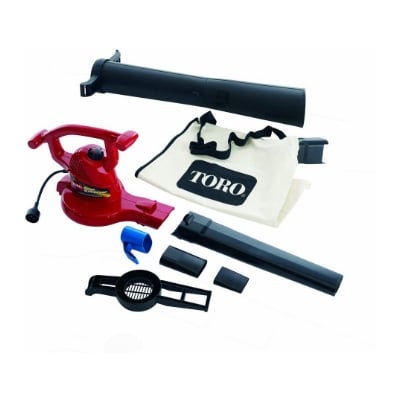 The Toro 51609 is a multifunctional 3-in-1 vacuum, blower, and leaf shredder that makes garden work a breeze for just about anyone that can carry a 10-pound device. You can tackle big cleanup jobs the right way with this powerful blower/vac. A variable speed 12 amp motor lets you select from an infinite variety of speeds between 112 mph and 235 mph. This means that you can use low speeds to clear off hard surfaces and clean up tight areas without making a mess and without sacrificing the blower's high-speed functionality.
Unlike some manufacturers, who simply reduce the size of their blower nozzles to achieve higher air speed ratings without increasing the practical value of their tools, Toro gives this blower/vac the ability to balance between air speed (measured in miles per hour, or mph) and air volume (measured in cubic feet per minute, or CFM) to ensure maximum power and performance.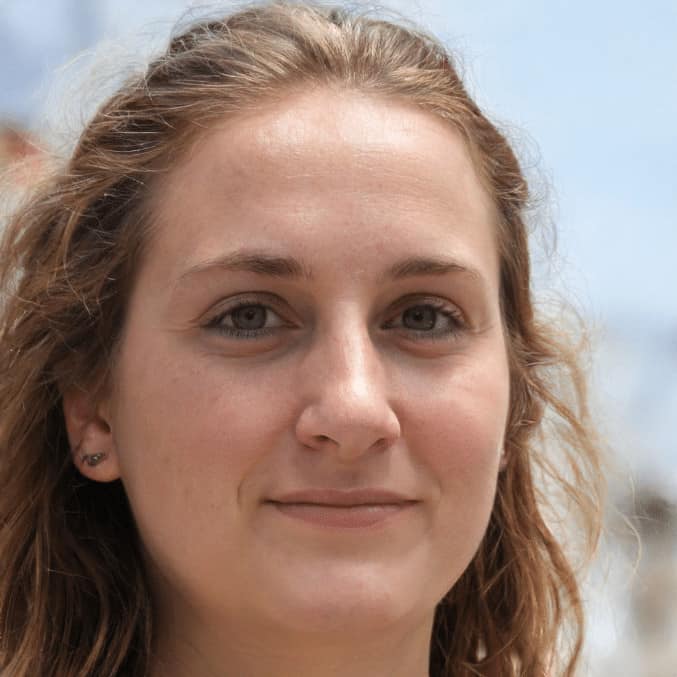 With a degree in engineering, Kathryn Hansen loves to write about how things work. Having her own dilemmas on how to pick the best vacuum cleaner for her large family (with a handful of furry four-legged members as well), Kathryn decided to help others in the same situation. After all, vacuum cleaners are critical to a healthy lifestyle and people have a hard time choosing the best one for their needs.