The Bissell 2039A SpinWave Mop is a hard floor mop designed for cleaning floors like tile, linoleum, vinyl flooring, sealed hardwood floors, laminate, and similar. It uses a pair of rotating microfiber pads and a cleaning solution. It is ideal for everyday cleaning and for debris removal in the emergency of various messes and spills. Today, we will present you with the Bissell 2039A SpinWave mop review. At the end of this article, you will also find a quick presentation of a newer Bissell SpinWave model – the Bissell 20391 Hard Floor Mop Cleaner SpinWave Plus.
As you probably know from our guide on how to pick vacuum cleaners and mops, these devices work best for hard surfaces. You should not mistake, however, a vacuum cleaner with the steam mops, or with a hard floor mop. The Bissell 2039A falls into the last category.
Before we present you with our Bissell 2039A review, we have to tell you that this brand is one of the most powerful and reputable names in the industry. In particular, we recommend the Bissell 1132A Symphony All-in-One Vacuum and Steam Mop for hard surfaces that you need to clean and disinfect. We also like the Bissell 1785A CrossWave All-in-One Multi-Surface Cleaner for its outstanding capabilities of cleaning various surfaces.
Now, let's get down to business, and learn together everything there is to know about the Bissell 2039A SpinWave Mop!
Bissell 2039A SpinWave Mop Review

The Bissell 2039A SpinWave is not a classic mop-and-bucket cleaning mop, this is what you need to understand first. The Bissell 2039A SpinWave mop uses two rotating cleaning pads to clean the floors. As the pads rotate, they clean and pick the dirt. To help clean hard-to-reach surfaces, the SpinWave mop has a swivel steering and a low height cleaning head, enabling the unit to maneuver and clean around the edges, furniture, along the walls, and so on.
Bissell 2039A SpinWave Mop Tech Specs and Features
Let's see now the most important tech specs and features this unit has to offer!
The Bissell SpinWave Powered Hard Floor Mop uses a 22 feet (6.7 m) power cord. Using a single power outlet, it can cover a relatively large area.
It is also a moderately lightweight unit. At 11 pounds (~5 kg), it is heavier than unpowered hard floor mops, but one doesn't have to carry around bucket with cleaning solution or anything.
The unit doesn't have an automatic cord rewind mechanism. Instead, it uses cord wraps. Automatic cord rewind system would increase the weight, complexity and in the end the price of the unit, but occasionally, it would be nice to have one.
Since power requirement is 'only' 0.9 Amps, cordless version would be interesting cleaning aid, especially in emergencies.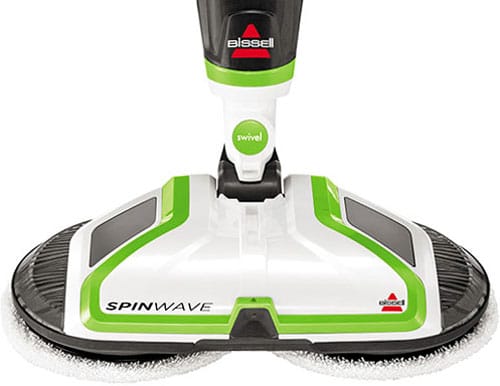 The Bissell SpinWave has an onboard tank for storing cleaning solutions, representing a mix of tap water and cleaning formula. When required, spray the cleaning solution over the surface. When cleaning stubborn stains and similar messes, we recommend you to spray the cleaning solution directly on the dirt.
As a piece of advice (and a trick), in case you remain out of stock on your cleaning solution, here is a nice guide to homemade cleaning formulas for various purposes. We don't usually suggest readers to use DIY cleaning solutions instead of the branded ones – especially with branded hi-tech pieces of equipment like this Bissell mop – but if you are in an emergency situation, we will let this one pass.
Note
When you clean hardwood floors, laminate, and similar floors, be sure that your floors are sealed and that cleaning solution can't leak into the wood. Increased moisture can lead to wood buckling and even rotting. Also, sensitive floors should be cleaned using soft cleaning pads.
What Else Do You Need to Know about the Bissell 2039A SpinWave Mop?
The controls are positioned on the handle and they include power on/off switch and spray button for dispensing the cleaning solution.
As the cleaning solution tank goes, it is removable and easy to fill. The manufacturer recommends to exclusively use Bissell's cleaning formula, mixed with tap water. To improve cleaning even further, it is possible to use warm water (up to 140°F/60°C; hotter water can damage the unit).
Note
The unit doesn't have a water heater. To get accustomed to your new Bissell SpiWave mop, before the assembly and the first use, be sure to read the manual thoroughly.
Bissell 2039A SpinWave Mop Tools and Accessories
Here is a quick rundown of the tools and accessories you enjoy together with this device!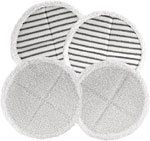 The cleaning pads come in two versions:  

– 2 soft cleaning pads for gently cleaning of hard floors like sealed hardwood floors, sealed laminate, but also tiles, marble, stone, etc.

– 2 scrubby pads for cleaning tough, sticky messes. These pads can be used on all floor types, too, just be sure to be careful on sensitive floors.




When the cleaning pads get dirty, they can be machine washed and reused over and over. However, after some time, they should be replaced. In order to clean larger areas without changing the pads, you can vacuum with your regular affordable hard floor vacuum cleaner first. You can easily change the pads, but if they are not aligned properly, the unit can vibrate slightly. After a few changes, it is very easy to center the pads.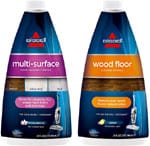 The most common cleaning formulas are:

 

– Bissell Multi-Surface Cleaning Formula, suitable and safe for use on sealed hardwood floors, tile, laminate, area rugs and low-pile carpets. It freshens the floors with the fresh scent of spring breeze, increasing the feeling of cleanness and freshness.

– Bissell Wood Floor Cleaning Formula, restores wood floors' natural shine and freshens the floors with the scent of lemon.

Both cleaning formulas are mixed with tap water. Although cleaning pads pick the dirt and moisture, in areas where tap water is rather hard, to avoid streaks on the floor, feel free to use distilled or demineralized water. It costs more than tap water, but the floors are left really shiny.
Bissell 2039A SpinWave Mop: Verdict
Long story short, the BISSELL SpinWave Powered Hard Floor Mop – Model 2039A saves both time and effort when keeping hard floors clean. It is heavier and obviously more expensive than ordinary cleaning mops, but it gets its job done faster and easier. On the other hand, it is a very affordable unit.
Bissell 20391 Hard Floor Mop Cleaner SpinWave Plus
Speaking of affordable units and newer models, we want to tell you a few words about another excellent Bissell mop, as we promised at the beginning of this article. We are discussing here the Bissell 20391 Hard Floor Mop Cleaner SpinWave Plus, a powered hard floor mop, suitable for cleaning sealed, hard-surface floors.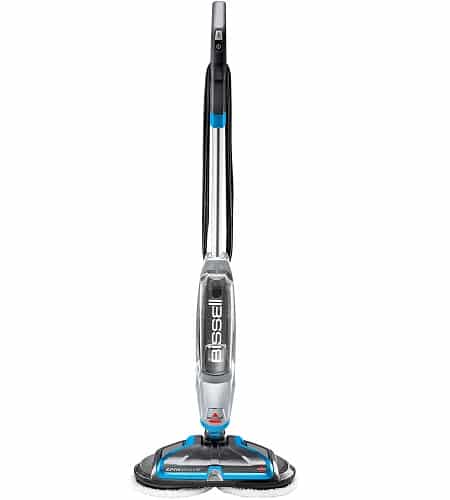 What Should You Know about the Bissell 20391 SpinWave Plus Mop?
As we said, this is a newer, improved version of the model we reviewed earlier. This is a mop for sealed hard floors, as we already said. It also boasts a whooping 4.3 stars rating on Amazon and it seems it makes people very happy. Here are its most interesting tech specs and features, as offered by the manufacturer!
It includes soft-touch pads for gentle cleaning on hardwood floors and scrubby pads for tough, sticky messes;

The Spinwave Plus model includes an extra set of mop pads, an extra bottle of formula, and a bristle brush for sticky messes;

The on-demand spray allows you to dispense just the right amount of solution onto your floors;

Triple Action Brush Roll is designed with two bristle types to help improve cleaning performance;

BISSELL proudly supports the BISSELL Pet Foundation and its mission to help save homeless pets, so for any Bissell cleaning device you purchase, you will also support abandoned animals that need a chance to a better life.
Bottom Line
We hope our BISSELL SpinWave 2039A mop review and the Bissell 20391 Hard Floor Mop Cleaner SpinWave Plus presentation helped you make the best choice for your home. Bissell is a reputable brand and it is hard to go wrong with any of their products, no matter if you choose a mop for hard floors or an efficient yet affordable carpet cleaner.
Let us know in the comment section below if you ever used one of these products. Did it work as advertises? What was your experience with it? Share your thoughts and tell us if you want us to review other Bissell products that fancy your interests!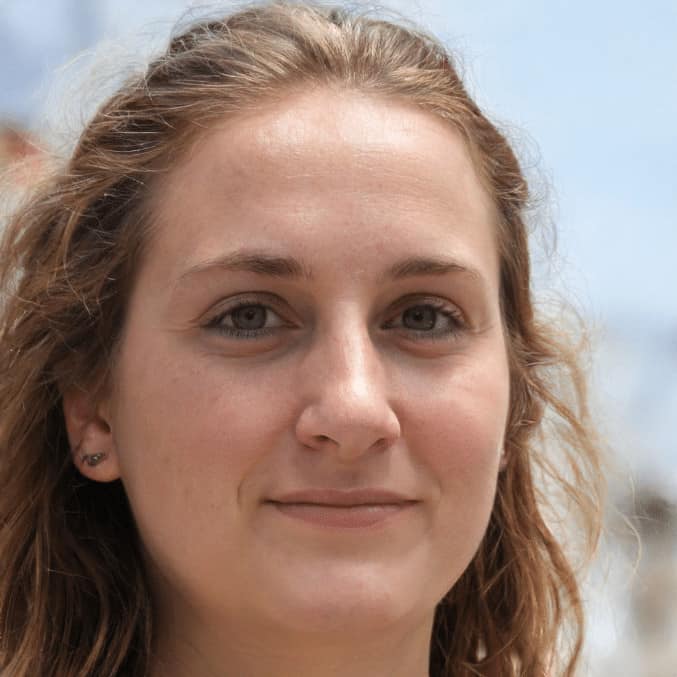 With a degree in engineering, Kathryn Hansen loves to write about how things work. Having her own dilemmas on how to pick the best vacuum cleaner for her large family (with a handful of furry four-legged members as well), Kathryn decided to help others in the same situation. After all, vacuum cleaners are critical to a healthy lifestyle and people have a hard time choosing the best one for their needs.