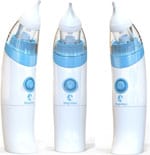 When a baby or a small child is unable to breathe properly because of a stuffy nose, a nasal aspirator (nose vacuum, snot sucker, etc.) can be very helpful in removing the mucus and other fluids or even objects from the nostrils. Since the mucus can be thick and sticky, it might be difficult for a baby or small child to expel it from the nostrils. Let's discuss today the best baby nasal aspirator types, also emphasizing on how to clean an infant's nose and pick the best products on the market. At the end of this article, we will also answer a few questions regarding baby nasal aspirators and their uses.
Types of Baby Nasal Aspirators
One of the first things you should know is that baby nasal aspirators clean an infant's nostrils using vacuum (hence the nickname 'nose vacuum cleaner') to remove secretion products or even foreign objects.
You will find three primary types of baby nasal aspirators on the market. For each of these types, we show you as example the best baby nasal aspirator for each category.
1. Electric and Battery-Powered Nasal Aspirators
The most common types are battery-operated nasal aspirators that function like small handheld cordless vacuum cleaners.
They are mostly powered using a pair of AA or 18650 batteries. Moreover, they are designed for one-hand operation and when used as recommended, they are safe.
When in use, battery-operated aspirators require just a few seconds to clean each individual nostril, so the battery life is rarely limited by their capacity. Good AA batteries can last for years, even with plenty of running noses around.
Let's see some of the pros and cons of electric or battery-powered baby nasal aspirators!
Pros
Cons
Easy and safe to use for both parents and baby
In some models, suction is not adjustable
Affordable
Constant suction
Work best on thin runny snot
Note
It is very important that an electric or battery-powered unit comes with soft (silicone) tips that create a good seal and are gentle to the baby's nose. Also, the mucus cup should be transparent and easy to detach and clean under hot running water.
2. Bulb Syringe Nasal Aspirators
Bulb Syringe nasal aspirators are cheap and reliable aspirators but are not as convenient as battery-operated models. Also, such aspirators are harder to clean from within due to their small and narrow tips.
Nonetheless, they are one-hand units that create no noise of any kind. More importantly, they are extremely useful tools to clean the baby's nose while the baby sleeps. Or at least, it will not alarm the baby with the sound of the running motor.
Let's have a quick peek at the pros and cons of bulb syringe baby nasal aspirators before we discuss more details about these products!
Pros
Cons
Cheap
Can retain snot, bacteria, and even mold inside
Good for thin running mucus
You should use only once and then throw away
Widely available on the market
Best as an alternative when batteries run out on other aspirators
As you can see from the table above, one of the most pressing and daunting issues with bulb nasal aspirators is that they can retain moisture, bacteria, and snot inside. This makes them quite unsafe for reuse. Cleaning them with hot water may work, but if your baby is prone to frequent colds and nasal congestion, allergies, or other respiratory problems, you should consider using an electric or battery-operated nasal aspirator. Keep the bulb syringe as plan B, in case you run out of batteries during the operation.
3. Human-Powered Baby Nasal Aspirators
Nasal aspirators can also use suction produced by parents to clean the baby's nostrils. One end of the aspirator's tube is positioned in or on the baby's nose/nostril, while the parent creates suction. The suction level is easy to control according to the situation. The transparent tube and collection cup let the parent observe the cleaning process, while the unit's filter prevents any bacteria from entering the inner tubing and parent's mouth and lungs.
Let's see some pros and cons before we move on to the next chapter of our article!
Pros
Cons
The parent has great control over the suction power
There is a chance the adult catches the same cold as the child
Easy to use and clean
Requires more hands-on operation than other nasal aspirators
Widely available on the market
You don't need to worry about batteries or finding a power outlet when you travel with your baby
As you can see, these manually handled nasal aspirators are excellent travel companions as they need only the parent to work. You also have full control over the suction power, although you might catch something from the baby, though rare.
There are similar nasal aspirators which use the suction of the common vacuum cleaner when you use it in conjunction with special adapters. They can create really powerful suction, but one must be extra careful to keep the baby safe.
Also, the noise from the vacuum cleaner can alarm the baby and make the cleaning process more difficult.
Recommended Nasal Aspirator Type
This is highly individual, but personally, battery-powered or parent-powered aspirators are, in my opinion, the best choices to make. The electric/battery-operated ones keep both the baby and the parent safe and they do not pose risks of cross-contamination or transferring bacteria from one surface to the next.
If your baby has respiratory problems, congested nose, and other respiratory issues, we recommend you look for an air purifier for allergies and asthma. Your pediatrician knows best, of course, but dust and dry air in a home can trigger or amplify even some breathing issues that bother your little one. Also, if you are looking for the best vacuum cleaner to alleviate allergies or asthma symptoms in your home, check out this guide here!
The bulb syringe nasal aspirator is probably the easiest to use, it is quiet, but it is hard to clean and poses some dangers if you use it more than once without proper maintenance.
Vacuum powered nasal aspirators are as loud as a used vacuum and can alarm the baby, not to mention that their suction power can be a bit unsafe for an infant.
Regardless of your choice, be sure to read the manual and consult the pediatrician.
The Best Baby Nasal Aspirator: FAQs
What is the best baby nasal aspirator on the market?
As you have seen from the examples above – and if you looked at user reviews and the price/value ratio of nasal aspirators – the FridaBaby Cold and Flu NoseFrida Bundle with human-powered aspirator is hands down one of the best products on the market. As electric/battery-powered aspirators go, we recommend the Tuobo Green nasal aspirator for best results at an incredibly affordable price.
Are nasal aspirators safe for babies?
Yes. If you use a parent-powered model, you have full control over the suction power and the operation. Electric/battery-powered units are also safe, as they have limited but constant suction power. Some of them are quiet enough to allow you to clean your baby's nose while she is sleeping. We do not recommend the use of a bulb syringe nasal aspirator without thorough disinfection, however. The main issue when you use a nasal aspirator is to do so as gently as you can. Severely congested noses and respiratory problems should also benefit from a saline solution or even a visit to the pediatrician.
Can you use a baby nasal aspirator while the baby is sleeping?
Some such baby nasal aspirators are quiet enough and non-intrusive enough to allow you to clean a baby's nose during sleep. However, specialists recommend you do it before bed time (and feeding time as well) to help the little one breathe better and thus sleep comfortably.
Conclusion
What is your opinion on baby nasal aspirators? Have you used any with your infant? Is there a type you prefer over the others? Share the experience you had with the best baby nasal aspirators you used! We are more than willing to listen to your suggestions of products or procedures!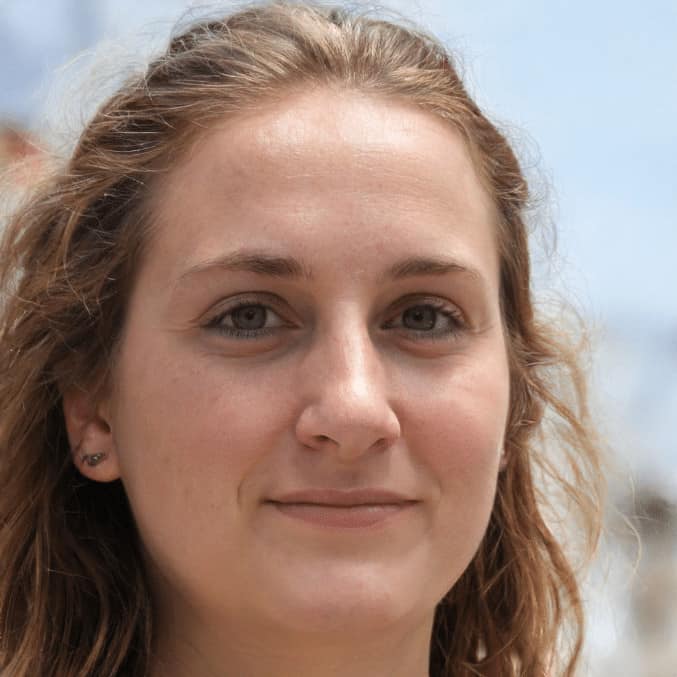 With a degree in engineering, Kathryn Hansen loves to write about how things work. Having her own dilemmas on how to pick the best vacuum cleaner for her large family (with a handful of furry four-legged members as well), Kathryn decided to help others in the same situation. After all, vacuum cleaners are critical to a healthy lifestyle and people have a hard time choosing the best one for their needs.