Cordless vacuum cleaners have onboard batteries of various types and sizes as their power source. Such vacuums have great autonomy since they don't depend on the mains power for operation. However, their operation time and suction strength are greatly limited because of the amount of energy stored in the batteries.
Cordless vacuum cleaners come in various forms and types:
Cordless Backpack Vacuum Cleaners
These can cover a large area and are highly maneuverable. Such backpacks easily move from room to room, not requiring mains outlets. They are mostly used in hotels, business buildings, but also airplanes, ships, and similar areas. The main reason is that power outlets aren't always nearby in such places or don't have the required power. For more about this type of vacuums, feel free to check our Backpack Vacuum Cleaners article.
Cordless Handheld Vacuum Cleaners
They are small vacuums that are commonly used as a second or even a third option in homes, offices, cars, etc. Their main use is for emergencies, such as cleaning spilled foods, liquids, and other similar debris. Their operation time is often limited, while suction strength is kept high, but with a small nozzle surface area. You will find that most of these models have docking stations that also act as chargers for the batteries. Due to their small size, they have a small dust bin capacity. However, this isn't necessarily an issue since manufacturers recommend emptying them after each use. For more information about handhelds, feel free to check out our Handheld Vacuum Cleaners article.
Cordless Stick Vacuum Cleaners
This type of cordless vacuum cleaner is best used as the main cleaning tool in small homes. Most of these models come with all sorts of attachments for many types of surfaces. Since they are lightweight, not even kids or elderly people won't have any trouble using them. Some other advantages include good suction, decent dirt bin capacity, HEPA grade air filtration on some models, and much more. The downside is that you'll need expensive lithium batteries to power such cordless vacuums. Overall, you get many more advantages than with other types of cordless vacuum cleaners, but the price is also higher. For more about stick vacuums, feel free to check out our Stick Vacuum Cleaners article.
Robot Vacuum Cleaners
If you want something that can handle everything in a fully automatic mode, you might be interested in getting a cordless robot vacuum cleaner. They are great for areas with no obstacles like furniture, stairs, and chairs. Their cleaning capabilities and list of features increase with each new model, but their price tends to go up as well. For more about robotic vacuums, feel free to check out our Robotic Vacuum Cleaners article.
There are also other cordless vacuums that don't fall strictly into any of the given categories. But some are versatile and do their job well. Most of such vacuums are so-called '2-in-1' or 'all-in-1' models. They usually cost a little bit more than ordinary cordless vacuums, but their features and energy efficiency more than justify their higher asking price.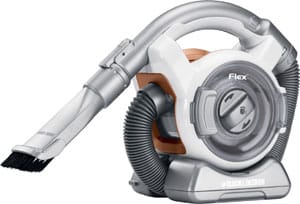 For example, some stick models are in fact small cordless vacuums with the addition of a "stick". The quality of exhaust filtration depends on the price. Most cordless models have simple mechanical, washable filters between dirt bins and electric motors.
Some high-end models combine cyclonic air-particle separation and HEPA filters providing clean exhaust air. This is very important for people with allergies and similar health issues. As with everything in the file, such performances influence the price of said cordless vacuums.
Battery Types
The onboard battery provides the energy required for cordless vacuum operation. Their capacity limits the operating time and power of the vacuum cleaner, but also the price and the overall weight.
Most common battery types are:
Lead acid batteries
Older cordless vacuum cleaners or lightweight vacuums tend to require this type of batteries. They are very cheap, can withstand high discharging currents, but they're also heavy. Lead acid batteries have a capacity between 35 and 40 Wh/kg, which drops significantly when discharged with higher currents. Even deep cycle lead acid batteries suffer from this issue. Not an environment friendly technology in the slightest.
Nickel cadmium (NiCd) batteries
These have higher relative capacities than lead acid batteries and can withstand high discharge currents. They don't lose capacity as much as lead acid batteries when being discharged with higher currents and they're relatively cheap. However, due to the memory effect, many manufacturers are considering replacing them with NiMH batteries altogether.
Nickel metal hydride (NiMH) batteries
They're environmentally friendly batteries that have capacities up to 130 Wh/kg or even more in some cases. High discharge models easily produce 80 or more Wh/kg. Their memory effect and self-discharge issues are not so problematic as with NiCd batteries and even environmentalists tolerate them much better than the previous types of batteries we've presented so far.
Lithium batteries
These produce up to or even more than 200 Wh/kg, with high discharge models producing 120-150 Wh/kg. The downside is that these batteries also come with a higher price tag, and vacuums that require them also cost slightly more than other types of cordless vacuum cleaners.
For more about batteries used in cordless vacuums, feel free to check out our Vacuum Cleaner Battery Types article.
How to Choose the Best Cordless Vacuum Cleaner
It all comes down to individual preferences and requirements, as well as the price you are willing to pay for a cordless vacuum cleaner.
For example, the Dyson V6 Absolute Cordless Vacuum Cleaner is a great, versatile, high-end cordless vacuum, but if you need something smaller and cheaper with good air filtration, then the Black & Decker CHV1510 Dustbuster 15.6-Volt Cordless Cyclonic Hand Vacuum might be a better option.
We could go on with endless comparisons. Define the budget you want to spend on a cordless vacuum cleaner and buy the best one in the class. And the best doesn't always have to be the most expensive. Be sure to read our reviews and recommendations, but also reviews and recommendations from other people and think twice if that is what you actually need before buying. Right now, let's look at a few cordless vacuum cleaner models that you might want to check out:
Examples of Good Cordless Vacuum Cleaners
Now that we've got the basic information and specs out of the way, let's take a look at some models that caught our attention. As far as we're concerned, these are the best cordless vacuum cleaners on the market as of right now:
JASHEN V16 Cordless Vacuum Cleaner, 350W Strong Suction Stick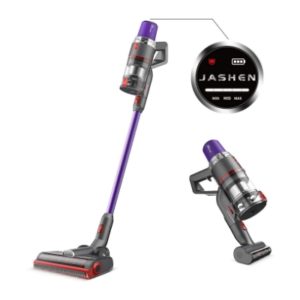 For a decent price, great specs, and mostly positive user reviews, you should check out the JASHEN V16 Cordless Vacuum Cleaner.
With a brushless digital motor and 350W of suction power, this model even matches the performance of traditional, corded stick vacuums with ease.
As far as batteries go, it has a seven-cell lithium ion battery that can last up to 40 minutes even on the highest suction settings. Also, the JASHEN V16's battery is easily removable in case you'll ever need to use a spare or completely replace it.
Furthermore, it has a four-stage fully-sealed filtration system that can trap up to 99.99% of all fine dust. And as far as convenience goes, you can hang it on a wall mount for easy storage and charge it using the special dock.
Pros
Suction power is awesome and revving it up to the max doesn't seem to shorten the battery time by much
LED screen that shows you battery power, time left, and other useful information
Extremely easy to empty whenever needed, even without consulting the manual
This vacuum has multiple chambers to increase filtration efficiency
Cons
Not as maneuverable around tight corners as Dyson or other more well-known brands
A few users complained that they received their package with missing pieces
Verdict
The JASHEN V16 Cordless Vacuum Cleaner is an overall great purchase for anyone looking to clean their apartment without having to limit themselves to a power plug.
We also like that switching between the Hard floor mode and Carpet floor mode is easy and intuitive. Also, at just 5.5 pounds, even children or elderly people can use this cordless vacuum easily.
APOSEN Cordless Vacuum Cleaner, Upgraded 24000pa Stick Vacuum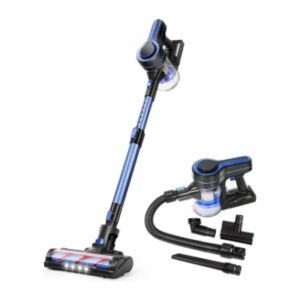 Featuring powerful HEPA filtration, sponge filtration, and a stainless steel mesh filter with cyclone technology, the APOSEN Cordless Vacuum Cleaner does a magnificent job at cleaning.
Its battery can last up to half an hour of cleaning time and it takes about 4.5 hours to fully charge. Not an ideal situation, but as far as cordless vacuums go, it's decent. With an ergonomic handle and ultra-light design, you'll be able to use it without straining your back.
Even better, the APOSEN Cordless Vacuum Cleaner's 18,000-turn digital motor performs well on all floor types and allows the vacuum head to turn flawlessly around tight corners.
Pros
Motorized Head saves 25% using-time than ordinary Rug Brush Head or Turbine electric floor brush
Filtration accuracy of PM0.1 which captures 99.99% of all the microscopic dust
The company's customer service is excellent as pointed out by numerous reviews
Excellent price for a good quality cordless vacuum cleaner
Cons
A few buyers complained that it stops working as well after a few months
Some people pointed out that you have to manually plug a cord in the battery to charge it instead of placing it in a dock
Verdict
The APOSEN Cordless Vacuum Cleaner is cost-effective and energy-efficient so you can get the most out of it with minimal spending.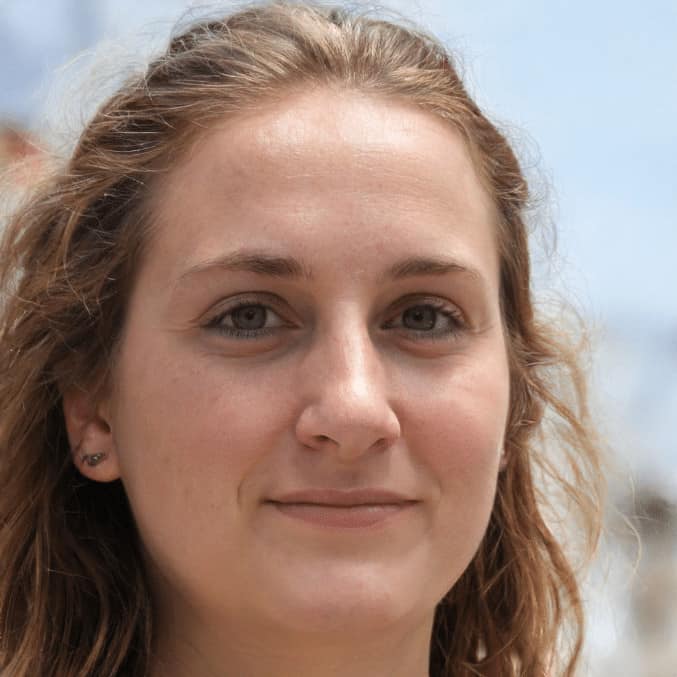 With a degree in engineering, Kathryn Hansen loves to write about how things work. Having her own dilemmas on how to pick the best vacuum cleaner for her large family (with a handful of furry four-legged members as well), Kathryn decided to help others in the same situation. After all, vacuum cleaners are critical to a healthy lifestyle and people have a hard time choosing the best one for their needs.