Ridgid 1400RV 14 Gallon Wet/Dry Vacuum with Cart is a strong and durable, corded, bagless wet-dry vacuum cleaner with 14 gallons (53 liters) drum capacity. Unit comes with flexible cleaning hose, several cleaning attachments, excellent air filter and it has several other features that make it one of the most desirable industrial, contractor or workshop vacuums. And it is also budget friendly pro vacuum!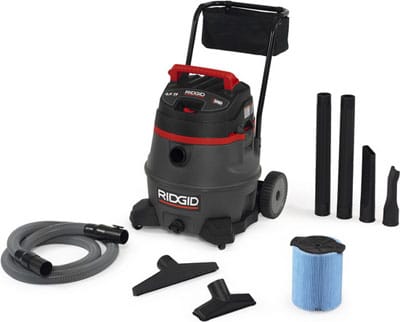 Ridgid 1400RV 14 Gallon Wet/Dry Vacuum with Cart is powered using 6 pHP (Peak HP) motor. Motor is designed to be strong and durable and to withstand everyday use and abuse in industrial, contractor, workshop etc. applications.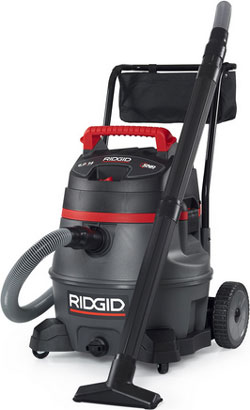 Motor requires 120V and 11.5 Amps of power. Unit comes with 20 feet (6.1m) long power cord, but it has no power cord automatic rewind system. Instead, power cord is manually wrapped around carrying handle on the top of the drum.
If longer reach is required, one can use extension cord. To reduce energy loss, if extension cord is 25 to 50 feet long, go for 14 gauge (AWG) cables. 12 gauge cables are required for 50 feet or longer extension cords.
In any case, don't use cables thinner than 14 gauge.
2 piece drum is made using polypropylene and in combination with cart push handle, carrying handle and large rear wheels enable the unit to traverse rugged floors and to be transported up and down the stairs, if and when required.
Ridgid 1400RV comes with sound reduction technology, so-called 'Scroll Noise Reduction' patented technology which provides relatively low noise operation. For short, unit is not quiet during operation, but it is far from being as aloud as jet fighter taking off! 🙂
However, when working for longer periods of time in closed area, it is recommended to have some sort of hearing protection.
This is not lightweight residential vacuum cleaner – unit weighs 28.5 pounds (almost 13 kg) and having in mind that its capacity is 14 gallons (53 liters), half full unit can weigh up to 80 pounds! Even workers used to carry around heavy equipment must be careful when maneuvering with that weight. Again, it has large rear wheels and both carrying and cart push handle, so it can be pushed/pulled/carried when required.
To empty the waste liquids, oversized drain port is located on the lowest point of the drum.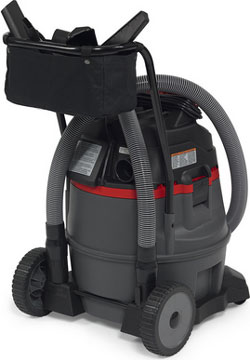 Also, one of the very interesting features of Ridgid 1400RV unit is that it also doubles as leaf and dirt blower with 143 CFM capacity.
When it arrives, the unit must be assembled. Before assembly, and before first use, be sure to read the manual/instructions, to get yourself familiarized with the unit.
Additional cleaning attachments include: 2 solid extension wands, 2.5 inches (6.35 cm) diameter and 8 feet (2.44 m) long premium locking extension hose, utility nozzle, wet nozzle, crevice tool, and car cleaning nozzle.
Extension hose has smooth inner surface to reduce clogging and it is held firmly in place by locking mechanism, allowing the user to pull the unit along the cleaning path – just don't pull to much, or the unit can tumble over.
With long extension hose, solid extension wands and several cleaning nozzles, one can clean various surfaces and every imaginable type of dirt from the floor to the ceiling. Just be careful when cleaning the stairs due to the size and weight of the unit. Also, cleaning from the ladders is not recommended with this unit – personally, I would forbid it!
Note: if you have need to clean from the ladders, get yourself a smaller commercial unit with shoulder strap, like Oreck Commercial BB900DGR or DEWALT DCV581H wet-dry vacuums.
Accessory bag help the user to keep the attachments close by to be used when required.
Is Ridgid 1400RV Bagged or Bagless Unit?
Actually, it is both. For normal day-to-day applications, it can be used as bagless unit.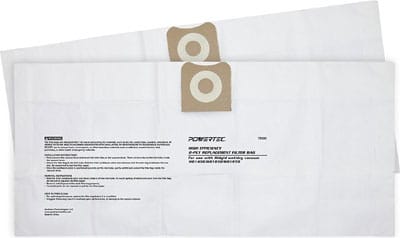 However, there is an optional high efficiency filter bag, which can be placed inside of the drum and can help with collecting and disposing of the removed dirt.
Such filter bags are commonly used for workshop applications, where units like this one are used to collect sawdust and other similar dirt off the saw, router, planer and similar tools and machines. Of course, it can be used as the regular workshop vacuum cleaner, too.
For more details about these filter bags, check POWERTEC VF3502 High Efficiency Filter Bags Amazon link (link opens in the new window).
When filter bags are used, they help main air filter in removing the fine dust particles from exhaust air.
 Ridgid 1400RV Air Filters and Air Filtration
Regardless if the unit is used as bagged or bagless, air filtration is very good. It has to be, since fine dust particles are often found at construction sites and workshops.
Unit comes with 'Qwik Lock Filter Fastening System', enabling the user to install or remove air filter quickly without the use of any tools or fasteners.
Since clean filters cause lesser pressure drop, keeping filter clean is very important for normal operation.
When vacuuming dry dirt, air filter must always be in correct
position to lower the risk of dirt leaks and possible damage to vacuum cleaner.
Filters are washable and reusable, which reduces the operating cost of the unit. However, wet filter clogs easily, especially when fine dust is cleaned. Thus, after cleaning be sure to let the filter dry out completely. Having several filters can help – one filter is in use, second filter is dry and waiting to be used when required and third one is drying out.
When cleaning small amounts of wet dirt, filter can be left in place.
However, when cleaning up large amounts of liquids, it is recommend to remove the air filter. If it is not removed, the filter will become saturated with moisture/liquids, causing larger pressure drop on the air filter and reducing the vacuuming performances. Also, misting may appear in the vacuum's exhaust.
Note: when the unit arrives, read the manual, it can really helpful! 🙂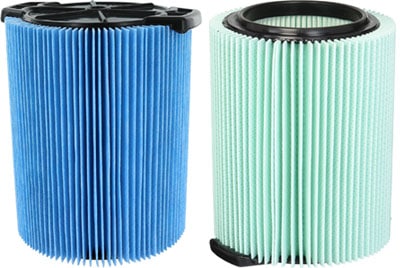 Ridgid 1400RV comes with standard VF5000, 3-layer air filter (left in the upper picture), suitable for eliminating fine dust, dirt, sawdust, cold ashes, and other fine powders commonly found in workshops and construction sites.
However, there is also a 5-layer air filter, Ridgid VF6000 OEM replacement part (right in the upper picture). This air filter is true HEPA grade filter, removing 99.97% of 0.3 microns or larger particles and is recommended for collecting very fine air particles like allergens, common dust, dirt, drywall dust, cement dust, sawdust etc. This filter is also washable and reusable.
For more details about these air filters and their use, check Ridgid VF5000 3-Layer Vacuum Filter and Ridgid VF6000 5-Layer Vacuum Filter Amazon links (links open in the new windows).
---
Long Story Short – Ridgid 1400RV 14 Gallon Wet/Dry Vacuum with Cart is one of the best buy commercial, workshop, construction etc. wet/dry vacuums on the market. It has very good suction, number of cleaning attachments, has very good air filtration (even excellent if HEPA filter is used), large capacity, strong construction etc.
And its price is also budget friendly 🙂
For more reviews and recommendations, check Ridgid 50348 1400RV Wet/Dry Vacuum with Cart, 14 gal Amazon link (link opens in the new window).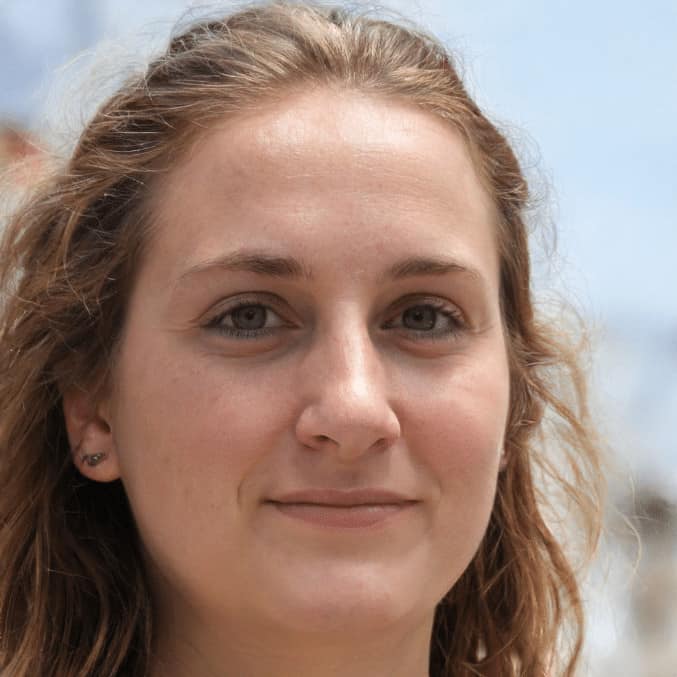 With a degree in engineering, Kathryn Hansen loves to write about how things work. Having her own dilemmas on how to pick the best vacuum cleaner for her large family (with a handful of furry four-legged members as well), Kathryn decided to help others in the same situation. After all, vacuum cleaners are critical to a healthy lifestyle and people have a hard time choosing the best one for their needs.