DEWALT DCV581H 18/20-Volt MAX Cordless/Corded Wet-Dry Vacuum is very versatile, industrial grade and quality vacuum cleaner. It can be operated corded or cordless, it can pick dry and wet debris and to protect air that user breathe and to protect motor, it features washable, HEPA grade filter.
DEWALT DCV581H Short Presentation
DeWalt DCV581H has features that are rather uncommon for 'ordinary' home cordless vacuums.
First of all, it is not the lightest vacuum cleaner – it weighs around 9.1 pounds (around 4.1 kg) and when in use, it is held by one hand (or it is on the floor), while other hand cleans the area with cleaning hose. However, it is very sturdy and durable unit – casing is much stronger than casing of many other, larger and more expensive vacuums.
Unit dimensions: 17.2×12.3×13.1 inches – 44x31x33 cm.
Unit can operate corded using an AC outlet, or cordless using an 18V or 20V MAX battery or even older DeWalt 18V XRP NiCd batteries.
DEWALT DCV581H Pros
DCV581H vacuum is equipped with HEPA rated filter which traps up to 99.97% of small particles that would otherwise be released back in the cleaned area – if the filter can cope with construction sites' dirt and debris and clean the air efficiently, it can clean home dirt and debris easily.
HEPA filter is not cheap, but it is washable and reusable – when cleaning it, be very careful not to damage it. Use plenty of water to gently flush the dirt out. If you use compress air to clean it, don't use more than 50 psi (~3.5 atm), otherwise you could easily damage protective membranes, making the filter useless.
Vacuum has crush-resistant, 5 feet (~1.5 m) long and 1.25 inch (3.2 cm) diameter hose. At first look, hose could be longer, but in most situations, vacuum is held in one hand and hose in another, making 5 feet hose more than long enough. Vacuum can operate as blower, too, providing 33 CFM (cubic feet per minute).
DeWalt DCV581H comes with a crevice tool and a wide nozzle cleaning tool.
Dirt bin capacity is 2 gallons (~7.5 liters).
Very important note: Battery and charger are sold separately. Again, this is industrial grade vacuum cleaner and DeWalt, as manufacturer, sells many cordless tools (cordless drills, for example) which use standard size DeWalt's batteries. So, if you already have DeWalt's 20V MAX lithium ion battery and charger, DeWalt DCV581H vacuum cleaner will actually come very cheap. However, if you don't already have these batteries and chargers, and you don't need industry grade vacuum cleaner, for money required for DeWalt DCV581H AND the battery AND the charger, you should check first excellent Dyson V6 cordless vacuum cleaner – Dyson V6 comes in many versions with various cleaning attachments suitable for home use.
If you do need this type of a vacuum cleaner, having batteries and chargers or not, consider DeWalt DCV581H – it is robust, durable, corded or cordless, can pick dry and wet debris, has good suction and excellent air filtration.
DEWALT DCB101 12-Volt MAX and 20-Volt MAX Li-Ion Battery Charger

DeWalt DCB101 Lithium ion battery charger charges all DeWalt 12V and 20V MAX Li-Ion batteries in 1 hour or less.

Charger has diagnostics with LED indicator which shows battery and charge status including charged, charging, power line problem, replace pack, and battery too hot or too cold.

Charger comes with 3 year warranty.

For more reviews and recommendations, check DEWALT DCB101 Battery Charger Amazon link (link opens in the new window).

 

DeWalt Wet/Dry Vacuum Replacement Filter

This is the original DeWalt wet and dry vacuum cleaner replacement filter. It fits DCV580 and DCV581H vacuums. As said before, it is HEPA grade air filter which traps 99.97% of particles as small as 0.3 microns. It is washable and reusable filter, but when washing and cleaning it, be careful and gentle, since membranes are rather delicate.

Non-oems filters are cheaper, but personally, not recommended.

For more reviews and recommendations, feel free to follow DeWalt Wet/Dry Vacuum Replacement Filter Amazon link (link opens in the new window).

 

DeWalt DCB204 20V Max Premium XR Li-Ion Battery

These DeWalt batteries are compatible with the entire line of DeWalt 20V MAX Tools and can be used by DeWalt DCV581H vacuum cleaner.

They are rated at 4 Ah and can provide plenty of power, for long period of time – almost long enough for one battery to fully charge, while other is constantly in use in the vacuum itself.

Batteries have the 3-LED indicator system which gives immediate feedback on the state of their charge level. Being lithium ion batteries, they feature practically no memory effect and almost no self-discharge.

Individual packs weigh around 1.42 lbs (~0.64 kg), adding to the weight of the vacuum cleaner.

For more reviews and recommendations, feel free to follow DeWalt DCB204-2 20V Max Premium XR Li-Ion Battery, 2-Pack Amazon link (link opens in the new window).

 

DeWalt DCB205 20V MAX XR 5.0Ah Lithium Ion Battery

These batteries are very similar to DCB204 batteries, except that they have even larger capacity – 5 Ah. These lithium batteries can be fully charged, while vacuum cleaner is in full use, using another battery.

However, they cost more.

These batteries also have the 3-LED indicator system which gives immediate feedback on the state of their charge level. They also practically have no memory effect and almost no self-discharge.

For more reviews and recommendations, feel free to follow DeWalt DCB205-2 20V MAX XR 5.0Ah Lithium Ion Battery, 2-Pack Amazon link (link opens in the new window).
Note that DCB204 and DCB205 are high-end lithium batteries and they are designed to power much stronger cordless tools. If you don't require 4 or 5 Ah batteries, there are similar batteries with lower capacity, that are also cheaper, but provide shorter cordless operating time.
And few cons about the DeWalt DC581H …
DeWalt DC581H is good vacuum cleaner in its class that comes at great price. However, there are things that could be better. Perhaps they will be rectified in subsequent sub-models of DCV581H, but at the moment of writing this review, they are not.
The battery compartment is rather exposed, which is not the best idea for wet/dry vacuum. However, although rated for wet/dry dirt, it is not designed for use in the rainy conditions! But, protection of battery compartment could be better.
There is no way to attach a shoulder strap – this is very important since one needs both hands to carry vacuum around and to use the hose. Imagine yourself on the ladder, vacuuming something using this vacuum – not recommended activity 🙂
Also, there are no transport wheels. DCV581H is not heavy unit, but shoulder strap and transport wheels are not rocket science and their addition would not increase the price, nor make things weaker or more complicated.
Top of the vacuum is not a flat – handle is not retractable. This way, nothing can be stored or positioned on the vacuum (not even a handful of papers, for example). Also, exposed handle is easier to get hit with some other tool or foot and get damaged.
Power cord could be longer – 1.5 feet (~1.5m) power cord (hose is also 5 feet long) is simply too short, except for connecting to extension cord. Even for that, it is sometimes too short.
Conclusion about DEWALT DCV581H
Long story short – DeWalt DCV581H is very useful vacuum cleaner with many pros and few cons that one must be aware of.
For more reviews and recommendations, feel free to check DeWalt DCV581H Vacuum Cleaner Amazon link (link opens in the new window).
Note: if you need similar device in this price range for home use, consider corded Shark Rocket 3xx vacuums or cordless Dyson V6 vacuums before DeWalt DCV581H – I really respect DeWalt tools and DCV561H is excellent vacuum cleaner for construction sites or workshops, but for home use, there are simply better vacuums out there…
Products similar to the DEWALT DCV581H
Dewalt DCV580H 18/20V MAX Cordless Wet-Dry Vacuum
The Dewalt DCV580H is a completely cordless wet-dry vacuum that, like all Dewalt products, does a fantastic job.
It has a 5-foot fully-integrated hose, a HEPA wet-dry filter, 2-gallon tank capacity, and a decent accessory storage compartment. We like that it's a heavy duty, crush-resistant unit that is more than capable of handling even the greatest of tasks. Using it in a construction site environment or in a workshop is easy peasy.
It's compatible with all Dewalt's 18V or 20V batteries, and you can even get third-party replacements as well, regardless of amps. This makes is highly versatile and convenient for people who need to work fast and hard or for people who have a tendency to forget their accessories at home. As long as your workshop has spare batteries, you'll most likely find one that works with the Dewalt DCV580H.
You can check out the Dewalt DCV580H here. Likewise, for a more comprehensive description, you can see the user reviews here.
DeWALT Portable 4 gallon Wet/Dry Vacuum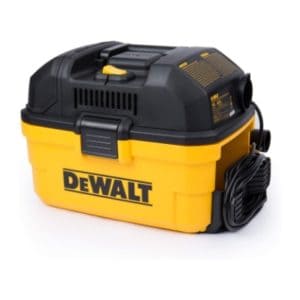 Yet another portable wet/dry vacuum from Dewalt, this 4 gallon model has a toolbox design that makes it convenient to carry at any job site imaginable.
Like the previous model, it has onboard vac accessory storage that provides an easy location for all attachments, including the extension wand. Now you won't have any excuse to forget your accessories and attachments at home since you can keep them all in the same place.
Another thing we like about the DeWALT Portable 4 gallon Wet/Dry Vacuum is that it has an extremely powerful 5 horsepower motor. As you can imagine, it has enough power to suck all liquids and solids, including considerably large debris. With 90 CFM airflow, you'll rarely, if ever, have problems with said debris getting stuck through the hose.
Furthermore, it has a 20-foot long power cord, so even though it doesn't support batteries, it's highly unlikely you won't be able to reach all the places that you need to clean. And even better, the ultra flexible hose extends up to 7 feet to reach almost all nooks and crannies. Finally, it has a washable and reusable filter that remains reliable for a very long time. And, as the title suggests, it's good for both wet and dry dirt, so, again, no trouble using it in any construction site.
You can find more details as well as purchase the DeWALT Portable 4 gallon Wet/Dry Vacuum here. As for even more detailed user reviews, check out the page here.
DEWALT 20V MAX Cordless Vacuum
You can get the Dewalt 20V Max Cordless Vacuum in two variants: either a vac kit or with a cordless starter kit.
It has a HEPA wet/dry filter that traps 99.97% of dust at 0.3 microns so you won't have to worry in case you have allergies or asthma. Speaking of the filter, you can clean it by simply rinsing it in tap water. No need for extra effort or cleaning tools to get the job done. It's reusable and very easily washable, as you can probably tell.
You also get Dual clean-up modes with either the front utility nozzle or with an extendable heavy duty rubber hose. What we don't like as much is that the tank only has a half-gallon capacity, so you won't be able to clean all that much with it until it needs to be emptied. However, the tradeoff is that the unit weighs less than five pounds and it's completely cordless, so your range isn't limited by anything other than the battery's life.
You can read more about it here, and check out the user reviews here.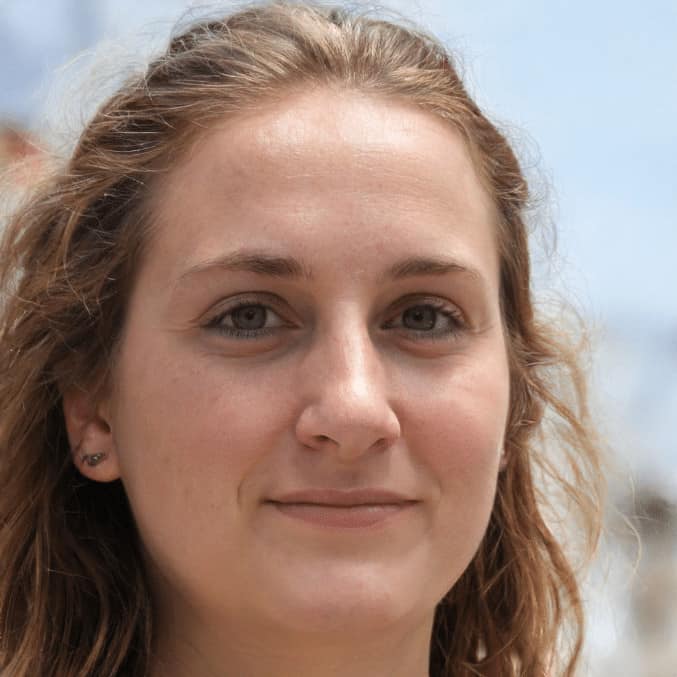 With a degree in engineering, Kathryn Hansen loves to write about how things work. Having her own dilemmas on how to pick the best vacuum cleaner for her large family (with a handful of furry four-legged members as well), Kathryn decided to help others in the same situation. After all, vacuum cleaners are critical to a healthy lifestyle and people have a hard time choosing the best one for their needs.