Shark Rocket PowerHead (AH452) is a strong and durable floor vacuum cleaner. It is often described as a combination of upright and stick vacuum cleaner, but personally, it looks more like a robust carpet/floor sweeper. But, it is much more than that.
Shark Rocket PowerHead AH452 Features and Specifications
Shark AH452 is designed for cleaning both hard floors and carpeted areas.
It comes with 2 interchangeable brushrolls: a Deep Cleaning All Surface brushroll and a Gentle Touch Hard Floor brushroll. Brushrolls access is via the so-called 'Brushroll Garage'. Both brushrolls are removable and rinseable.
Note that a Deep Cleaning All Surface brushroll is suitable for carpets (high and low speed) and bare floors (low speed), so that the user doesn't have to change the brushrolls with every surface change. Also, a Gentle Touch Hard Floor brushroll can be used on both carpets and bare floors using both speed settings, just its cleaning effect on carpeted surfaces will not be as good as cleaning of the Deep Cleaning All Surface brushroll.
While one of the brushrolls is in the unit, the other brushroll can be stored in an onboard brushroll storage holster.
Shark AH452 is powered using a 600 W motor. Thanks to the design, the suction motor is very close to the brushroll and the cleaning nozzle, with very low energy losses due to the air flow passing through the unit.
The dust cup is of pop-up design and can be quickly removed for faster cleaning.
To help with easier storage and for easier use, the telescoping wand has several possible positions. Note: when the unit is turned on, suction motors start right away, but the brushrolls will not spin until the wand with the handle is not pulled back and down.
LED headlights help the user with cleaning in low light conditions. LED lights are very important in the units with such low profile since they are easily pushed under the furniture, beds, and other similar objects, and when spotting the dirt and other smaller and even larger objects would be hard without LED headlights.
Shark AH452 weighs 9 pounds and perhaps could be lighter. However, 8 pounds of the unit is close to the floor, resting on wheels. Swivel steering combined with such design means that Shark 452 can easily access floor areas that are sometimes hard to reach for full size uprights and even stick vacuums.
However, Shark AH452 comes without other cleaning attachments and without a flexible cleaning hose – such a design is suitable for cleaning of the floors and other similar flat surfaces. This unit is not suitable for cleaning upholstery, furniture, and similar elevated surfaces.
Due to design constraints, Shark AH452 doesn't have an automatic power cord rewind system. But, it comes with a very respectable 30 feet (~9.1 m) long power cord. Such a long power cord and 10.6 inches (~27 cm) wide cleaning path enable the user to quickly clean a large area without changing the wall power outlet.
Unit controls are on the handle and are very simple – two speed settings for optimized fast and slow brushroll spin. It is good to know that vacuuming thick carpets and area rugs with constant, strong suction can cause difficulties in moving the unit back and forward. To avoid such issues, suction itself can be decreased using a suction release valve on the cleaner powerhead itself. When the slid is open, it reduces the suction of the unit and thus reduces the force that is required to push/pull the unit around. A nice and important feature, but personally, I would prefer electronic suction regulation.
Shark AH452 is an easily usable unit as long as you take the time to read the manual's instructions that come with it. The manual explains several specifics of the AH452 vacuum cleaner. Better safe than sorry.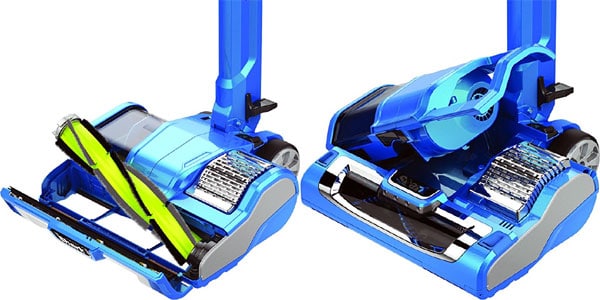 Unit dimensions: 44.9" tall x 12.6" deep x 12.2" wide (114 cm tall x 32 cm deep x 31 cm wide).
Air filtration is done using pre and post-motor mechanical (foam, felt) filters. Shark AH452 doesn't have HEPA grade air filtration, but nonetheless, air filtration is good. After the first use, filters can change the color, but they are washable and are designed to last the lifetime of the vacuum. Should something happen to the filters, replacements can be easily ordered online.
Warranty: Shark AH452 comes with 5 years limited warranty – a much longer warranty period when compared with similar units.
Shark Rocket PowerHead AH452 vs. Bissell 1984 AirRam Cordless Vacuum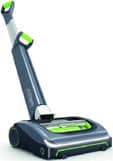 The main difference between Shark AH452 and Bissell 1984 is that the Bissell model is a cordless unit and thus better suited for emergencies and smaller, quick cleanups.
Shark AH452 has stronger suction and two different brush rollers, while Bissell 1984 comes with one brush roller and one brush roller plug – for cleaning without a brush roller.
The maximum operating time of Shark AH452 depends on the availability of mains power, while Bissell 1984 requires charged batteries – when the unit is needed, it can be used right away.
The maximum operating time of Bissell 1984 is up to 20-25 minutes, depending on the battery charge and floor type.
Both units are lightweight and easy to maneuver and come with transparent dirt cups and LED headlights.
Long Story Short – Shark AH452 is a very good and rather affordable floor vacuum cleaner. It is a bagless unit with very low maintenance costs and comes with a 5-year limited warranty.
If you have large floor surfaces that require frequent cleaning, consider this unit – it can save you plenty of time and even some money.
For more reviews and recommendations, check Shark Rocket PowerHead (AH452)
Amazon link (link opens in the new window).
Similar Products to the Shark Rocket PowerHead AH452
Kenmore Intuition BU4022 Bagged Upright Vacuum Cleaner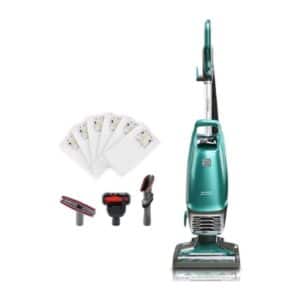 The Kenmore Intuition's lift-up system enables versatile handheld freedom to clean above floors and stairs. Simply press a button to lift away from the floor nozzle to clean all of your hard to reach areas. While this unit does have a dirt bag, it's not one of those traditional ones where you have to get your hands dirty. Instead, it's a touchless model that you can empty by simply pressing a button on the vacuum's exterior.
One more thing worth noting about the Kenmore Intuition BU4022 is that it comes with a five-year warranty, so you can rest assured that your investment will be covered in case of any manufacturer defects. And probably best of all, it has high-endurance HEPA filtration to keep dust and other allergens tightly sealed within its bag.
Prolux 2.0 Powerful Wall Mountable Bagless Garage Vacuum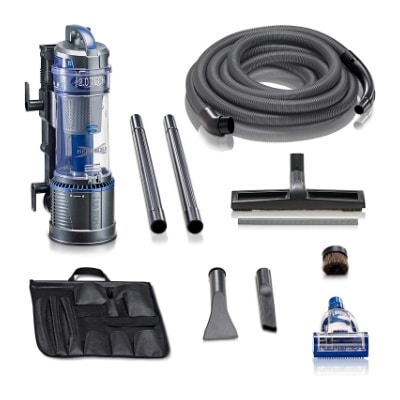 Do you know how many cubic feet per minute of airflow this vacuum produces? 125. Quite impressive for a vacuum coming from Prolux, and one priced just like many far less impressive units.
Quality materials and dual HEPA shield filtration prolong the longevity of this unit and keep all the dust inside your vacuum. The Prolux 2.0 also includes a wall-mountable 30-foot crush proof hose and tool bag to keep everything neat and organized. And just like with the previous model from Kenmore, Prolux is also offering a five-year warranty with each purchase of this particular vacuum cleaner.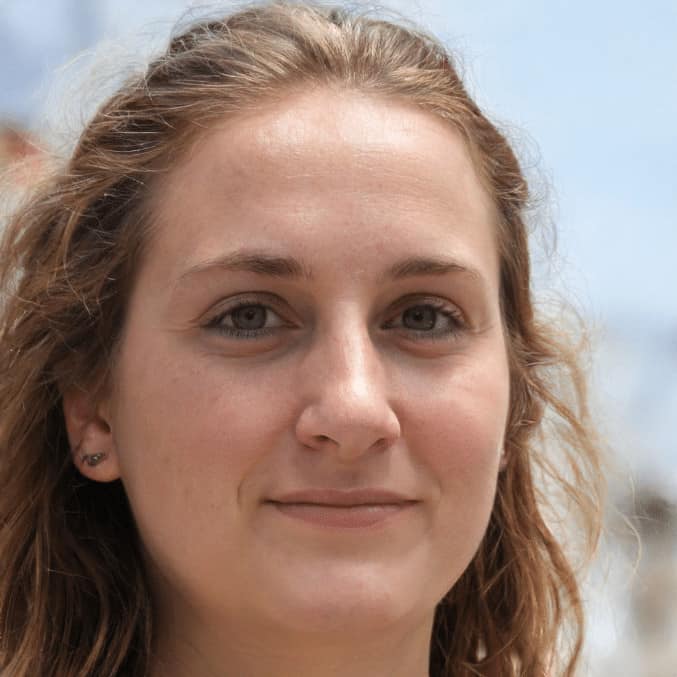 With a degree in engineering, Kathryn Hansen loves to write about how things work. Having her own dilemmas on how to pick the best vacuum cleaner for her large family (with a handful of furry four-legged members as well), Kathryn decided to help others in the same situation. After all, vacuum cleaners are critical to a healthy lifestyle and people have a hard time choosing the best one for their needs.