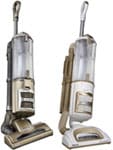 Shark Navigator DLX (NV70) and Shark Navigator Professional (NV80) vacuum cleaners are upright, bagless vacuum cleaners that come with excellent air filtration, large dirt bin capacity, very useful cleaning tools and additional cleaning hose for extended reach. They are also insanely lightweight and easy to maneuver.
Shark Navigator DLX (NV70) vs Shark Navigator Professional (NV80): Side-by-Side Comparison
The Shark Navigator DLX NV70 and the NV80 vacuum cleaners look very similar, and they have similar specifications and features:
Anti-Allergen Complete Seal Technology with

HEPA filtration,

large dirt bit which opens on the bottom,

swivel steering,

additional hose for extra reach,

never lost suction technology,

and pet cleaning tools.
However, there are some differences, too.
The Shark NV80 comes with 2 cleaning wands (one with a handle and an extra wand without handle).

Meanwhile, the Shark DLX NV70 model comes 'only' with a wand without handle.

Also, the provided Pet Power Brushes are different, with NV80's Pet Power Brush being slightly wider.

Colors are different, too.
The main features and specifications of both models are given in the table below.
Specifications
Shark Navigator DLX (NV70)
Shark Navigator Professional (NV80)
Photo

 

Filtration

HEPA
HEPA
 Dirt Bin Capacity
2.4 quarts (2.27 l)
 2.4 quarts (2.27 l)
 Cleaning Path Width
9.25 inches (~23.5 cm)
9.25 inches (~23.5 cm)
 Power
1200 W – 10 Amps
1200 W – 10 Amps
 

Weight

18.6 lbs (~8.4 kg)
18.6 lbs (~8.4 kg)
 Cord Length
25 ft (~7.6 m) or 30 ft (~9.1 m)
 30 ft (~9.1 m)
 

Dimensions (WxDxH)

11.5×9.5×47 inches (~29x24x119 cm)
12.2×11.4×45.6 inches (~31x29x116 cm)
Cleaning Tools
Pet hair brush, dusting brush, crevice tool
 Crevice tool, dusting brush, wide upholstery tool, 16-inch extension tube
Price
Shark Navigator DLX (NV70)
Shark Navigator Professional (NV80)
Note: We have really tried to verify every single piece of information in this table, however, some data varies even on the Shark official site. Before buying, be sure to verify actual data of your model, since they can change over time without prior notice.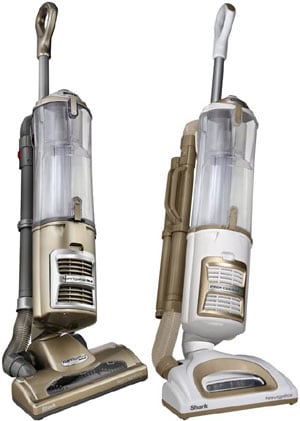 Both models have the 'Swivel Steering' feature along with soft rubber wheels, which make them very maneuverable around obstacles and hard-to-reach places.

For cleaning hard to reach areas, each vacuum cleaner swivels back and down, enabling the cleaning head to move and clean even under the furniture.
If that is not enough, both models come with a stretch hose, with the NV80 having an additional 36 inches (91.5 cm) with the hose extender and an extra 15 inches with the crevice tool on, making both models (and especially the NV80) suitable for cleaning elevated surfaces.
The Shark NV70 and NV80 don't come with an automatic cord rewind system. The cord length of the NV70 is either 25 or 30 feet, while NV80's cord is 30 feet long.
Both vacuum cleaners consume around 10 Amps during operation.

There are 2 motor systems – one motor for creating suction and a second motor for the motorized brush roll. The second motor can be easily switched off when cleaning bare floors.
The power switch is located near the top of the dust bin and it has three settings:
Off

Unit on with brush roller off

and Unit on with brush roller on (In this setting, the units will pick various hairs easily from carpets and rugs and clean them thoroughly.)
Although the bottom-release dirt bin is large, you should regularly clean it to avoid the build-up of odors and bacteria. Also, the brush roller picks hair very well, but some hair might get stuck to it so be sure to check the roller every few cleanings if you have pets or family members with long hair.
Both vacuums are sealed, with air filtration being made by two filters – one in front of the motor and one filter being behind the motor (relative to the airflow).

Both units are genuine HEPA vacuum cleaners, which is very important for people with asthma and allergies.
Speaking of which, it is critical to keep the HEPA filter in optimal shape if you or your beloved ones are prone to allergies or asthma. So, here are some of our best tips on how to clean a HEPA filter (in 4 easy steps).
Long Story Short
Both the Shark Navigator DLX NV70 and the Shark Navigator Professional aka the NV 80 are excellent and affordable HEPA upright bagless vacuum cleaners.
If you are considering a canister over an upright vacuum cleaner, keep in mind that these uprights also have long vacuum hoses (NV80 even has additional wand extension) for cleaning the ceiling, corners, tight places, stairs and similar, hard to reach areas and are incredibly lightweight.
Shark Navigator DLX vs Shark Navigator Professional: FAQs
How do you use Shark Navigator DLX?
The assembly and setting of the Shark Navigator DLX are simple. Once you laid the vacuum's body on a flat surface, you make sure that the electrical connection from the power nozzle into the main body slides and clicks into place. Then, of course, you must connect the hose from the body to the power nozzle. Remember to puh it with a slight turning motion in order to create a snug fit.
Which Shark vacuum is the best?
While the Navigator DLX is a great product, you may also want to look into the Shark Ninja Rotator Powered Lift-Away TruePet for pet hair or the Shark Navigator Lift-Away Professional for mixed flooring in your home.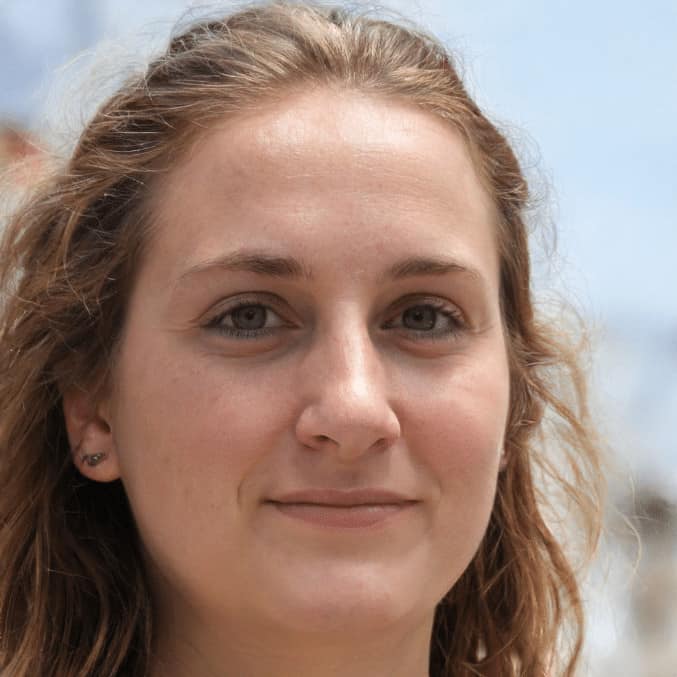 With a degree in engineering, Kathryn Hansen loves to write about how things work. Having her own dilemmas on how to pick the best vacuum cleaner for her large family (with a handful of furry four-legged members as well), Kathryn decided to help others in the same situation. After all, vacuum cleaners are critical to a healthy lifestyle and people have a hard time choosing the best one for their needs.