Dyson DC41 Animal Complete Bagless Vacuum Cleaner is a strong and expensive vacuum cleaner that comes with many features that make it a great candidate as the main home vacuum cleaner. The price tag is high, but as with many Dyson products, what you pay is what you get. Today, we offer you a Dyson DC41 Animal Complete Bagless Vacuum Cleaner review, highlight its tech-specs, and explain to you its main features.
As usual, make sure you understand vacuum cleaners' specifications before anything else. You should know more about how the vacuum cleaners work and what features you should be looking for when you are comparing features and prices for your next vacuum cleaner. Since we are here, we also have to tell you that there is a newer model available from Dyson – Dyson DC65 Animal Complete Upright Vacuum Cleaner.
Dyson DC41 Animal Complete Bagless Vacuum Cleaner Review
The Dyson DC41 comes with many features and options. Before using this (or any other similar product), be sure to check the manual. Don't skip the pictures that explain 'when, where, what, and how' to use a vacuum cleaner. Now, let's see what the Dyson DC 41 Animal Complete Bagless Upright Vacuum Cleaner can do.
Dyson DC41 Animal Complete Bagless Vacuum Cleaner Tech Specs and Features
Self-Adjusting Cleaner Head
The DC41 Animal Complete has an active base plate. It creates the optimum cleaner head contact for every floor type, reducing air leaks and retaining suction power on all floor types: wood, carpet, vinyl and tile. While there is a whole new generation of Dyson upright models that tend to replace the DC41 and the DC65, keep in mind that these units are very strong and can cover all your cleaning needs.
Extra Tools
The DC41 Animal Complete comes with a tool bag containing a Stiff Bristle Brush, Soft Dusting Brush, Multi-Angle Brush and Zorb powder. There's also a Combination Tool and a Stair Tool. The Combination Tool has a debris nozzle that converts to a brush tool for dusting. The Stair tool removes dirt and dust from corners and against the vertical edges of stairs.
Tangle-Free Turbine Tool
The Tangle-Free Turbine Tool has counter-rotating heads with integrated brushes for removing pet hair and dirt. Because there's no brush bar for hair to wrap around, more hair is released straight into the bin.
Instant Release High-Reach Wand
The DC41 Animal Complete has an instant release, a long-reach wand for cleaning stairs and hard-to-reach places – it stretches up to 5 times in length. There are no separate parts to assemble.
Captures Allergens, Expels Cleaner Air
The Dyson cyclones capture microscopic particles down to 0.5 microns in size, including pollen, mold, and bacteria.
Clear Bin Lets You See When It Needs Emptying
The bin on a Dyson vacuum cleaner is transparent so you can see when it needs emptying.
No Extra Costs
Other vacuum cleaners are often designed to need replacement bags and filters. Dyson vacuum cleaners don't have bags and have washable filters, so there are no extra costs to worry about.
Ball technology for upright vacuums
Dyson Ball uprights ride on a ball, which pivots on the spot so one can steer with a turn of the wrist. The ball also houses core technology, including the motor and ducting. There's less clutter, so it's easier to clean into awkward places, along edges, and around furniture. Note that access to such places is also often determined by the size of the cleaning tool.
Motorized brush bar
The stiff nylon bristles spin at up to 90 times per second to agitate carpet pile and dislodge ground-in dirt and pet hair. The brush bar can be turned off to protect delicate rugs and hard floors. The button is above the clear bin – no need to bend down to find it.
5-Year Warranty
DC41 Animal Complete comes with a 5-year warranty, parts, and labor. However, before purchasing this (or any other vacuum cleaner), check warranty terms and conditions. And after purchasing, register your vacuum cleaner. The easiest way is to use on-line registration.
What's in the box
The operating manual (read it before using a vacuum cleaner), Quick start guide (also read it, it can save you plenty of time in the long run), Product registration card (again, register your vacuum cleaner!), 5-year warranty, Combination crevice/brush tool, Stair tool.
What Else Should You Know about Dyson DC41 Animal Complete Bagless Vacuum Cleaner?
Here are some more tech specs you need to know about this Dyson vacuum cleaner:
Patented cyclone technology: Radial Root Cyclone technology
Suction power: 235 AW
Movement Type: Ball technology
Filter: Lifetime washable post filter (wash it at least once every three months)
Cleaner head: Motorized brush bar
Stair cleaning: Instant high reach wand
Bin capacity: 0.55 gallons (2 liters)
Dimensions: 42.4 x 13.4 x 15.4 inches (H x W x D) – 108 x 34 x 39 cm
Maximum reach: 51.7 ft (15.7m)
Cord length: 35 ft (10.7m)
Weight: 17.1 lbs (7.7 kg)
As one can see, the Dyson DC41 is strong and efficient vacuum cleaner packed with features that will help anyone to keep home clean and safe. Such features do come with a price, but if you use vacuum cleaner often, have large(r) area to clean, have kids and/or pets (dogs, cats, etc.), have problems with dust and allergens, etc, this upright vacuum cleaner might be right vacuum cleaner for you.
Well, there are a few things that some people might not like:
No cord rewind
The cord must be completely unwrapped to use attachments because the top cord hook is attached to the hose
Due to the use of ball technology, the vacuum cleaner is a little bit unstable in a standing position – easily falls over – so, be careful if your kids or pets are running around …
Owners of pets with long hair might find plastic parts too weak!
Verdict
The Dyson DC41 has a motor-driven brush assembly without belt and this motor should perhaps have better protection from hair and similar dirt. One more thing to consider if you have pets! This Dyson vacuum cleaner is a product you should definitely consider if you want a main vacuum cleaner for all the floor types in your home!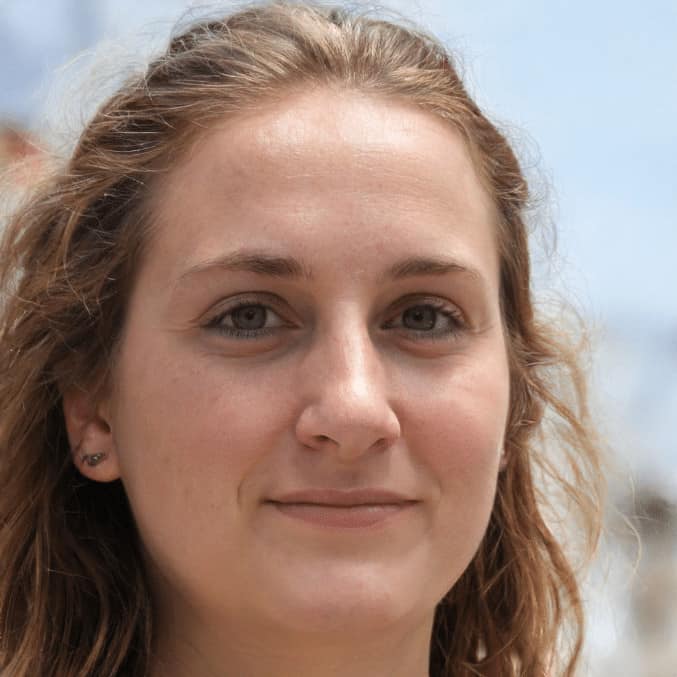 With a degree in engineering, Kathryn Hansen loves to write about how things work. Having her own dilemmas on how to pick the best vacuum cleaner for her large family (with a handful of furry four-legged members as well), Kathryn decided to help others in the same situation. After all, vacuum cleaners are critical to a healthy lifestyle and people have a hard time choosing the best one for their needs.