Dirt Devil Scorpion Quick Flip Corded Bagless Handheld Vacuum SD20005RED is very small hand held vacuum cleaner with great suction power. It is corded version of Dirt Devil AccuCharge vacuum cleaner, little bit heavier, but much stronger.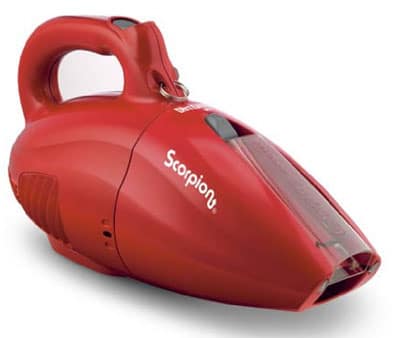 Design and Specification
– Powerful 7 Amp motor allows picking up messes other handheld vacuum cleaners leave behind like sand or pebbles
– The Quick Flip crevice tool cleans tight spaces fast – like in between couch cusions or car seats
– Other attachments (hose, dusting brush) are included to accomodate different cleaning needs
– Long 16 foot (~4.9m) power cord offers constant cleaning power – unlimited runtime when compared with cordless vacuum cleaners
– No bags or belts to buy ever thanks to the dust cup
– Light construction (3.45 lbs – 1.56 kg) for easy transportation and storage
– 3 year limited warranty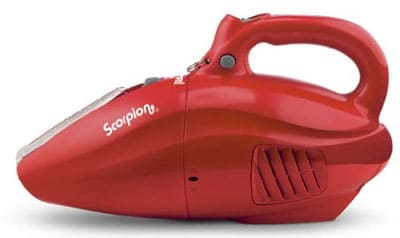 Dirt Devil Scorpion Quick Flip Corded Bagless Handheld Vacuum SD20005RED

Review and Recommendation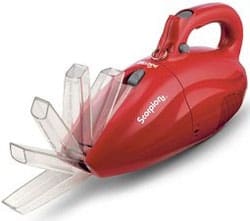 A conveniently located Quick Flip crevice tool is one of the best tools on vacuum cleaners around – it flips easily and enables cleaning surfaces that are often really hard to reach. This is very important when cleaning things like cars or boats.
On the other hand, this is corded handheld vacuum cleaner. Although 16 foot (almost 5 meters) is quite long, if your car is not in the garage, you will hardly clean your car with this vac. But, for cleaning hard to reach places in home or in emergencies (kids or pets anyone?), great suction power from such small vacuum cleaner will be highly appreciated.
The bagless design offers a quick and convenient solution for dirt disposal – clean up the dirt, open a vacuum cleaner and drop the dirt directly into the trash. On the other hand, there are no HEPA grade filters, but that would be really too much to expect from such small vacuum cleaner.
Note: capacity of dust bin is relatively small, so be sure to clean it after each use. Also, simple tapping of filter cloth is usually not enough for thorough cleaning of filter (OK, it is easy, but it do last little bit more than instructions say).
This is corded version of Dirt Devil AccuCharge 15.6 Volt Cordless Hand Vac – they are very similar in design, just one is corded other one is cordless.
Despite its size, this is very powerful vacuum cleaner and very – loud, at least for its size. That is the price of having so strong motor is so small package – there is no way of suppressing the noise. It is not like jet fighter taking off, but it is much louder than cordless handheld vacuum cleaners.
Wrapping cord around vacuum cleaner without it coming off is really hard thing to do (remember, you got 16 foot / 5 meters of cord). Also, vacuum cleaner hardly fits accessory bag.
Prolonged use – when used for longer period of time, vacuum cleaner can create odor of burning rubber or hair or dust … I am not sure if it is due to dirt going through filter and entering motor, or it is just something from motor, but it does happen. If you are going to use this vacuum cleaner for emergencies, great, but if you plant on cleaning entire rooms (yes, people sometimes do even that…), consider 'normal' vacuum cleaner for such jobs.
Long story short – very powerful little hand held vacuum cleaner that comes at great price. It does have its shortcomings, but one gets used to them very quickly. And to this vacuum cleaner, too.
For more reviews and recommendations, feel free to follow Dirt Devil Scorpion Quick Flip Corded Bagless Handheld Vacuum Amazon link (link opens in the hew window).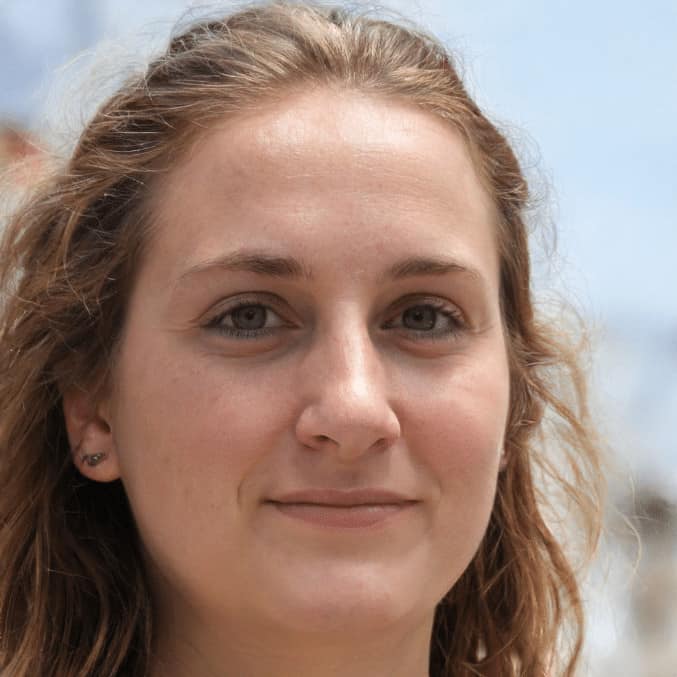 With a degree in engineering, Kathryn Hansen loves to write about how things work. Having her own dilemmas on how to pick the best vacuum cleaner for her large family (with a handful of furry four-legged members as well), Kathryn decided to help others in the same situation. After all, vacuum cleaners are critical to a healthy lifestyle and people have a hard time choosing the best one for their needs.