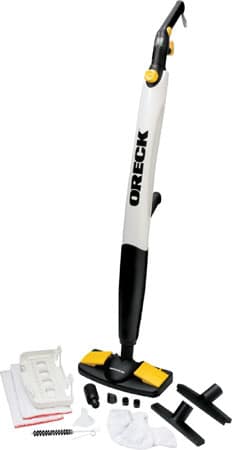 Oreck Steam100LRH Steam-It Steam Mop is powerful steam mop with adjustable steam power, suitable for various surfaces like tiles, marble, vinyl, stone, linoleum and sealed hardwood floors. Using carpet glide base, it can be used for refreshing the carpets and rugs.
Oreck Steam100LRH and other steam mops should not be used on sensitive surfaces like silks, very thin plastics, velour, unsealed hardwood, engineered hard floor surfaces or laminates, ceilings, drywall and exterior paint of cars or boats, electronics or items using electricity.
Steam mops can sanitize hard floor surfaces using hot steam while mopping – to be sure that floor is thoroughly sanitized, surface must be steamed for at least 5 seconds.
Oreck steam mop cleans floors using only tap water – for extra cleaning and to avoid any issues with the steam mop, distilled or demineralized water should be used.
One of the features of Steam100LRH model is that it also works upside down without spillage of water.
Before using this and all other steam mops, be sure to read the manual thoroughly, since it has many hot parts and it uses very hot steam – all of which can cause damage and injuries.
Oreck Steam100LRH dimensions: 45.5″ H x 10.3″ L x 4.6″ W (~116 x 26 x 12 cm); it weighs little less than 10 pounds (~4.5 kg).
Steam mop comes with 40 oz (~1.1 liter) water tank which is enough for 40 minutes of constant steam on high setting – single full tank can cover rather large area.
Power cord is 25 feet (~7.6 m) long and for most situations, it is long enough. Since Steam100LRH has no automatic cord rewind system, perhaps it is better that power cord is not longer than 25 feet.
If you do need longer power cord, use extension cable, just be aware that this unit uses 1400 W (around 12-13 Amps) water heater and use properly dimensioned extension cord.
Maximum cleaning width is 11.5 inch (~29 cm) – actual cleaning width depends on the cleaning attachment being used.

Oreck Steam100LRH steam mop comes with several attachments suitable for various surfaces:
– Powerhead (main steam head) with or without carpet glide base, suitable for larger areas, including carpets and rugs. Note: before steaming your carpets and rugs, be sure to vacuum them thoroughly.
– Utility tool is slimmer and lighter than the main steam mop head and it is suitable for cleaning above the floor like crown moldings, ceiling fans and upholstery and much more.
– Spot brush has narrow nozzle which helps focus steam to clean tight places and really stubborn stains like grout stains on floors, crevices, rims or tight spots around kitchen and bathroom counters, sinks and appliances. Note: hot steam is powerful cleaning agent, but it can damage sensitive surfaces, especially when focused.
– Squeegee is ideal for cleaning windows, mirrors and other shiny surfaces.
Depending on the surface, adjust the steam setting:
| | |
| --- | --- |
| Cleaning Surface | Steam Regulator Setting |
| Carpet and Rugs | Maximum (High) |
| Glass and Mirrors | Minimum (Low) |
| Grout on Hard Surfaces | Medium to High |
| Tiled Surfaces, Cabinets and Countertops in Kitchens and Bathrooms | Low to Medium |
| Sealed Hardwood | Low |
If you are not sure about appropriate settings, start with the Low.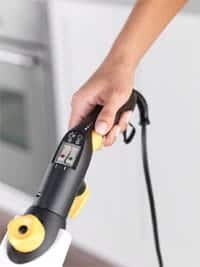 Note: cleaning hardwood, laminate and similar floors with steam mops is delicate thing to do. If the wood finish is without cracks, feel free to steam it, with 'Low' steam setting. However, if there are cracks in the wood finish, water vapor will find its way through, into the wood. Over time, this can lead to wood rot and other issues with wooden floor.
Steam mop controls are positioned right in front of the handle, just under the fingertips.
Oreck Steam-It Steam Mop, Steam100LRH model comes with 1-year limited warranty – before using the steam mop, be sure to read both the manual and warranty conditions, better safe than sorry 🙂
Long story short – Oreck Steam100LRH Steam-It Steam Mop is nice, very useful cleaning tool, suitable for people having larger areas of hard floors.
For more reviews and recommendations, feel free to check Oreck Steam-It Steam Mop, Steam100LRH Amazon link (link opens in the new window).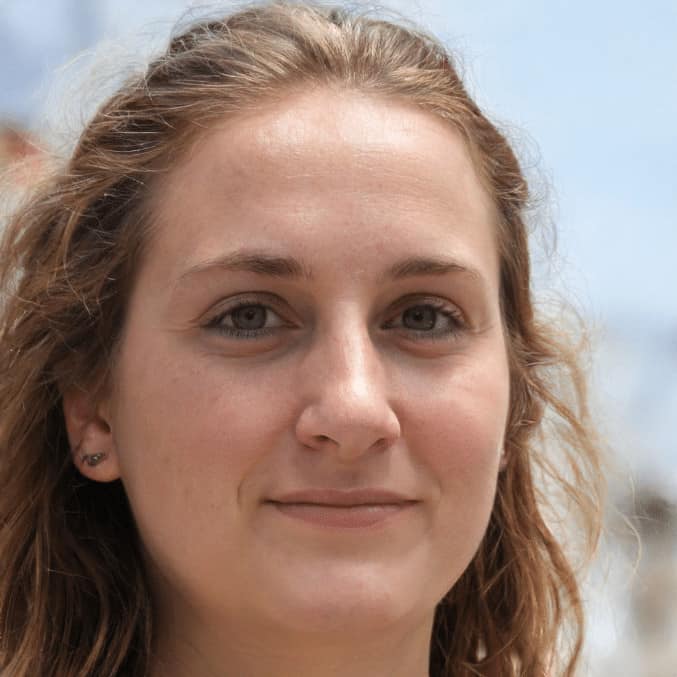 With a degree in engineering, Kathryn Hansen loves to write about how things work. Having her own dilemmas on how to pick the best vacuum cleaner for her large family (with a handful of furry four-legged members as well), Kathryn decided to help others in the same situation. After all, vacuum cleaners are critical to a healthy lifestyle and people have a hard time choosing the best one for their needs.