Eureka Hand-Held Vacuum 71B is a small, but powerful vacuum cleaner. With two motors, one for vacuuming, the second for brush roll, and other product features, this handheld vacuum cleaner is a great choice for anybody needing a small and compact handheld vacuum cleaner.
Eureka Hand-Held Vacuum 71B is a little bit bigger and heavier than similar cordless handheld vacuum cleaners, but it is much stronger – great suction power is combined with a revolving brush that helps clean even the hardest dirt around like a pet hair. Great news for pet owners.
Eureka Hand-Held Vacuum 71B Features
Strong 5.5 amp suction with stretch hose cleans cars, upholstery, stairs. The cleaning hose is wrapped around the vacuum's body and can be pulled out and back within seconds. Since it is powered via a power cord, it can operate as long as there is a need for it, while similar cordless vacuums are limited with the capacity of their batteries. On the other hand, one requires mains power to be present in order to use Eureka 71B and similar vacuums.
Eureka Hand-Held Vacuum 71B comes with two motors – one motor powers the revolving brush, while the second motor is used for vacuuming and it draws 5.5 Amps of current. This leads to a somewhat more complex vacuum, but the unit is better optimized for its cleaning tasks.
The unit weighs 4.8 pounds (~2.17 kg) making it one of the 'heavier' handhelds, but this is not much when quick cleaning smaller areas like sofas, stairs, smaller messes, etc.
Note: although 4.8 pounds can be a substantial load for the elderly and kids, the unit is well designed and easy to hold and use with one, and especially with two hands. Kids should use this unit only under the supervision of adults, of course.
Physical dimensions are as follows: height 8 inches (~20.3 cm), length 15 inches (~38.1 cm), width 7 inches (~17.8 cm).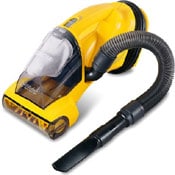 For cleaning tight and narrow spaces, the unit comes with an onboard crevice tool. The crevice tool is used with the flexible extension hose.
Cleaning hose with crevice tool – it is very easy to pull the crevice tool out and back from the vacuum cleaner when required.
Note: Crevice tool is capable of cleaning places that are too small or too tight for brush roll to reach and clean.

The brush roll is powered with a second motor. It is very helpful for cleaning flat areas, stair steps, furniture, upholstery, etc.
Pet owners will appreciate brush roll and its ability to remove pet hairs from sofas, carpets, and other similar surfaces.
The cleaning width is 6 inches (~15.2 cm) and it requires just a few passes to clean a sofa or a couch.

The Riser Visor vacuum cleaner feature with a rotating cover over the brush roll enables transitions from horizontal to vertical surfaces and cleaning vertical surfaces very easy.
It helps cleaning carpeted stairs and other vertical surfaces, like seats, cushions, and upholstery in general.
In the beginning, this feature looks 'odd', but once it is used, one understands why it is there :o)

The dust cup is made out of transparent plastic and provides a view of collected dirt and debris. It can be easily removed and emptied.
Air filtration is done via a mechanical filter and it is good – it is not HEPA class vacuum cleaner.

All controls are at the user's fingertips and easy to use, providing easy control over vacuum cleaner operation.

Power cord wraps around the back of the hand vacuum cleaner making it easy to store. Auto rewind feature of power cord would be nice, but very hard to implement on such small vacuum cleaner.
The power cord is 20 feet (6.1 m) long, which is more than enough for quick vacuuming around the house and inside the car, boat, workshop, or similar.
Eureka Hand Held Vacuum 71B Spare Parts

Eureka 39657 Dust Cup Filter for Eureka Hand Vac – fits Eureka Cordless QuickUp Models 61, 70, 71, 61A, 70A, 70AX, 71A, 71AV, 71B,71B-1, AG61A, UK61A, Z61A and also fits Eureka Broom 176A.
If you notice that your dust bin is not full, but the vacuum cleaner has lost its suction power, empty the dust bin and wash filter. Although this is a washable vacuum cleaner filter it is recommended to change it every 6 months.

Single Belt, Eureka Part #60957 – many people decide to buy a spare belt (it is very cheap, after all) to have around. Original belt lasts for a long time, but better safe than sorry.
One note: changing this part can be somewhat difficult. Just to be sure, if you are not certain how to do it, let authorized personnel to do that for you. Whatever you choose, be sure to read the manual.
Eureka EasyClean Corded Hand-Held Vacuums – 71B vs 71C vs 72A
Eureka 71B, 71C, and 72A are very similar vacuums. They all feature two motors, one for rotating brush roll and one 5.5 Amp motor for vacuuming, and are powered via 20 feet long long power cord.
Also, they all have Riser Visor and extension hose with an on board crevice tool.

The main difference between 71B and 71C is in color – 71B is yellow, while 71C is blue.
Eureka 72A EasyClean Corded Hand-Held Vacuum is red, BUT it also features additional dusting brush attachment, enabling the unit to clean more surfaces and more types of dirt, than 71B and 71C models.
Of course, Eureka EasyClean 72A costs slightly more than 71B or 71C models, but IMHO, it is worth it.
Products Similar to the Eureka EasyClean
Bissell Pet Hair Eraser Handheld Vacuum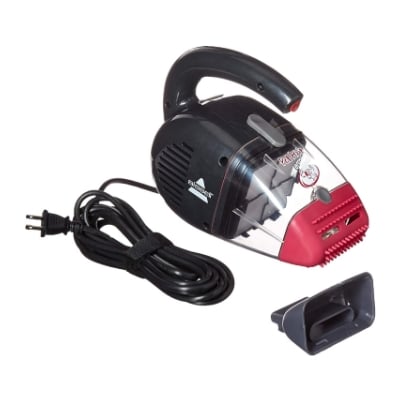 The Bissell Pet Hair Eraser Handheld Vacuum model is a vacuum that can do a good job for an excellent price. It is designed especially for pet hair that you can find all around the house. The Bissel Pet Hair Eraser is a  handheld vacuum cleaner that delivers the power needed for fast results. It comes equipped with a flexible rubber contour nozzle. It effectively removes dirt and pet hair from upholstery, stairs, and it also features a hard nozzle for cleaning dry messes and car interiors.
You can switch out one nozzle for another by pressing down on the nozzle-release button. Once done, just snap the new nozzle into place. The vacuum cleaner offers lightweight construction at less than 4 pounds. It also has a comfortable easy-grip handle and a fingertip-access on/off switch. You should empty the dirt container after each use to ensure maximum suction performance.
Other highlights include a pleated post-motor filter, a filter screen, and a 16-foot power cord with a cord-wrap system. The handheld vacuum cleaner measures approximately 10 by 5 by 8 inches and carries a one-year limited warranty.
Bissell Cleanview Deluxe Corded Handheld Vacuum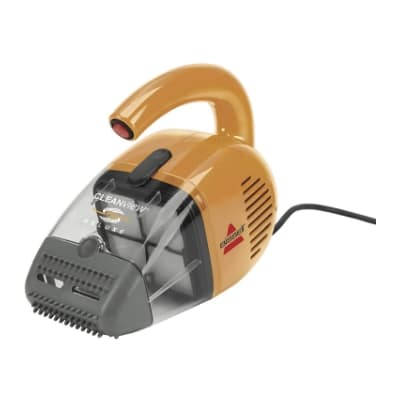 The BISSELL CleanView Corded Hand Vacuum provides a powerful and quick way to clean up throughout your home. It is ideal for use on upholstery, stairs, and other hard to reach areas. Included are several attachments to effectively tackle all kinds of messes.
It has hose attachments and tools that make the cleaning process much easier and its weight of only a little over 4 pounds means you won't have any trouble moving it around and cleaning effectively when it comes to tight rooms and lots of other situations where a vacuum might be necessary, even though it's a corded model.
Long Story Short
The Eureka EasyClean is a small and powerful hand-held vacuum cleaner. And it is very cheap. If you have pets and you are looking for some 'expensive' model for getting rid of hairs, take this one into the consideration – it can save you lots of money. If you have a larger area to clean, you will need a bigger vacuum cleaner around, too.
If you have to need to often clean dust from various surfaces, including ones that are hard to reach, consider the Eureka EasyClean 72A model.
For more reviews and recommendations, feel free to follow Eureka 71B Hand-Held Vacuum Cleaner or Eureka EasyClean Corded Hand-Held Vacuum – Model 72A Amazon links (links open in the new windows).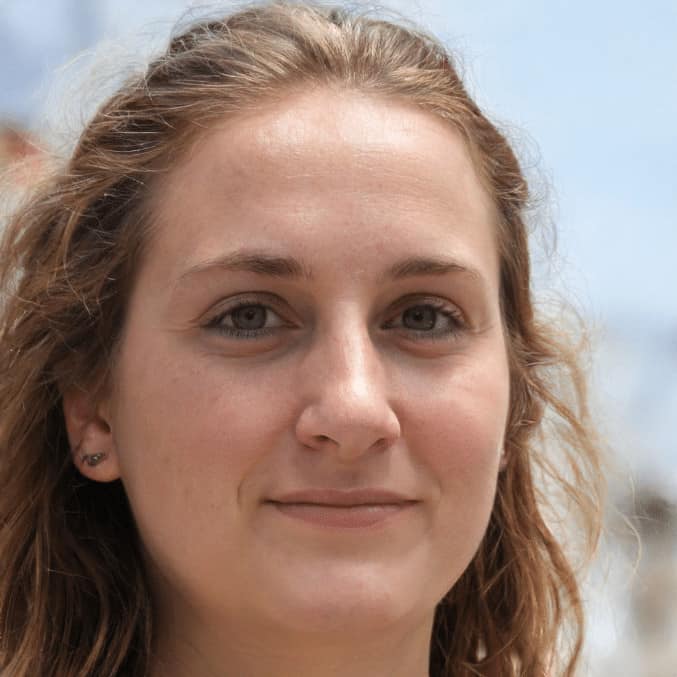 With a degree in engineering, Kathryn Hansen loves to write about how things work. Having her own dilemmas on how to pick the best vacuum cleaner for her large family (with a handful of furry four-legged members as well), Kathryn decided to help others in the same situation. After all, vacuum cleaners are critical to a healthy lifestyle and people have a hard time choosing the best one for their needs.