When you look at the Dyson DC34, you might not be immediately sure what you're looking at. It kind of looks like a power tool, but not quite. It's got a nifty little trigger action on the grip, and the bag-less canister adds a certain sleek quality to the look of this already amazing tool.
Vacuum Features
Photo credited by: canva.com
Besides looking pretty cool, this handheld, cordless vacuum is super lightweight. It actually weighs in at under three pounds. That's light enough that you don't have to feel guilty about getting your ten year old to vacuum the stairs or clean out the car. Chores are good for the soul.
Dyson DC34 Handheld
2 years parts & labor warranty when purchased from an authorized reseller
Powered by Dyson digital motor up to 3 times faster than conventional motors: creates the most...
 We also love the clear dust bin that's on the Dyson DC34. This feature makes it easier to keep track of when the bin needs emptying, and keeps the sucking action working better and longer.
Dyson Technology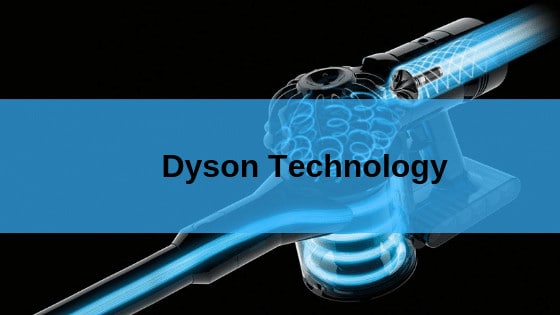 Photo credited by: canva.com
One of the most awesome features, and what makes it worth getting, is the patented Dyson digital motor. That means this vacuum's motor spins up to three times faster than traditional electrical motors, and has greater sucking action because of it.
This powerful engine gives you the option of running on either the high suction mode or Maximum power mode. That means you can tackle standard jobs using less battery power, or crank it up for those really tough jobs for a few minutes.
The Root Cyclone technology is a stellar feature as well. This bit of the Dyson DC34 tech means that it doesn't lose suction power as you vacuum. It's as powerful to start and finish as after the first thirty seconds it runs.
Battery Life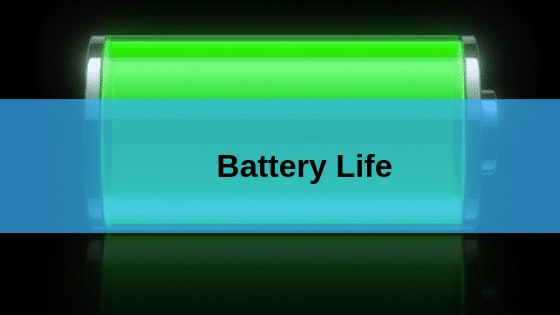 Photo credited by: canva.com
The Dyson DC34 runs off of a lithium-ion battery. That means it charges something like three-times faster than the other guys, and it uses power evenly. It also has a light up indicator that lets you know when to recharge. The battery will let you run this powerful little machine for about 15 minutes nonstop on standard mode, or a bit less time on the maximum mode.
Ease of Handling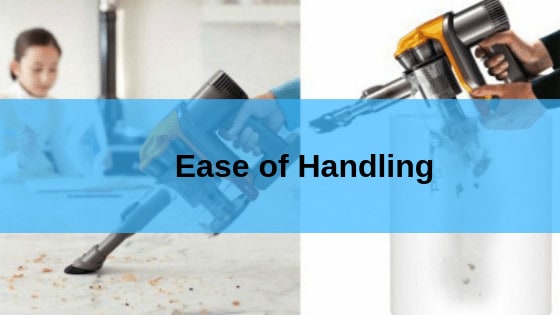 Photo credited by: canva.com
Since the Dyson DC34 is super lightweight, it handles pretty comfortably for most users. The body is a bit bulky, though, so without attachments, you're not going to be able to get into tight spaces. But those attachments do the trick, and make this vacuum easy to use in any area.
Vacuum Attachments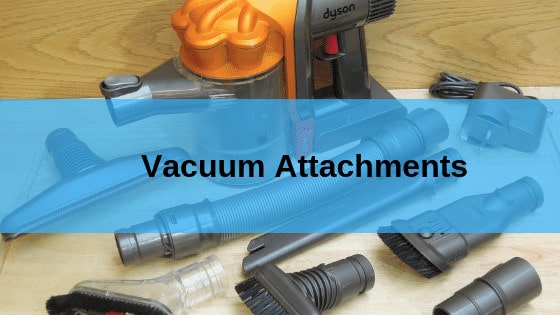 Photo credited by: canva.com
Speaking of attachments, the Dyson DC34 comes with three fantastic attachments that will do whatever you need for vacuuming out the car, the stairwell, or cleaning drapes, or corners.
1. The Animal
The Animal is a custom motorized brush head that's about four inches wide, and works wonders for sucking up pet hair from anywhere.
2. The Crevice Tool
You've seen these on other vacuums before. The crevice tool is a longer tube, with an angled head, designed for getting you into tight spaces where the body of the vacuum cleaner can't reach without help. Perfect for cleaning between the couch cushions, the car seats, or into tight corners and cracks elsewhere.
3. The Combination Tool
This piece combines the angled shape of a crevice tool with a brush tool that can be slid down to lengthen and enhance the plastic tube for better standard cleaning function.
Suction Power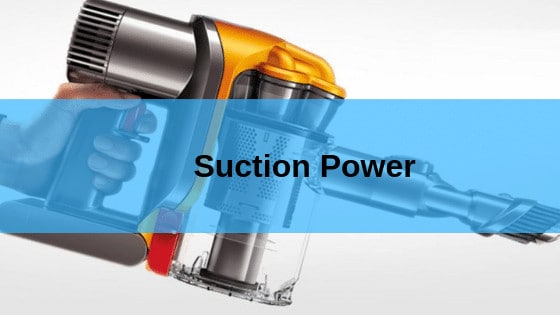 Photo credited by: canva.com
As we've said before, this light-weight vacuum is pretty powerful. In fact, it's considered to be one of the most powerful, if not the most powerful, hand-held vacuums on the market.
Maintenance and Cleaning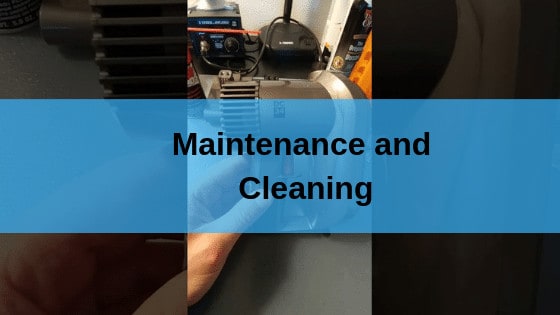 Photo credited by: canva.com
Besides suction power and ease of use, maintenance and cleaning are one of the most important factors of a vacuum cleaner. We love the easy to see, easy to clean dust canister on the Dyson DC34. You easily see when the bin is full and needs to be emptied. With a single push of a button action, you can dump this bin and get back to work without making a mess of things. No one should have to clean up again after vacuuming.
Overall Performance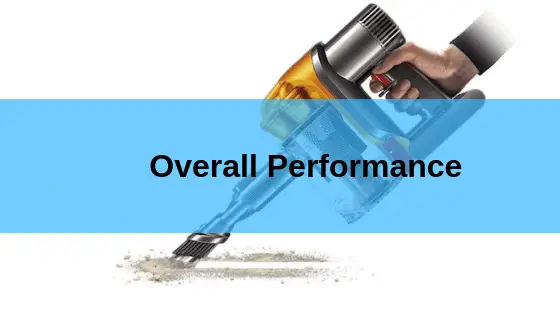 Photo credited by: canva.com
Users who purchased from both Wal-Mart and Amazon gave high ratings of 4.5 out of 5 stars. From the cool look, to the powerful motor, the light weight, and the handy features, we agree. This awesome little, fun-to-use vacuum is great for the house, car, or boat, and can be used by anyone in the family on house cleaning day.
Dyson DC34 Handheld
2 years parts & labor warranty when purchased from an authorized reseller
Powered by Dyson digital motor up to 3 times faster than conventional motors: creates the most...
 Ultimately, if you're looking for a hand-held vacuum to use in your car, your closet, for getting the drapes, or working in areas where you just can't plug in a vacuum, we highly recommend you consider the reasonably priced Dyson DC34. With sleek design, clean emptying, powerful suction, and easy handling, we think you're going to love this vacuum as much as we do.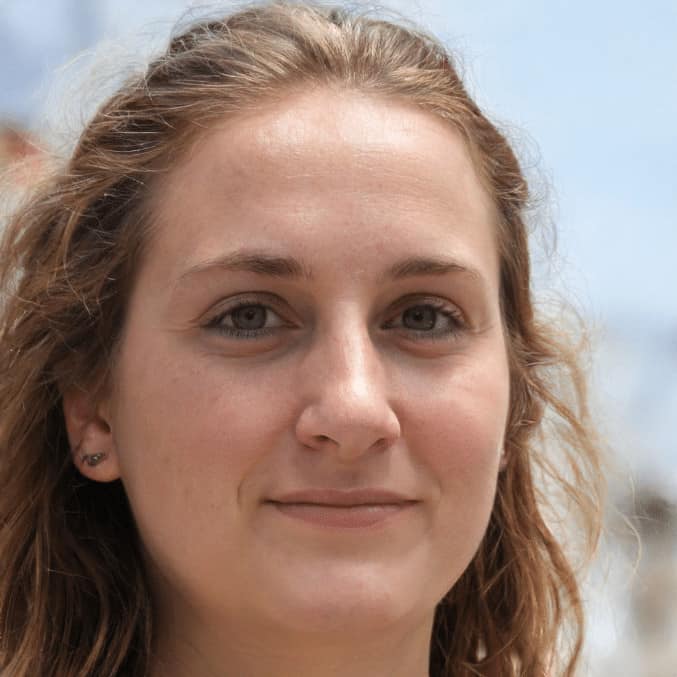 With a degree in engineering, Kathryn Hansen loves to write about how things work. Having her own dilemmas on how to pick the best vacuum cleaner for her large family (with a handful of furry four-legged members as well), Kathryn decided to help others in the same situation. After all, vacuum cleaners are critical to a healthy lifestyle and people have a hard time choosing the best one for their needs.