Dirt Devil Razor and Razor Pet Steerable Bagless Upright Vacuums Models UD70350B and UD70355B and versatile and affordable uprights with additional extension hose for extended reach. Dirt Devil UD70350B and UD70355B are designed for cleaning both hard floors and carpets, but also elevated surfaces using several cleaning attachments.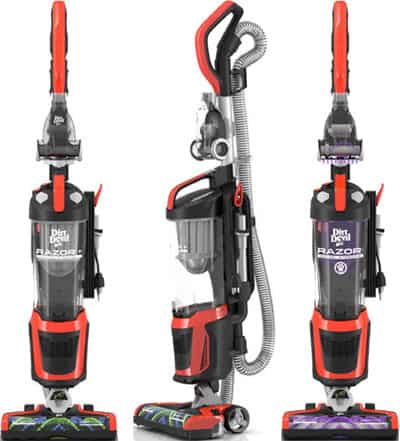 Dirt Devil UD70350B (Left, Middle) and UD70355B (Right)
Dirt Devil UD70350B and UD70355B are two very similar units. Main difference is the color and available attachments.
Dirt Devil UD70350B comes with 2-in-1 Crevice and Dusting Tool, and powered stair/upholstery tool, while Dirt Devil UD70355B comes with 2-in-1 Crevice and Dusting Tool, and TurboClaw Pet Tool. Cleaning attachments are carried onboard the vacuums for fast access when required.
Some sites claim that Dirt Devil UD70355B also comes with powered stair/upholstery tool, too. According to the official Dirt Devil site, Dirt Devil UD70355B comes 'only' with with 2-in-1 Crevice and Dusting Tool, and TurboClaw Pet Tool.
Since Dirt Devil UD70355B is more oriented toward pet owners, it comes with additional odor trapping air filter to reduce the pet odors in the cleaned area.
Also, Dirt Devil UD70350B comes with standard wheels and UD70355B comes with soft(er) wheels, which can be up-to-the-point important when cleaning sensitive floors.
Other than that, these vacuums are practically the same.
Dirt Devil UD70350B and UD70355B Features and Specifications
The Dirt Devil Razor uprights are strong but lightweight vacuums. The low profile design of the main cleaning head and full swivel mechanism helps the user to steer and maneuver around and under furniture and other objects easily and almost effortlessly.

Dirt Devil UD70350B and UD70355B come with so-called SPIN4PRO brushroll, which is designed for cleaning both carpet and hard floors. To help traverse various floor types and to speed up cleaning, units come with automatic height adjustment. Brushroll is not tangle-free design and it must be periodically removed from the unit and cleaned. Fortunately, brushroll cover is transparent, which help the user to check the brushroll condition easily.
Note: fine brushroll bristles are gentle on the most floors, however, if you have delicate, sensitive floors, the Dirt Devil Razor comes with a brushroll on/off feature, which allows the user to turn the brushroll off, thus preventing the scratches.
Cleaning path is 11.5 inches (~29.2 cm) helping the user to clean rather large area quickly, but not too wide to make maneuvering around the objects and obstacles a problem.
Units are powered with 8 Amps motors providing plenty of suction. Power cord is 25 feet (~7.6 m) long, and at first it sounds as if it could be longer. However, this is an upright vacuum cleaner with 10 feet (~3.05 m) long flexible cleaning hose and wand, which extend the range and enable the user to  clean elevated surfaces. Flexible hose is transparent, allowing the user to check the hose for possible clogs or any similar issue.
These units don't come with automatic power cord rewind mechanism – power cord is wrapped around the cord hooks on vacuum's side.
Dirt Devil Razor uprights weigh 12.6 pounds (~5.7 kg) and are heavier than many stick/uprights vacuums, but also lighter than larger, stronger and more expensive uprights. The wheels carry most of the weight, letting the user focus on the cleaning itself.
Dirt cup is transparent and its maximum capacity is 1.5 liters, which is more than enough for regular cleaning of the larger homes and apartments.
Note: In order for the units to operate properly, stop cleaning and empty the dirt cup when dirt reaches 'Max Fill Line'. Actually, it is recommended to empty the dirt cup after each use.
As long as the dirt is under 'Max Fill Line' and air filters are clean, there will be no loss of suction during operation.
Air filtration is good, but it is not HEPA grade air filtration. Nonetheless, two mechanical filters do their job well, which is very important for people having issues with asthma and allergens.
Both air filters are washable – be sure to dry them thoroughly before assembling them back into the unit.
For exact procedures and to get familiar with your new vacuum, it is highly recommended to read the manual thoroughly.
Dirt Devil Razor are self-standing vacuums, helping with the storage. Although the units are rather stable when in upright position, don't let the kids and pets play around it, since it can tumble over if pushed/hit.
Note: when in full upright position, brushroll stops spinning automatically.
Both UD70350B and UD70355B come with 2 year limited warranty.
---
Long Story Short – Dirt Devil UD70350B and UD70355B upright vacuums are well designed and well balanced upright vacuums. 8 Amps motors provide plenty of suction for 11.5″ wide cleaning path, while 1.5 liter dirt cup stores enough dirt and debris to allow the user to clean large surface without cleaning breaks for emptying the dirt cup.
Additional cleaning tools help clean elevated surfaces like bookshelves, stairs, upholstery and clean hard to reach areas like corners, edges, between cushions and similar.
For more reviews and recommendations check Dirt Devil Razor Steerable Bagless Upright Vacuum UD70350B and Dirt Devil Razor Pet Steerable Bagless Upright Vacuum UD70355B Amazon links (links open in the new window).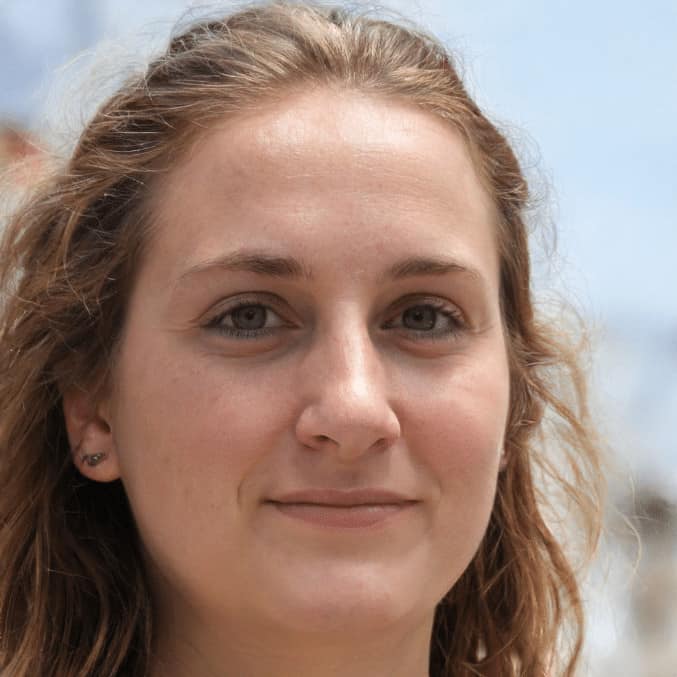 With a degree in engineering, Kathryn Hansen loves to write about how things work. Having her own dilemmas on how to pick the best vacuum cleaner for her large family (with a handful of furry four-legged members as well), Kathryn decided to help others in the same situation. After all, vacuum cleaners are critical to a healthy lifestyle and people have a hard time choosing the best one for their needs.