Bissell 1161 Hard Floor Expert Deluxe Canister Vacuum is corded, bagless canister vacuums, designed and optimized for cleaning hard floor and low-pile carpets. Also, it comes with several additional cleaning tools to help the user clean other surfaces as well, not just floors. Thanks to advanced handle design, all required controls are easily accessible on the handle itself.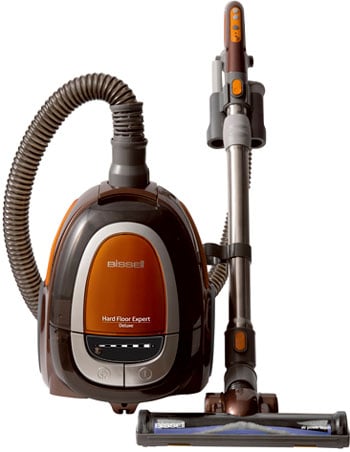 Bissell 1161 vacuum weighs only 9 pounds (~4.07 kg) and can be easily carried around.
Main cleaning head is optimized for cleaning delicate bare floors like laminate, tiles, wooden floors, etc. Main cleaning head has air driven turbine which powers rotating brush with extra soft bristles. When rotating, soft bristles agitate the dirt on the floor, while strong suction picks the dirt off the floors.
Cleaning width of 11 inches (~28 cm) enables the unit to cover relatively large area quickly, balancing between motor power (7 Amps) and suction strength. Suction is adjustable, which is very important when cleaning delicate surfaces.
Bissell 1161 Hard Floor Expert Handle
In order to ease the use of the unit, Bissell 1161 comes with the remote control handle. Canister of the vacuum contains two main commands: vacuum off/on button and power cord rewind system button.
However, all other controls are on the handle, which is great, because the user has all the major function literally under fingertips.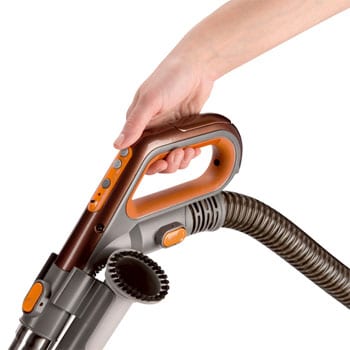 When units arrive, it requires some assembly. Before assembly, be sure to read the manual/instruction thoroughly. In any case, one has to insert two AAA batteries in the handle in order to use remote control and in the end, to use the vacuum.
Two AAA batteries are included – if they are not included, for whatever reason, be sure to use high-quality alkaline 1.5V batteries.
When the batteries are inserted, vacuum plugged in the wall power socket, turned on using button on the canister, vacuum cleaner is ready to be used and controlled using controls on the handle.
Note: it sounds odd and unusual at first, but generally, it is good idea, since there is no need to use any controls on the canister itself, except to turn it fully off and to rewind the power cable.
Bissell 1161 Hard Floor Expert Reach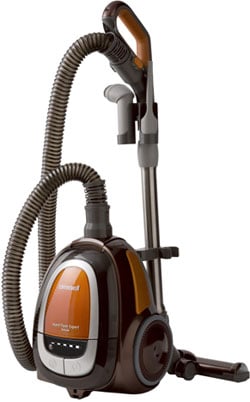 Bissell 1161 comes with 16 feet (~4.9 m) long power cord. Also, it has 5 feet (~1.52 m) flexible hose and telescopic wand.
Flexible hose and telescopic wand increase the cleaning reach, and are especially important when cleaning elevated surfaces, but generally, power cord could be longer.
Flexible hose, telescopic wand, hard floor and carpet cleaning heads connect easily using clip-on system, while dusting brush and crevice tool use friction connect system.
Additional cleaning tools enable the Bissell 1161 to clean not only hard floors, but also low-pile carpets, upholstery, stairs, edges, corners, and other hard-to-reach surfaces.
Air filtration is not HEPA grade, but it is nonetheless very good. Air filtration is combination of cyclonic dirt-air separation and mechanical filters.
Note that there are several mechanical filters: two pre-motor filters and two post-motor filters.
Pre-motor filters are combination of pleated and foam filters. Pleated filter is not washable – when the dirt accumulates, it can be tapped few times to force the dirt out. However, after some time, it must be replaced. Foam filter is washable, just be sure that it is fully dry before returning it into the unit.
Post-motor filters are combination of 'classic' mechanical filter and foam filter. Again, mechanical filter is not washable, and it should be replaced after some time. Foam filter can be washed.
Dirt cup capacity is modest – just 1 liter. If the floors are dirty, unit will pick the dirt and store it into the dirt cup. Dust, sand and similar dirt require time to fill the dirt cup, but pet owners will probably have to empty the dirt cup after each vacuuming.
Dirt cup is emptied 'from the below', requiring no extra effort from the user.
One more note to the pet owners: rotating brush does excellent job in removing the pet hair off the hard floors, but it is not of 'tangle-free' design – after some time, it will have to be removed from the unit and cleaned. The same goes for many other vacuums using similar rotating brush design, so this is not Bissell 1161 'exclusive' flaw 🙂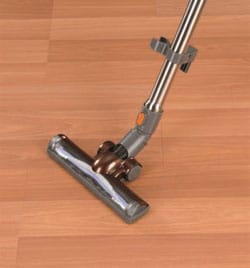 Bissell 1161 Motor Thermal Protection
Bissell 1161 comes with several important features, and one of them is motor thermal protection.
Simply put, when air flow through the motor decreases and the motor temperature goes up, unit will shut off the motor to protect it from any damage.
Possible causes for decreased air flow are possible clogs in the system, full dirt cup, dirty filters etc.
If motor abruptly shuts off, turn the unit off and unplug from the wall power socket, find the cause of the problem (clean the clog, empty the dirt cup, check filters …) and then wait for 30 minutes to let the motor cool down – this will reset thermal protection and operation can continue.
---
Long Story Short – Bissell 1161 is very good and affordable canister vacuum cleaner, optimized for cleaning hard floors and low pile carpets. Thanks to the additional cleaning tools, it can easily clean other surfaces as well, from the floor to the ceiling.
It has relatively short power cord, relatively small dirt cup, and it doesn't do job well on thick carpets and rugs, but other than that, no major issues. But again, it is not even intended to be used on thick carpets and rugs! 🙂
Bissell 1161 can be used as the main vacuum cleaner in homes and apartments with mostly hard floors.
For more reviews and recommendations, check Bissell 1161 Hard Floor Expert Deluxe Canister Vacuum Amazon link (link opens in the new window).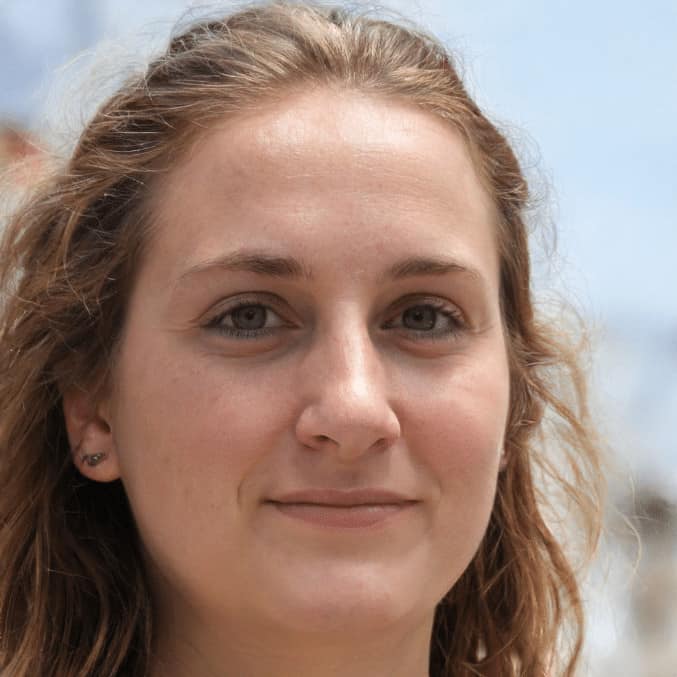 With a degree in engineering, Kathryn Hansen loves to write about how things work. Having her own dilemmas on how to pick the best vacuum cleaner for her large family (with a handful of furry four-legged members as well), Kathryn decided to help others in the same situation. After all, vacuum cleaners are critical to a healthy lifestyle and people have a hard time choosing the best one for their needs.