Shark NV803 DuoClean Powered Lift-Away Speed Upright Vacuum is a strong and durable, convertible upright vacuum cleaner, suitable as the main vacuum cleaner even for larger homes and apartments. Shark NV803 features several of Shark's technologies for faster and better cleaning, including Powered Lift-Away, DuoClean technology, Advanced Swivel
Steering, Anti-Allergen Complete Seal, and other technologies. Motorized floor nozzle based on DuoClean technology is combined with a flexible cleaning hose and several cleaning attachments for cleaning various surfaces from the floor to the ceiling. And it comes at a very acceptable price, even when not on sale!
Shark NV803 Features and Specifications
DuoClean Technology: Motorized floor nozzle features two brushrolls. A bristle brushroll is designed for deep cleaning of the carpeted floor, while a soft brushroll is designed to pick larger particles off the floors. Two brushrolls combined with strong suction improve cleaning when compared with earlier designs, reducing the number of required passes and thus speeding the cleaning task.
Powered Lift-Away: with a press of the button Lift-Away pod can be detached from the rest of the vacuum. This gives the user the ability to clean under, around, and above furniture, appliances, and other objects with greater ease, regardless of the motorized floor nozzle is used or one of the available cleaning attachments.
Advanced Swivel Steering combined with strong LED headlights, enables the user to easily maneuver around the objects on the floor. Shark NV803 weighs 14.5 pounds (~6.46 kg) and although it is not a lightweight unit, it is easy to move around the floors and even traverse different floor types. LED headlights help with cleaning in low light conditions, like under the beds or furniture. Also, they help spot the dirt on bare floors even during the daylight, speeding up the cleaning.
Anti-Allergen Complete Seal Technology is combined with three washable, mechanical air filters for true HEPA air filtration. According to the manufacturer,
Shark NV803 traps 99.99% of 0.3 microns or larger particles, effectively removing dust, pollen, and other allergens from the exhaust air – very important for all users, not just for pet owners, families with kids, or people having asthma and allergies issues.
Fingertip controls are positioned on the handle and they allow the user to switch between various cleaning modes. Since this is a Lift-Away unit, the main power on/off switch is on the Lift-Away pod.

Shark NV80* series has three modes of operation:
Upright mode: This is the most common mode of operation. The vacuum is a classic upright vacuum and used for cleaning floors, regardless of the floor type.
Lift-Away mode: In Lift-Away mode, the Lift-Away pod is detached from the rest of the vacuum and used for elevated surfaces like stairs, bookshelves, desks, ceiling fans, blinds, etc. Lift-Away pods weigh around 6.4 pounds (~2.9 kg) and can be carried in one hand, while cleaning is done using the other hand.
Canister mode: When the Lift-Away pod is attached to the canister caddy, Shark NV80* series effectively becomes a classic canister vacuum cleaner. In this mode, a vacuum is used for cleaning both floors and elevated surfaces. However, canister caddy is sold separately, which isn't that bad – most people prefer upright mode for cleaning flat floor surfaces anyway, and canister caddy would just collect the dust and increase the initial price of the vacuum cleaner.
Uprights vs Canister Vacuums? If you were indecisive about which vacuum to buy, upright or canister, Shark NV803 solves this dilemma.
Shark NV80* DuoClean Vacuums Series
Shark NV80* series of vacuums differ mostly just in color and available attachments. List of exact attachments differ from online store to online store, so we have compiled our list according to the official Shark's website:
Shark NV800: Pet multi-tool, Duster crevice tool.
Shark NV801: Pet multi-tool, Duster crevice tool, Under-appliance wand.
Shark NV803: Pet multi-tool, Duster crevice tool, Under-appliance wand, Pet power brush, Accessory bag.
Shark UV810: Pet multi-tool, Duster crevice tool, Under-appliance wand, Pet power brush, Accessory bag, Flexi crevice tool, Precision duster.
Note: The last model is 'UV810', not 'NV810', again, according to the official Shark's website.

Although individual cleaning attachments can be purchased later when required, when they come with the vacuum itself, they are cheaper.
Pet multi-tool combines a stiff bristle brush and upholstery tool in one multi-tool. Stiff bristle brush removes stubborn debris from different surfaces while the upholstery tool is designed to clean pet hair and other hard-to-remove dirt and debris from upholstery and similar surfaces.
The duster crevice tool combines a soft dusting brush and a crevice tool. The dusting brush uses a soft brush to agitate dust and other small particles of the sensitive surfaces, which are then collected by strong airflow into the vacuum. The crevice tool is designed to clean narrow and often hard-to-reach areas, like edges, corners, between cushions, along the baseboards, etc.
Under-appliance wand effectively clean under, around, and behind hard to move furniture, appliances, and other objects. The extension part can be flipped over to clean the underside of cleaned objects. This is a very useful cleaning attachment, and when being used for the first time, it can collect rather large amounts of dirt and various long-lost smaller objects.
Pet power brush is designed to pick up pet and human hair and different loose debris. It does the same job as the Pet multi-tool, except that it is a little bit more 'aggressive' onto the surface. It cleans deeply embedded dust, hair, and other dirt from the upholstery, stairs, and other surfaces.
IMHO, Shark NV803, represents the best buy option of the whole NV80* series, especially when found on sale.
Technical specifications of NV803 and other NV80* vacuums are the same:
Motor draws 9.5 Amps and is rated at 1150 W. It provides plenty of suction, regardless of the cleaning mode or used cleaning attachment.
The power Cord is 30 feet (~9.15 m) long and provides long reach using a single wall power socket. Unfortunately, NV803 doesn't come with the power cord automatic rewind system. The power cord is stored on the wrap hooks on the vacuum's sides. Note that the power cord automatic rewind mechanism would simplify the use of the vacuum. Still, it would also increase mechanical complexity and also the weight of the Lift-Away pod.
The weight of the vacuum in the upright vacuum mode is 14.5 pounds (~6.6 kg), while the Lift-Away pod weighs 6.4 pounds (slightly less than 3 kg).
Air filters: NV80* series come with three air filters – pre-motor foam filter, pre-motor felt filter and post-motor HEPA filter.
​Note: filters are washable and design to last the lifetime of the unit. Should something happen to the filters, replace them with new OEM filters.
Dust Cup capacity is 0.9 quarts (~1 liter) – capacity could be larger, but the dust cup is easily emptied. It is recommended to empty the dust cup after each use.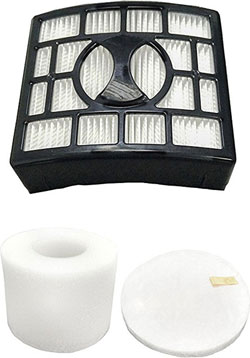 Physical dimensions of the unit are (LxWxH) 11.8×11.9×46.1 inches (~30 x 30.2 x 117 cm) and the cleaning width of the motorized floor nozzle is 8.5 inches (~21.6 cm).
Warranty: 7-year limited warranty, which is very good. Note that belts and filters are designed to last a lifetime of the unit, so there are no hidden operational costs. Should something happen to these parts, always replace them with OEM spare parts.
Shark NV803 is a simple unit to operate, but since there are few specific procedures, it is highly recommended to read the manual/instructions upon the unit's arrival.
Shark NV752 vs. Shark NV803
Shark Rotator NV752 Powered Lift-Away TruePet Vacuum is an older Shark's Lift-Away vacuum, which is also designed to be used as the main vacuum cleaner even in larger homes and apartments, just like the newer Shark NV803 DuoClean Powered Lift-Away Speed vacuum.
More about Shark NV752 can be found in our Shark Rotator Powered Lift-Away NV751, NV752, and NV753 Vacuums – Comparison and Recommendation article (link opens in the new window).
Both Shark NV752 and NV803 can be used as a classic upright vacuum cleaner, as a Lift-Away vacuum, and as a canister vacuum cleaner using an optional canister caddy.
Shark NV752 comes with a slightly stronger motor (1200 W vs 1150 W), but it also comes with a slightly wider cleaning path (10.5 vs 8.5 inches) – this means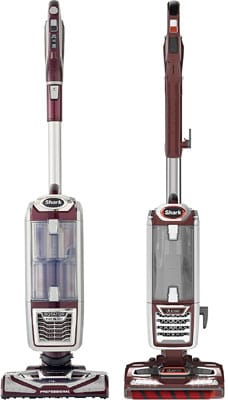 ​that Shark NV752 can cover a larger area faster, but it also requires more passes to clean deeply embedded and stuck-on debris than Shark NV803.
The power cord length is the same – 30 feet.
Air filtration in both units is very good, but NV803 comes with slightly better air filtration – 99.99% vs 99.9% of 0.3 microns or larger particles.
NV752 comes with a larger dust cup – 1.4 dry quarts vs 0.9 dry quarts. This is a ~50% difference and can be important when regularly cleaning heavily soiled floors.
Both units have strong LED headlights, but NV752 also comes with LED lights on the handle, which can be important when the unit is used in Lift-Away and canister modes, without a motorized floor nozzle.
Available cleaning attachments are similar, but not the same. Both models come with a Pet multi-tool and Duster crevice tool. Also, NV803's Pet Power Brush is similar to NV752's TruePet Motorized Brush. But, NV752 comes with Hard Floor Genie and NV803 comes with an Under appliance wand.
Since NV803 comes with a DuoClean motorized floor nozzle, it doesn't require attachment optimized for hard floors (like NV752's Hard Floor Genie). Still, Under appliance, the wand can be very useful in many situations.
IMHO, NV803 comes with a better set of cleaning tools and attachments – not by a large margin, but nonetheless, an important one.
​Long Story Short: Shark NV803 DuoClean Powered Lift-Away Speed Upright Vacuum combines several important features in one single, versatile unit. It is not the cheapest upright vacuum on the market, but considering all the options, it is a rather affordable solution for keeping the whole home clean.
​For more reviews and recommendations, check
Shark NV803 DuoClean Powered Lift-Away Speed Upright Vacuum
Similar Products to the Shark NV803
Shark Navigator Zero-M ZU62 Self-Cleaning Brushroll Pet Pro Upright Vacuum
One of the biggest selling points of the Shark Navigator ZU62 is the self-cleaning brushroll system. It's made in such a way that hair doesn't roll up on the brush but instead gets pushed away from it and sucked into the dust cup.
Furthermore, the has a 3XL cleaning capacity that ensures you'll have to empty the dust cup far less often than with a regular vacuum cleaner. With an integrated extendable hose, your cleaning doesn't have to stop at the floor—vacuum stairs, furniture, and tight spaces with up to 12 feet of total reach.
And for added quality, it comes with an anti-allergen complete seal technology and a HEPA filter to keep particles trapped inside the vacuum, out of the air you breathe.
Shark Rotator Lift-Away DuoClean Pro ZU782 with Self-Cleaning Brushroll Upright Vacuum
Similar to the former model, the ZU782 has an advanced swivel steering lets you easily maneuver your vacuum in and out of tight spaces, in corners, around furniture, and more.
For added convenience, the unit also features powerful LED headlights on the nozzle that reveal hidden debris around your home, especially in dimly-lit areas. And, again, similarly to the NV803, it features the Lift-Away technology that allows you to easily carry it by hand when going up the stairs. Overall, you can't go wrong by purchasing this model.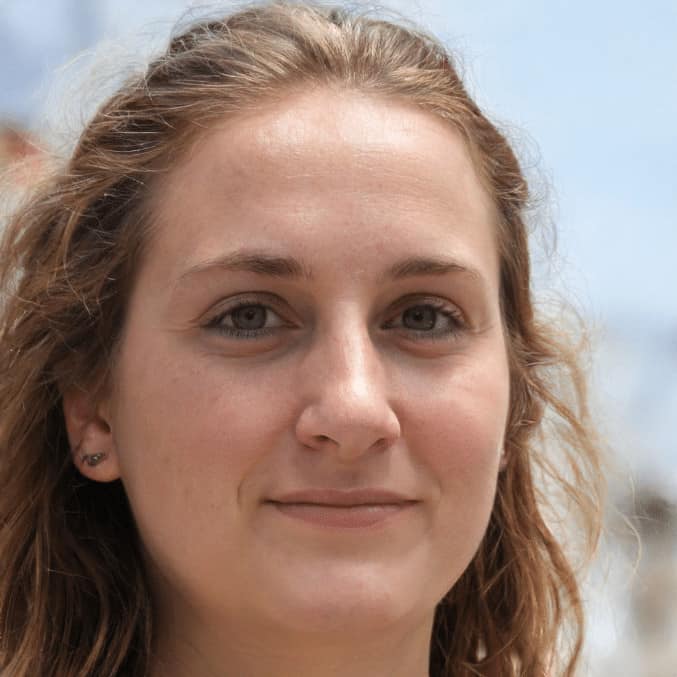 With a degree in engineering, Kathryn Hansen loves to write about how things work. Having her own dilemmas on how to pick the best vacuum cleaner for her large family (with a handful of furry four-legged members as well), Kathryn decided to help others in the same situation. After all, vacuum cleaners are critical to a healthy lifestyle and people have a hard time choosing the best one for their needs.