Shark Navigator Deluxe NV42 is very popular bagless upright vacuum cleaner. It comes with extra large transparent dirt bin, excellent suction, good air filtration and with very acceptable price tag. It is suitable as main vacuum cleaner for smaller homes and apartments with various floor types.
Shark NV42 weighs 15 pounds (~6.8 kg) and is not the lightest upright vacuum cleaner on the market. Its dimensions are (W x D x H) ~12.8 x 10 x 35 inches (~32.5 x 25.4 x 89 cm).
Shark NV42 does not have swivel steering, but it is still relatively easy to maneuver around the corners, edges and furniture. In some circumstances, on the carpets for example, it tends to lift the carpet off the floor, making the maneuvering around more difficult.
Suction is obviously very good – unit is powered with 1200 watts (10 Amps) motor, using 25 feet (~7.6 m) power cord. Power cord is long enough for most tasks at home, especially when combined with 11 feet (3.35 m) stretch hose. Note that there is no cord auto rewind system – call me spoiled, but I like my vacuums to have such auto rewind system 🙂
Despite strong motor, unit is not loud during operation.
Long hose is important, since Shark NV42 is not a 'Lift-Away' vacuum cleaner. The dust canister and motor assembly of the Shark's 'Lift Away' vacuums can be lifted away (hence the name) from the rest of the vacuum and carried around for cleaning hard to reach areas like corners, edges, stairs, cars and similar.
Some of the most popular 'Lift-Away' models are Shark Navigator NV356E and Shark Rotator NV752 (links open in the new windows, so feel free to check them, too).
Also, Shark NV42 does not have HEPA level or air filtration, but it does have complete seal technology, meaning that air does not leak out of the vacuum before it is filtered.
Shark NV42 comes with three mechanical air filters. All filters are washable, just be sure to thoroughly dry them before assembling the unit.
Unfortunately, NV42 doesn't have filters clogged indicator of any kind – it is up to the user to notice the suction strength drop and to clean or replace the filters.
Dirt bin is transparent and it has relatively large capacity (0.53 gallons, 2 liters), when compared with similar uprights on the market. It is recommended to empty the dirt bin after each use. Unit doesn't lose suction until the dirt bin is almost full.
One of the pros of Shark NV42 are set of cleaning attachments that come with the unit: short 5.5 inches (~14 cm) crevice tool, long 24 inches (~61 cm) crevice tool, dusting brush and pet hair power brush. Such cleaning tools in combination with log stretch hose makes cleaning from the floor to the ceiling easily possible.
Main cleaning nozzle is 9.25 inches (~23.5 cm) wide and could be wider. On the other hand, suction is limited to relatively narrow area and is rather strong. Note that there is no suction control switch/selector.
To improve cleaning of pet hair and similar dirt, unit comes with brushroll with off/on switch. When cleaning dirt on the carpets, brushroll should be kept 'ON', while on the hard floors, rotating brushroll is usually kept 'OFF'. From time to time, brushroll should be cleaned from long hair and similar dirt.
Shark NV42 comes with 5 years limited warranty, which is excellent for vacuum cleaner in this price range.
Long story short – Shark NV42 has few CONS and many PROS and it is with good reason very popular vacuum cleaner. It is often used as entry level, main home vacuum cleaner, instead of larger and stronger, but also several times more expensive vacuum cleaners.
If you don't mind constant suction level, lack of cord auto rewind system and relatively narrow cleaning path, consider this unit.
For more reviews and recommendations, check Shark Navigator Deluxe NV42
Amazon link (link opens in the new window).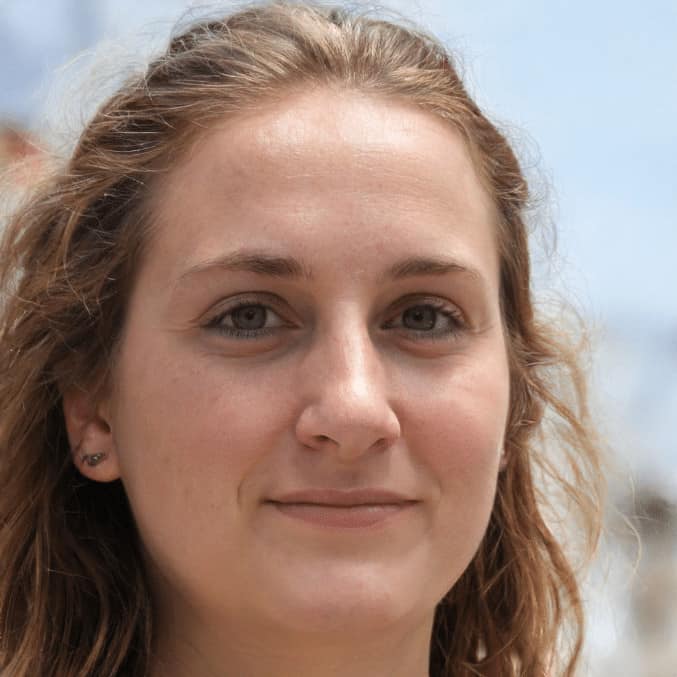 With a degree in engineering, Kathryn Hansen loves to write about how things work. Having her own dilemmas on how to pick the best vacuum cleaner for her large family (with a handful of furry four-legged members as well), Kathryn decided to help others in the same situation. After all, vacuum cleaners are critical to a healthy lifestyle and people have a hard time choosing the best one for their needs.