The Rubbermaid FG421288BLA Commercial Galvanized Steel Floor and Carpet Sweeper is a low-profile and lightweight bare floor and low-pile carpet manual sweeper. It is a very affordable and durable unit with minimum maintenance, suitable for cleaning in emergency situations, and between two cleanings with your main vacuum cleaner. Today, we will see together our Rubbermaid carpet sweeper review, discuss its tech specs, main features, and overall benefits.
As you probably know by now, owning a carpet sweeper comes with plenty of benefits. A manual device in this category – such as the Rubbermaid carpet sweeper – is an incredible addition to your home, as it helps you clean small spills and removes debris quickly without having to use your more advanced vacuum cleaner.
Carpet sweepers represent, to some extent, a form of dry carpet cleaning at home in the absence of cleaning products, powders, and formulas. Some of the best carpet cleaners on the market come, undoubtedly, from Bissell, but this Rubbermaid carpet sweeper is an affordable and efficient investment for a home or an apartment as well. So let's see the Rubbermaid carpet sweeper review and learn if it is the best product for your needs!
Rubbermaid Commercial Galvanized Steel Floor and Carpet Sweeper FG421288BLA Review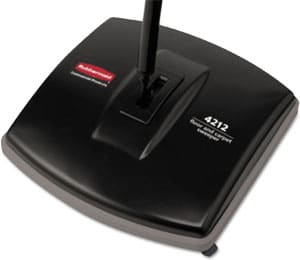 The Rubbermaid FG4212 carpet sweeper's cleaning foot is 9.5 inches (~24 cm) long and 8 inches (~20 cm) wide. The unit's height is 44 inches (~112 cm). Such a small size and low profile help the sweeper to get into and clean tight areas and hard to reach places.
The FG4212 carpet sweeper has a 6.5 inches (~16.5 cm) cleaning width. It is a more modest cleaning path when compared with similarly priced. However, larger carpet sweepers are harder to maneuver around furniture and other potential obstacles when compared with the FG4212 model.
Rubbermaid Commercial Galvanized Steel Floor and Carpet Sweeper Tech Specs and Features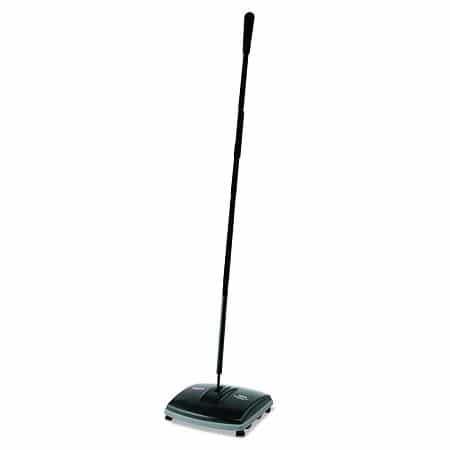 Let's discuss first the Rubbermaid carpet sweeper tech specs and features that the manufacturer provided, and then add our own opinions into the mix!
The unit's low-profile design provides access around and under all types of furniture;
It features an efficient 6-1/2″ sweep path with bumper to protect furniture and walls;
The device comes with an easy-open debris pan to make your cleaning effortless;
The built of this unit is of durable galvanized steel and ABS plastic;
This carpet sweeper is the best for bare floors or low-pile carpet;
The product features soft rubber wheels and a low brush noise, for quick and quiet maneuvering around busy, crowded spaces and under furniture without disturbing anybody in the house.
The dirt bin is easy to open and empty. We recommend you to empty the sweeper after each use, just in case.
As you have seen above, the Rubbermaid carpet sweeper FG421288BLA is constructed using galvanized steel and tough ABS plastic. The design is strong and durable, requiring minimum maintenance.
What Else Should You Know About the Rubbermaid Carpet Sweeper?
The rubber handle provide a strong grip, even if the hands are moist. The unit is very light with soft rubber wheels and it glides over hard floors easily. Over low-pile carpets, it requires little bit more force, while on high-pile carpets, it gets 'stuck' in the carpets, especially if the carpets/rugs are thick and soft – just like any other carpet sweeper.
To avoid damage to the furniture and walls, the Rubbermaid FG4212 carpet sweeper features front and rear bumpers.
One of the most enthusiastic customers reviews on this product says the following
I can tuck this in the corner and grab it for a quick cleanup. It adapts well from carpeted to hardwood flooring with no manual adjustment. We have two long haired people in the house plus two shedding old cats. It picked up the hair great. Was surprised at how much it picked up that the vac missed. Don't hesitate to buy it. You won't be sorry. Super quiet too if you like to clean while others are sleeping. No running for a broom and dustpan. No bending. Empty the tray in the garbage can at waist level. No filters to replace. Most of the maintenance is getting hairs out of the brush. They provide a special comb for that.
As you can see, people are happy with this product and we believe you will be too.
---
Carpet Sweepers Frequently Asked Questions
Before we offer you a definitive verdict on this product, let's answer some of the most frequently asked questions people ask when it comes to carpet sweepers, best brands, and best choices!
Are carpet sweepers worth it?
If you ever wondered if carpet sweepers were any good, the answer is "yes, surprisingly so!" While a carpet sweeper will never be able to match a pro vacuum cleaner, but it does a great job at removing dust, debris, dirt, hair, and other minor spills. Relatively inexpensive, carpet sweepers can help you keep your home clean and neat in between two vacuuming sessions without disturbing your family or guests.
Rubbermaid Carpet Sweeper Verdict and Bottom Line
For short – if you need a mechanical carpet sweeper, with a low profile and with smaller cleaning foot and 6.5 inches cleaning path is enough for you, Rubbermaid FG421288 carpet sweeper might be the best for you. It creates no suction like other affordable vacuum cleaners, but it is a low maintenance floor sweeper and very quiet during operation.
As carpet sweepers go, the Rubbermaid carpet sweeper is a good product for its money and you should give it a chance. If you need more reviews and recommendations, let us know in the comment section below. Also, in case you already used this carpet sweeper and you want to share your experience with it, we are here to listen!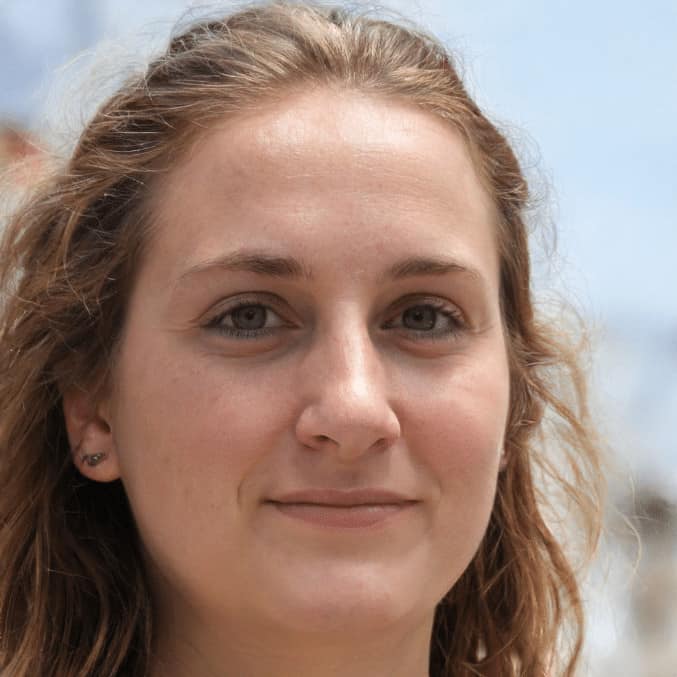 With a degree in engineering, Kathryn Hansen loves to write about how things work. Having her own dilemmas on how to pick the best vacuum cleaner for her large family (with a handful of furry four-legged members as well), Kathryn decided to help others in the same situation. After all, vacuum cleaners are critical to a healthy lifestyle and people have a hard time choosing the best one for their needs.