Panasonic MC-CG937 OptiFlow Corded Canister Vacuum Cleaner is mid-range, corded, bagged canister vacuum cleaner, suitable for cleaning various surfaces at home or apartment. Main cleaning tool is wide Power Nozzle, with adjustable height and off/on agitator switch – suitable for bare floors, carpets, rugs etc. For cleaning upholstery, narrow and hard to reach spaces, Panasonic MC-CG937 OptiFlow comes with the set of additional cleaning tools, carried onboard.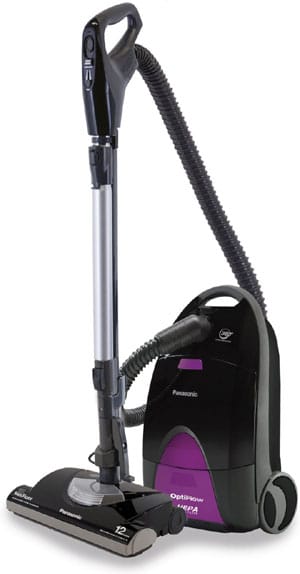 Panasonic MC-CG937 OptiFlow canister vacuum cleaner comes with several innovative features, important for keeping the home clean.
OptiFlow Technology from Panasonic is based on the vented OptiFlow Bag Cage, which allows the air to flow through the dirt bag even when the bag is almost full with the dirt. OptiFlow technology maintains suction and cleaning performance, regardless of the amount of the dirt in the bag – very similar to many bagless units with cyclonic separation.
Removable dirt bag caddy helps with changing and disposing of dirt bags. Bag changing is now quicker, cleaner and more convenient.
Quality of bags is very important for several reasons: HEPA bags capture 99.97% of very small particles, protect post-bag filter from fine dust and ensures quality of air expelled back into the cleaned room. However, HEPA bags cost more than 'ordinary' paper bags. Personally, MC-CG937 and similar vacuums are bought to be main vacuum cleaner in the house, so it is vital for such unit to operate flawlessly in every possible way – hence, go for HEPA bags.
Nonetheless, MC-CG937 comes with the HEPA air filter behind the dirt bag and it captures small particles such as allergens, irritants, and pollutants, if they pass the dirt bag. Combining HEPA dirt bag and HEPA air filter might look as an 'overkill', but don't forget that YOU are going to breathe the expelled 🙂
MC-CG937 vacuum comes with the On/Off power switch, bare floor switch and variable power control on the handle – it is easily possible to operate the telescopic wand with the single hand and to reduce the vacuum's suction power for cleaning delicate floors.
Panasonic MC-CG937 comes with 12-Amp motor, which provides powerful cleaning performance and with the 14 inch (~35.5 cm) cleaning path of the powered nozzle, the MC-CG937 can cover rather large area quickly.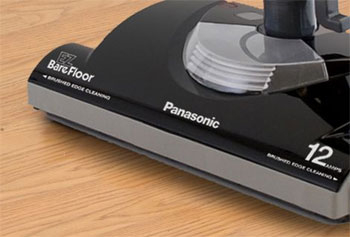 Main power nozzle comes with overload protection reset, it has 4 different positions for various carpet pile heights and with the agitator switch on the handle, unit can easily transition from the carpets to the bare floors and back, in no time.
Powered nozzle comes with the 'Quick Release' system and can be replaced with onboard tools, when required, making the transition from floor cleaning to above-floor cleaning very easy.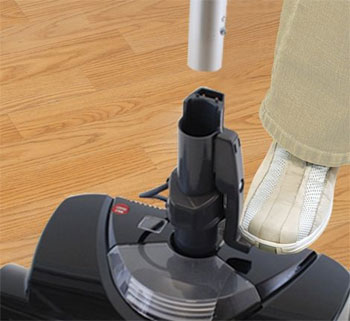 Additional cleaning attachments are carried onboard and they include: floor brush, dusting and upholstery brush, crevice tool and pet turbine mini-brush.
Combination of vacuum hose, telescopic wand, various cleaning attachments, makes Panasonic MC-CG937 suitable for cleaning surfaces from the floor to the ceiling.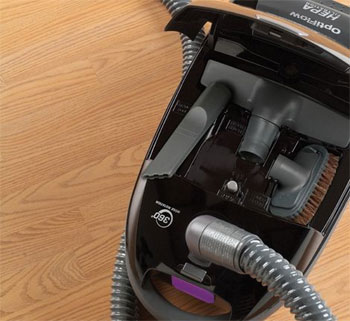 The hose connection comes with a 360° swivel feature that lets one clean in any direction without the hose getting twisted.
Unit comes with the 24 feet (~7.3 m) power cord – power cord could be perhaps longer when compared with upright vacuums, but this is canister vacuum and it comes with 6 feet (~1.83 m) hose and telescopic wand (4 feet (~1.2 m) long, at full stretch), providing more than 34 feet long reach.
Of course, vacuum also comes with the automatic power cord rewind system.
Unit dimensions (LxWxH): 12 x 8.75 x 21.5 inches (~30.5 x 22.2 x 54.6 cm), weight 12.6 lbs (~5.7 kg).
Panasonic MC-CG937 comes with 1 year limited warranty.
Long story short – if you prefer bagged, canister vacuums, consider Panasonic MC-CG937 OptiFlow unit. There are cheaper units on the market, but MC-CG937 is well designed and sturdy vacuum cleaner, and it will do its job properly. And 1-year warranty? Personally, I expected longer warranty period.
For more reviews and recommendations, check Panasonic MC-CG937 OptiFlow Corded Canister Vacuum Cleaner
Amazon link (link opens in the new window).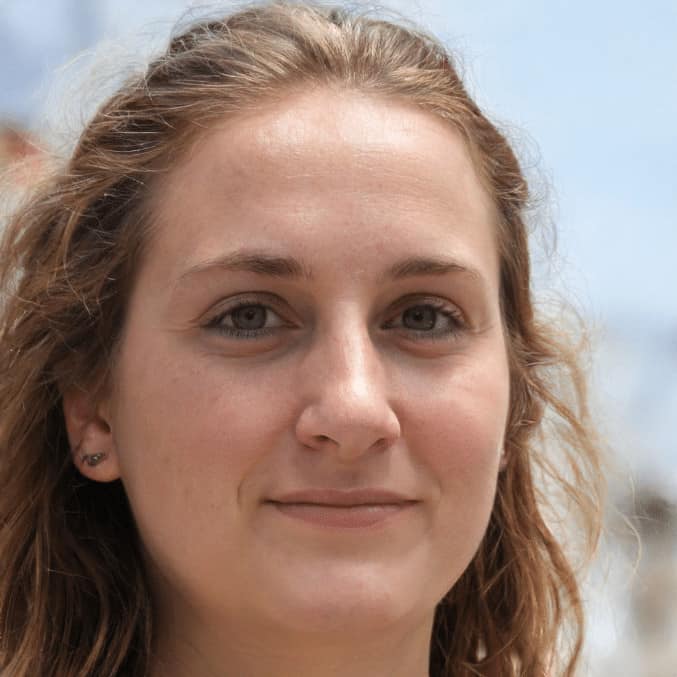 With a degree in engineering, Kathryn Hansen loves to write about how things work. Having her own dilemmas on how to pick the best vacuum cleaner for her large family (with a handful of furry four-legged members as well), Kathryn decided to help others in the same situation. After all, vacuum cleaners are critical to a healthy lifestyle and people have a hard time choosing the best one for their needs.