Panasonic MC-CG917 "OptiFlow" Bag Canister Vacuum Cleaner is classic canister vacuum cleaner that comes with many cleaning tools suitable for various surfaces, has HEPA grade air filtration, collects dirt in the vacuum cleaner bag and has more than acceptable price.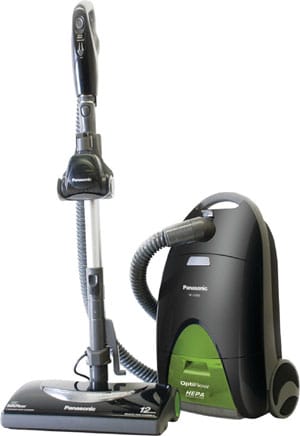 Panasonic MC-CG917 vacuum cleaner is relatively small and lightweight, but rather powerful vacuum cleaner equipped with 12 Amp motor.
It measures (LxWxH) 12″x8.75″x21.5″ (30.5×22.2×54.6 cm) and weighs 12.3 lbs (5.6 kg). Vacuum is based on so-called 'OptiFlow' technology that helps maintain constant airflow, even when vacuum bag becomes full. Vacuum has HEPA grade filter that captures small particles like allergens, pollen, dust mites and similar – very important not only for people having asthma and allergies, but for all people in general. After all, who wants to breathe in the dirt from the floors?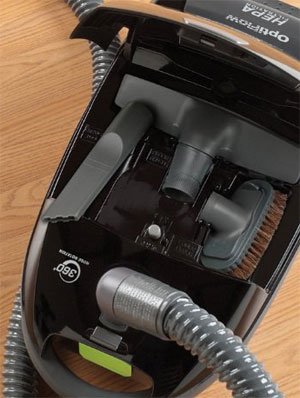 Cleaning tools are carried on-board and these include:
– Floor brush,
– Dusting and Upholstery Brush,
– Crevice Tool,
– Pet Turbine Mini-brush, and
– Alumimum Telescopic Wand.
Using all those cleaning attachments, it is possible to clean various dirt and debris from various surfaces like carpets, rugs, bare floors, upholstery, stairs, under furniture, near or around the corners and edges, from the cars etc.
MC-CG917 is 'Dual Motor System' – the nozzle is motorized and it allows gentler carpet cleaning and it extend belt life. When cleaning carpets and rugs of different type, it is possible to adjust the height setting to one of four positions.
For bare floors, use switch on the handle to shut off the agitator.
Handle is ergonomic, closed-loop design, that also has easily reachable on/off switch.
Cleaning path is 14 inches (35.5 cm) wide and enables cleaning of a large area rather quickly. However, if you have issues reaching areas around furniture and similar, use other, on-board carried tools to clean unreachable.
Cleaning head is equipped with headlights – very useful feature when cleaning, for example, under furniture (one can take a peek what is in front of the cleaner and avoid vacuuming things that got lost under furniture – great for people with small children) or on bare floors (lights are strong enough that one, for example, can spot dust and pet hairs on the hardwood).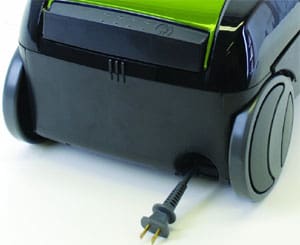 Vacuum is equipped with cord rewind mechanism, simply activated with the touch of the button. Cord is 24 ft (7.3 m) and perhaps could be longer. However, note that flexible hose is 6 ft (1.83 m) long, rotates ful 360° and that aluminum wand is telescopic, which greatly increases the reach not only in the distance, but also enables cleaning from the floor to the ceiling.
Wheels are soft and large enough for a vacuum to be pulled easily around the house during vacuuming – if it bumps into something, it is 'driver error', not a vacuum's! 🙂
Vacuum has thermal protection – if a clog prevents the normal air flow to the vacuum motor, motor will soon overheat and this could damage the motor. The thermal protector turns the motor off automatically to prevent any damage to the motor. If something like this happen, turn the vacuum off, unplug the vacuum cleaner, remove the clog and, if needed, clean or replace the filters. Thermal protection resets automatically after some 30 minutes, after which vacuum cleaner can be used normally.
Vacuum bags are not reusable – after they are full, they are thrown away and new once are used. Genuine vacuum bags are not cheap, but they do their job well – hold the dirt and debris and protect HEPA filter from excess amount of particles.
Panasonic MC-CG917 comes with 1 year parts and labor warranty.
Long story short – excellent canister vacuum cleaner for this price range. There are things that perhaps could be better (longer cord, larger bag capacity etc), but all these features are reserved for larger, heavier and more expensive canister vacuum cleaners.
For more reviews and recommendations, feel free to follow Panasonic MC-CG917 "OptiFlow" Bag Canister Vacuum Cleaner Amazon link (link opens in the new window).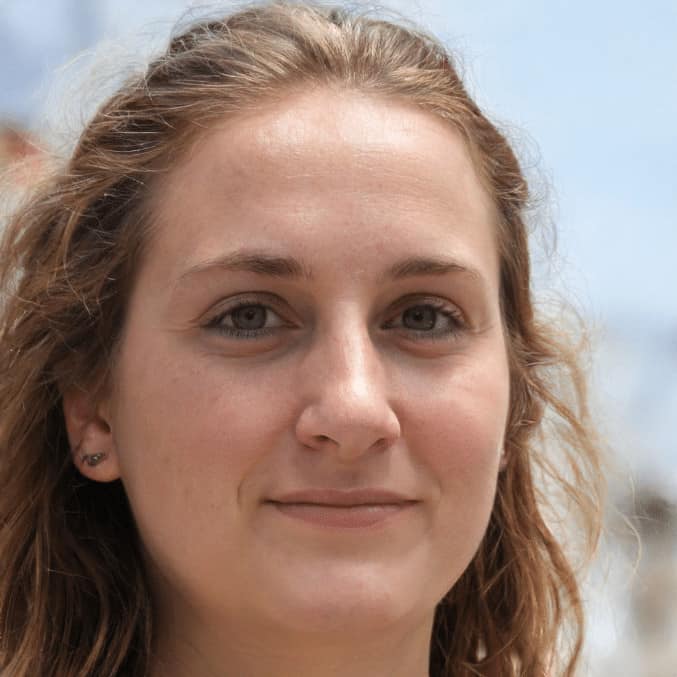 With a degree in engineering, Kathryn Hansen loves to write about how things work. Having her own dilemmas on how to pick the best vacuum cleaner for her large family (with a handful of furry four-legged members as well), Kathryn decided to help others in the same situation. After all, vacuum cleaners are critical to a healthy lifestyle and people have a hard time choosing the best one for their needs.