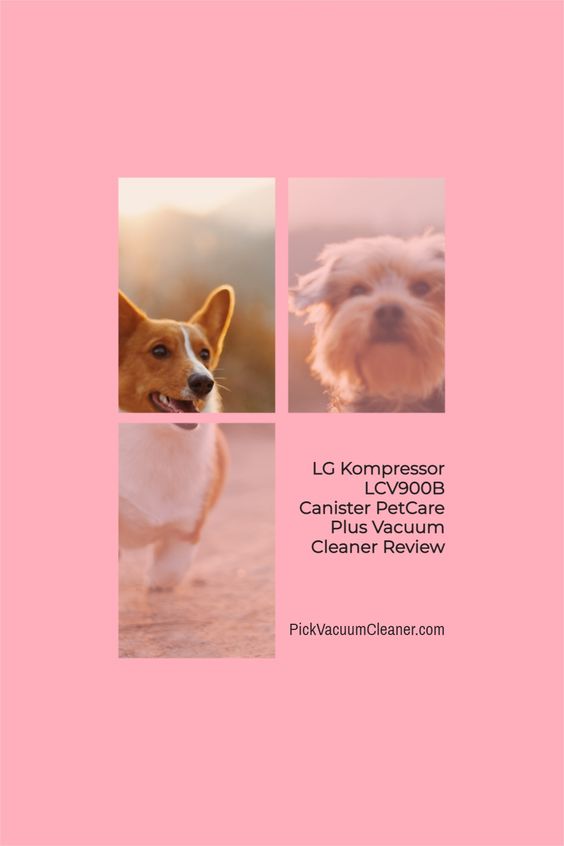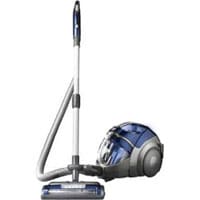 The LG Kompressor LCV900B Canister PetCare Plus Vacuum Cleaner is a high-end powerful vacuum cleaner. It features the brand's famous KOMPRESSOR System, but other interesting tech specs and features as well. Today we will present you with the LG Kompressor LCV900B Canister PetCare Plus Vacuum Cleaner review, highlighting its best features and telling you why you should consider this unit should you want to replace your old vacuum cleaner.
Before we begin, however, we have to remind you that the first thing you should do is to understand how vacuum cleaners work and what type of vacuum cleaner is best for your needs. If you are here, it is clear that you need to remove pet hair and dander or other types of debris from your floors and carpets. This canister vacuum cleaner is one of the best models for homes with pets – just as most canister vacuums are. For more information about a vacuum cleaner's tech features, you should also check out our guide on vacuum cleaners' specifications, so you get a better idea of what you should be looking for in your new vacuum.
We also recommend you read this guide on the most crucial things to consider when you want to buy the best vacuum cleaner for pet hair. It is all about the floors' types and layouts, your pet, and its shedding issues, the type of vacuum cleaner you want to have (upright vs. canister, with or without a bag, with or without a power cord, etc.), pet-specific accessories and features (such as HEPA filters for instance or cleaning tools), and, of course, your budget.
Now, let's return to our LG Kompressor LCV900B Canister PetCare Plus Vacuum Cleaner review and see if it is worth giving a shot!
LG Kompressor LCV900B Canister PetCare Plus Vacuum Cleaner Review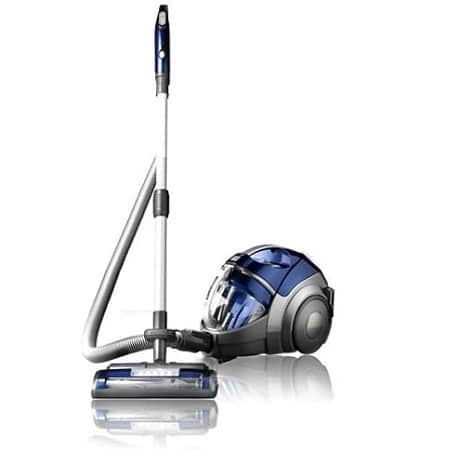 The LG LCV900B vacuum cleaner has many features that make the unit an excellent choice for anybody having a large area to clean more often. Even if your home is not large in terms of square meters (feet), but you have to need to keep your floors in spotless condition, this vacuum cleaner is something to think about. It comes, among others, with DualForce suction, a power nozzle, pet hair turbine tool, HEPA filter, and controls on the handle. It also features an interesting price tag, but what you pay is what you get.
LG Kompressor LCV900B Canister PetCare Plus Vacuum Cleaner Tech Specs and Features
LG LCV900B comes with LG's KOMPRESSOR System. This system compacts dirt and significantly reduces the dust cloud when emptying the bin. This also allows you to pick up two to three times more dirt before emptying vacuum cleaner canister when compared with non-compressor models.
Let's see other interesting features that make this vacuum cleaner a great option if you want to mix functionality with a great budget and with versatility.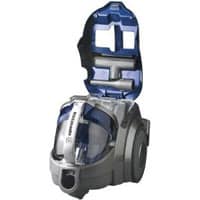 – Power Nozzle. This item is a motorized toolbar that uses an additional motor to spin the brush bar – continually rotating brush helps shift and collect more dirt – for better cleaning performance.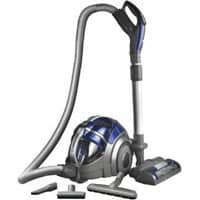 – DualForce Suction. The vacuum cleaner uses two additional air pathways to pick up dirt from both sides of the cleaning nozzle in addition to the traditional center section. This creates a wider suction area and clean dirt much efficiently when compared with traditional central air suction models, especially in hard-to-reach edges.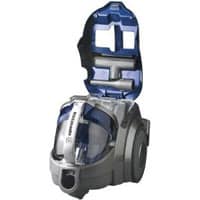 – HEPA filter. After the airflow passes the vertical cyclonic filtration system, the airflow goes through a true HEPA filtration system that captures dust mites, pollens, and other common household allergens. For more information on what is the cyclonic technology, how it works, and how to choose cyclonic vacuum cleaners, check out our guide on how vacuum cleaners work!
– All controls are on the handle
– Additional Features: pet hair turbine, 2-in-1 crevice tool/dusting brush, bare floor nozzle, and a telescopic wand that can be stored in the canister itself.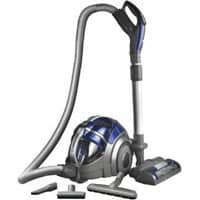 – Dimensions: 11.7 x 11.7 x 13.7 inches
– Weight: 26 pounds
– Cord: 21-foot long auto rewind cord
– Warranty: 5 years parts and labor
What Else Should You Know about the LG Kompressor Canister PetCare Plus Vacuum Cleaner?
According to the manufacturer,
The KOMPRESSOR technology allows you to pick up 3 times more dirt, dust, and pet hair before emptying it. The unique DualForce suction lets you clean a wider area and get to hard-to-reach edges, while the retractable cord makes it easy to get where you need to go.
We tend to agree. While this model has plenty of competitors that are also newer and more available on the market, it does do a terrific job of cleaning various types of floors. One downside, however, is the fact that its filters might clog more frequently than you would expect. It has a lot to do with how much hair your pet sheds and what types of surfaces you are trying to clean, but you should make a mental note to clean the filters frequently.
The LG Kompressor LCV900B Canister PetCare Plus Vacuum Cleaner is highly recommended for everybody wanting a great vacuum cleaner for home or office. Larger areas for this vacuum cleaner are no problem since it has 21 foot (~ 6.5m) long power cord with auto rewind. Every single feature works great and it really helps in keeping your home clean. It does come with a nice price tag, but if you can borrow one from your local store, try this:
clean your home with your old vacuum cleaner
immediately after that, clean your home with the LCV900B vacuum cleaner and see, not if, but how much additional dirt this vacuum cleaner has collected.
How Does the LG Kompressor LCV900B Canister PetCare Plus Vacuum Cleaner Compare to Other Newer Vacuum Cleaners?
If you want to check out other canister vacuums that perform just as well as the LG Kompressor LCV900B Canister PetCare Plus Vacuum Cleaner, here are our top suggestions!
All the vacuum cleaners mentioned above make also excellent choices when it comes to removing pet hair and dander from your floors or carpets. You should check out those reviews as well and make the best choice for your home, family, and pets!
LG Kompressor Canister PetCare Vacuum Cleaner Review: Final Thoughts
As you could see from this LG Kompressor LCV900B Canister PetCare Plus Vacuum Cleaner review, we like this vacuum cleaner a lot for its tech specs and features. It has, however, mixed reviews, especially because you need to clean the filters quite frequently if your pet sheds a lot of hair and you need to clean multiple types of floors and surfaces at least once a week. Nevertheless, LG is still a brand you can trust. For a canister corded vacuum cleaner, it does a great job of cleaning your home very well. You may have a hard time finding it in online stores, but thorough research will take you where you want to go.
If you ever tried this vacuum before, tell us your opinion of it! Does it work as advertised or do you prefer a newer model from a different brand? We'd love to hear from you, so feel free to share your thoughts in the comment section below!
Other Similar Products Worth a Look
Kenmore 81214 200 Series Pet Friendly Lightweight Bagged Canister Vacuum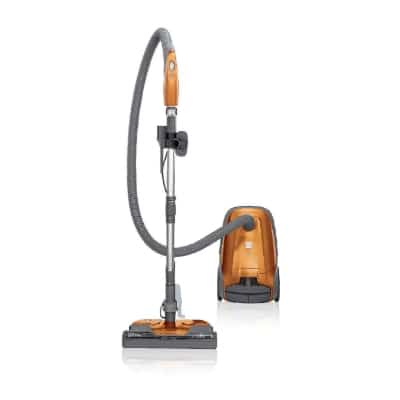 This bagged canister vacuum from Kenmore is efficient at removing pet hair and providing an efficient cleaning process on all surfaces. It comes equipped with advanced HEPA filtration that traps more than 99% of dust particles and other allergens. Furthermore, the two-motor system excels in suction strength and with the help of the height adjustment mechanism, you'll always get the optimum air flow going.
The experience is further enhanced thanks to the 9-foot attachment reach and the 24-foot retractable cord which gives the user enough freedom to easily clean everything anywhere. Even better, you get some nice attachments like a dusting brush, crevice tool, and a bare floor tool for convenient cleaning transitions – and you can store all of them on the vacuum. Overall, we really recommend this product.
Eureka WhirlWind Bagless Canister Vacuum Cleaner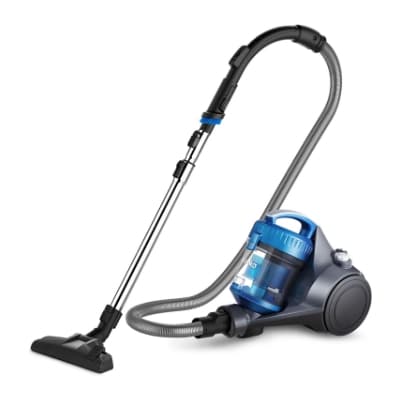 The Eureka Whirlwind This vacuum features an integrated airflow control on the handle that can be easily switched at your fingertips. It includes 3 settings: Carpet, Upholstery, and Hard Floors. Also, the vacuum weighs less than 8 pounds and can easily maneuver under and around furniture and stairs thanks to its swivel steering and telescoping metal wand.
For all intents and purposes, you'll find that using this model is quite easy and even pleasant. The whirlwind has a Bagless design and uses washable filters. Rinse the filters as needed and you're ready to go – it's that simple. While not exactly perfect (the suction control slider which is located "at your fingertips" is very easy to open without noticing), it's great for the price, and we recommend it wholeheartedly in case you want an alternative to the LG Kompressor LCV900B Canister PetCare Plus Vacuum Cleaner.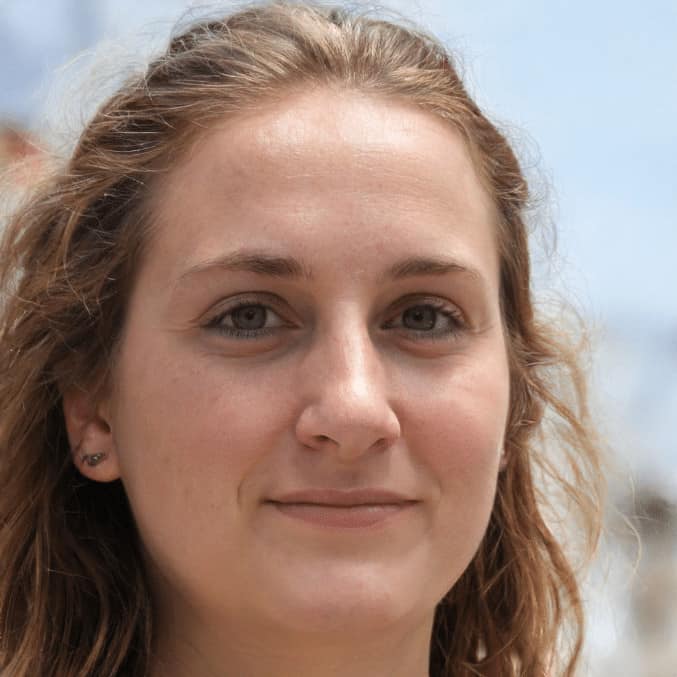 With a degree in engineering, Kathryn Hansen loves to write about how things work. Having her own dilemmas on how to pick the best vacuum cleaner for her large family (with a handful of furry four-legged members as well), Kathryn decided to help others in the same situation. After all, vacuum cleaners are critical to a healthy lifestyle and people have a hard time choosing the best one for their needs.